5 Simple Ways to Grow Your Email List
January 4, 2016 ・ 6 min read
If you grew up in the 1970s or 1980s (or even the majority of the 1990s), and were a "fan" of a particular celebrity or group, then you might have signed up for their mailing list. This seems decidedly inefficient by contemporary standards, but back then it was the best available option.
To receive the latest information and offers, you would actually wait for this to be physically printed out, make its way through your country's postal system, before being delivered into your letterbox.
Contrast this with the contemporary version of a mailing list. The delivered information is entirely digital and can be delivered to an entire database within a fraction of a second.
Perhaps the sheer fact that such information can be so quickly and easily delivered has devalued the overall concept of the mailing list from a consumer's point of view.
They are so often asked to sign up to receive great deals and up-to-the-minute information about a particular product or service, that they might be hesitant to do so—if only to spare their inbox from one extra email that needs to be opened and assessed as to its usefulness.
Whether it's the strategic efforts of a sole owner-operator or the dedicated work of an entire digital marketing team, there are many ways in which companies attempt to lure consumers onto their email lists.
Some of these strategies are more effective than others, so it's time to look at a few key methods that have been proven to be successful.
1. Invite a friend method
This one is all about making your site look like one of the popular kids. You've probably had something similar happen to you.
A friend or family member has started a business or is organizing an event, and they ask you to like or follow the business/event on social media. You do so, as a favour to your friend, almost regardless of whether or not you have any interest in the business/event being promoted.
A huge number of new followers can be accumulated, and this is largely dependent on how many friends are recruited (which depends on how many online friends you have).
If you opt for this strategy, the benefits can be rapid.
Your page suddenly seems more popular, and this adds appeal to new subscribers who are not amongst your online friends.
They will think that if so many other people have already become interested, then there must be something to the product or service that you're offering.
A good idea to quickly grow your subscription list would be including a CTA button or a promotional banner in your email signature. This way, each time when your friends and contacts receive a message from you they will have a chance to check your website out or to download an ebook you just announced. The list of subscribers will continue growing. Email signature generators like Newoldstamp or MySignature allow creating a professionally-looking email sign-offs online.
2. Don't leave empty handed
Excessive, unfocused pop-ups can be highly detrimental to a user's experience on your page. You want to offer a firm call to action to a potential new subscriber, inviting them to join your email list.
If you bombard the potential new subscriber with the request or make the request at an inappropriate time, then you run the risk of alienating them.
It's all about timing and not coming on too strongly (nobody likes a needy email list!).
An exit intent pop-up is a call to action that has been carefully configured to activate when the user demonstrates an intent to exit the site. The pop-up displays itself with a carefully worded call to action when the user attempts to leave your site by moving the cursor to the exit icon, or once they have scrolled to the end of the article they have been reading.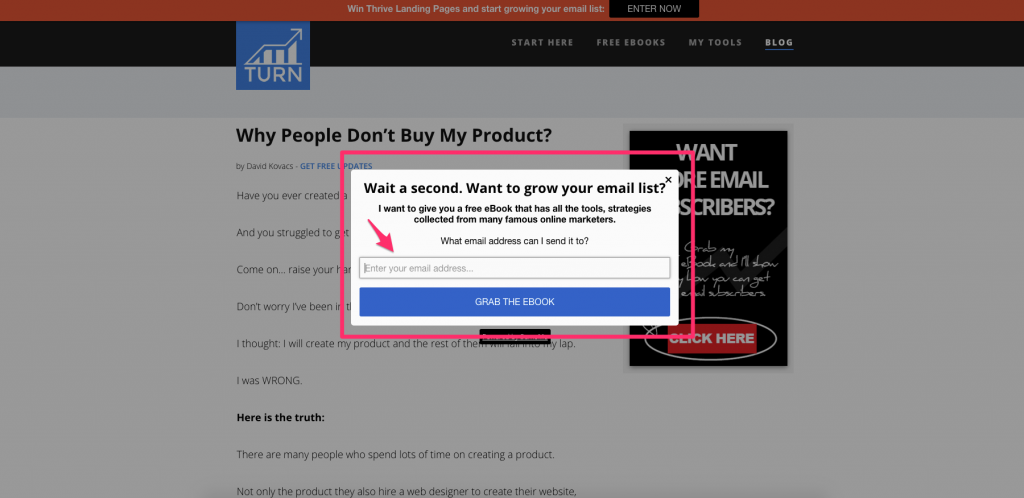 It should also be configured to only activate once for each browsing session—so that you are not essentially pleading for a user to sign up multiple times during their time on your site.
You may wish to sweeten the information presented in the pop-up to ensure that the potential new subscriber does not simply close the pop-up and then exit the page. If you operate an ecommerce website, you might wish to offer a discount code.
If you are merely attempting to build your mailing list, offer an asset (such as an eBook) above and beyond the information already available on the site.
You could also lure potential new subscribers with the offer of some carefully selected prizes.
3. Host a giveaway
If you had the budget host a giveaway that offered a new BMW or a trip to Rome, and all you required was that an entrant signs up to your email list, you would rather unsurprisingly find yourself with a rather long list.
Once the prize in question has been awarded, you would find that the majority of your new subscribers would abandon your list, and that many that remain are only there because they forgot to opt out.
If the prize on offer is something that specifically appeals to the type of client base that you're trying to grow, then your email list will become filled with the type of people who are of more value to you than a cross-section of the general public.
These people are more likely to remain subscribed, even after they do not win the prize on offer.
Offer a free one year subscription to the (ordinarily) paid component of your site, or a subscription to a site that complements yours (but not one that directly competes with you).
Be sure to pointedly mention the cash value of these prizes in order to make the giveaway appear as valuable as you know it is.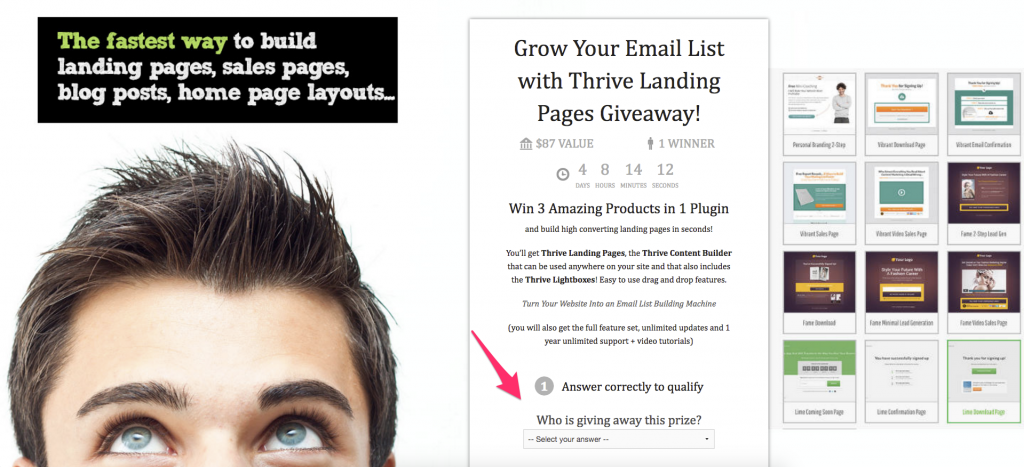 4. Create an opt-in bribe
Potential new subscribers are infinitely more likely to sign up if you offer them something for (almost) nothing.
In exchange for signing up to your email list, you can offer them something that is of tangible value, and yet is easy and inexpensive for you to produce and distribute. Create a short eBook comprised of information not available on your website and send it to new subscribers as a welcome gift.
The eBook needs to be well-written and contain useful information (all killer, no filler), but once it has been produced it just keeps on giving.
It can be a valuable tool for acquiring new subscribers with a minimum of effort on your part.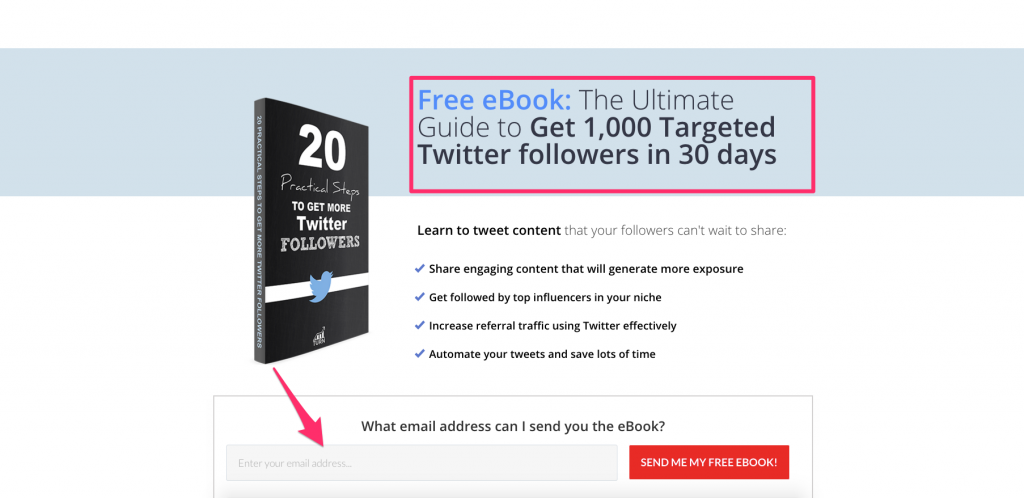 5. Using Every Opportunity
You should take every communication opportunity to obtain new subscribers.
How many emails do you send each day?
Do your emails contain an exhaustive electronic signature that allows potential new subscribers to find you online?
Each email should contain a text link or icon that directly links to your website, as well as icons that link to all your social media profiles. You want to make it as easy as possible for potential subscribers to find you.
When it comes to your actual email newsletter, you need to make it as easy as possible for this to be shared. Activate a "share" icon on the email which will allow subscribers to share the email with friends or colleagues.
This also allows you to receive another email address for your list, although you will need to make the process for opting out to be clear, since the recipient of the forwarded email did not voluntarily sign up.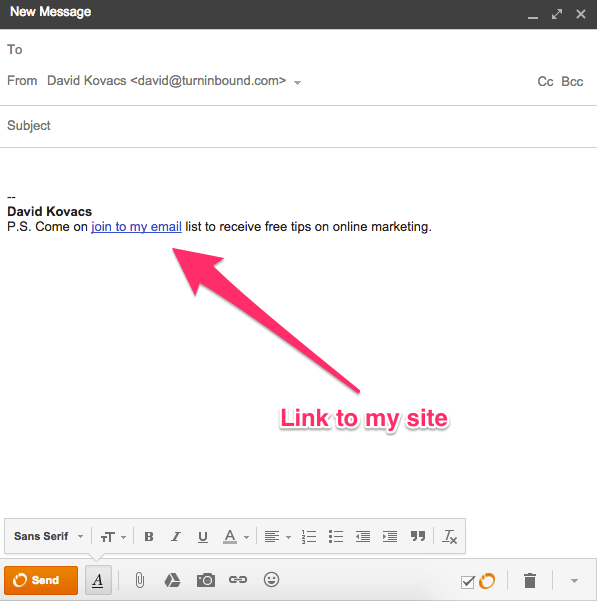 Now here's what I want you to do next…
Go to your blog and start doing one of strategy that I just shared with you.
In the meantime, I want you to leave a comment below telling me what you think about these simple list building strategies.

Author bio:
Hey, what's up? I'm David Kovacs, founder of Turninbound – the blog where I break down online marketing strategies that you can start using today. Why not join to my email list where I share exclusive tips with my private newsletter subscribers.