5 Tips on Creative Twitter Cover Photos from Real Brands
December 11, 2015 ・ 5 min read

Don't judge the book by its cover? Is it really so? People tend to make snap judgements based on the way you look going much deeper than just your personal clothing taste. Your image speaks for your business and communicates a great deal of socially important things to others. Are your taking this lesson to your Twitter Cover Photo?
With its more than half a billion users, Twitter is a powerful tool to promote, connect and brand a company. A single tweet can have an immense impact on your online community. Did you know that Barack Obama tweets personally? Your Twitter background image is the first thing social media users notice once landing on your page. It is also a free piece of advertising real estate that can effectively complement your Twitter bio limited to nothing more than just 140 characters. Are you tapping into the true potential of your Twitter header image? If you are still with me, chances are that you might need a little inspiration.
To make your life easier, we have listed the 5 Brilliant Twitter Cover Photos Examples from Real Brands and explained what makes them successful. Check them out and motivate your new engaging and eye-catching Twitter Cover Photo.

5 Tips on Creative Twitter Cover Photos from Real Brands
1.Target. Stay relevant

Target took advantage of the holiday season to highlight products that perfectly match their customers' current festive mood and needs. All well coordinated with the corporate branding colour scheme and complementing their signature logo.
Strategy Tips: Allow your Twitter header photo to encompass the latest trends and use them to promote your product.
2. Samsung. Showcase your products

Your Twitter header photo is a valuable and free piece of advertising real estate – and it's a great space for promoting current marketing campaigns such as a new product launch. Samsung Poland is doing a great job here supporting the launch of its latest smartwatch Samsung Gear S2 with an elegant and simply designed message.
Strategy Tips: Capitalize on the prominent visibility of the Twitter header photo and use it to promote your current marketing campaigns. Balance the text and negative space right. A clear and short message works better than a super busy photo.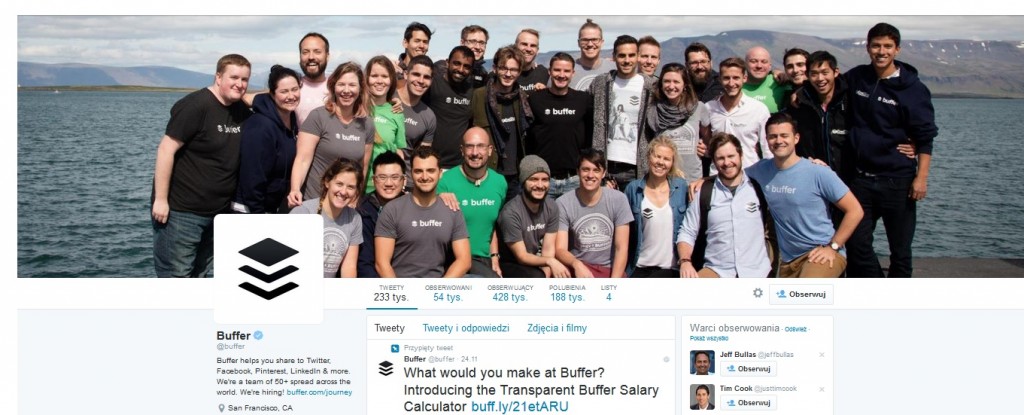 It is much easier to relate with a brand when you see its human face. Buffer have mastered this lesson by featuring their own employees on the Twitter cover picture. A non-product-centric image sends a clear message to the followers – we are much more than the product we provide. Sounds authentic? Surely it does.
Strategy Tips: Use your Twitter Cover Photo to transmit the human side of your business and to personalise your marketing communication. This will shorten the distance between a consumer and your brand helping your followers to relate with your activity.
4. Brand24. Open up your door to other platforms

Brand24.com's cover photo is perfectly simple. While it focuses on promoting the social media monitoring tool itself, it also helps the Twitter users to find the brand on other social media platforms. Look at its top left corner – it states the names of the other preferred online channels. Moreover, by incorporating a smart-phone into the design the brand skilfully communicates that the product is available also as a mobile application. Well done.
Strategy Tips: Include names of other social media platforms in your Twitter Cover Photo and open up the door for Twitter users to follow your business on other online channels.
5. Nike. Connect with your customer's lifestyles

Another example of a successful and non-product-centric approach to the Twitter cover photo – connect with your customers' lifestyle. Instead of pushing the products, inspire to purchase it. Nike know this rule more than well enough. Presenting an athletic runner in the middle of a path that stimulates all senses, their Twitter cover photo reflects the fitness and adventurous lifestyle the brand encompasses. All completed with just a subtle signature sign – the iconic Nike "swoosh". Easy to relate to? Very easy. Beware, though, it takes a strongly recognizable band to be able to reduce the branding message up to this format.
Strategy Tips: Give your consumers something to identify with and add the meaning to your product. Connect with you audience using the Twitter Cover Photo as a space to promote the lifestyle they aspire to!
Any other mesmerizing Twitter cover photos you have spotted recently around brands you follow on Twitter? Share your favourites and let us say 'Wow! this is really great!'.
FAQ
What size is the Twitter banner image?
The Twitter header dimensions are 1500 pixels wide by 500 pixels tall. However, keep in mind that Twitter compresses these images, so it's best to use a file that's below the maximum file size of 2 MB. These dimensions ensure that your Twitter header images fit well within the layout of the Twitter page without any important details being cut off.
What makes a good Twitter banner?
A good Twitter banner effectively represents your personal or business brand. It should be visually appealing, high-quality, and relevant to your Twitter profile. The best Twitter headers are those that complement your profile picture and overall profile aesthetic. Your banner can feature text, but remember that it may be cut off on mobile or smaller screens. Important information and elements should be placed in the center of the image to ensure visibility across devices.
How do I make my Twitter cover photo fit?
To make your Twitter cover photo fit perfectly, start by using the correct dimensions (1500×500 pixels). Design skills are a plus, but there are also various online tools that provide templates with the correct dimensions for Twitter headers. If you're including text or logos in your banner, keep them in the center of the image to prevent them from being cut off. Make sure to check how your header looks on different devices and adjust the aspect ratio if necessary.
What should my Twitter cover photo be?
Your Twitter cover photo should be something that represents you or your brand effectively. It could be a high-quality image of your products, a photo of your team, an illustration that reflects your brand's aesthetics, a branded image with your tagline, or any other visual that speaks to your brand's identity. Twitter recommends using an image with a maximum file size of 2 MB for best results. Ensure that it looks good on both desktop and mobile versions of the Twitter app to cater to all users.