6 Ways to Increase Audience on Your Event
April 22, 2015 ・ 5 min read
Whether you are an event organizer or an active participant, you have probably noticed that this market is getting more and more competitive, regardless of the industry. Although, the demand is also growing rapidly, often companies must strive to attract wide audience to their events. People willingly take part in distinct conferences and meetings, as it is a perfect way to both enlarge their knowledge in particular topic and gain valuable contacts during networking.
However, if they do not get any of these benefits, chances that they will attend again are faint. There is an easy solution for that. You can increase attractiveness, popularity and reach of your event with Internet monitoring.
Dual Reality
Easy and ubiquitous access to the Internet changed the way of our living. It is a standard that people actively participate in digital life collaterally to the real one. They share their photos, thoughts, interests and locations on their social media profiles – almost everything that concerns them and their environment.
Therefore, the vast majority of participants that attend to an event share this information on their social media profiles. With social media monitoring and a few canny tricks you can easily increase your reach, so even more people will find out about your event making it more desirable.
Power of Hashtags
There is no doubt that hashtags are a simple way to increase engagement and reach. For instance, Tweets with hashtags receive twice more engagement than those without any. However, you should keep them to a minimum, as adding 3 or more might actually decrease your reach.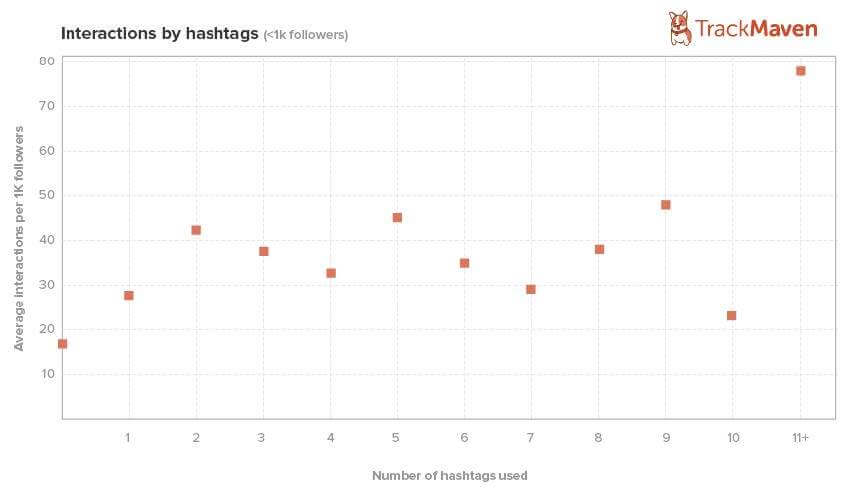 On Instagram, though, you can feel free to add much more hashtags, as posts with 11+ get the highest engagement. But remember that only relevant and matched keywords may help you to increase visibility to users who are actually interested in your content.
#UniqueEventHashtag
You can leverage the power of hashtags while organizing a conference or any other event, but you need to remember about a few things while developing your event hashtag.
First of all, it must be unique and unambiguous. Your audience should relate this keyword with only one thing – your event. Otherwise, Internet users might confuse your event with other things and, on top of that, it will be hard for you to analyze the social media buzz about an event.
Secondly, make your hashtag memorable and catchy. Attendees should not have problems in spelling it correctly when posting information about or photos from an event.
Thirdly, encourage people to share your hashtag on social media profiles. Make sure that everyone is familiar with a keyword and then give people an incentive. It might be a gift to the most active or the most creative social media user. You can also develop a competition, in which people will challenge for a reward, posting content with your hashtag.
Fourthly, think about social stream that will project all mentions related to your event basing on Internet monitoring. You can't even imagine how much it encourages people to post in social media. Sometimes they will share status or photo only to see it on the screen.
Fifthly, be responsive and active in social media. Interact with people who mention your event. You can easily collect content from the Internet with social media monitoring tool and response in a real time.
Online Event Helpline
Social media monitoring might serve you as communication channel for customer service in everyday operation of a business, but it can fulfill similar function during a conference or any other event. As I mentioned before, try to interact with attendees in social media. Especially, when they have a question concerning event or encounter any problems during it.
You can also come up with a dedicated question hashtag, which will be used each time a participant asks you a query. You need to instruct your audience clearly how to use it and then all you need is tracking the hashtag. Still you must remember about the uniqueness rule – it has to be unrepeatable, so you will not confuse it with other queries.
Social Stream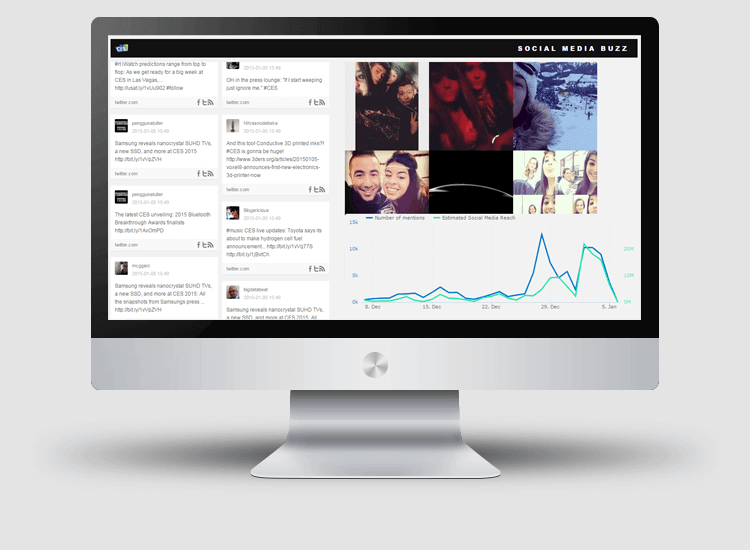 Another thing that guarantees high online engagement of attendees is social stream, which can be set up basically at every event. What exactly is social stream? It is a real-time online discussion about specific topic, based on the data from social media monitoring that can be projected at any screen. Why is it so attractive to participants? People love combining online and offline activities and many of them will post content that includes your hashtag, only to see it on an offline screen. Such investment may increase social media reach a couple of times.
Philips is a perfect example of effectiveness in social streaming. As a strategic sponsor of the Festival of Kinetic Art of Light the brand actively engaged attendees in online interactions. Interactive agency – Socialyse (Havas Media Group) that was behind it provided live coverage of the event in a specially prepared Social Newsroom. They published content in a real time on social media platforms. Philips itself actively published contents on its social media profiles. What is more, all mentions related to the event were gathered through social media monitoring and then displayed on a special hashboard, thus people could have seen their posts on the screen in a real time and on dedicated website .
Engage Influencers
Often one influential person can give you wider reach than one hundred average users. This is why you should especially pay attention to those attendees who are more popular and powerful in social media.
You can easily discover them using social media monitoring. Track your event before it starts to find influencers who intend to take part in. Then engage them in a discussion and appreciate their involvement.
Plenty of brands employ this strategy in their activities. You can take a leaf out of Somersby's book. The company engages bloggers and other influencers to their marketing campaigns on regular basis. Whether they concern events or product promotion.
Wrap It Up
Social media monitoring may serve you as a great tool in promoting your event online. You just need to remember about those tips:
1. Create a unique and catchy event hashtag and then encourage people to post content with it.
2. Track discussion about your event before, during and after it. Collect all the mentions and analyze them.
3. Interact with attendees in social media. Respond to participants' posts, answer their question and help whenever they need your support.
4. Provide a screen with social stream, where all mentions related to an event will be displayed.
5. Reward the most active social media users for their contribution. You can also organize a competition, in which people will challenge for a reward.
6. Engage the most influential attendees in social media.
Want to track your event in social media? Leave us a comment!