As a real estate professional, you're well aware of the importance of social media – for connecting to your clients, managing your reputation, staying informed, generating leads, finding people to work with… and much more (and over half of these involve social listening). The first step to reaching your potential clients is by finding them, and they are on social. Listen to what they have to say.
With so many listings in so many locations and so little time, an in-person visit is often the last step on any potential client's to-do list. Prospective buyers always start with extensive on-line research. Implement the 8 social media tips below to boost your on-line presence and get your listings noticed by the right people.
Connect on a personal level
Before meeting with a prospective buyer, do some research on them and find something that you might have in common. Maybe you attended the same university, lived in the same neighborhood, share the same hobbies, backpacked through the same exotic locale… anything that will help you connect as human beings. Finding a personal connection will help make the transition into a business relationship a smooth one.Platforms like LinkedIn and Facebook can be useful here.
Manage your reputation
Track your reputation across the web and prevent any potential problems from arising or turning into major crises. Your individual reputation as a real estate agent or broker, as well as that of the agency you work for, are important factors which can influence your clients' decisions. Buying a house is a huge investment, and you're not the only one who will be doing research on-line. Buyers want to make sure they're purchasing from a credible, reliable, and knowledgeable source. Make sure you're aware of what people are saying about yourself and your agency.
Gathering this information can be both time-consuming and tedious. A social listening tool like Brand24 can help you cover your bases, save time, and lighten your load. All you have to do is select the keywords/phrases you want to monitor and the tool will automatically collect any on-line mentions of your selection across the web. For example, if top real estate agent Jane Doe at Century 21 wanted to see what people are saying about herself and the agency: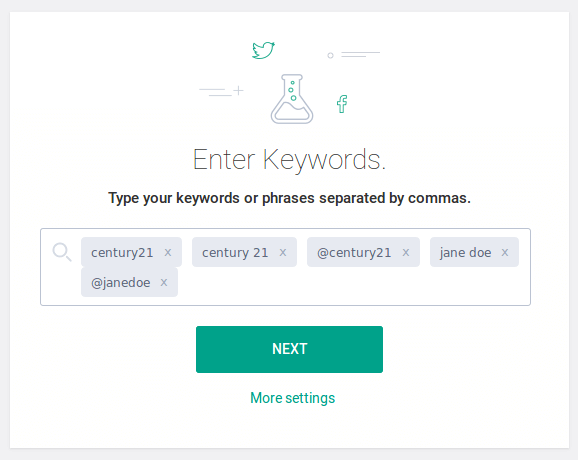 Jane would enter keywords in the form of various ways that people might talk about herself and Century 21 on-line. The tool would then pick up on those on-line mentions and link to them from her user dashboard. The sentiment filter helps her zero in on the negative comments (like the one below). A linked mention looks like this: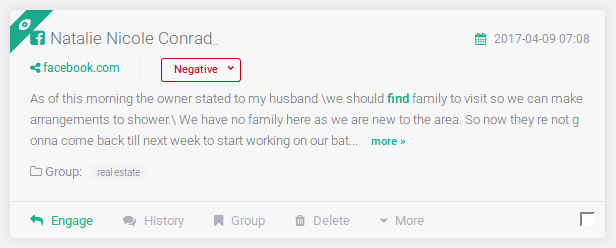 Clicking on Engage from the mention would take Jane directly to its location on the Internet so that she (or you) can respond immediately.
Be responsive
When it comes to social media, your clients should have the loudspeaker, and not you or your agency. Unlike television, magazine or billboard ads, social media is unique in that it acts as a platform where communication works both ways. Promoting a listing on social can easily turn into a conversation with a prospective buyer, giving them a chance to ask any questions which might not have been considered in the listing. Make sure you respond to them before another listing catches their eye.The fastest way to do this is by getting instant notifications whenever someone comments on or mentions one of your properties. Brand24 isn't just for tracking your reputation; use it for your listings too.
Stay informed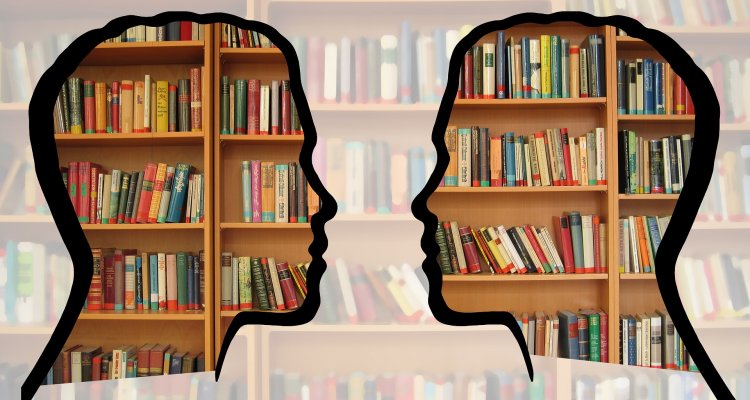 Keep up with the latest trends in the industry. What kinds of listings are buyers eager to sign off on? What are your competitors doing? Social listening can help you monitor what other professionals in your industry are doing. Stay up to date on what the best listings look like, both on-line and in-person. Are the video tours on point? Are the properties staged in a particular style or color scheme?Stay informed; your prospective buyers will appreciate working with such a knowledgeable real estate agent who's on top of their game.
Generate leads
By tracking relevant keywords, you can join in on on-line conversations with your prospective buyers and make appropriate recommendations. You might find buyers asking questions like "can you recommend a good realtor, agent, or broker?"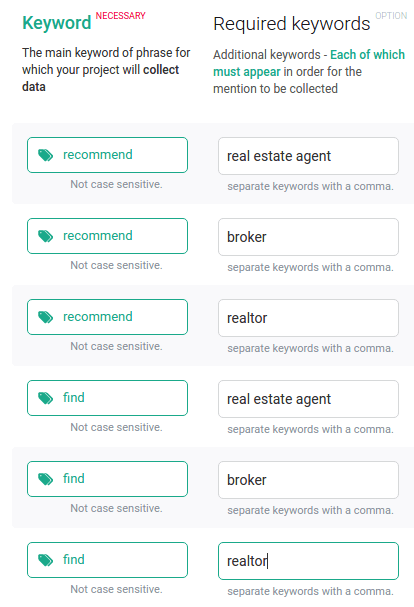 Track people who are directly asking for recommendations of real estate professionals and then offer your services in a subtle yet effective way.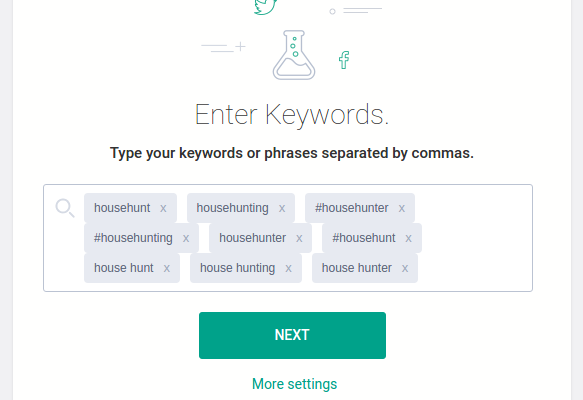 You should also be tracking less direct conversations about house hunting which have been initiated by potential buyers themselves and promote your listings where appropriate. Social listening tools simplify this process x10, and by analyzing your results, you can also identify on-line platforms with the most active house hunters and make sure that your listing is visible there. Don't just post an advertisement and forget about it, though. Be sure to interact and engage with your audience and answer any questions that pop-up so that your listings don't go unnoticed.
Distinguish between platforms
People search for different types of content on different platforms.
Beautiful property photos are essential for image-heavy websites such as Pinterest.
Twitter, on the other hand, can give you lots of exposure, but is more of a platform that readers turn to for advice and recommendations rather than glamorous photos.If you're no stranger to editing video (and you shouldn't be), YouTube also gives you a chance to shine. Well-done video tours of your cosy listings look very inviting to prospective buyers.
Find people to work with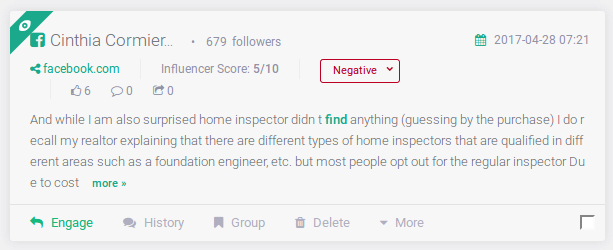 Real estate can often involve working with other professionals: home stagers, inspectors, attorneys, and sometimes contractors and builders. Using a social listening tool to do preliminary research will help you find the right people to work with… and avoid taking any unnecessary risks.
Personalize
Are you building your on-line presence? Whether you are a real estate agent at an agency or an independent broker, your personal brand is important. Since you can't be everywhere, most prospective clients will only have the chance to get to know you through your on-line profile. The most successful profiles are not only professional, but also help you create a personal connection with your audience.Remember to include something interesting about yourself, like that amazing photo of your last outdoor adventure. Professional images which display your properties beautifully are a must, and something that all good real estate professionals already do. By adding a personal touch, you help yourself stand out from the crowd and that can make all the difference.
Do you use social media (or social listening) to increase your real estate sales in other ways? Is there any particular topic you'd like to know more about? Comment below to let us know!