With so much competition in the realm of digital marketing, it's difficult to stand out from the crowd. At a basic level, it can be hard to establish a consistent tone of voice and strong message through your different social media channels. This voice should drive you towards goals, and represent your agency's brand to the utmost.
In this article, I'll look at some of the key considerations for achieving this on Twitter, and how to make an impact thereafter.
Forge an identity and voice
The first step is to determine your brand's personality and identity. Imagine the agency as a person. Is it inspiring, creative, quirky, or funny? If your business was an individual, how would it talk to customers, clients, and prospects?
This will likely be incorporated into the early branding phase of your digital agency, and must be carried forward into communications via your social channels.
Purpose
First and foremost is to understand purpose of Twitter marketing for your business. This involves the alignment of your general social media ambitions with true business goals. Whether you're trying to build relationships, educate platform users, or sell a product/service directly will inform your tone, voice, and tactics.
Audience voice
Brand identity and voice must be understood within the context of your audience's. Be wholly familiar with their language by frequenting forums, blogs, media websites, and other areas in which they're active. As a digital agency, you're either generalist or will target verticals (e.g. law, healthcare, leisure). Consider the language of your specific audience.
Attention to details
Quality is so important. Great social copy will incorporate brand values and mission, and will be designed to deliver results from every action; whether it be from a Tweet, Facebook update, Instagram post, or otherwise.
Visuals also play an integral role in crafting a brand identity on social media. Each platform has a specific layout, and your Twitter profile imagery and description should be consistent with the rest. The consistency of logos, icons, and artwork is paramount to perception of quality and professionalism.
Here's an example of HubSpot's Twitter image:
Help guide your team into 2017 with advice from HubSpot CMO, @kippbodnar: https://t.co/dX1CHbOAbZ pic.twitter.com/X3qd0tYzy6

— HubSpot (@HubSpot) January 9, 2017
Graphics and visuals
Identify a colour palette to be used consistently when designing content graphics or profile cover photos. This should be in alignment with your brand guidelines. Create a set of templates; these will help with efficiency of creation and consistency of appearance.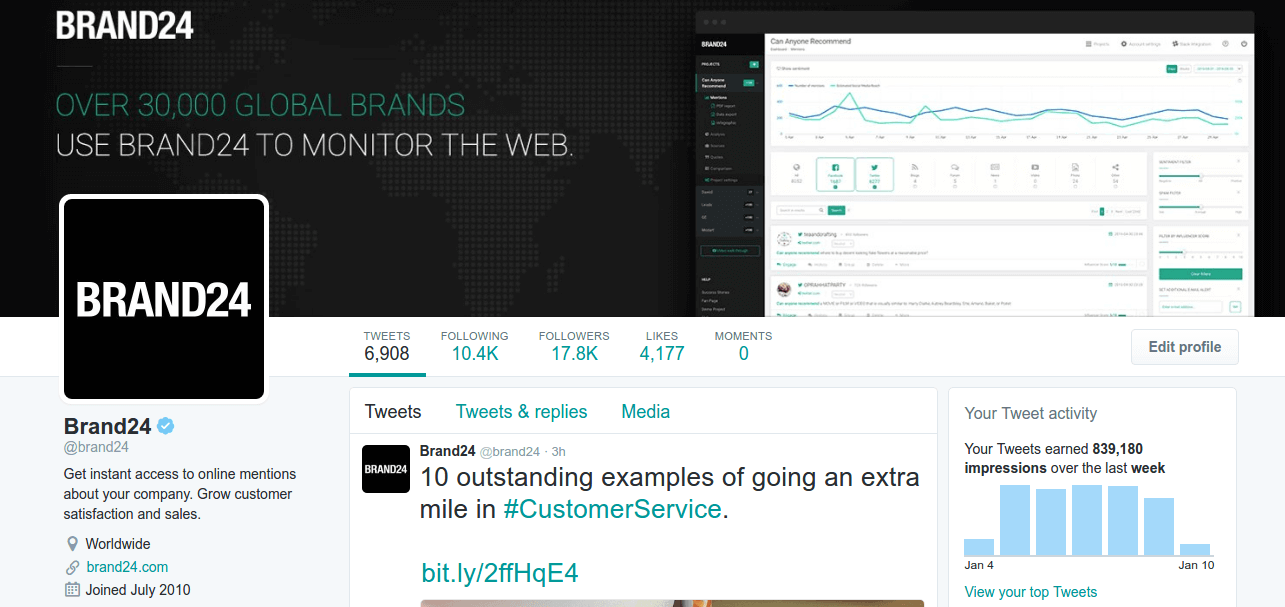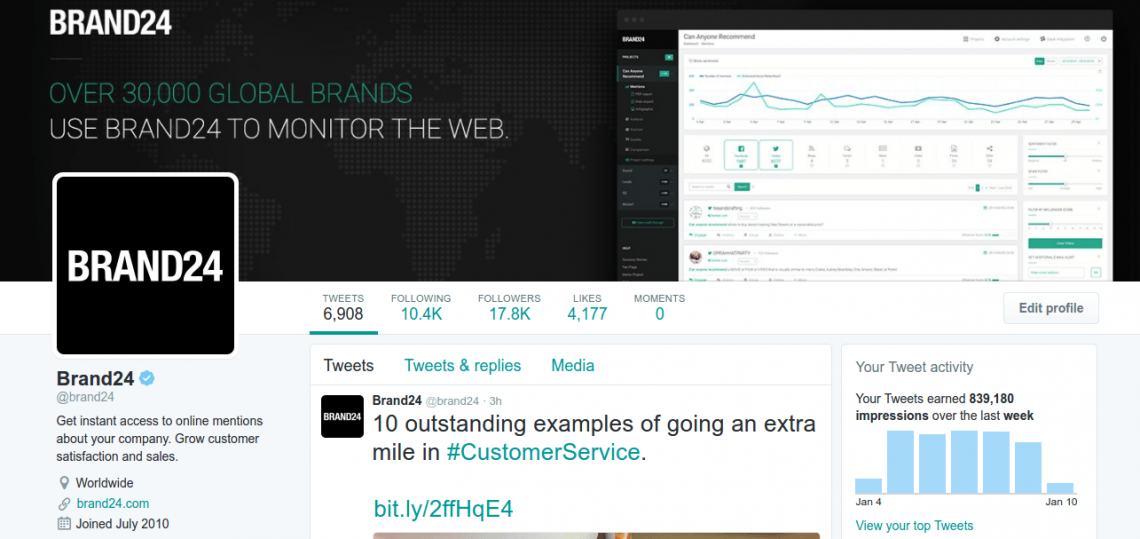 Quality control
Create a process and hierarchy of creation, submission, and quality control. Three pairs of eyes are better than one. For historic / legacy content, create a batch of approved updates within a repository, from which they can be scheduled without need recurring approval.
Timeliness
Monitor the times of day that your audience is most active, and weigh your own Twitter activity more heavily around that time of day. Furthermore, establish in advance how you'll contribute unique insight on generic and industry-specific calendar dates. Responsivity is key, although shoehorning an opinion on irrelevant recent news isn't always necessary.
Accountability
Whether your agency has a dedicated social team, an individual, or whether the whole delivery team contributes to your Twitter activity, there must be accountability and responsibility for what's published. Creativity should be celebrated and encouraged, but within the realms of acceptability, professionalism, and your agency's agreed tone.
Engagement and conversation
It's paramount to engage with other influencers in your industry, rather than to merely push your content out into the aether and hope for the best. There are many ways of achieving this, and I've outlined some below.
Collaboration
Pair up with other industry influencers to create and promote super content. If your agency conducts a piece of in-depth research, hooking up with a visual marketing specialist to launch an infographic will increase your reach significantly.
Debate
A strong brand will have strong values. As the world knows, Twitter is a hotbed of argument and controversy. Use this to your advantage, and communicate brand values in opposition to those who challenge them. Offer alternative viewpoints, and adopt a key role in your field. Of course, there's a fine balance and it's important to maintain professionalism.
Mentions
Mention those who have influenced or inspired your content. Mention those who might just be interested in what you're saying. Mention those who might disagree with your content. It's a sure-fire way of giving your Twitter posts more teeth.
One of the best ways to find people talking about your brand is to use a social listening tool like Brand24. It allows to track all relevant conversations, even those without the official handle.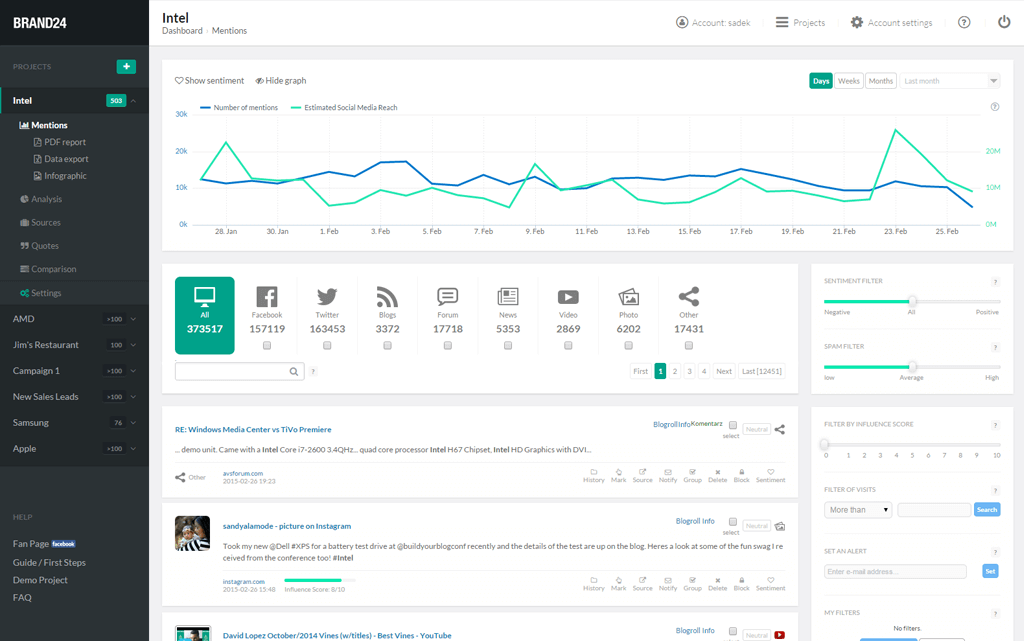 What's more, it allows to analyze the number of mentions, number of interactions, social media reach and more. Here's more info about -> brand reputation <-
And if you feel like that's what you need, here you can sign up for a Brand24 trial. It's absolutely free.
Humble-sharing
To be humble is an admirable quality, and one that will win you many fans (and followers!). If it's useful to your audience, share other experts' content – even if they operate as one of your competitors. Give credit where credit is due, and you'll build a solid reputation.
Frequency and volume
Whilst quality is critical, quantity is equally as important. The balance should never be quantity over quality, but a high quantity of quality won't ever do harm!
Remember that Twitter updates disappear within a matter of seconds of being published. This, again, is why engagement is so critical to success on this channel. By mentioning contributors, collaborators, or inspirational influencers, you extend the life of your tweet significantly.
There's no magic formula for number per day, but safe to say that between 5 – 10 self-promotional Tweets should suffice as a baseline, with additional engagement and outreach efforts to work in tandem. A comprehensive Twitter update repository will make scheduling in volume an easy task, but take care not to repeat updates too regularly.
In fact, what may come in handy is Brand24 Storm Alerts feature. It sends you notifications about sudden changes in mentions' volume. Here's more info on this one.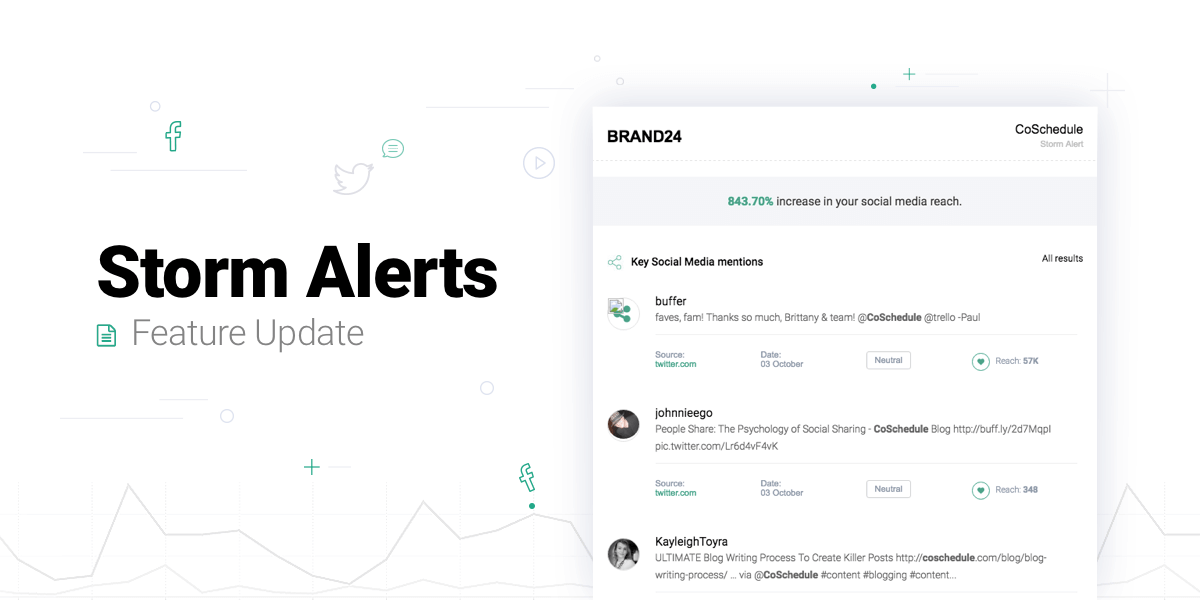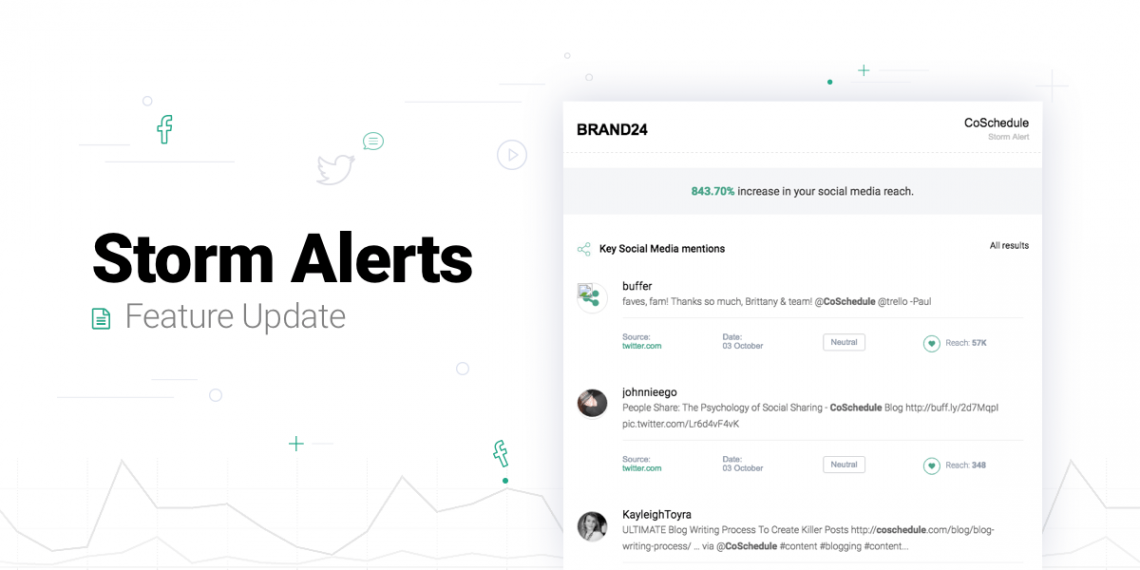 Monitor and adapt
Our good friends here at Brand24 have the perfect solution for monitoring the performance of your Twitter output. This phase is essential for tweaking campaigns, refining strategies, and reporting on the impact of your tactics.
Iterative testing on design, copy, and frequency of your Twitter activity will highlight where the sweet spot is. Furthermore, it's paramount to analyse the perception of your brand amongst your audience (sentiment), and monitor your agency's position of influence within the industry and among competitors.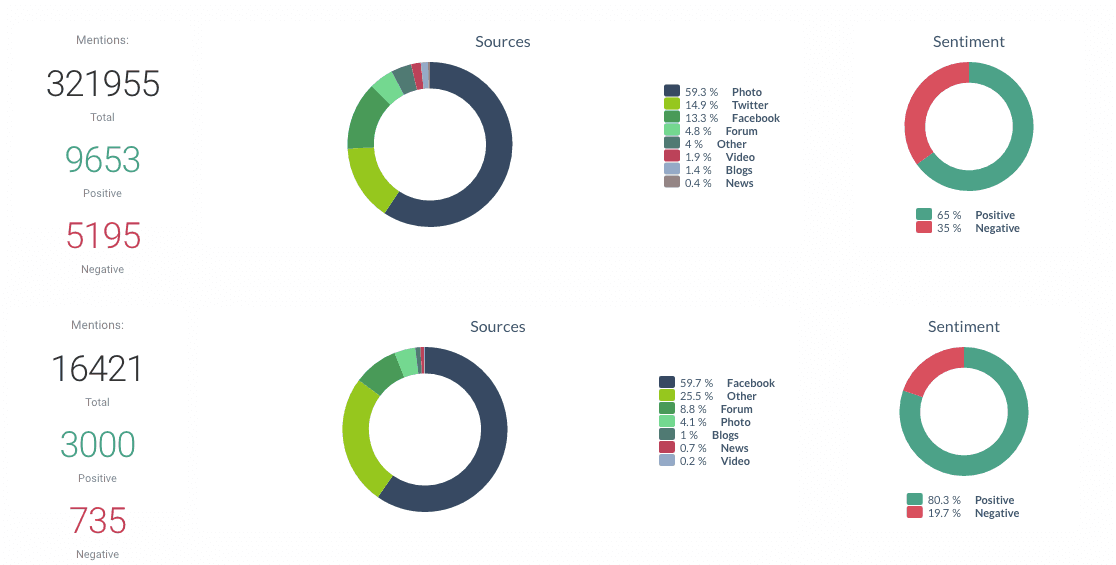 Paired with data on follower demographics and user engagement, these factors will highlight whether your agency's tone and tactics are having a profound impact.
Author bio:
Oren Greenberg is the founder of London-based digital agency, Kurve. He is a growth hacker and digital marketing consultant to startups in the UK and Europe.