Google Reviews is becoming more and more important marketplace not only for locally-based businesses, but also businesses online. Seeing its rapid growth, we developed Google Reviews monitoring to include yet another aspect of your online reputation in one dashboard.
Table of contents:
---
Why Google Reviews are important?
Google Reviews' explosive growth has started in 2015. Since then, the number of reviews on the platform has been growing like crazy. Bright Local, one of the leaders in local search, went to the trouble of analyzing the growth of review sites. Here's what they found: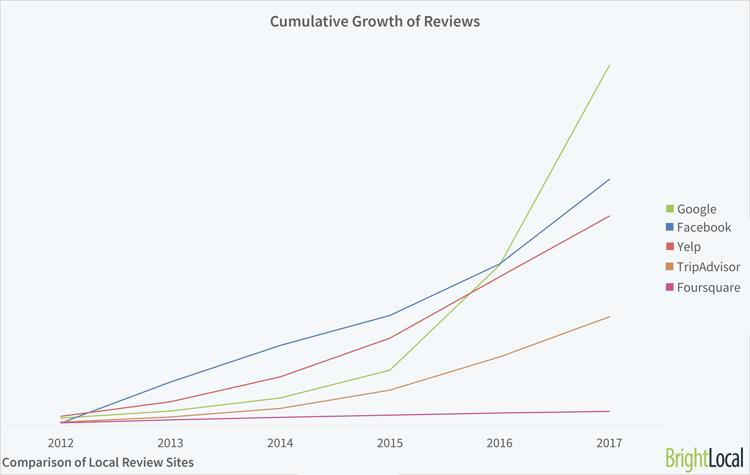 Since 2015, Google Reviews has seen the the most dramatic increase in the overall number of reviews of all review sites.
Benefits of Google Reviews
Google Reviews, just like any other online reviews, are important for your business for obvious reasons. However, there's something special about Google Reviews you shouldn't undervalue:
Google Reviews work locally – anytime a consumer google a business, the Google algorithm interprets their search as local and suggests places in your closest vicinity
Google Reviews improve local search ranking of your website – according to wise minds of SEO wizards at Moz, Google Reviews account for 9% of all ranking factors
It's a great source of customer feedback and business intelligence – it's a gold mine of suggestions of improvements and constructive feedback
Reviews obviously increase brand trust – there's many a research about that and conclusions are
They boost traffic to your website – lots of reviews encourage readers to visit your website
They increase conversion – once a reader visits your website, he or she is on the right track to conversion
---
Google Reviews monitoring now in Brand24
Google Reviews can now be monitored in Brand24 alongside other online sources such as:
Social media
Websites
News sites
Blogs
Discussion forums
Review sites
It means that the scope of online reputation you can manage in Brand24 has just expanded – it's all in one place and there's no need to browse your channel one by one, time after time.
---
How to monitor Google Reviews
First of all, log into Brand24 and select a project you'd like to collect Google Reviews for, or create your account and a first project.
Important: If you're new to Brand24, learn how to create your first project and monitor your brand on social media.
Once you're in, here's what to do.
---
1. Getting your Google Reviews link.
There are two ways of getting the link.
Option 1. Find your business in Google Maps search engine and once you get it, copy the link.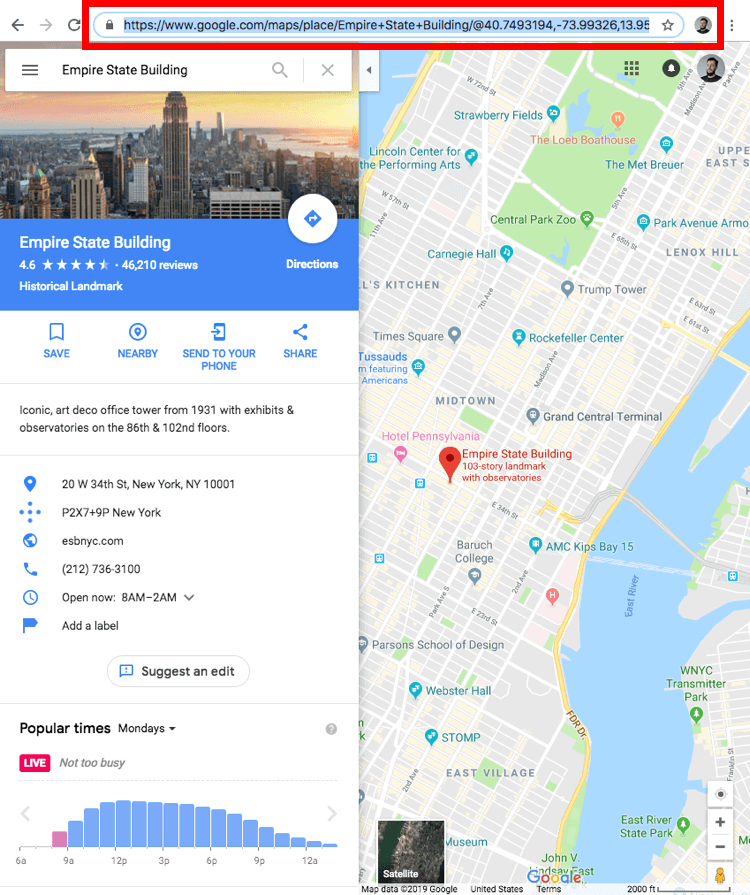 Option 2. Find your business in Google search engine so that it appears at the right hand side of search results.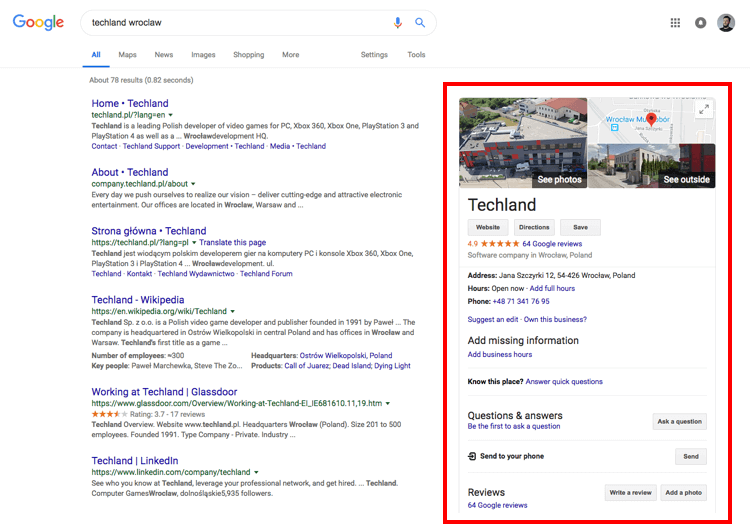 Once you get it, click reviews here: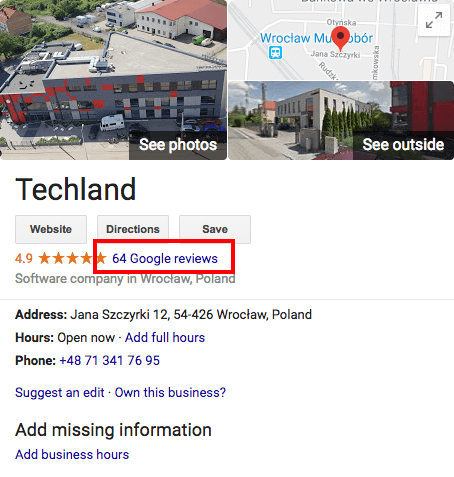 You'll see a pop-up that contains online reviews of your business. Copy the link: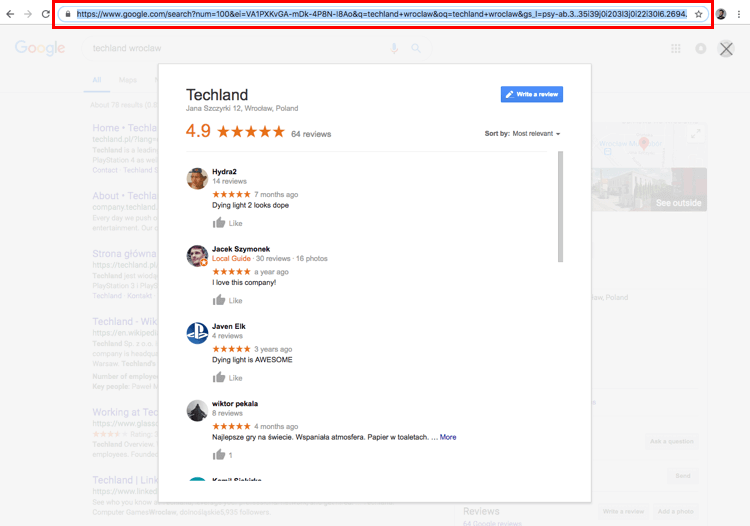 Now we'll move to Brand24.
2. Adding the link to your Brand24 project
Open Brand24 and choose a project you want to collect Google Reviews for. Enter Project settings.

Inside, open Additional sources tab and paste in your Google Reviews link.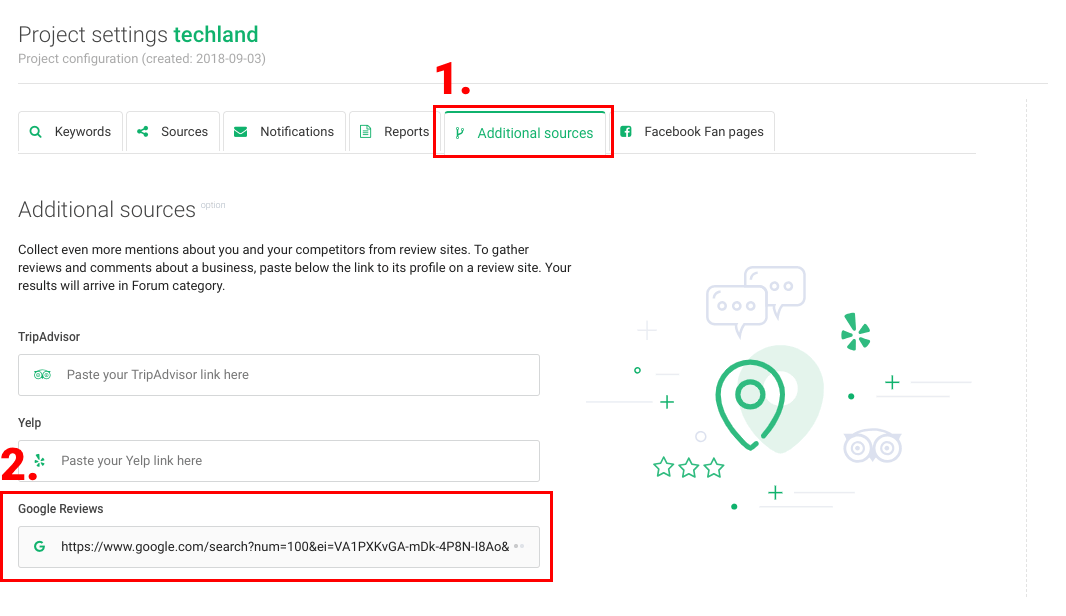 That's it! It autosaves once you add the link.
From now on, your Google Reviews will arrive to the Mentions tab.
---
Relevant reads:
---
---