How To Pick The Right Social Media For a B2B Company
May 18, 2016 ・ 7 min read
How can B2B companies generate more attention when promoting themselves via social media? And which platforms should they pick?
When it comes to engagement, the most difficult platform to engage communities is Twitter. Its numbers are being outshone by the popularity of Instagram, Pinterest, Facebook or even LinkedIn; both in B2C and B2B environments.
There's too much content on the Web and there's not enough time to consume it all. Some practitioners are posting the same piece of information over and over, just to get new people to notice it. And it really shouldn't be that way.
Nonetheless, while Twitter is still one of the pillars of social media, it is LinkedIn that clearly dominates B2B industries. However, there's one problem – LinkedIn's attention rates are not that great.
Oh, and by the way, do you know why you should be on social media in the first place?
Attention Matters Everywhere
In a recent in-depth analysis of 12 months of content creation and distribution from 316 leading B2B brands, authors found that it's still Instagram that most effectively catches the public eye. It's followed by Pinterest (22,53% versus 15,88%), Facebook (5,99%), LinkedIn (1,09%), and Twitter (0,86%).
When it comes to measuring brand popularity based solely on the number of followers, it's LinkedIn that arrives at the first place. According to the research by TrackMaven, the median social media audience for B2B brands on LinkedIn is triple the size of Facebook's, five times the size of Twitter's, almost 40 times the size of Instagram's and overwhelming 260 times the size of Pinterest's.
What's the conclusion here? You might have 36 times the median number of followers on LinkedIn when compared to Instagram, but at the same time, the latter gives you 20 times more attention. The first one looks great on paper. The second one is the actual interaction.
Check:
You Don't Have to Be on Every Social Media Network
You can, but you don't have to. However, if you have enough resources to come up with an effective strategy to animate the community, build relationships and get involved, you actually should be on every network. Even on Vine. If you have an idea for it, of course. In any other case:
Start with LinkedIn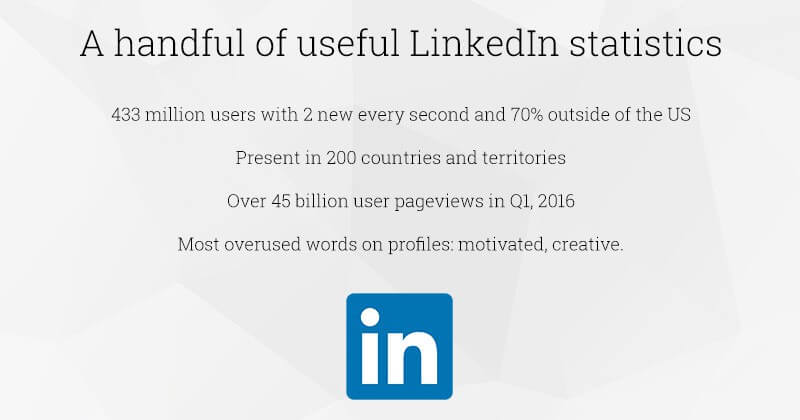 The Holy Grail of B2B, especially when it comes to lead generation. Creating a good company description generates interest by itself. Remember – on LinkedIn you can see only a few sentences at the beginning and the link to your website lies in the "See more" section. And you want people to click on it. It means you need a great copy.
The another way of inviting people to check your company profile is making the Recent Updates section more conversion focused. By posting links relevant to your audience regularly, you'll gain much more interest that you would otherwise.
Then, there are Showcase Pages. They're ideal for segmentation and targeting a specific target audience, which can be applied to more complex organizations.
Another thing – Groups. Join others groups or create your own network. As long as you share valuable content and don't push sales, you're good.
Pulse is also an excellent platform for establishing yourself as an expert in your industry. Get an influential colleague to write some interesting thoughts on a topic relevant to your business.
If it's LinkedIn that you're most interested in, check out our in-depth analysis of what the platform is capable of.
Join Facebook for more interaction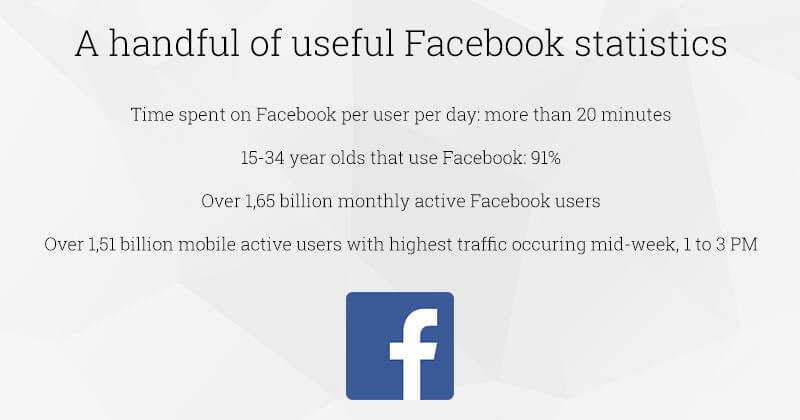 If you were to choose one platform for your B2B business, go with LinkedIn.
But, please, don't choose one platform. Get on Facebook, if you're not already there. It's Facebook's great when it comes to the overall brand awareness. While some industries are much more difficult to promote, it is crucial not to treat Facebook solely as a distribution center. Another one – avoid being boring. No matter what you're selling, even if it's a most down-to-earth product possible, you can still do social media in a creative way. There's a great example on Kissmetrics:
A vivarium misting system helps reptiles to survive in an environment that is different from their native environment. It's going to help pythons thrive in a research environment so scientists can understand them. Do you see the unboring angle emerging?

There may not be a lot of people interested in vivarium misting systems, but there are a lot of people interested in pythons, or rainforest preservation…
Find out how your product might be appealing to an Average Joe and then go with it. Alongside this "popular" content, you can also post on Facebook some educational articles and success stories of you and your clients.
Instagram. Show some behind-the-scenes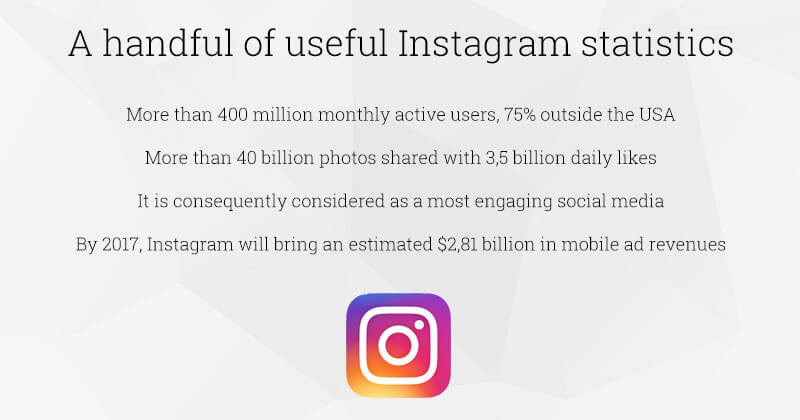 Fitness, food, IT, automotive, and many others have it easy. B2C on Instagram is a natural fit, but what about B2B? You can always show some company events, and that's a good way to start. It's not enough, though. Enrich your content with a good mix of video and images. Add your commentary to current affairs. Show some behind-the-scenes of how you're working. Keep variety in mind, focus on your company's mission and everything should work out. Want some examples?
https://www.instagram.com/p/BClvKb9IaJW/?taken-by=nasa
If you're into a business that doesn't seem as impressive as other might, think again. It would be great to know how large the parking lots of corporate fleets are. Or, if you're into the property and development business, what kind of buildings you like (including those owned by somebody else). Or, if you're an IT firm, show off your sense of humor that is understandable only to IT guys.
https://www.instagram.com/p/9ei4QGEY9H/?taken-by=junipernetworks
Of course, you may consider a more general approach as well:
https://www.instagram.com/p/BFJvEbUK7QP/?taken-by=cisco
Mainly, Instagram is a place of leisure where the most successful media post images, graphics and do great storytelling. But why would you be on Instagram in the first place? Most of B2B brands use it as a tool to showcase their company's culture. It makes your business more recognizable, more friendly and less anonymous. And that attracts the outside talent.
Twitter. If you're not already there, it might be tough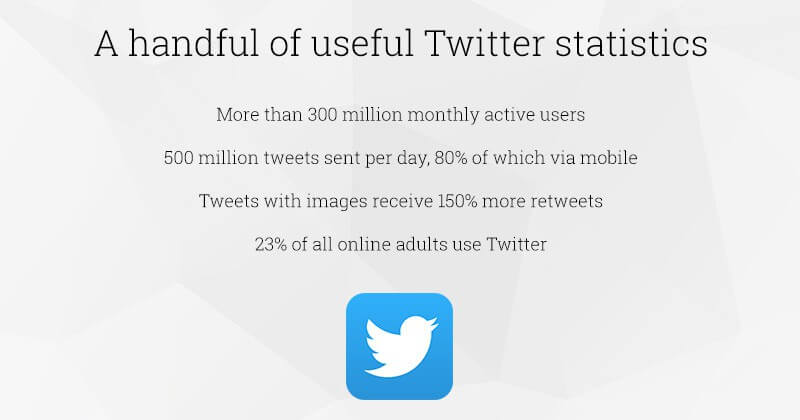 The easiest way to get more followers on Twitter? Get a Chrome plugin like "Follow All", open a Twitter List and just start clicking. Wait a few days, check who followed you back, and unfollow the rest (with an app like Crowdfire).
But, to be honest, you might not want to do that. Let's focus on your content and the overall strategy. You can, of course, use the platform as a one-way pipe and just link to your profile all the time. But it's nice to share some interesting content from other sources as well. Just as you would on Facebook.
When it comes to Twitter, it would be great to schedule a couple of tweets a day with tools like Buffer. You've also got some analytics there, and you can connect your Buffer account with bit.ly shortening link system. Of course, there are other Twitter analytics tools you can choose from.
When it comes to other people noticing your tweets, well. That's a bit tricky. Getting through all the noise on Twitter is extremely challenging.
You can try to shorten your tweets to 110 characters to get more engagement. That way, followers retweeting your message can add their bit and post it right away. Another thing to remember is posting when your audience is online and that means during the day, every day, including Saturday and Sunday.
Of course, there are some universal rules for Twitter, such as using hashtags (only 20-30% of tweets include these), including images (you'll notice increased engagement right away) and interacting with your audience.
What might also work for you is reposting the content. If a message is important enough but doesn't get the traction it could, try using the #ICYMI (In Case You Missed It) hashtag.
I'd Start With These Four
No matter what's your industry, you surely can post the content on the four platforms mentioned above, you just need to adjust it. If everything goes well, expand to another network.
You didn't expect a photo of a calming forest here, did you?
General Ideas For Types of Content That You Need to Consider
Infographics are regarded as a B2C tactic, but their application is beneficial for B2B as well. Know why? It's your data that you'd be sharing with your audience. You can create something original and get organic media (bloggers included) coverage. Go crazy with different graphics styles. Share different infographics across various social media channels, especially on LinkedIn, Facebook, Twitter, and Pinterest.
Informative one-pagers can be quite useful, too. You're particularly proud of your product? Go and create a visually perfect website for it. Share it.
Webinars focused on conversion can be a perfect way to both raise awareness and generate more traffic. And guess what – you can share the information about the event via social media.
Videos are simply something that you need to concentrate on. By 2019, this kind of content will become 80% of all Internet traffic. And I'm talking here about live, VR, 360, basically every possible form of online videos. What's great about it, is that you can repurpose your materials in at least several ways. For example, you can cut out a minute or two and share it on Facebook, including a link to the whole video.
Whatever you do, remember about visuals. They're consistently getting more CTRs.
Oh, and also – listen to everyone across the Internet. Have we mentioned* that social listening is crucial?
*To be honest, we might have talked about that before.
We're a social media listening company, after all.
Related read: