How To Use Chatbots Bots In Your Social Media Marketing Mix
March 14, 2017 ・ 4 min read
In the 2000s, marketing was all about getting two things right – SEO and SEM. A decade later, social media marketing took over and every marketing endeavor was incomplete without their integration (still is, to a large extent). However, the likes of Twitter and Facebook are subtly making way to the era of chatbots.
If technology predictions are anything to go by, chatbots will soon herald some of the most crucial engagement with brands, thus bringing about a paradigm shift in the essence of marketing itself.
We are not far away from a time when people will ultimately treat chatbots as a proper marketing tool, routinely depending on them to make purchases, confirm flight/hotel details and inquire about brands. A lot of that is happening already and chatbots could soon become as human as humans themselves.
When that happens, the realm of search marketing is also bound to get revolutionized, as users will spend a lot more time engaging with chatbots as opposed to checking the results of search engines. This would render many branded apps obsolete since people will prefer to engage through messaging apps they are already comfortable with and reduce their time spent on search engines.
We asked Chatbot Expert Murray Newlands the founder of free chatbot builder tool Chattypeople.com his thoughts.
The Role of Chatbots in Shaping the Future of Social Media Apps
Consumers are increasingly migrating from conventional social networks to messaging apps like Wechat, Slack, Apple iMessage, and of course, Facebook Messenger. The burgeoning growth of these messaging platforms actually surpasses that of the four biggest social networks in existence. It's a win-win situation for both consumers and businesses, which are finding it easier to navigate their way through reduced ad fatigue and competition as well as increased monetization, resulting in better ROI.
Moreover, messaging apps have eclipsed social media apps in terms of attracting new active users, which is hardly surprising. Here, chatbots have a massive role to play because they enable users to search content via their preferred messaging apps.
In addition to making things really convenient for users to search content, chatbots are also augmenting the efficiency of the entire process since many developers are making them intrinsically personalized. In a business parlance, one no longer needs to depend on Google search to know more about a product or business plan; they can simply leverage bots to do that and get their questions addressed quickly.
Transforming Social Media Marketing Through Engagement
Chatbots are now seriously regarded as a potent tool to transform the core of social marketing itself by changing the meaning of engagement. As opposed to the traditional concepts of online advertising wherein engagement refers to playing a video or an ad click, engaging with a bot is essentially about having a real conversation with a human sounding bot.
This is because a fun, personalized conversation is more useful than viewing an ad or a video. This refreshing means of engagement leaves users informed, educated, and entertained – and often with a smile on their face. They also gain a more insightful understanding regarding the brand. Some people enjoy this mode of interaction to such a great extent that they don't think twice before sharing it with their loved ones via profile updates and screenshots, something which makes a lot of sense, given the close proximity of chatbots and social media.
Personalization – Opportunities Galore
Brands inexorably strive hard to figure out ways to attract users in a more personalized form, whether through direct mail or programmed display ads. This is good news because chatbots have the ability to personalize every conversation to the core without becoming intrusive or invading privacy.
To begin, chatbots have the ability to ask harmless questions in a personal setting, something which is beyond the scope of conventional ads. Questions like "What is your dream destination?", "What is your favorite style of music style?" or even a "What would you like to know?" are immensely useful because they lend an element of ease and comfort. For instance, the chatbot launched by Sephora on Kik offers useful beauty tips by first asking specific questions about their area of interest, such as skin care, eyes, hair care, etc. It then suggests pertinent tips, products, and even tutorials based on the responses to help users get the appropriate product.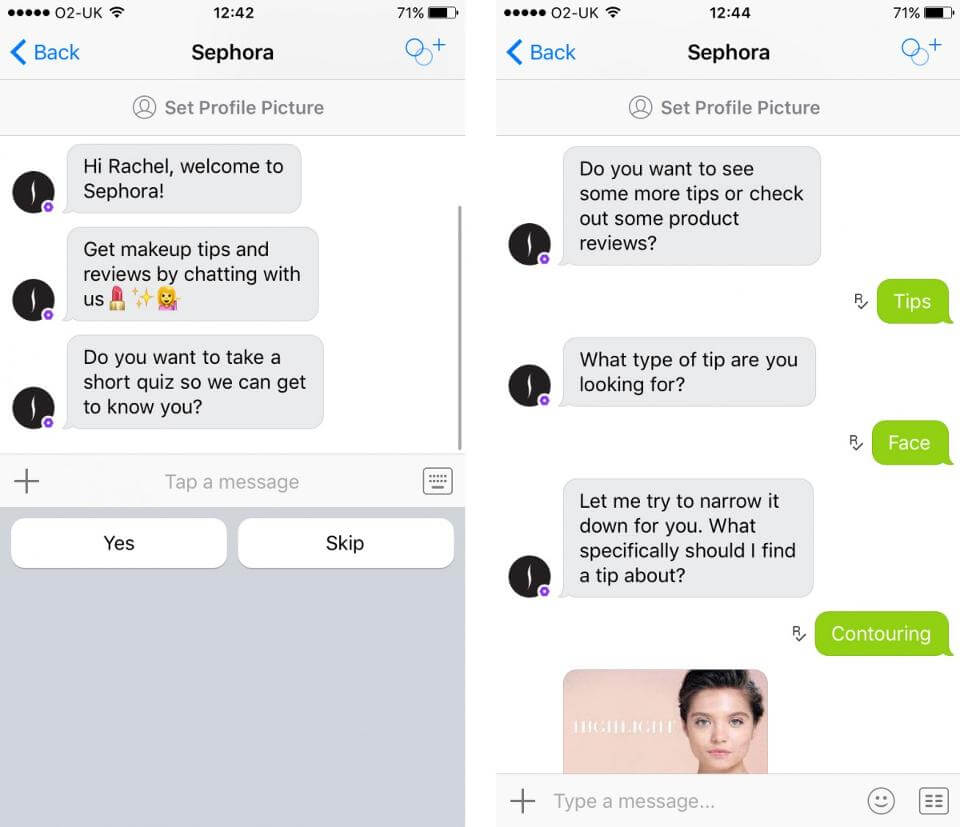 Similarly, Wingstop's chatbot makes suggestions on new spices to food enthusiasts.
Businesses have a huge opportunity to personalize every conversation experience because all they need to do is to use the personal information shared by users as a reference point in shaping their future interactions on social media.
Show Your Story Rather Than Telling It
Chatbots can have a personality of their own – literally. For instance, the TMY.GRL bot (courtesy of Tommy Hilfiger), which is a fashionista in the truest sense, allows people to access exclusive fashion content. Then there's the Miss Piggy bot from Disney, which is fun, cheeky, and spirited. Brands are increasingly adding a distinct flavor to these bots to bring their own personality to life and harnessing the power of social media marketing by integrating it with bots.
The idea is to walk the talk and show your brand story via chatbots embedded in social media. When implemented strategically, intelligent chatbots can draw in reluctant audiences, engage them in interesting ways, and encapsulate your story in a manner that not only builds an emotional connect, but also translates into tangible business growth.
Chatbots are here to stay and become an integral part of your social media mix. They are set to revolutionize the meaning of marketing itself by showcasing your brand story to the world in a friendly yet profound manner, one conversation at a time.
Feel free to browse our blog! You will find many articles here, regarding social listening, marketing metrics, social media analytics, and much more.
Author bio:
For more reading, Murray Newlands was listed number one in Inc's Top 10 Chatbot Marketing Influencers and Keynote Speakers You Should Follow and has written a guide to Chatbot Marketing. ChattyPeople was listed number one in Entrepreneur.com'sTop 10 Best Chatbot Platform Tools to Build Chatbots for Your Business.