According to a recent report by Regalix, State of Social Media Marketing 2015, 93% of B2B marketers choose Twitter as their most used social media platform. Twitter is currently the go-to place for many online marketers who wish to spread brand awareness, increase engagement, and leverage sales.
We've discussed Twitter parties in the past on our blog with great success. This time, however, we want to focus on how you can use data to make them even more effective. Your company is probably using Twitter, so the question is not WHETHER you should use the platform to communicate with your customers, but HOW you can make your activity more data-driven (and here at Brand24, there's nothing we love more than data). To get the most important data for Twitter, take a look at our selection of the best Twitter analytics tools.
Are Twitter parties even popular? You bet they are, just look at the project I've set up using our tool: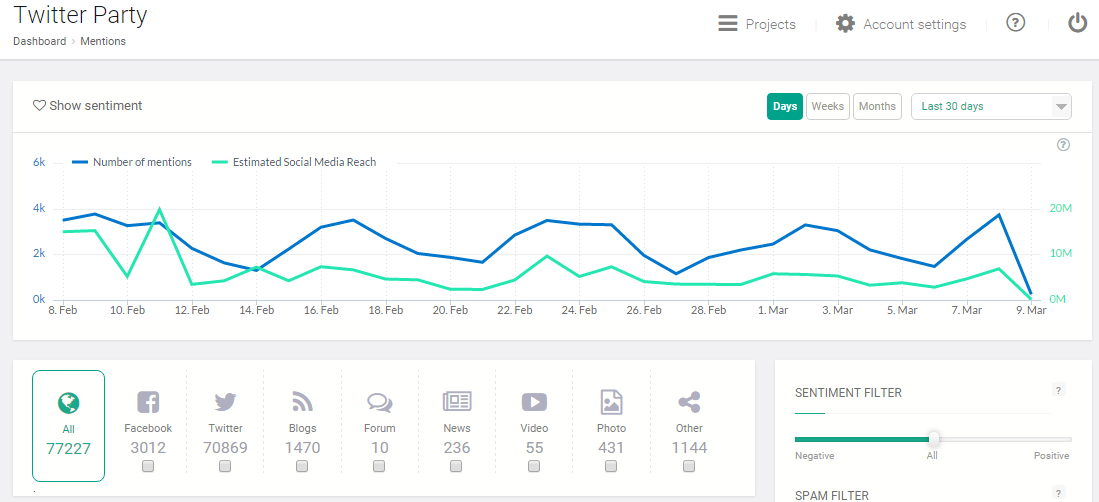 Here's how you can go about hosting a Twitter party the smart way.
Find your topic
A hashtag search on Twitter or a regular Google search doesn't give you access to all the buzz quantity and quality analytics that social listening tools come with. What is more, relying solely on a hashtag Twitter search won't provide you with information on how these topics are doing outside of Twitter.
The most efficient way to examine the popularity of a given subject is to simply set up a dedicated project to see if the topic you want to cover is interesting and engaging for people across social media channels. Filtering your results lets you reduce the manual work that usually goes into doing your research.
Thanks to social listening, you can not only see how many people talk about a particular issue on social media channels, but also learn which gender or age group is typically the most vocal on that particular subject.
Examine how many influencers and users discuss the subject you have in mind to get an idea about its Twitter chat potential. You can also use the "Influencer Score" filter to find special guests and panelists you would like to invite to make your chat even more popular with Twitter users.
Spread the news
Take time to inform your followers on the chat. Organize and schedule your social media posts to reach members of your audience at the right time and in an organized manner. Remember to ask your panelists to promote the event across their social media channels to get more exposure.
Use visuals to reinforce your message
Design dedicated images and add them to your post to stand out from the sea of tweets. People are more likely to remember the date and hashtag if they see it in plain text as well as a part of an image.
Here's a couple of examples of eye-catching designs: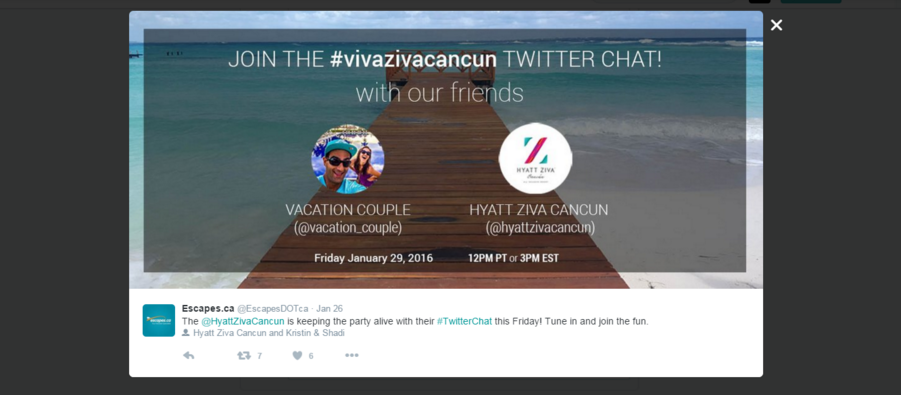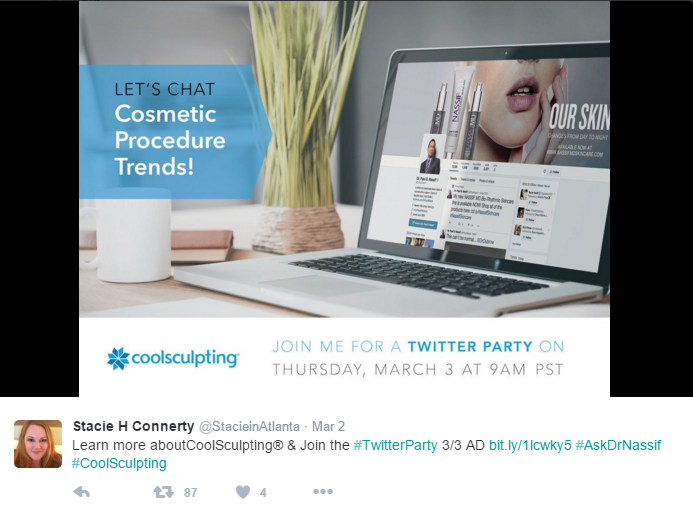 Identify influencers to amplify your message
Inviting influencers to co-host the discussion gives lets you take advantage of their expertise, as well as get noticed by their followers: a win-win, if there ever was one.
Check also: Twitter Influencers: How to Find Them + benchmarks
Analyze
Here's where the real fun starts: you can use social listening tools to evaluate your party's effectiveness, i.e. its reach and engagement. This type of tools provides you all the analytical information you need – if you set up a project to monitor your Twitter party hashtag, you'll be able to see what works and what doesn't. Thanks to project comparison, you can compare the stats of Twitter chats you've hosted (or monitored) at a click of a button.
You can choose to monitor a given hashtag, or a phrase, which will provide you with more mentions. Based on your results, you can move things around to see how your reach and engagement change. Thanks to your data, you can optimize your chat for the following parameters:
Day of the week,

Time of day,

Discussion topic,

Discussion hashtag,

Influencers involved in the discussion and event promotion,

Invited panelists,

Register/tone of voice. You may find out that your party is more engaging if you're more conversational than you are in your regular tweets.
Learn from your competition
Keeping an eye on your competitors allows you to learn from them without having to figure out the entire process from the start, plus you can also avoid making their mistakes.
HINT: If you monitor your competitor's Twitter party hashtag (remember you have to set up a project to monitor the hashtag before the party takes place to get the best results) is bound to give you the upper hand as you can compare your campaigns and draw conclusions.
Are you ready for your first data-driven Twitter chat? Try our tool for free and let me know what you think!