Welcome to Reviews & Comments: The Lost Chapter, a supplement to the Reviews & Comments series. By this time you should already have a great understanding of the significance of online reviews, know how to use them and be aware why it's good to become an industry authority. All in all, they were strictly connected to business. But dis ain't ova peeps!
Business owners had their 5 minutes. Now it's time to switch sides and step into the consumer's shoes.
It's almost as certain as death and taxes it hasn't crossed your mind that reviews can benefit also consumers aspiring to build their personal brand. I'm not surprised that you're surprised! Companies emphasize the importance of reviews for their businesses as they translate into profits. With this article, you're stepping into the area where consumers, not businesses, benefit from writing online reviews.
If you're keen on establishing your personal brand, there are a couple of things you can do to steal the spotlight. Building a personal brand, becoming an influencer and a significant voice of your niche requires both social media and physical presence. You need to have opinions on matters of your interest and you need to spread them throughout the Web, during conferences, meetups and any other relevant occasions that allow you to take the floor.
Speaking of which, below you can find some ideas how to do it. The Web is yours.
Reviews
The moment you post an online review of a product or a service, you become an involved member of the community and your voice matters. If you're familiar with a product in and out, you can provide feedback, either to compliment, provide an improvement suggestion or just to criticize it.
There's a big deal of places where you can comment and discuss products. You can review apps and software on Capterra, AlternativeTo, GetApp, G2 Crowd more.
When it comes to other services, make sure you check TripAdvisor, Yelp or Foursquare.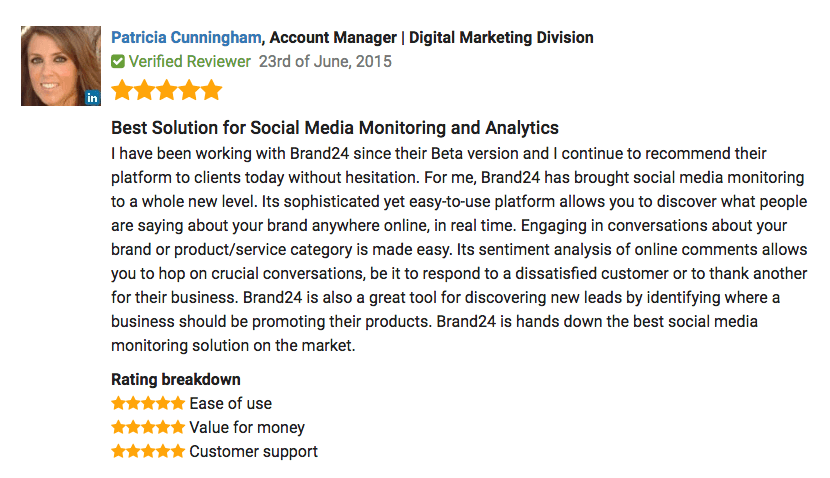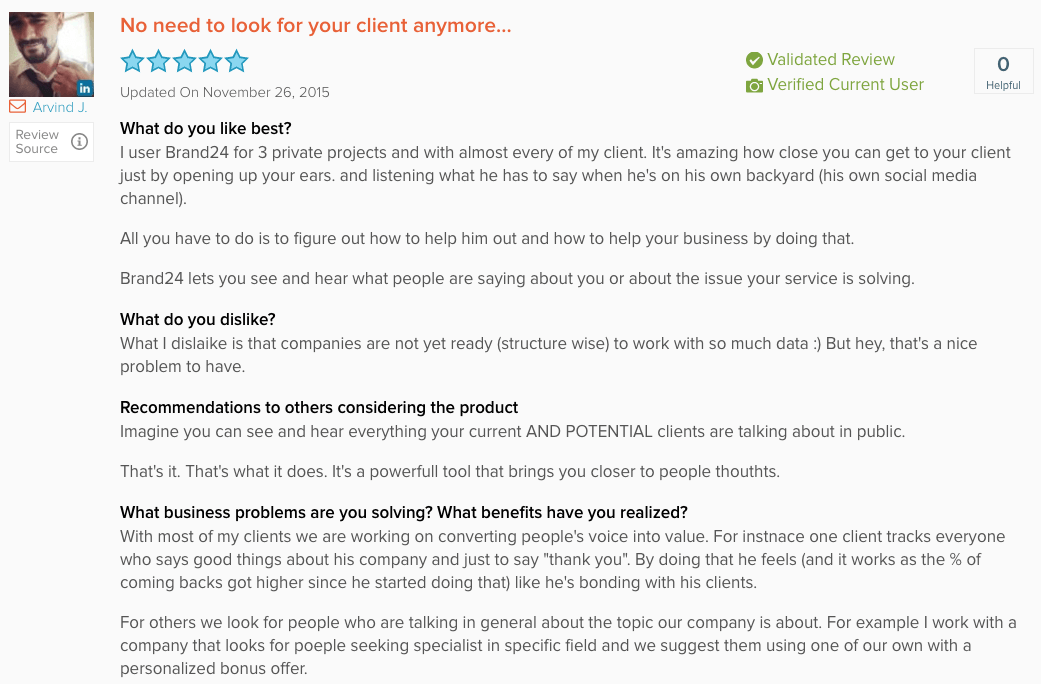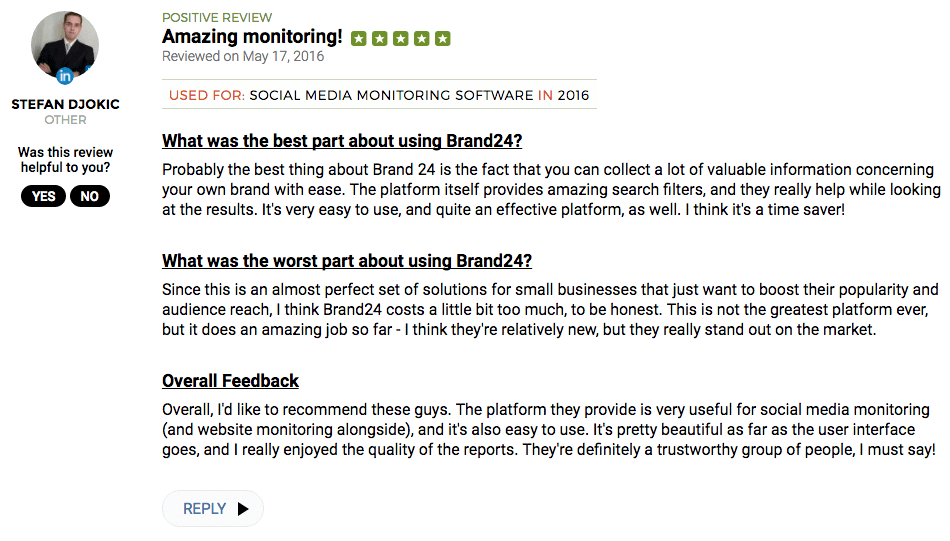 Below you can see some examples of consumers reviewing our tool:
Blogging
Start writing down your thoughts on a blog to build your online reputation. Having a well-written and opinion-forming blog gathers the audience and increases you fans' trust. Review products, services and basically anything connected to your niche. It's a great way to stand out. With unique insights and good writing style, you can certainly mark your presence online.
Remember about a few things:
Be relevant
Provide smart insights
Be entertaining and humorous
Your content has to be dope! Actually, we've got a piece of advice how to make it great and make it the easy way!
Like in the case of Seth Godin who's become a marketing guru. Check his blog!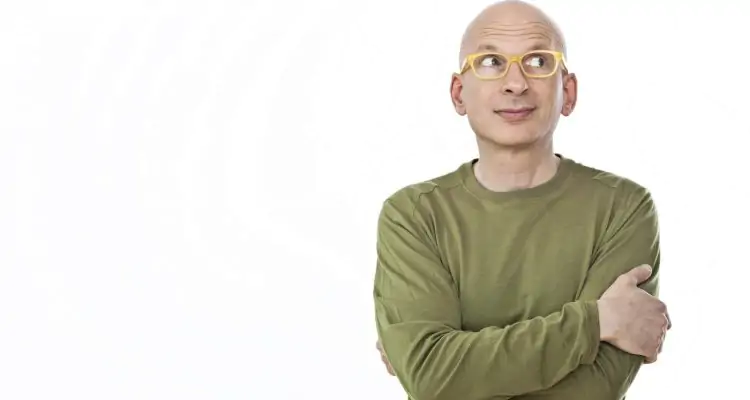 Guest Posting
Contribute guest posts to industry publishing sites as they crave for new content. Guest Posting is a good chance to present yourself to a wider audience and gain the attention of influencers from your niche. How does it work?
There you go:
Name recognition. After a reasonable deal of articles, your name starts to be recognized. Such recognition drives traffic to your social media.
Direct referrals. Quite obvious, right? Readers like your article, they visit your website. Simple as that.
Social Media traffic. The more your article is shared, the bigger your social media traffic.
Future visitors. If you're good enough, your readers will remember that your texts are worth reading.
Also, keep in mind the promotion of your content There're some publishing sites where you can republish your articles. For instance, we use medium.com, inbound.org, and growthackers.com.
Don't forget to read our piece on content distribution!
Such publishing sites usually gather industry professionals, so make sure you're visible to them!
Become Brand Ambassador
Brand ambassadors are this connection between brands and ordinary consumers. You can benefit in a number of ways. It gives you the chance to become popular, make connections and benefit financially. You need to be really passionate about a product or a service and air your acknowledgment throughout the Web so that it becomes visible to your favorite brand.
Industry Events
Take the chance of participating in industry conferences, workshops and meetups. It's even better if you're a speaker. There's a whole science of being an effective speaker, so don't forget to put some effort to it.
However, if you attend such events as a listener, there's another way to mark your presence. Meet influencers, say hello and shake hands. It's all about relationships and meeting experts
In fact, grab some pieces of advice!
1. Prepare. Check the people who signed up for the event and think who you want to approach. Have some questions to drive the conversation.
2. Listen to speeches, approach the speakers and ask questions. Make connections.
3. Talk about your business: what do you do and what problem your business solves.
4. Follow up with any connections within 24 hours after the event.
Groups, Discussion Boards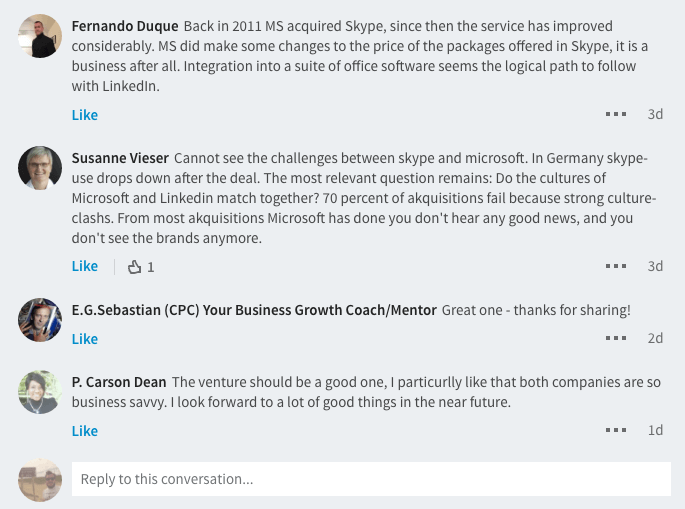 As an aspiring influencer, make sure you should take part in debates in LinkedIn or Facebook groups. Here's an example of people discussing Windows to buy LinkedIn.
Also, when it comes to marketing, a lot of talks happen on discussion boards, such as Warrior Forum. It's the leading discussion forum concerning marketing.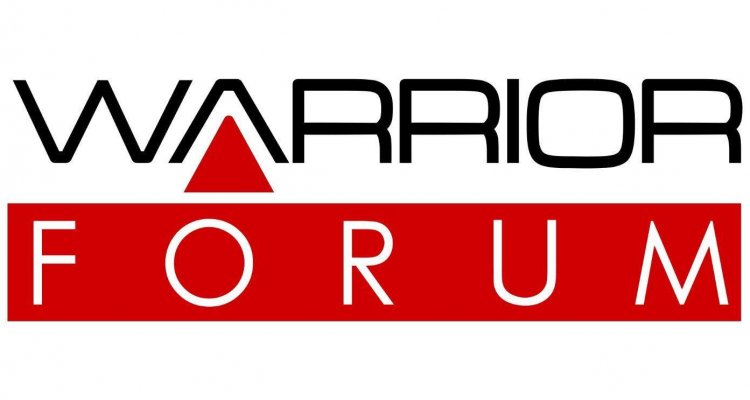 Last But Not Least
To spot discussions relevant to your interest, you can use a social listening tool like ours. You set up a project, you provide keywords you're interested in, you're happy and we're happy. What's really cool is that you get instant updates on the keyword the moment a new mention appears on the Web. Check it out in a free trial!