Smartwatches – the Future of Wearables
August 4, 2014 ・ 4 min read
Moto 360 is the best looking smartwatch according to social media users.
We are excited to present you our next report. This time we analyzed carefully contents in social media about smartwatches. Basing on nearly 100k unique entries, we tried to study the Internet users' attitude towards those devices. The vast majority of user-generated contents have positive sentiment. Samsung Smartwatches appear the most often in social media. However, definitive winners are Moto 360 and Withings Activité. Both are the most appealing and the best looking smartwatches according to social media users. As they have not been oficially introduced to the market, it is even bigger achievement.
Check out the full report on Slideshare to find out more.
Number of Mentions & Social Media Reach:

The slight increase in the number of mentions on 3rd June was related to WWDC 2014. Then plenty of social media users speculated about iWatch introduction. The rapid growth on 24th-25th June was, likewise, related to the software developers conference – Google I/O 2014. However, in this case, the increase was much more sharp. On the other hand, on 20th June, the increase resulted from the fact that many social media users shared information about introduction of both new Samsung Smartwatch during I/O 2014 and iWatch in fall.
Sources of mentions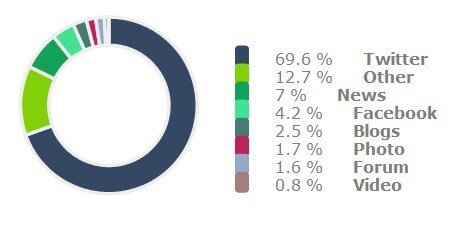 Twitter is the most popular platform for the Internet discussion. It results from the big number of shared contents from news websites. Social media users willingly post links to articles or reviews of smartwatches rather than create their own contents.
Contents structure

Still people prefer sharing information to posting their own contents. However, in the case of smartwatches in general (last column) user-generated contents represent over a half of mentions. This rate is also relatively high in the case of Moto 360 and Withings Smartwatch. On the other hand, people create their own contents less willingly in the case of iWatch and Asus Smartwatch.
Sentiment structure:

In general people write positively in relation to smartwatches. Moto 360 and Withings are the most appealing brands of smartwatches in social media (positive mentions – 85%). Negative mentions concerns mainly contents which do not include specific brands (last column). LG has the biggest share of mentions with neutral sentiment (64%). This rate is also relatively high in the case of iWatch. Microsoft smartwatch has the biggest share of negative mentions (excluding smartwatches in general) – over one fourth. When it comes to positive mentions which refer to the smartwatch design, Moto 360 achieved the best result (over half social media users).
Sample mentions
Trying to justify buying a Sony smart-band but I can't. I have a pebble smartwatch already and I log my life through here. So… nah soz

— Jeremy Shepherd (@J_Shepz) June 11, 2014
.@Qz has found a smartwatch with both style and substance – @jenniavins explains: http://t.co/9sqNzwkyZW #techtuesday pic.twitter.com/u1Vwpc4Iyd — Atlantic Media (@AtlanticMedia) June 24, 2014
Moto 360 smart watch looks awesome. Great job. Let's see what Apple can come up with.

— Julio Laínez (@JulioCLainez) June 25, 2014
I adore my Pebble, but god damn this is sexy | "Up close with the Moto 360, the best-looking smartwatch yet http://t.co/OyXer75rDD" — Sean O'Kane (@sokane1) June 26, 2014
You can order a pizza from your #moto360 smartwatch. Hello, future. #GoogleIO2014

— Khalid Latif (@AmnaKhalid) June 25, 2014
lmao Apple's smartwatch. looking forward to how they're designing that.

— Julie (@julseyong) June 21, 2014
I wonder if smart watch will be the new in thing next time where every one of us have it just like a phone. — Darius Shu (@dariusshu) June 26, 2014
A smart watch that doesn't support multiple platforms isn't very smart http://t.co/TeDFxc3czm #opinion

— Geoff Quattromani (@GQuattromani) June 30, 2014
Still yet to see a remotely interesting smart watch. Is such a thing even possible? — Bill Bennett (@billbennettnz) June 25, 2014
Before anyone asks, no. It is not a smart watch. I cannot see myself ever buying one of those.

— Oli [Mumbo] (@ThatMumboJumbo) June 16, 2014
Another Google exec struts out on the stage wearing a Google smart watch. These lads are just teasing us bad. #IO14 — Vishal Mehra (@vishal1mehra) June 25, 2014
I ordered a google smartwatch last night.

— Matt Baxter-Reynolds (@mbrit) June 26, 2014
I'm so buying that new #android smart watch. #GoogleIO pic.twitter.com/5nn3q2lJgK — Tobias Goeschel (@w3ltraumpirat) June 25, 2014
Google's smartwatch actually looks fashionable. I'd buy one depending on the price.

— Neil Boom (@MrBoom) June 26, 2014
Conclusions:
Number of mentions at a very high level during the analyzed period;
Buzz increased significantly during the special events (WWDC 2014 and Google I/O 2014);
Twitter is the most popular source of mentions;
Generally people write positively about smartwatches;
Shared contents from news websites represent 68% all mentions;
Samsung Smartwatches appear the most often in social media;
Moto 360 is the best looking smartwatch according to social media users and the second one is Withings Activité.