Social Media in Real Time [Interactive Infographic]
February 18, 2016 ・ 1 min read
Social media usage is huge, there's no denying that. According to the Social Media in Real Time counter, there are on average 292,980 new status updates on Facebook in just 60 seconds.
Scroll down to see social media growth stats from the moment you've started reading this post: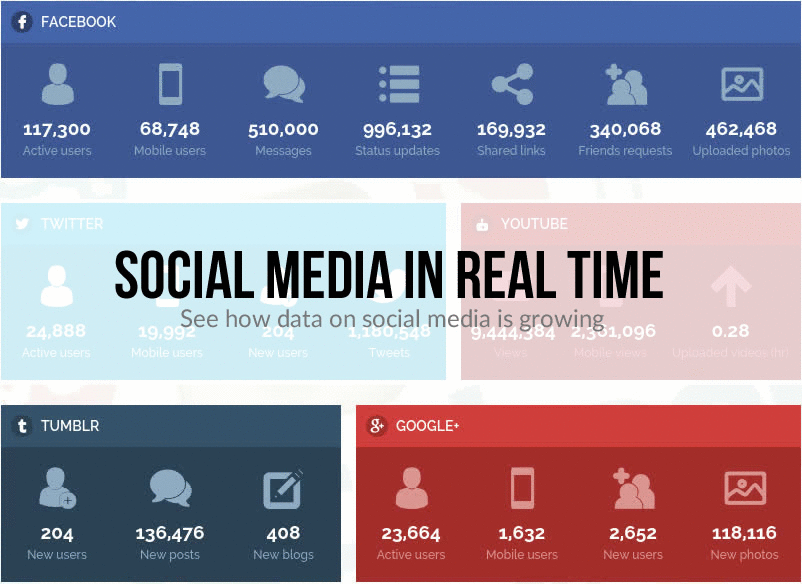 Presented by Coupofy
In just one hour, music icon Katy Perry received 1,620 new Twitter followers according to the counter, and football superstar Cristiano Ronaldo got 648 new page likes on Facebook. Perry has 81.7 million total followers while Ronaldo has 109 million total page likes. These are astronomical numbers, making them two of the most powerful influencers in the world.
In just one year Twitter is expected to gain another 16 million users while Facebook will have closer to 189 million. This information overload has serious implifactions for online marketers – you really need to raise your game to get your message across.
Check out the Social Media in Real Time counter from Coupofy today to see the staggering growth of the top 9 social platforms right before your eyes!
About the Author:
Zuzana Padychova is a digital marketer helping international SMEs to adapt and execute their global business strategies in local markets. She has worked with teams from 27 countries over 5 continents so far. Zuzana is in the Potential Asia team of digital marketers developing a network of Coupofy online startups across the world.