In the era of social media, influencer marketing is one of the most popular and powerful strategies for approaching new potential clients. Researches show that companies generate 6,50$ in revenue for each 1$ invested in influencer marketing on average. Influencers are that effective because their relationship with followers is based on the most valuable currency of our time – trust.
But if you want to reach such impressive ROI you need to put some effort into the whole process: from finding the proper influencer, evaluating the ideas for cooperation, measuring the effectiveness of the campaign to the summary of the collaboration.
I know, it may sound quite tricky but there are some beneficial tools to manage this process, and in this text, I'd like to tell you about them. The list contains two types of tools:
In the first five positions are tools for searching, reaching out influencers, and measuring the effects of campaigns.
Last two positions are for tools which will help you verify if an influencer is influential or not, spot the fake influencers, verify audience quality, engagement rate, etc.
NinjaOutreach
NinjaOutreach is an influencer marketing tool that provides instant access to:
60 000 000 Instagram influencers,
6 000 000 bloggers,
7 000 000 twitter influencers.
The tool gathers a database with popular Instagram and Twitter influencers, top bloggers, and allows you to find them, verify if they meet your expectations, and contact them.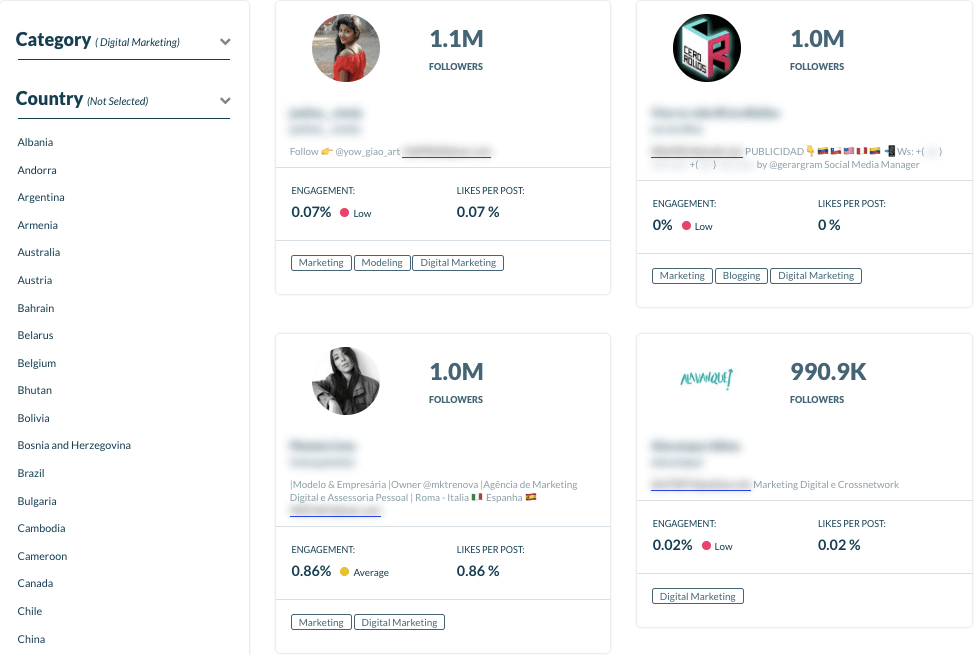 To find bloggers and influencers, you need to type the keyword you are interested in, and the tool will show you a list of blog posts related to your keyword. All the results consist of:
Blog post title
Author's name
Home page
Geolocation
E-mail address
Blog post description
Number of social media followers
SEO stats
Traffic data – Visits Per Month,
Engagement data – Shares Per Post.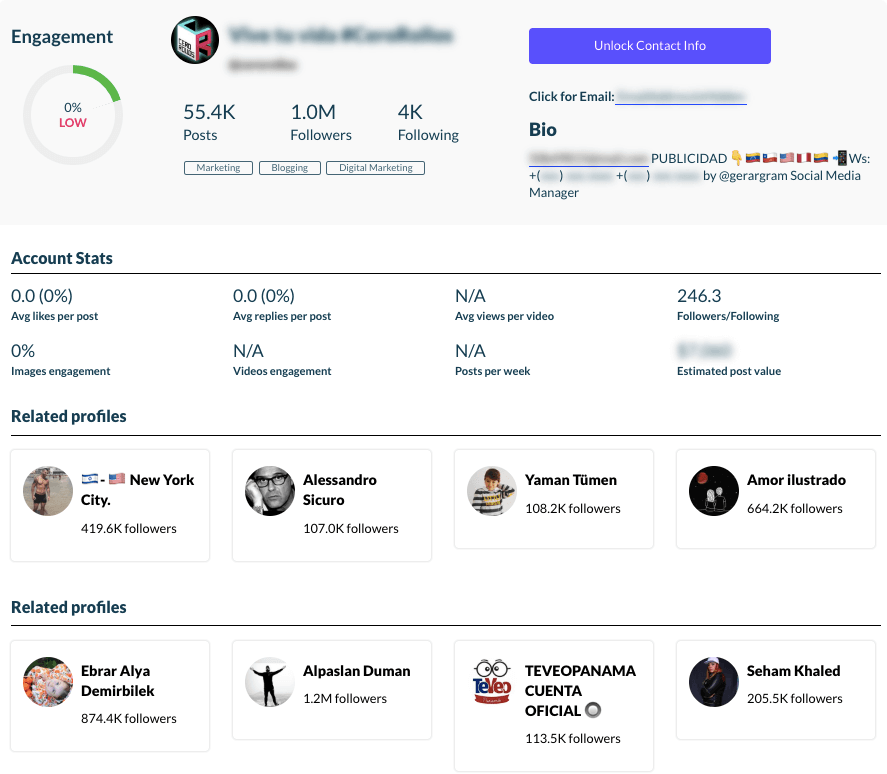 Price: NinjaOutreach starts at 49$ per month.
Upfluence
Another all-in-one digital marketing tool for influencer marketing. Upfluence helps you do the whole job – it helps you to find the influencer, manage the campaign, and monitor its effectiveness. The tool offers a database of over 3 million influencers which you can search through. We can explore the influencers by using keywords but also the tool provides us with filters:
Geolocation
Social networks metrics like number of followers
Languages.
Also, Upfluence offers you real-time access to influencer's latest posts and social media stats like
Engagement rates
Monthly visitors to their profiles and blogs.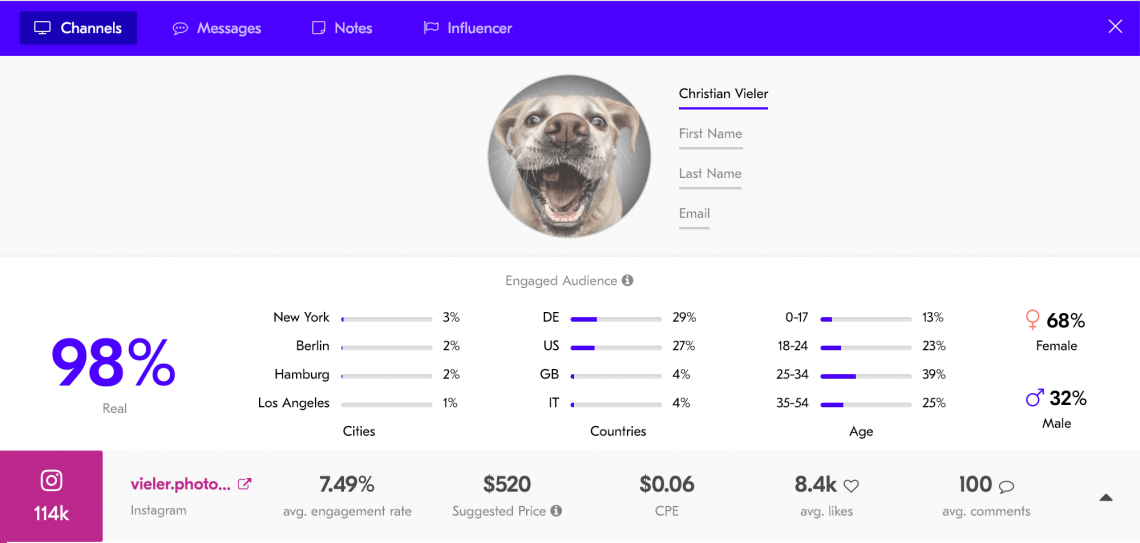 What may be very useful and time-saving is the opportunity to create lists of influencers we would like to cooperate with.
The tool also provides a feature by which you can contact a list of influencers who you would like to work with and see if they accepted your invitation or not.

What's more, Upfluence gives you the opportunity to run multiple campaigns at the same time. You can set up several influencer marketing campaigns for different purposes, run them together while overseeing your total budget and the duration of each campaign.
Price: Contact sales.
BuzzSumo
Although BuzzSumo's primary goal is to help you in research for content, it is also helpful in influencers research, especially on Twitter. It's "Influencer research" feature allows you to search for the top influencers in any niche, social media platform or location.
There are two ways to find influencers – through their bios and through the content they share.

BuzzSumo also provides filters in the research feature. You can sort your results by the following parameters:
Page authority
Domain authority
Number of Twitter followers
Retweet ratio
Reply ratio
Average retweets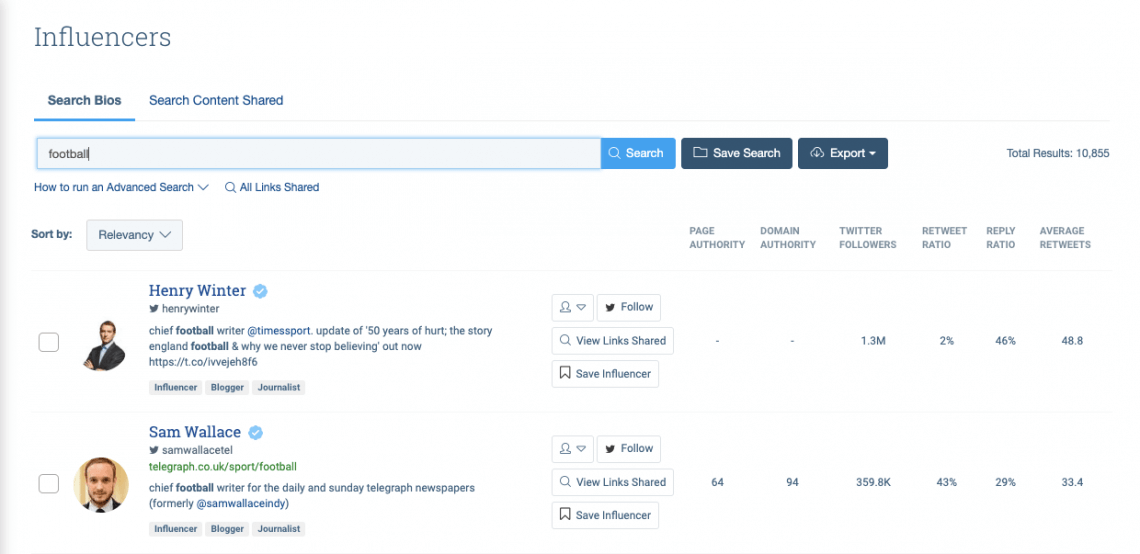 Price: BuzzSumo starts at 99$ per month.
FameBit
FameBit is a fascinating digital marketing tool for influencer marketing because it focuses on connecting brands with the right content creators (mostly on YouTube) based on their content requirements.
How do FameBit works?
The first step is creating the campaign. Select which platforms you want to promote your content on, what types of content you are interested in (product reviews, tutorials, etc.) and set your budget.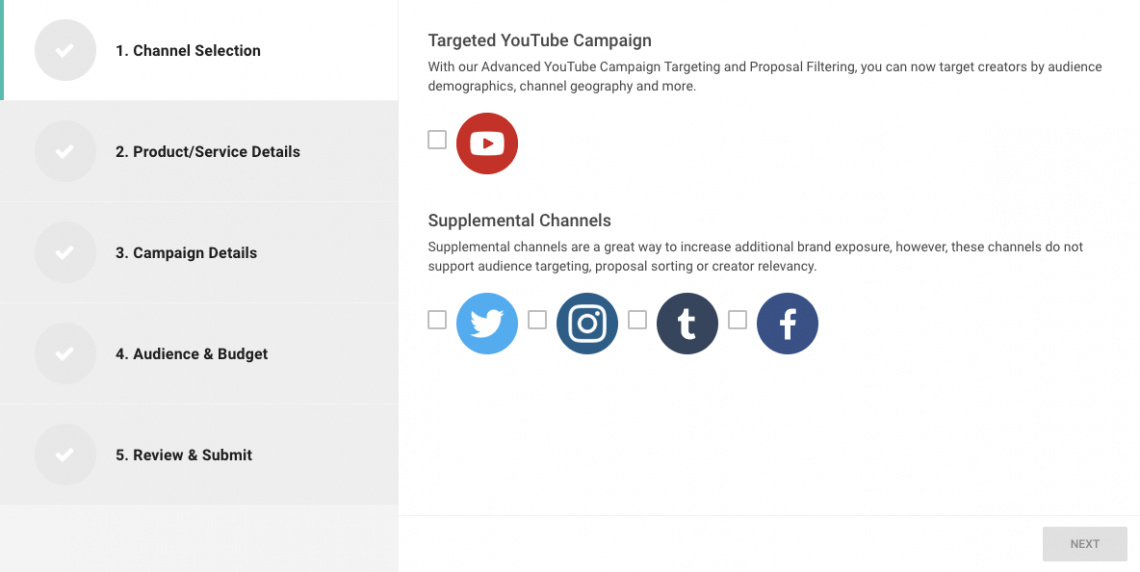 Your campaign draft will be visible on the platform so content creators will be able to see your requirements and apply to work with you by sending proposals.
Proposals should contain the type of content they would like to create for you, platforms on which they could publish it and their fee.
Next step is to select the creators. Every proposal includes content examples, information about the creator's audience (demography and geolocation). This is the part when you need to examine proposals and choose the best match for your brand.
If you decide to cooperate, the creator will send you content for your approval. Once you approve it, the creator will publish it and share the content with his / her followers.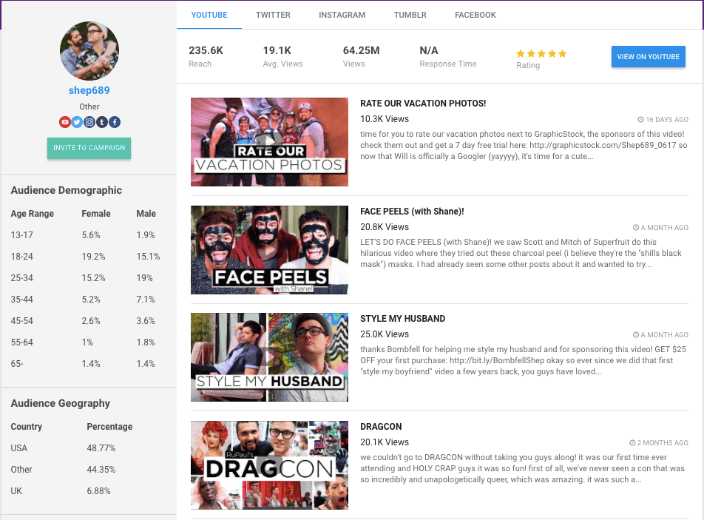 Price: The tool is for free but they charge a 10% fee to brands on top of what they pay to creators. And they charge a 10% fee to creators, deducted from their earnings.
SocialBlade
This digital marketing tool gives you access to its public database, which can provide you with global analytics for any content creator, influencer, blogger, etc. Among total 55 million of accounts we can find:
29,6M YouTube creators
8,8M Twitter users
8,4M Instagram accounts
7,6M Twitch streamers
289,6K Facebook pages
256,1K Mixer streamers
208,9K Dailymotion creators.
SocialBlade shows you detail data of each creator, such as:
Total number of uploads
Total number of subscribers
Total number of video views
Geolocation (country)
Channel type based on creators ten most recent public uploads
Date of account creation.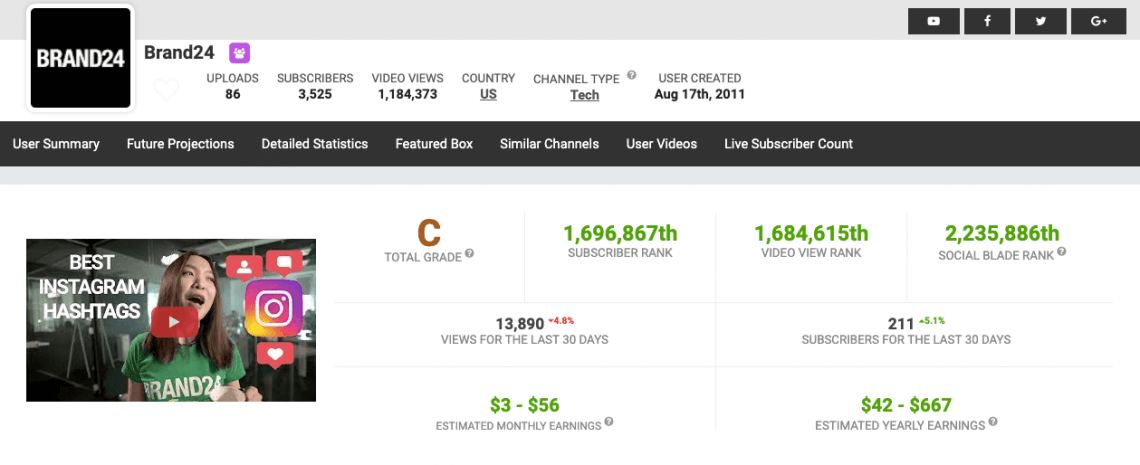 The tool also shows you graphs with the progress of each creator in terms of total views and subs / number of followers etc.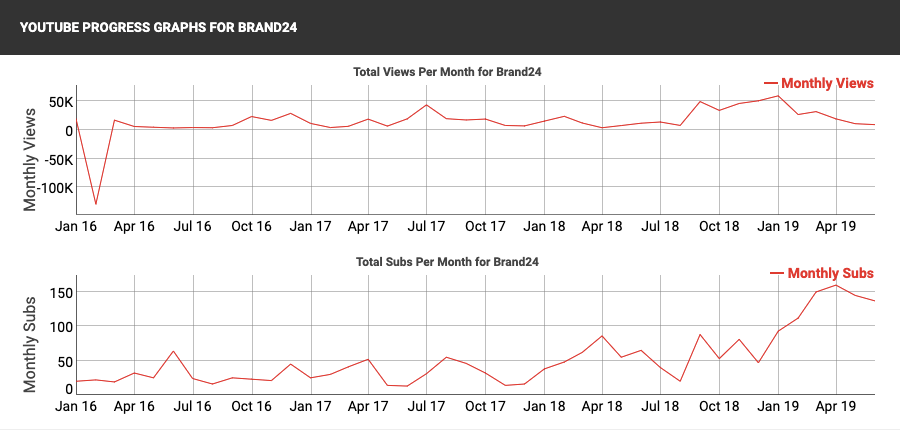 It's a handy tool if we want to verify an influencer. Unfortunately, nowadays there are a lot of fake influencers, who built their fanbase by unfair practices like buying followers, comments, subscribers, etc. Spotting fake influencer may save you a lot of money and isn't time-consuming, so it's worth doing.
If you want to know more about spotting fake influencers check out this video:
Price: The tool is for free.
Buzzweb
This tool is dedicated to analyzing the Instagram profiles of influencers to evaluate their authenticity.
Thanks to Buzzweb, you can check Instagram accounts for audience demography, fake followers, and real engagement rate and get fair price assessment for posts.
Buzzweb will give you such detailed info about an influencer as:
Instagram rating from A+ to F (where A+ is the highest grade and F is the lowest)
Engagement rate
Audience quality
Demographic data
The average number of likes
The average number of comments
Number of posts and followers.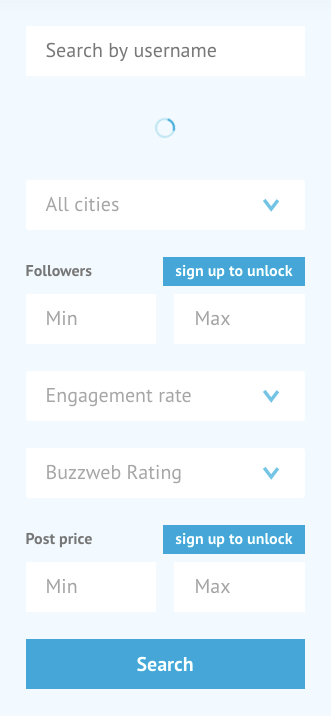 Price: Buzzweb starts at 19$ per month.
Conclusion
Nowadays, influencer marketing is one of the most potent marketing strategies but, as you see, finding the influencer who can bring us satisfying ROI isn't as easy as it seems to be. It requires a lot of research and data analysis which can consume a lot of time and effort when done manually.
These influencer marketing tools I've listed above can save your time and effort in the whole process, from finding the proper influencers, through reaching out to them, to analyzing the effects of the campaign.
HANDPICKED RELATED CONTENT
Top 5 Twitter Influencers' Tools
How to use media monitoring to find Instagram influencers
How to identify influencers
---
---