What is Peach?
January 26, 2016 ・ 3 min read
Have you heard about the new social network? Peach, that is its name. The latest social network app took the Internet, especially Twitter, by storm at its launch day, just two weeks ago, but as soon as the initial hype got down the tech world has started to speculate as to its inevitable and prompt collapse. Some reports have even already declared its death. Will the new member of the social network family have enough power to compete with big sisters and brothers in the industry? We don't know (even with such a powerful social listening tool as Brand24!), but we know it is worth keeping your finger on the social media pulse and catching up with the latest. Let us present you the newborn social app face and you can find out for yourself.
The new messaging app, Peach, owns most of the online hype to its "father" Dom Hofmann. Yes, this Dom Hofmann, the creator of Vine, the hugely successful app for sharing short looping videos that was acquired by Twitter.
What is Peach?
Available now on the App Store, the juicy app has something from Twitter and Facebook, well, maybe it has some Slack's genes too. Users can still post funny updates, links, photos, videos and GIFs (you can do it with just one letter!), but the difference here is the way you write posts and how you view them.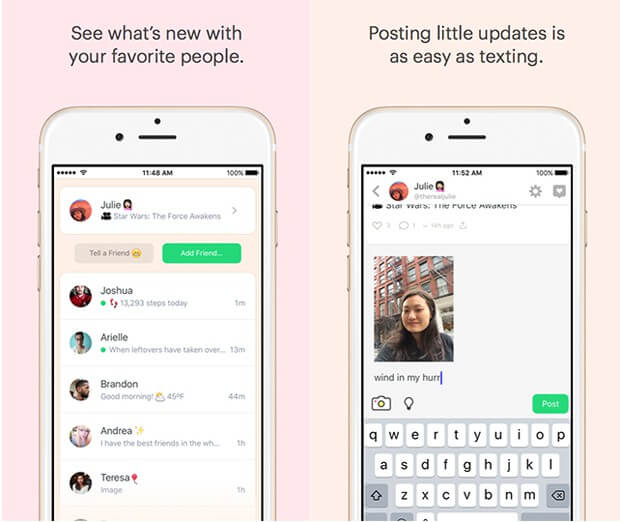 Peach's creators have apparently challenged themselves to give its users almost infinite possibilities to share their emotions. And creating interesting posts is actually something that Peach focuses on. You can post a message with a GIF, emoji, a "shout" or a piece of music. You can add the weather from where you are, a rating out of five stars, create doodles on your screen, throw a (digital) cake at someone.
Magic Words
What really differentiates the playful app from the other network sites (and what makes it really appealing to the younger demographics) is the feature called "Magic Words". Magic words are a specific type of "secret" code that enables you to quickly share things. When you know the right keywords, you are in the game. For example, if you hit "D" for "drawing" you can create a doodle. If you select "H" for "here" you can add your current location, with "M" for "move" you can post a number of steps you have taken. Bringing back a sort of command-line for creating messages apparently takes a clue from Slack. Have a look at the list of currently available Magic Words (and don't ask us why the battery charge % is included!)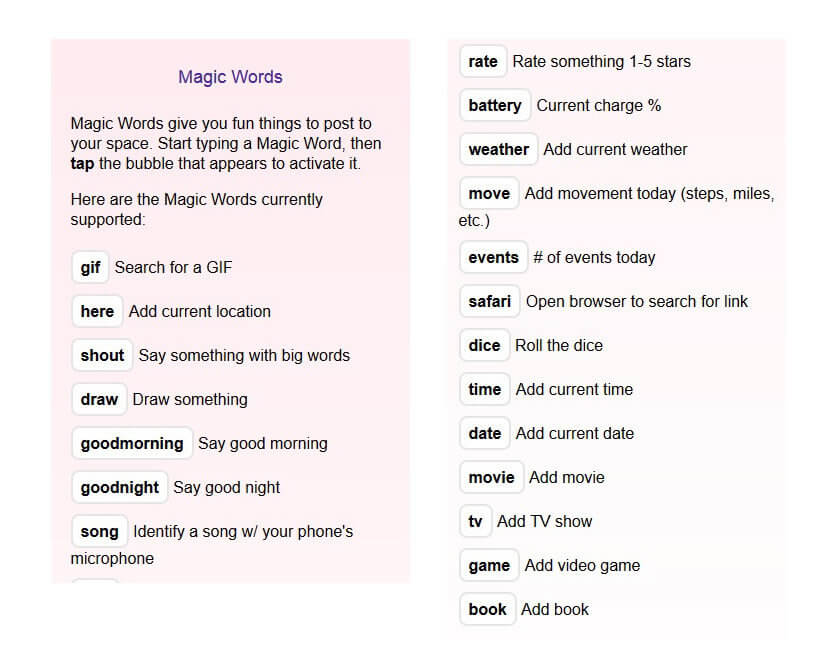 The new social media app is billed as more private and individualized because you can select who sees each of your updates and not broadcast them to all of their friends as on Facebook, for instance. What is more, when it comes to viewing your network's posts, Peach provides you with a stream of your friends' posts (like on Facebook or Twitter) and additionally, and unlike the other social networks, a separate feed with updates from friends of friends. On another individualized and private, your Peach profile is set private by default. Well, private social networks have always been a bit controversial as most users who join Twitter, Facebook or YouTube do so to share their life with a mass audience.
iOS-only
Another interesting – and concerning – thing is that Peach is currently iOS-only. It doesn't even have a web-based social network, so as for now you can't use it on your computer. While there is something nice about exclusivity (providing that you have an IPhone in your hand) and this certainly aligns with Vine's successful launch strategy, it also causes a lot of anger among Android users in addition to limiting the app's accessibility and potentially….popularity growth.
Will It Work for Business?
As for now Peach has a limited application for business. There is no use of hashtags, which blocks creative hashtags marketing campaigns. The relations between Peach members are symmetrical. There are no fans and brands, like on Facebook, but instead, all users are friends and each of them can actively participate in the communication. This considerably narrows down the possibilities to control marketing campaigns as such and consequently makes the app less appealing for brands. On the other hand, however, it reflects better the nature of "real" human relations and potentially opens up the way to build more authentic relations. Whether it will satisfy (or not) a generation of selfie-lovers and Internet-celebrities enthusiasts? We don't know. Surely, it will not help you and your brand to go viral, though.
Over to You
Have you been using Peach? Do you think we need anther social media app? Was the initial hype a false start? Share your opinion with us in the comments below.