Who wins the World Cup 2014 – Social Media Discussion Analysis
July 12, 2014 ・ 6 min read
Social media users eagerly discuss who will win on Sunday. Argentina is the favorite
Social media has been recently full of contents related to World Cup 2014. Within one month, Internet users generated nearly one million mentions which concerned Cup in Brazil. The most popular and engaging ones were funny jokes and memes about latest games. 1-to-7 loss of the host team was widely discussed and laughed at in social media. After the semi-finals, football fans speculated which team will win the World Cup 2014. However, in the last match with Brazil, Germans showed their power and Internet users have little doubts about the final result. Still many believe in Argentina team.
We scoured the Internet with a little help of the monitoring tool in order to analyze the contents and draw up some conclusions. Jointly we collected 995,407 contents about the World Cup within one month which is an extremely high level. Considering last two games, doubtlessly the most talked-about was the ignominious defeat of Brazilians. In relation to this match, people mainly shared funny jokes in the form of pictures and memes. The second semi-final seemed to the audience a little bit dull, but Internet users also shared some amusing contents about this match and teams which played it. But let's leave the past behind and focus on the future. Who will win the World Cup 2014 in Brazil? Social media users seem to know it already.
Number of mentions:


The number of mentions increased significantly on the first day of the World Cup to the very high level and then started to decrease slowly. During the analyzed period it remained on a similar level of around 25k mentions per day. On the fourth July this number dropped substantially. It is obviously related to the Independence Day, which kept the attention of social media users. Even though, on that day two matches were played, people did not talked much about the World Cup.
The number of mentions during the analyzed period totals 995,407. The average number of mentions per day amounts to about 31k.
Final teams:
We scouted the social media platforms in order to find an answer for the question: Who is going to win the World Cup 2014? And we found a smart response:
#worldcup winner is from south america or Europe thats for sure

— Vipul (@Vipulsuri049) July 10, 2014
Thank you Captain Obvious! But it is not the answer we are looking for. After the analysis of contents in social media we found more accurate data about who, people think, will win the World Cup. More social media users are in favor of Argentina. They really believe in the team and its front player – Lionel Messi. The charts below present the shares of fans of each team.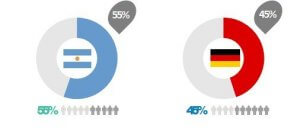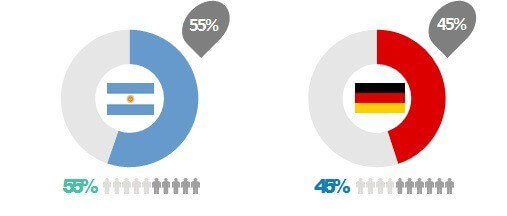 However, on distinct platforms these proportions were significantly different. Still Argentina is the favorite on most of them, but it definitely won Facebook's users hearts. The chart below presents which platforms are behind each team.


Even though, more social media users support Argentina, Germany has, in people's view, stronger team. The team is a crucial world in this case, because football fans have high hopes of Messi not the whole Argentina team. The photos below reflect this perfectly:
#GERvsARG#FIFAWorldCup actually it best team vs best player. And may the best team win. #GERpic.twitter.com/DgYbhRz8Ye — anurag mishra (@im_anurag) July 10, 2014
In addition, many predictions were made about the result of the final game and Germany leads there. Elephant Nelly backs the European team:
World Cup 2014: Nelly the elephant backs Germany to win video http://t.co/LntChdNfhG — Soccer Football (@TacticScout) July 10, 2014
Microsoft Bing picked Germans:
Microsoft Bing's flawless World Cup prediction engine picks Germany to win it all: http://t.co/M1wtiQyk2q — Marco Faasse (@mfaasse) July 10, 2014
And even the Magic Ball does not believe in Argentina:
@RobstenWife Goodness, no. Don't ever ask me that again either!

— Magic 8 Ball (@8ball_) July 10, 2014
However, Argentina has a lot of devoted fans who really believe in their team. Here are some examples of the most supportive fans:
#Fifa #WorldCup World Cup Messi showing of his colors #dogsofinstagrm #Argentina #worldcup pic.twitter.com/Qo9qmA65ZO

— FIFA World Cup 2014 (@iFifaWorIdCup) July 10, 2014
#OMG #ARG beaten #GER with 11-1 well it's not #ARG, it's me lol @EASPORTSFIFA @FIFAWorldCup Well #ARG will b winner pic.twitter.com/CQzEG9Sb6i — Shobhiwant (@Shobhiwant) July 10, 2014
And some of them are pretty sure about Argentina's success:
@Miciko_ #prediction for #WORLDCUP final #Argentina 1-0 win in extra time #Germany #trustnick

— Nik Da-koolchan (@MoolchanNbu) July 10, 2014
I got $500 on Argentina winning the World Cup — N8 (@NateGriffinlll) July 11, 2014
Still, there a lot of the "undecided" who do not know which team they should support:
#FifaWorldCup German favorites to win… Heart and gut feeling still says Argentina… Messi will be the key player…

— Rajat Arora (@rajatarora91) July 10, 2014
Ain't this a bitch! RT @TQtheTrojan: #tbh I DO NOT want Europe to come over here and win a World Cup. But I got too many friends in #GER … — Buck Rogers (@psSmooverock) July 10, 2014
On 1 hand I want the Arsenal boys to do well and win the World Cup but at the same time I want the Argentines to win it on Brazilian soil

— Subin George Sajan (@_SubinGeorge_) July 10, 2014
AS A DIEHARD MESSI FAN ..I HOPE #ARG WINS #WORLDCUP ..BUT @FCBayern MAKES WANNA BID FOR #GER ..COMPLETELY NONPLUSSED..BUT NOW ITS .#ASOT671 — diegunder (@diegunder1) July 10, 2014

And those who support different teams, but together:
God please let my country win the #WorldCup..Ft. Pope BenedictXVI & Francis I pic.twitter.com/PrcmCaAjG7

— Diegwu (@michealnwankwor) July 10, 2014
After the last match with Brazil, when Germany won hands down, it will not be so easy to beat them. Argentina will not only try to get the trophy, but also defend their continent, as never before has the European team won the World Cup on South American soil. Thus Germans have a lot to gain.
@Podolski10 @sam_jones_8 #afc# You re great. Godspeed u guyz on sunday. Be the 1st european to win the @FIFAWorldCup on S/American soil — augustine OSAWE (@Comrado1) July 10, 2014
Here are some more examples of German fans' entries:
#SAP and #Germany working together to win the #worldcup! http://t.co/rX2K3RL0LX pic.twitter.com/Vksry26qt8 — Sarah Dolan (@sarahdolan25) July 10, 2014
@gluedpaperheart I bought $200 Germany win the World Cup , holland Brazil match I not buying — Gary Neo Jun Jie (@GSaidHi) July 10, 2014
If Argentina win the #WorldCup I'll give my Ferrari to charity. I'm that confident ! — Lethal Bizzle (@LethalBizzle) June 15, 2014
"@afcasiancup: Who wins the #WorldCup final? RT for #GER or FAV for #ARG" Germany! Argentina will be taught the same lesson as Brazil — LukasKimiAyuKai (@LukasKimiAyuKai) July 10, 2014
"@HUGOBOSS: Congrats to the German National Team on an epic win #BRAGER! Next stop: #WorldCup #final @DFB_Team pic.twitter.com/jD5bYRKwXx" omg — Victoria Barranco (@VictoriaaaBee) July 10, 2014
The sample mentions are only the speculations and hopes of fans and we have to wait until Sunday for the result. However, social media has already announced the winner of World Cup 2014. Adidas has already become the undeniable winner of the tournament. It does not matter which team wins now, they still wear Adidas. Within the last month the brand was mentioned in relation to World Cup 2014 nearly 20k times. People in social media also noticed that Adidas is in the win-win situation.
I'm telling you at the end of this tournament you know who the REAL winners are going to be: #ADIDAS#ALLIN BABY! #WorldCup2014#WorldCup

— Georockin (@georgecedenojr) July 10, 2014
In conclusion, we are all waiting impatiently for the final game on Sunday. We will see then who was right. May the best team win!