Why Live Streaming Video is The Next Big Thing for Business (and How to Use It)
February 15, 2016 ・ 5 min read
Have you ever used live steaming video to tell your brand's story?
Real-time content drives a lot of conversation on social media. Real-time responses, real-time live streaming videos and real-time data. The Holy Trinity of the social media trends for 2016.
2015 has been called "The Year of Video Marketing". We saw a nice rise of video-based apps like Snapchat, Meerkat and Periscope and now Facebook takes up this challenge by introducing live streaming video option for everyone in the U.S. with a Facebook iOS app.
It seems a wise move, though, particularly now, in the age of shrinking human's attention span. Did you know that people now generally lose concentration after 8 seconds, which place us on a lower level than….a goldfish? 8 seconds. This is all we can do, on average. Attention is the new currency in business, one of the most scarce resources that seem to be more craved for than…money itself. Likes, shares and upvotes, they are all forms of social media attention. How to get them? Well, a live streaming video might be an answer. Here is why real-time video is important for business and how to make the best use of it.
Why Live Streaming Video is Important for Business
51.9% of marketing professionals worldwide name video as the type of content with the best ROI, 74% of Internet traffic is expected to be video in 2017 – states Invodo Video Stats Report. Mobile video accounts for 50% of mobile data usage. And this is how many mentions with a hashtag #livestreaming appeared in the Internet in the last 30 days – more than 3 300.

It is no secret that videos are becoming an increasingly important element of brands inbound marketing and live streaming can take your video marketing to a completely new level. Plus, due to its cost effective production, real-time streaming video is much more available for, but not limited to, the small businesses. Raw footage likewise on-demand video production, entertains and generates a ton of emotions too, but as opposed to its pre-arranged "brothers", it comes with a sense of exclusivity, intimacy and now-or-never feeling that helps to boost your brand engagement in a much faster way.
How to Uses Live Video for Your Business
Give a Behind the Scenes Look
People don't want to be customers on social media, they want to be…PARTICIPANTS. Show them behind-the-curtain peek at your business. Invite them to your "kitchen", do not keep them only in the "living room". Share how you create the product and who create it. Make your visitors feel as if they were one of you. A NYC creative agency Sagmeister & Walsh was a "live" example of this technique with a camera installed in their studio streaming live footage of agency's work to the home website. Internet users were then able to access a real-time view of what was happening in the office and feel as if they were a part of the creative process. The power of live streaming engagement at its finest.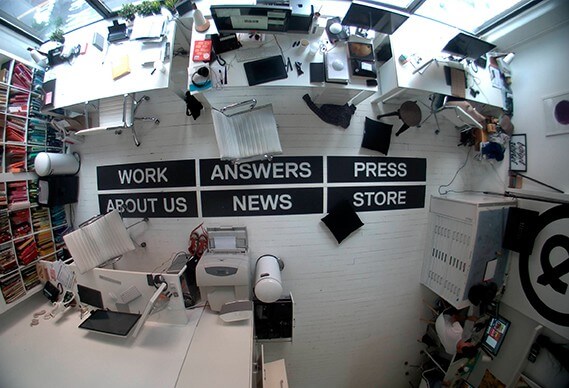 Unfortunately, the camera was then stolen, to a great disappointment of the Sagmeister & Walsh's creative team that shared the link to the story in a witty tweet. Rumour said the whole robbery was a marketing stunt, thought, but this is a topic for another article.
Host Q&A Sessions
Make yourself more accessible, show your audience that you care about their doubts and concerns, educate them about your product or services and add a human face to your business by organizing a live streaming Q&A session. This is how Medium, a publishing platform, mastered this technique by inviting their users to tweet a question with a hashtag #askmedium and get real-time video responses.
Sharing an event in real time with your online community will definitely increase the connection (and hopefully loyalty) they feel to your business. A conference, a celebrity endorsement event, anything that creates your brand's history – make it a part of your public's history too. Share it live! Do not forget to engage with your followers while broadcasting, though – talk them through, answer their questions, make them feel acknowledged and listened. Adidas, a sportswear company, did a good job with live streaming innovation when in March last year, just a day after Periscope premier, Adidas Football streamed live video of Real Madrid star James Rodriguez signing a contract extension with the brand.
Share Breaking News
Letting your CEO share an update about the company as a live stream feed might result far more effective than a best-crafted press release. Major changes, upcoming new products – make a place for questions your customer may have about it. No need to arrange a whole media production team and make everything perfect from the tip to the toe, be real, grab your mobile or (if lucky enough to be a U.S. Facebook iOS app user) log in to your Facebook fanpage and go live! Make sure to build some anticipation for the moment and inform your audience about the live streaming in advance so that they book time for you.
Host an Interview
Live streaming is one of the fastest and the most efficient way to build your brand image in a very short time span. Why? It provides a bridge to build deeper and more personal relation with your audience. It also capitalizes on trust and authenticity. Live streaming viewers love authenticity! Be authentic, interview in live your company's employees or customers. You can even go further and engage in real-time with influences, experts or important people in your niche. This is how the White House surprised us again taking benefits of the latest technology innovations (we have talked about it already when communicating the good news of the US authorities testing social listening possibilities with Brand24 tool). Here an example of the fist ever live Meerkat interview with White House Press Secretary Josh Earnest.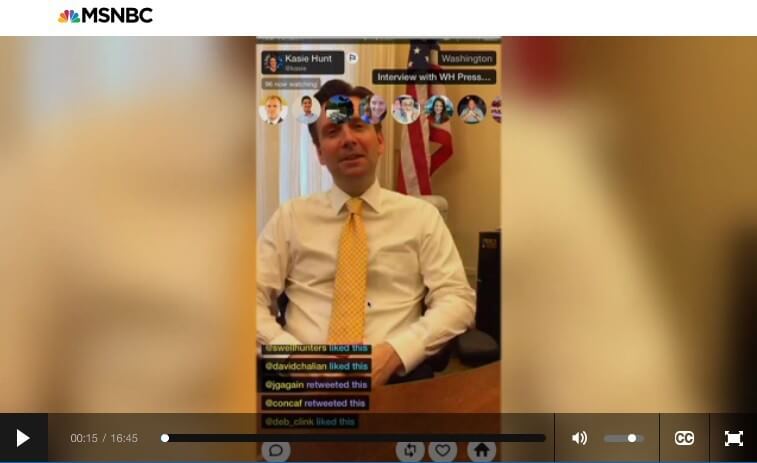 Final Thoughts
Live streaming is a social media trend that business should not ignore. It allows your brand to stand out from the crowded social media scene and fast track its engagement in the age of "less-than-a-goldfish" users' attention span. The advantages and applications of live streaming in business are endless including above mentioned live Q&A sessions, interviews, event broadcasts and behind the scenes looks next to additional product demos, tutorials or "how to" guides.
Have you already used live streaming for your business? If not, when was the last time you tried something for the first time? …do leave us a comment once you are done! And if you need some inspiration on how other brands use real-time video to engage with their audience, try Brand24 for a quick #livestreaming hashtag search.