4th of July Highlights (2017): Trump, S'mores, Puppies, and More…
July 5, 2017 ・ 5 min read
Happy 4th of July!
Hope everybody enjoyed the festive fireworks and s'mores! How did you celebrate America's birthday?
I spent half the day baking vegan brownies & apple pie…. which were devoured within a matter of minutes by a pack of wild children roaming the neighborhood on a sugar high… just kidding.
It wasn't an entire pack.
But, hey – all in the name of vegan food ♥, right!? Gotta get 'em while they're still young!
On a more serious note (just slightly), I was pretty curious about the online conversations that would be attached to this year's 4th of July celebrations.
Who am I kidding? I'm always on the look-out for buzz and inspiration. Not just on holidays. But I figured tracking conversations related to the 4th of July would turn up some good material.
Luckily, the Internet rarely disappoints.
I just set up a web monitoring project on Brand24 and plugged in a few 4th of July-themed keywords & phrases. I let the tool monitor mentions of these for me: "4th of July", "Fourth of July", "Independence Day", "July 4th", as well as conversations with the hashtags "#4thofJuly" and "#IndependenceDay".
Here's what I learned from my 4th of July monitoring project:
1. Facebook Trumps Twitter
President Trump's FB post has been the most-commented on and most-liked mention in the entire 4th of July (aka Independence Day) monitoring project.
With over 640K likes/reactions, more than 34K comments, and over 122K shares, audiences have shown their appreciation for the American president's wishes on America's birthday.
2. The Internet loves holiday themes (surprise, surprise)
Am I the only one who hasn't tried this year's red, white & blue crowd-pleaser?
According to social media monitoring data, this star spangled banner-themed s'mores dip was the most-shared recipe for the 4th of July:

This post received over 421K shares, exceeded 88K likes/reactions, and got more than 25K comments.
Was it the sprinkles? The marshmallows? The red, white and blue? Or a combination of everything in a fun little video clip?
Delish posted the recipe on their FB page on June 27th… just a week before the 4th of July. It didn't take long for the internet to decide that this would be their favorite recipe for the big day.
3. July 5th is one of the busiest days of the year for animal shelters
Fireworks may be festive and fun to watch, but the loud explosions can seriously stress-out your pets. That's why the 4th of July is the day when the highest number of dogs run away – more than on any other day of the year!
I learned a lot from watching this vid, which was #9 on the list of most interactive posts from my web monitoring project.
This video got over 97K shares, more than 82K likes/reactions, and over 5K comments.
Who knew that fireworks could be so traumatic for pets? Or that some shelters even offer free micro-chipping this time of year?
4. Speaking of fireworks – this is THE firework photo of the season
Timing is everything. Based on the numbers behind this perfectly-timed photo, I'd say the internet agrees.
This picture from National Geographic got over 521K likes and more than 1K comments. In just 2 days.
It's no wonder that it ranked as #3 on the list of most interactive mentions from the 4th of July monitoring project.
How long did it take for me to learn all this?
2 minutes.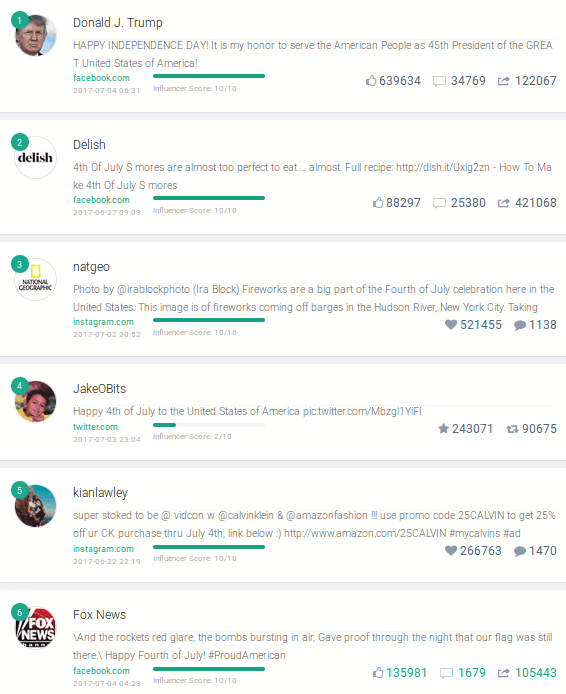 This was the easy part. Since I'd set up a monitoring project with Brand24, I already had all the information I needed at my fingertips. I just logged into my account, entered the Analysis tab and headed straight for the list of Most Interactive Mentions:The analysis tab instantly displays the top 100 most interactive mentions for each project so I don't have to spend time searching for them.
This is where I can quickly see at a glance which mentions in my project have been generating the most buzz. Are you really surprised to see that the American president's post is the most interactive post about America's birthday… on America's birthday?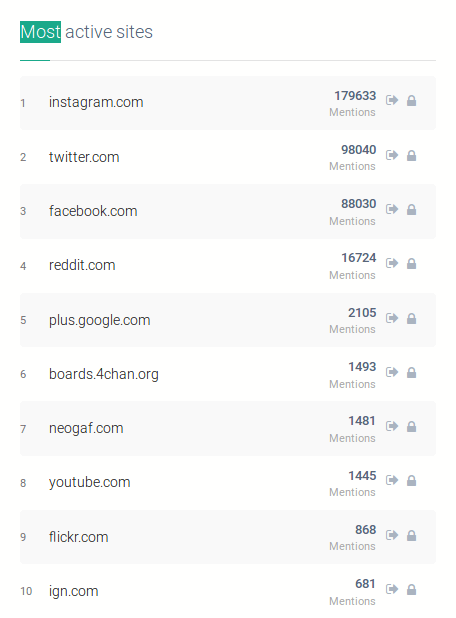 The Most Active Sites shows you where conversations containing your mentions take place. Instagram was the most active site by far for conversations related to the 4th of July, with nearly double the amount of mentions of monitored keywords than on Twitter.
You can monitor anything you want. Many agencies track hashtags for their campaigns while brands will monitor their brand names to manage their reputation. Monitoring events and holidays will often result in peaks like this in your mentions graph for your project:

The highest number of mentions for keywords related to the 4th of July naturally peaked on the date of the event (holiday).
Graphs like this come in handy when you need to identify the peaks and dips that drive your consumers.
For example, marshmallow manufacturers like Kraft might see a similar growth in demand for marshmallows if they were to compare their sales chart to the number of mentions for the most-shared 4th of July recipe for s'mores. If the data proved this to be the case, then they could spearhead more video campaigns like 4th of July s'mores to make their product more visible and stimulate sales.
How do you save time on analysis?
Do you have an event coming up? Are you tracking your brand or your competitor's reputation? Do you want to gather information for analysis? Do you need to find influencers and/or brand ambassadors?
If the answer's yes to any of those questions, then you probably already have your go-to web and social media monitoring tool (I recommend Brand24).
If you don't have one yet, sign up free here to create a project and see what you can learn from web and social media monitoring!