Twitter analytics tools can provide valuable insights into who is following you, their interest, and how they interact with your tweets. In addition, Twitter analytics tools can help you track your Twitter campaign results and measure your ROI.
While many Twitter analytics tools are available, I've compiled a list of the 10 best for you. They will help you make the most of your Twitter marketing strategy.
Top Twitter analytics tools
You might find a combination of analytics tools the most useful, so feel free to combine two or more Twitter analytics tools to gather the most helpful data.
01 Brand24
Free 14-day trial. Individual plan for $79.
Brand24 is a social listening tool that offers robust Twitter analytics.
One of the strongest features of analytics is the ability to measure hashtag performance. It means you can stay up-to-date with interesting conversations and communities, as well as accurately assess the reach of your Twitter marketing campaigns and track engagement.
Moreover, in the Analysis tab, you can find information about the:
A total number of results from Twitter;
A tweet count containing a specific keyword or hashtag
Estimated Twitter reach;
Social media interactions, shares, and likes
The number of positive and negative mentions.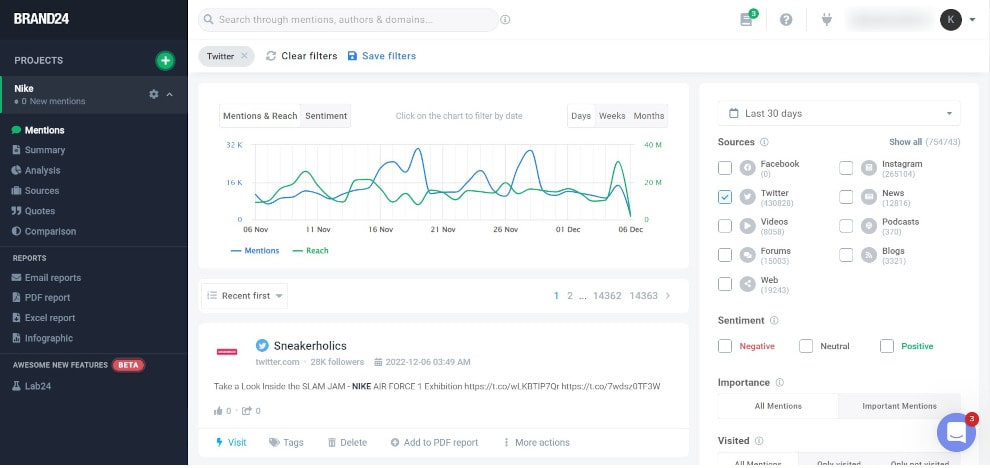 Discover the power of Twitter analytics! Start your free trial now!
By analyzing the combined data, Brand24 will calculate the influence score to help you find the most suitable Twitter influencer for your next Twitter influencer marketing campaign.
The tool will also generate a list of trending hashtags you can use to boost your reach even further.
Brand24 is the tool of choice if you want the run influencer marketing or any other social media marketing campaigns.
With Brand24, you can create custom Twitter reports. You can share the results of social analytics with your direct supervisors.
Best for any business interested in strong hashtags analytics and Twitter reach metrics and who would like to identify the best influencers for a successful Twitter marketing campaign.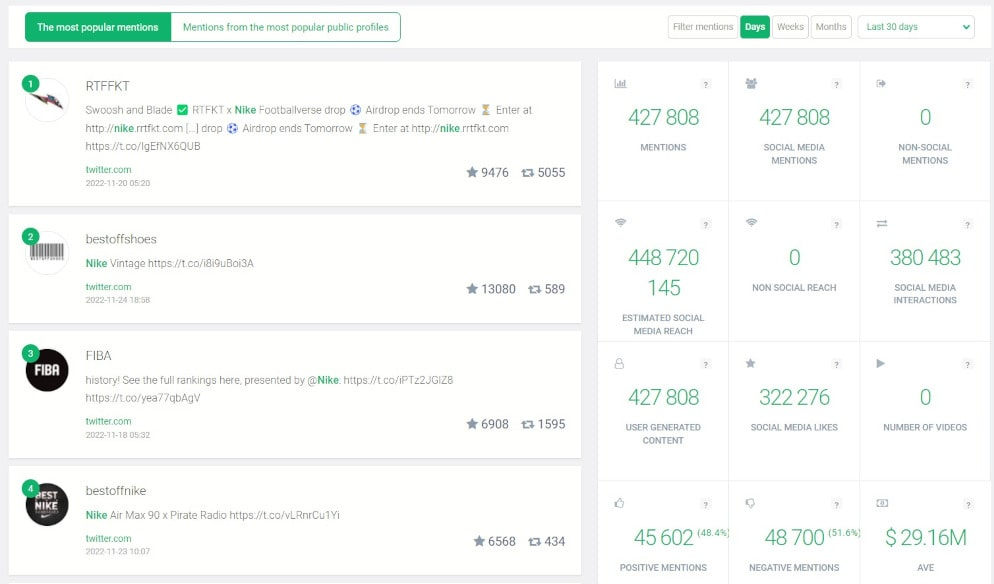 02 Twitter Analytics
Native Twitter Analytics is a free tool for anyone at the beginning of their digital adventure. It offers a bunch of great social analytics metrics that will help you step up your Twitter game, such as:
Top Tweets,
Top mentions,
Impression,
Engagement rates,
Profile visits.
Unfortunately, native Twitter Analytics doesn't present any demographic data anymore.
Best for beginners who don't want to invest in a paid Twitter analytics tool or as an addition to premium tools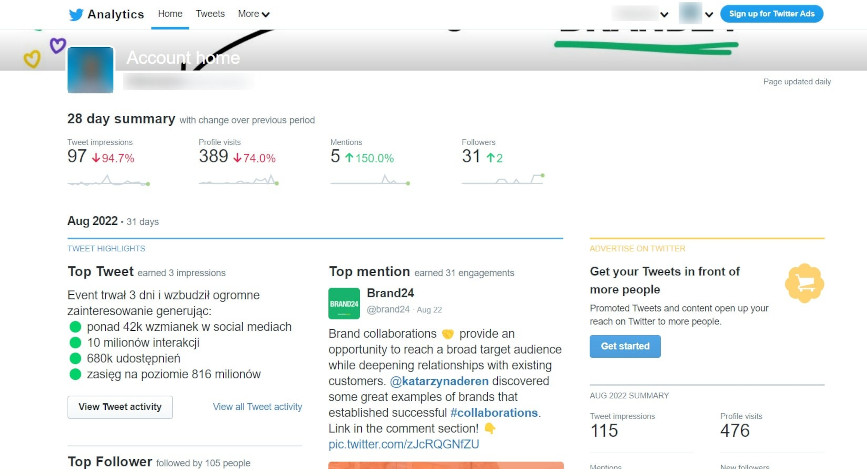 03 Sprout Social
Free 30-day trial. The standard plan costs $249 per user/month.
Sprout Social offers robust reports and insights which you could easily present to the C-suite.
The Twitter analytics tool will help you:
Determine top-performing posts,
Find the subjects most often mentioned in connection with your brand,
Discover new topics for discussion to spark engagement on your Twitter account.
Sprout collects historical data for your social media account.
From all the features, scheduling is one of the most important. A shared publishing calendar gives you a clear overview of your marketing efforts. You have all the data in one place. The tool allows you to prepare competitors' reports.
Best for a company that needs to deliver reports to its C-class management and is looking for a robust social media management platform.
Check: Sprout Social alternatives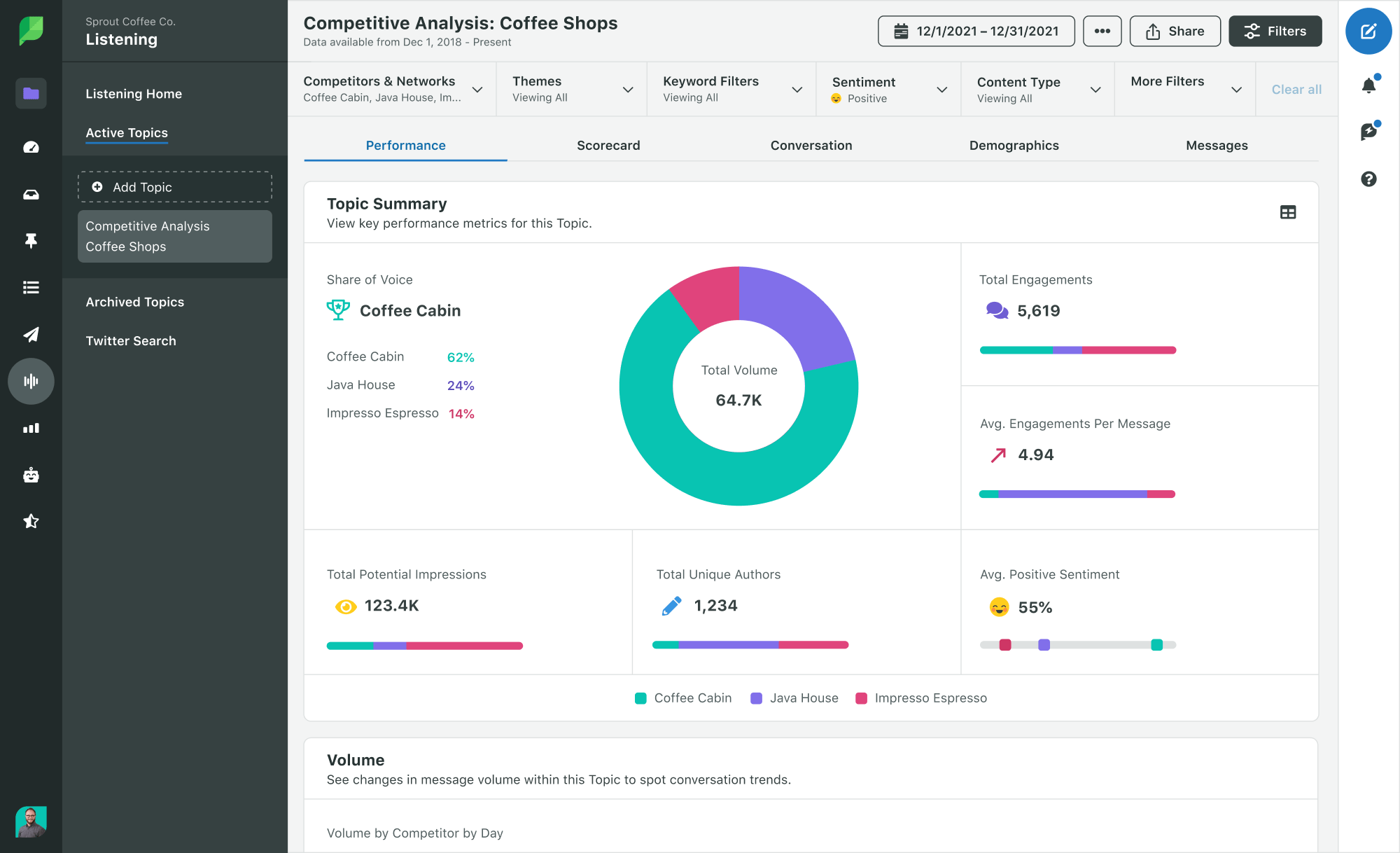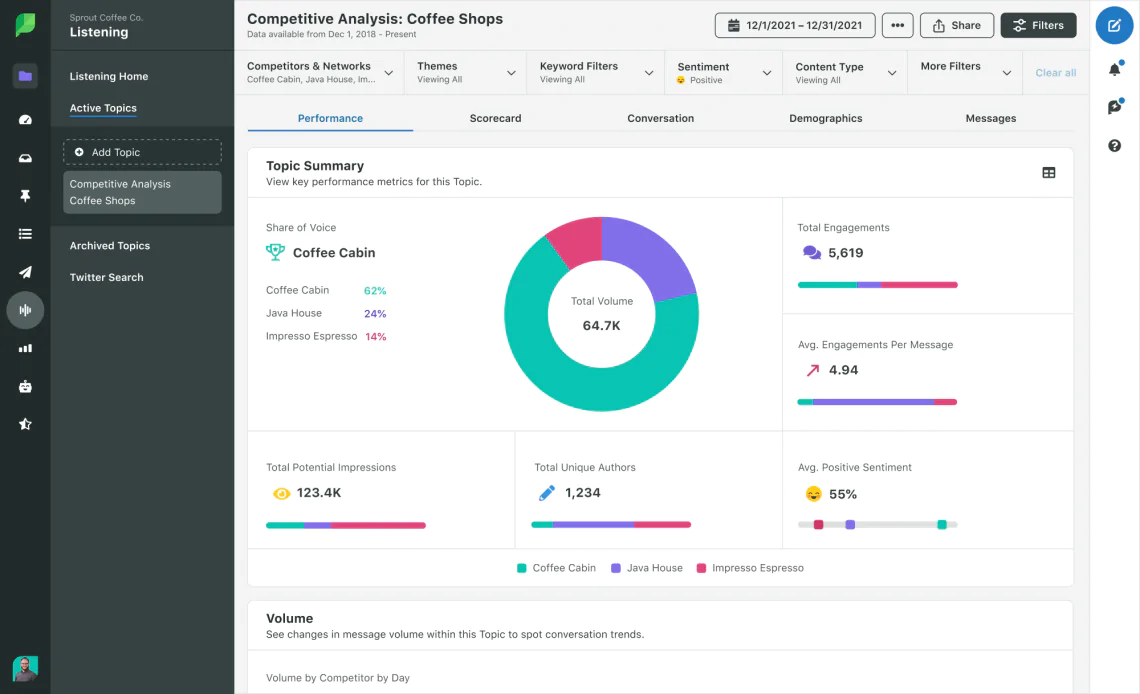 04 Tweet Binder
The standard plan costs $79 per user/month.
Tweet Binder, apart from Twitter analytics, offers services dedicated to events, for example, creating a social media wall with a full moderation suite. Moreover, you can get access to Twitter's historical data and hashtag monitoring.
It also identifies influencer accounts that will best suit your influencer marketing campaign.
If you want to give Tweet Binder a spin, you can create a free report based on hashtags, @mentions, or keywords. It's an excellent way for beginners marketing managers to see how Twitter can help you with effective Twitter marketing!
Best for: businesses that need real-time hashtag monitoring and are preparing an event where they need a social media wall.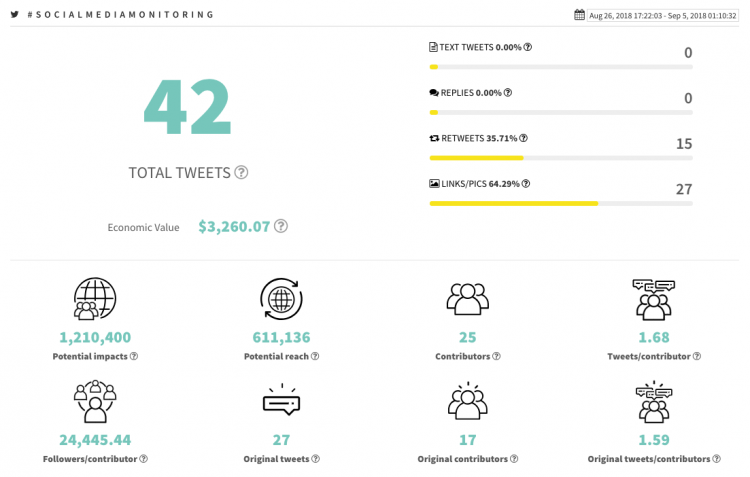 05 Keyhole
The standard plan costs $49 per user/month.
If you need to track tweets in real time, Keyhole is the tool to use. Of course, that's not the only useful feature of this Twitter analytics tool. With the information provided in its dashboards, you can also:
Monitor your brand performance across different social media platforms,
Conduct market research,
Monitor the social media messages during events,
Monitor the results of your campaigns,
Find the influencers you'd like to engage.
A unique Keyhole feature is the Keyhole Premium Support. A dedicated professional (for an additional fee) will help you track your hashtags or perform market research.
Best for businesses in need of real-time hashtag tracking.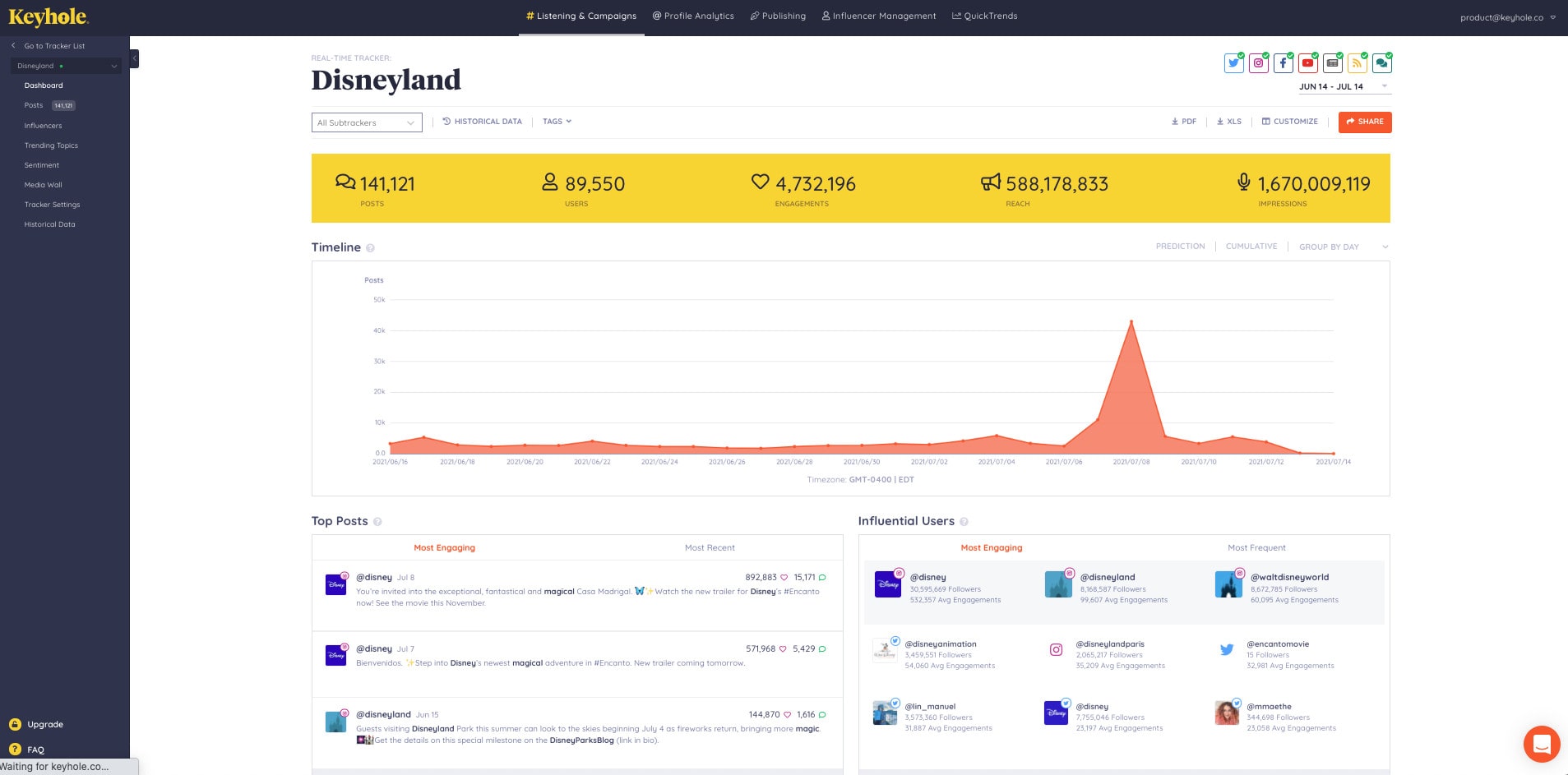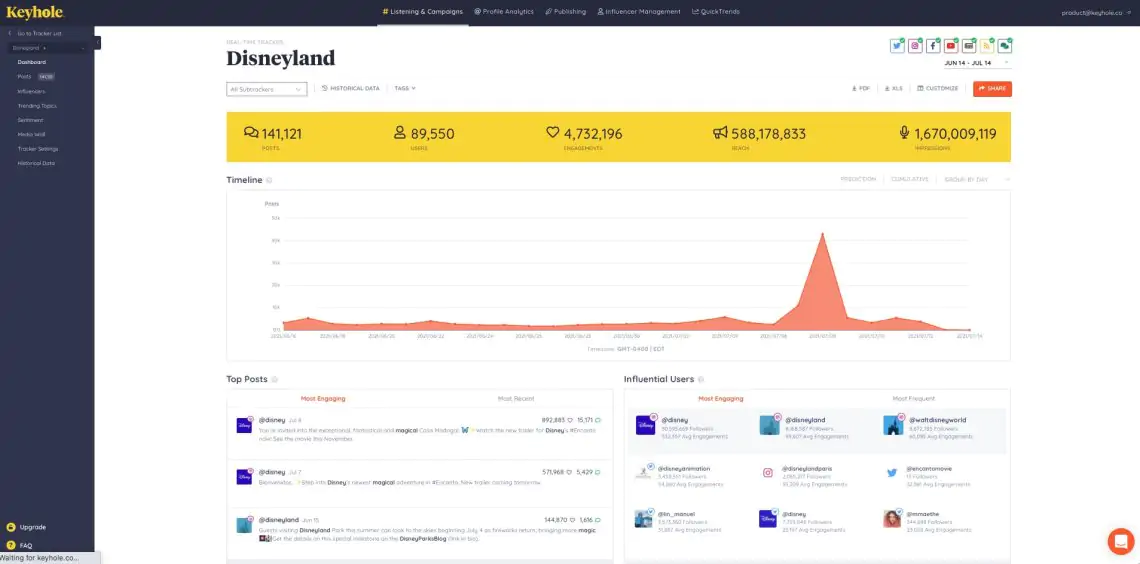 Discover the power of the Twitter analytics tool! Start your free trial now!
06 Hootsuite
Free 30-day trial. The standard plan costs $49 per month.
No social media analytics tools listicle is complete without Hootsuite! The industry giant is mainly a solution for teams collaborating on campaigns across different social channels.
Hootsuite is a full-stack analytics tool and more! It allows you to:
Schedule your posts in advance,
Monitor the performance of the content,
Discover new content to repost,
Organize your content in a shared content library,
Get an overview of your key metrics,
Create reports.
And that's just the tip of the iceberg! You can manage your team's performance and protect your accounts against fraud.
Best for teams who want an all-encompassing tool and work on multiple projects at the same time.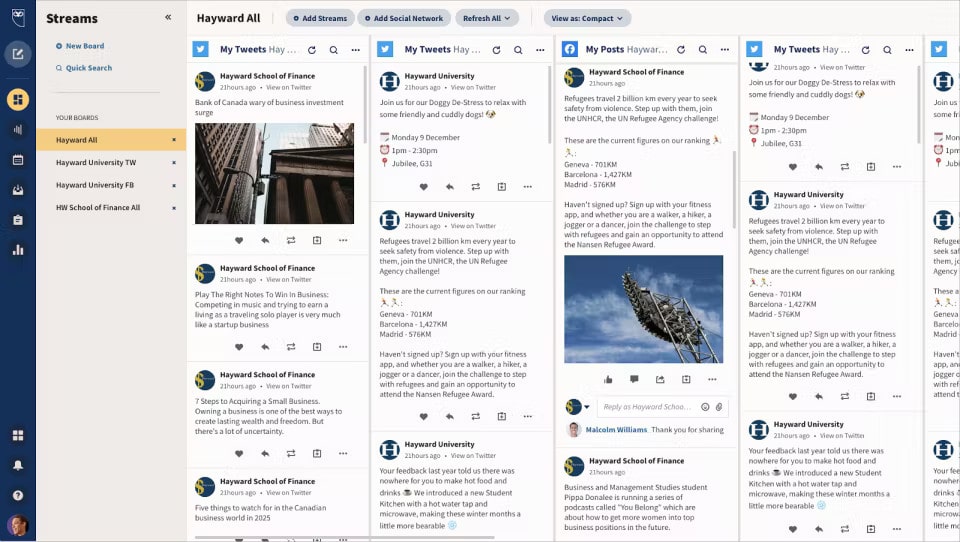 07 SocialPilot
Free 14-day trial. The standard plan costs $170 per month.
This Twitter analytics tool provides users with valuable insights into their Twitter activity, including detailed information on who is talking about them, what they're saying, and how often they're saying it.
With this information, businesses can adjust their strategy to engage with Twitter users better.
In addition, SocialPilot also offers a suite of other features designed to help businesses grow their Twitter following and track their success.
The most interesting features:
Publish and schedule Twitter posts,
Twitter analytics reports,
Tracking popular hashtags and influencers.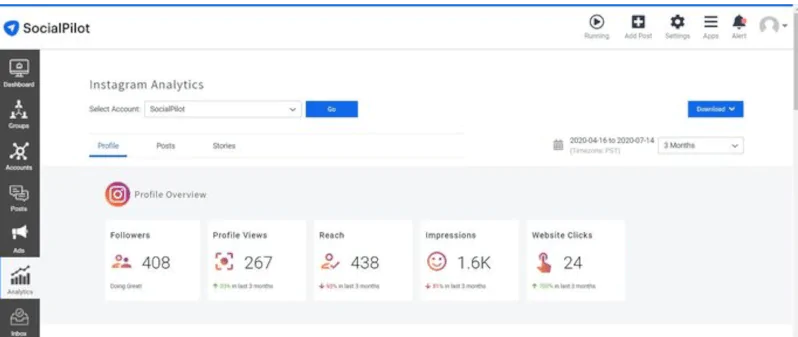 08 Twitonomy
There is a free version of Twitonomy, and a paid plan starts at $19 monthly.
What's great about Twitonomy is the ease of use. All you have to do is to sign in with your Twitter account, and voila! The world of Twitter analytics is your oyster.
Twitonomy will show a broad set of data, including:
Twitter lists your part of
Your most popular tweets
Engagement metrics
The best day and time to post
One of the most important features of Twitonomy is the comparison of two Twitter accounts. You can easily track your competitors' accounts. Moreover, you can track Twitter performance based on predefined keywords and perform an in-depth analysis of any Twitter account.
Best for a small brand that needs Twitter analytics data of more than one account.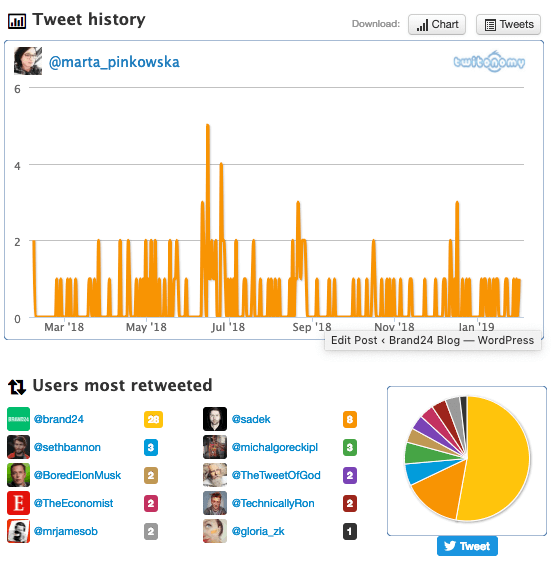 09 Followerwonk
Analyzing one profile is free, and the paid version starts at $29 a month.
Followerwonk analyses your Twitter audience. The Twitter analytics tool will provide you with lifestyle information, for example:
Who are your followers?
Where are they located?
When do they tweet?
What I find particularly interesting is the "search bios" feature. It allows you to find precisely the users you'd like to target, be it your next influencer for a marketing campaign or another kind of outreach.
You can compare your profile against your competitors and count gained/lost followers. The tool even provides a detailed graph of the difference in followers numbers.
Best for businesses who want to know how their audience like the back of their hand.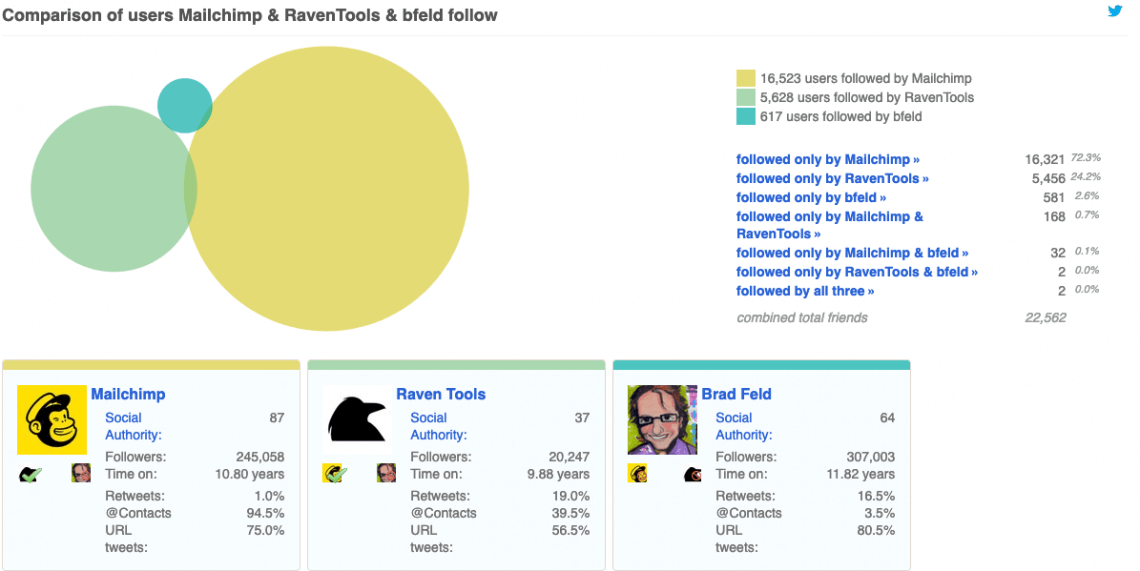 10 Tweepsmap
There is a free version of Tweepsmap, and a paid plan starts at $7 monthly.
Tweepsmap is one free Twitter analytics tool that provides valuable insights into Twitter usage and engagement.
By tracking Twitter account growth, followers, and tweets, Tweepsmap helps users to identify areas of improvement and optimize their Twitter strategies.
In addition, Tweepsmap provides detailed mapping and analysis of Twitter followers, helping to understand their audience better and target their content accordingly.
The paid version of the tool allows to:
Publish Twitter posts,
Analyze community,
Analyze influencers,
Analyze keywords and hashtags.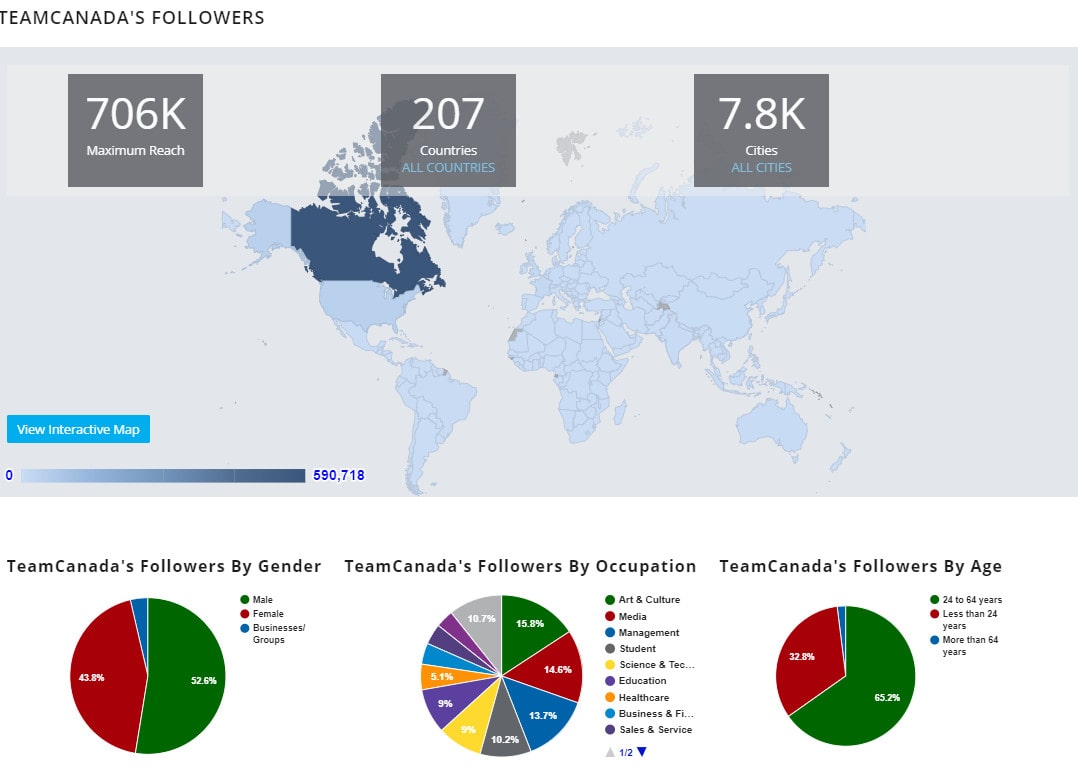 What do Twitter analytics tools tell you?
A well-chosen Twitter analytics tool will give you exactly the data you need to meet your desired business outcome.
What type of analytics solution you choose depends on the goal you want to achieve. The Twitter analytics tools will provide the data for how you should do it.
Twitter monitoring data will give you an opportunity to track Twitter metrics such as:
The engagement of your tweets (a robust Twitter analytics tool should calculate the number of likes, comments, and retweets),
The social media reach of your tweets (a number showing how many people could have come in contact with your brand),
Tweets mentioning your brand with the @ handle.
Analyze the important Twitter metrics that will help you grow your brand awareness:
Find the most active public profiles talking about your brand or product and use their influence to your advantage,
Grow your business by incorporating a brand awareness strategy into your Twitter.
Twitter analytics tools will help you manage the Twitter content marketing strategy:
Find Twitter trending hashtags within your business niche and adjust your content accordingly,
See what engages Twitter followers the most to develop content your audience wants to see,
Always reply when someone is talking about your brand, product, or service.
Discover the power of the Twitter analytics tool! Start your free trial now!
What is the best Twitter analytics tool? Conclusion
In this article, I presented you with paid and free Twitter analytics tools.
Which one should you choose?
There's no one answer to that question. You have to choose a Twitter analytics tool that will provide you with the right insights and will help you grow your Twitter strategy.
But success on Twitter has to start with the right Twitter analytics tool. So, test the Brand24 for free!