How to measure the results of a PR campaign?
February 19, 2023 ・ 14 min read
Do you measure the results of your PR campaigns? If yes, then congrats, you're one of the few! According to Buffer, 82% of PR pros don't know how to evaluate the ROI of their PR campaign. This article will help you determine how to measure the results of a PR campaign.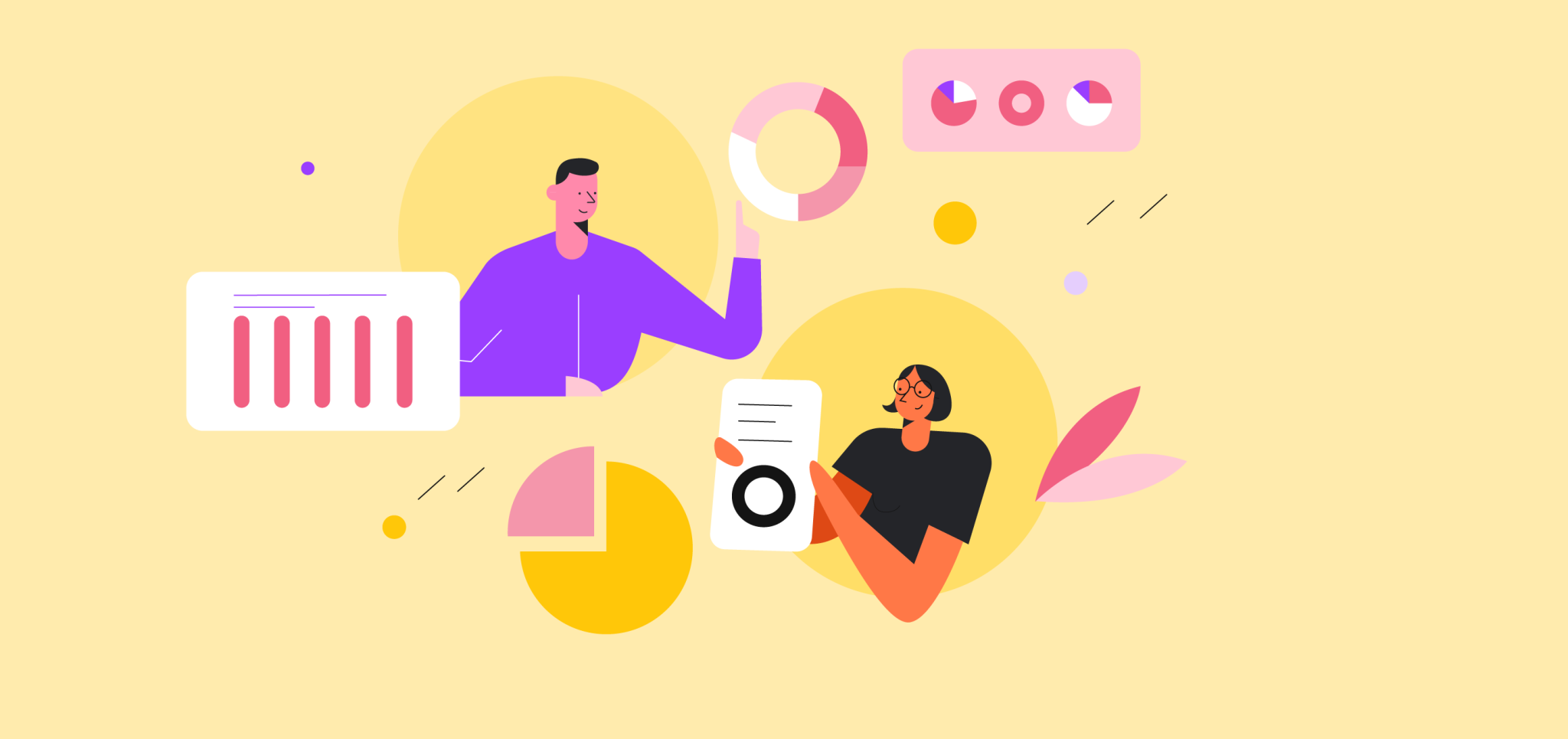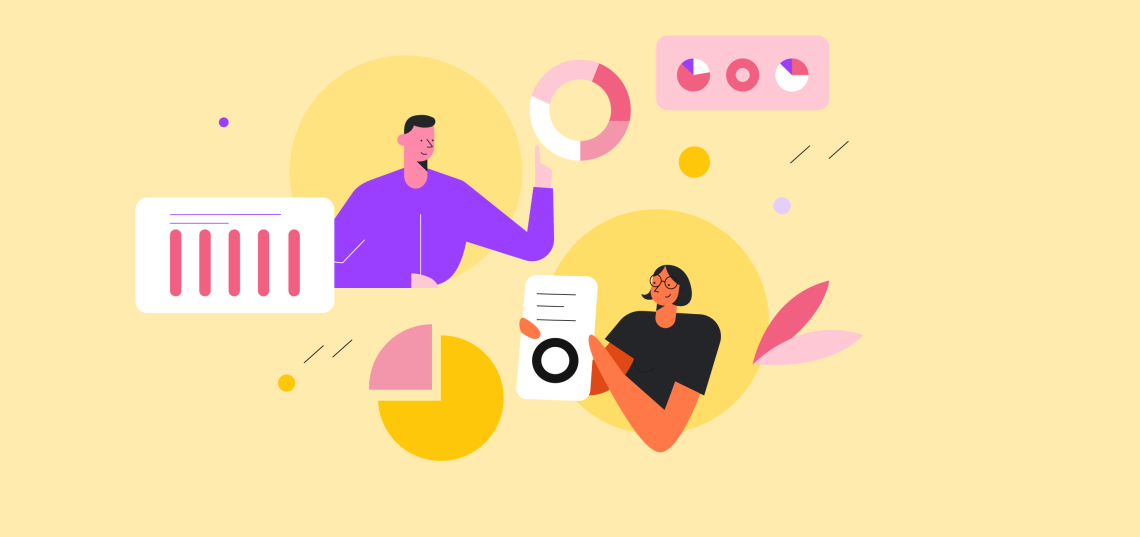 This blog post has everything you need to know about PR metrics and measurement. The text will answer both basic and more advanced questions – starting with why you should measure the results of a PR campaign and ending with which PR metrics should you follow and why.
"Does PR work?" – that's probably a question you had to answer at least once.
The question is justified – before any company invest in a PR campaign, they have to estimate a ROI. They have to answer the question — what is the monetary value of public relations? How will measuring PR translate into business results? Are PR efforts worth the effort?
Back in the day, it was easy to assess the value of media coverage coming from traditional media. PR professionals determined campaign success by measuring the number of press clippings. The PR metrics one had to track were relatively easy to follow.
The rise of social media platforms and online advertising revolutionised the way we measure PR.
Digital marketing and PR helps spread brand awareness and increase the reach of your PR messages and media impressions. But the digitalisation brought new challenges PR experts have to cope with – how should they measure the results of their PR campaign? Which metrics and KPIs should they follow to get actionable insights? What is the impact of their work?
Measuring PR campaign can be tricky, but it is not impossible.
Armed with the PR measurement knowledge, you will be able to:
assess the results of your PR efforts,
improve your PR campaigns,
measure earned media value,
present the results of your activities to your supervisors
improve media coverage and communications
prepare reports for your supervisors and C-suite
Here's what I'll cover in this blog post:
How to measure PR campaign?
To correctly measure PR, you need a media monitoring tool. A tool like that will help you closely follow important KPIs and asses the impact of PR on your business. Measuring your campaign success without media monitoring tool would be a cumbersome and time-consuming task.
The more advanced metrics, for example, sentiment analysis, media impressions, reach, or the share of voice are based on results from Brand24, a media monitoring tool.
How does Brand24 work? Brand monitoring tools track all publicly available mentions and analyse the data. With the help of a brand monitoring tool you can measure paid and earned media.
Brand24 is a tool that will allow you to measure the results of a PR campaign.
First, you have to set up a project and choose the terms you'd like to monitor. Once you've chosen the keywords (think about company hashtags, campaign specific hashtags, or terms related to the industry you're interested in), you are ready to measure PR campaign.
But tools aren't everything when it comes to PR success. If you want to have a substantial impact on your company's bottom line, you need to prepare to run and measure the results of your work.
Planning
The first step to a successful PR campaign is planning.
Without clearly defined, measurable goals, you won't be able to assess your PR campaign and improve your communications and business goals.
Once you know what you want to achieve, you could prepare a PR strategy to achieve your goals.
Do you want to raise brand awareness? Spark interest in new products? Make your audience undertake a specific action? Check the sentiment around your new service or product? Assess the success of a campaign?
Before you start your PR activities, invest your time in setting your goals.
Tools
Remember to set up all the tools you're going to use in advance, even if that's just an Excel spreadsheet.
First of all, you will minimise the risk of failure. Imagine coming up with a great PR campaign that won't be measured because the tool wasn't working. Even so reliable tools as Google Analytics can fail you. Ouch.
The second thing you have to take into account is that not all tools provide historical data at a reasonable price.
From my experience, it's better to have everything tested before the start of a campaign. The "better safe than sorry" rule applies to measuring PR campaigns as well.
Set up the Brand24 tool and start to track your PR campaign easily.
PR metrics to track
Once you know what the goal of your campaign is, it's time to finally take a closer look at the PR campaign metrics.
In the world that produces astounding amount of data daily, it's hard to choose the right PR metrics to follow – information that will provide you actionable insights into your PR campaign and will help your brand grow.
Beware of the lure of vanity metrics – numbers that look great in an Excel spreadsheet but won't bring any value to your PR campaign.
So, which metrics should you pay special attention to?
1. Brand mentions
Let's start with the PR industry basics.
Brand mentions, or the volume of mentions, indicate how many times the name of your brand, your hashtag, or any other word you monitor while running a PR campaign, has been mentioned online within a given timeframe.


If the main goal of your PR campaign is to raise awareness, keep an eye on the volume of mentions.
The spikes will indicate that people are talking about your product or action.
2. Sentiment
The outtakes of a PR campaign are all about the feelings your audience has toward your message.
In the past, you could only guess how people feel about certain products, services, or messages.
For example, if someone left your website quickly, it probably meant he wasn't interested in the content. A high bounce rate could have indicated a misfired content that wasn't answering your audience needs.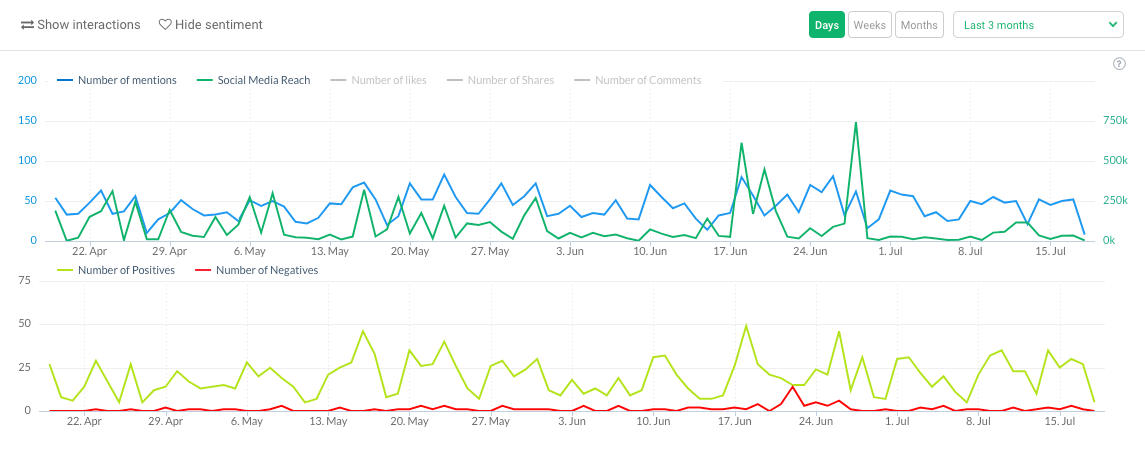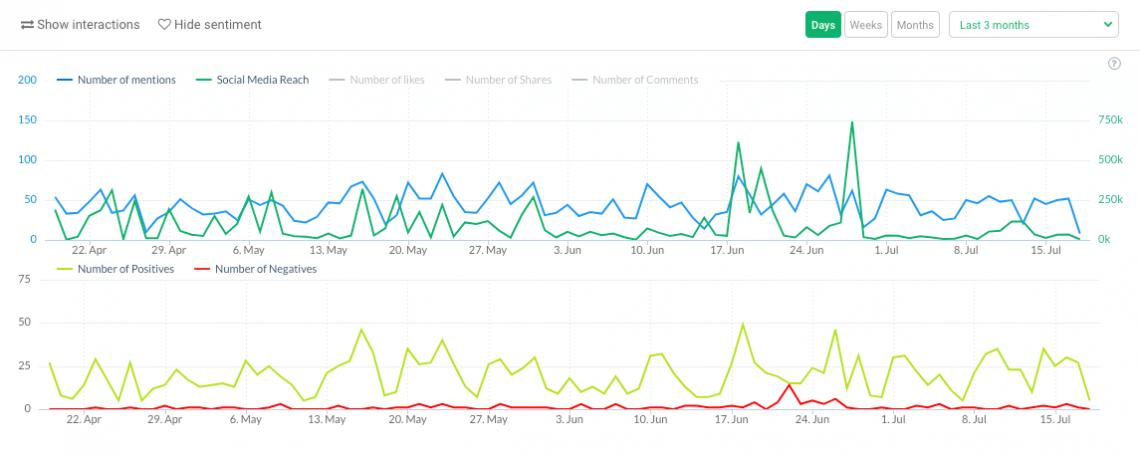 Today, we have much more accurate ways to track the sentiment around your brand and measure PR success.
The language people use while discussing a certain topic online is analysed. Based on the analyses of the words and emojis used in the post, a positive, negative, or neutral sentiment is assigned to the post.
A high volume of mentions and positive sentiment is a sign of success. It not only means people are spreading the news about you, it also means they are happy about your message or activity.
When the negative sentiment prevails, it's an indicator of a crisis in the making. You should react accordingly by implementing changes into your PR campaign and addressing the controversial issues.
Sentiment is also a greta metric to post any threats to your brand reputation.
3. Engagement
Negative talk is not the worse that could happen to your social media campaign.
The worst thing that could happen is not sparking any type of conversation at all.
Your blog post, email outreach campaign, newsletter, event wasn't interesting enough for people to talk about it. That could hurt your reputation as a PR strategist more than a campaign with a negative outcome.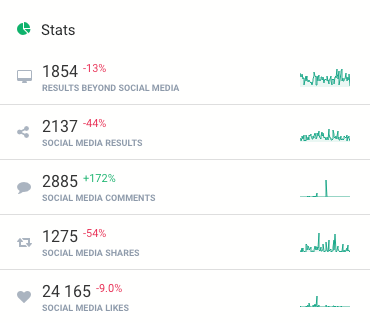 Which PR metric should you track to measure the engagement around your PR content?
If you're active on social media channels, examine the number of likes, comments, and shares under your social media posts.
The higher engagement rates under your post, the more visible the post will be on social media channels.
You can encourage people to leave comments, use dedicated hashtags, or simply like your post.
But the most reliable way to build an engaged community around your brand is to provide the right content to the right people regularly.
Use Brand24 and measure the engagement around the PR campaign.
4. Reach
Once you know what type of content sparks engagement and you deliver it regularly, it's time to measure how many people could have seen your posts.
Which PR metric helps you determine that number?
Reach!
Reach can be divided into two subgroups — social reach and non-social reach.
Social media reach will calculate how far your social media posts traveled. Brand24 collects data from all major social media platforms, including Facebook, Instagram, Twitter, Twitch, and YouTube.

Brand24 gives you the opportunity to measure reach outside social media. If you want to measure PR campaigns that focus on other media outlets, the tool will help you track the right KPIs.
When it comes to PR outcomes, where you want to influence people to undertake certain actions, reach is your starting point.
Before you get a chance to influence someone's behaviour, your need to reach them with your message.
A high reach is the first step to a successful PR campaign.
5. The share of voice
PR campaigns are all about hitting the right people with the right message at the right time.
In an ideal world, you would achieve all of this before your competitors.
Calculating the share of voice for your brand is one of the most important business KPIs. The SoV will tell you what portion of the whole online discussion was generated by a certain public profile.
You can use this data to assess your communications plan. Is your message reaching the right audience?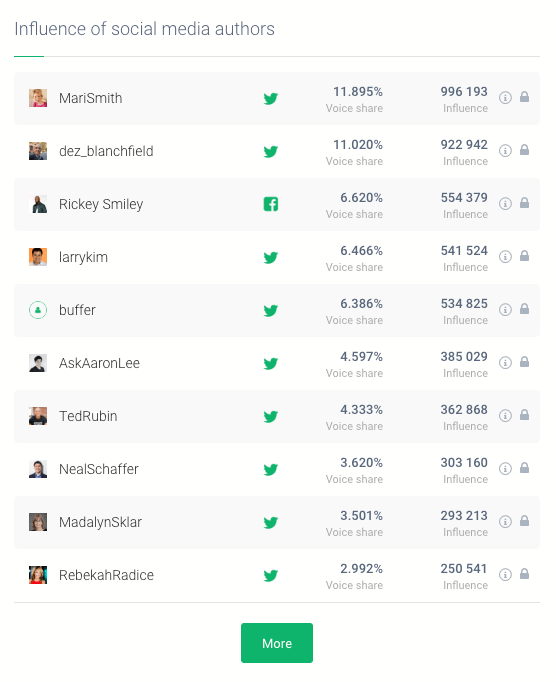 Armed with that information, you could analyse the online talk in more detailed way.
You can spot the most prominent platforms right away and work with them to promote your business or product even more.
The share of voice will help you determine your brand awareness and will provide you with a ton of information about your audience, such as the engagement levels or the social platforms they like the most.
6. Earned media value
When it comes to PR success, advertising can have as big impact as word of mouth or news story.
Nowadays, earned media is one of the most important metric for PR pros. Earned media will tell you how much money you would have to spend to achieve similar exposition via advertising.
Earned media will show the impact and effectiveness of your work. It's a KPI that shows a direct correlation between your work and the money that your client or company saves.
7. Website traffic
Even though more and more PR campaigns take place on different social media channels, your website is still an important platform for PR outreach.
Log in to Google Analytics and take a closer look at your site traffic analytics.
Are there any spikes in the number of leads that reacted to your call to action from your website?
When analysing your website performance, take a closer look at qualified leads and referrals.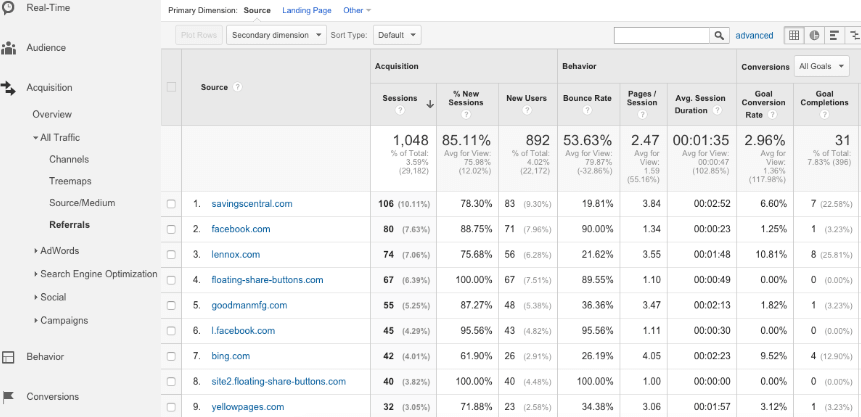 Qualified leads are unique visitors who looked you up in search engines, and, from there, found your website.
A referral heard about you from someone else and they are interested in your product, service, or message.
You have to know where your potential buyers come from. The easiest way to track the user path in GA to use trackable links – for example GA Link Builder.
Another interesting metric you'll find in GA is the bounce rate. The bounce rate tells you how many people have left your website after viewing just one site.
A high bounce rate is an indicator of bad outtakes of your PR campaign. Your audience might not be happy with the content of your website.
8. E-mail metrics
PR campaigns are not only focused on spreading the message to the wide audience. Sometimes, to achieve your goals, you have to reach a precisely targeted audience.
That's where an email marketing comes to the rescue!
You've probably spend some time and a lot of effort on building the perfect media relations list.
Now, you have to check the metrics connected to your PR e-mail database!
How many e-mails with your message were open? How many responses did you receive? Can you track how many times your email has been forwarded?
To properly assess the results of your PR campaign, you have to take into account these metrics.
Track the effectiveness of a PR campaign with Brand24. Give it a spin during a 14-day free trial!
PR measurement tools
To successfully measure your public relations campaign, you need the right set of tools.
So what are the best Public Relations measurement tools on the market?
We have a list of PR tools that every PR manager should know.
But I advise you to take a closer look at the media monitoring tool and its possibilities. Why is it worth using such software?
I will answer this question by presenting Brand24. It's a media monitoring tool that offers strong analytical and reporting features.
Brand24 offers many insights and features you can use in your everyday work as a PR professional.
You start with creating a project. Enter all the keywords you want to track across the Internet. Brand24 covers sources such as:
social media platforms, including Facebook, Instagram, YouTube, Twitter, and Twitch
blogs, forums, and review sites
news sites
podcasts
newsletters
other publicly available Web sources
But the PR tool offers much more than just mention collection. The social listening tool also offers a robust analytics section that includes:
the volume of mentions
sentiment analysis
social and non-social reach
social media interactions
the most popular mentions
top public profiles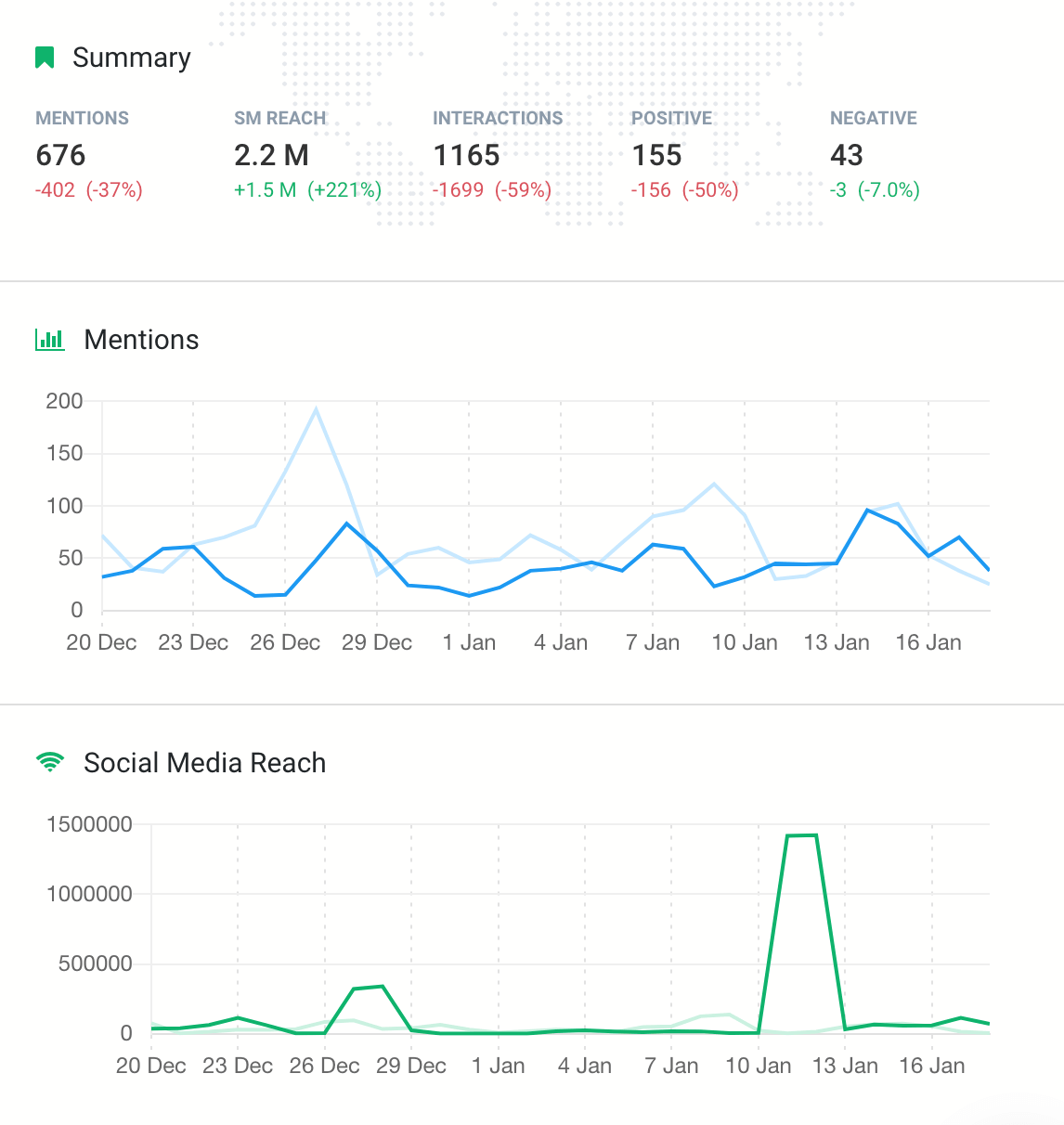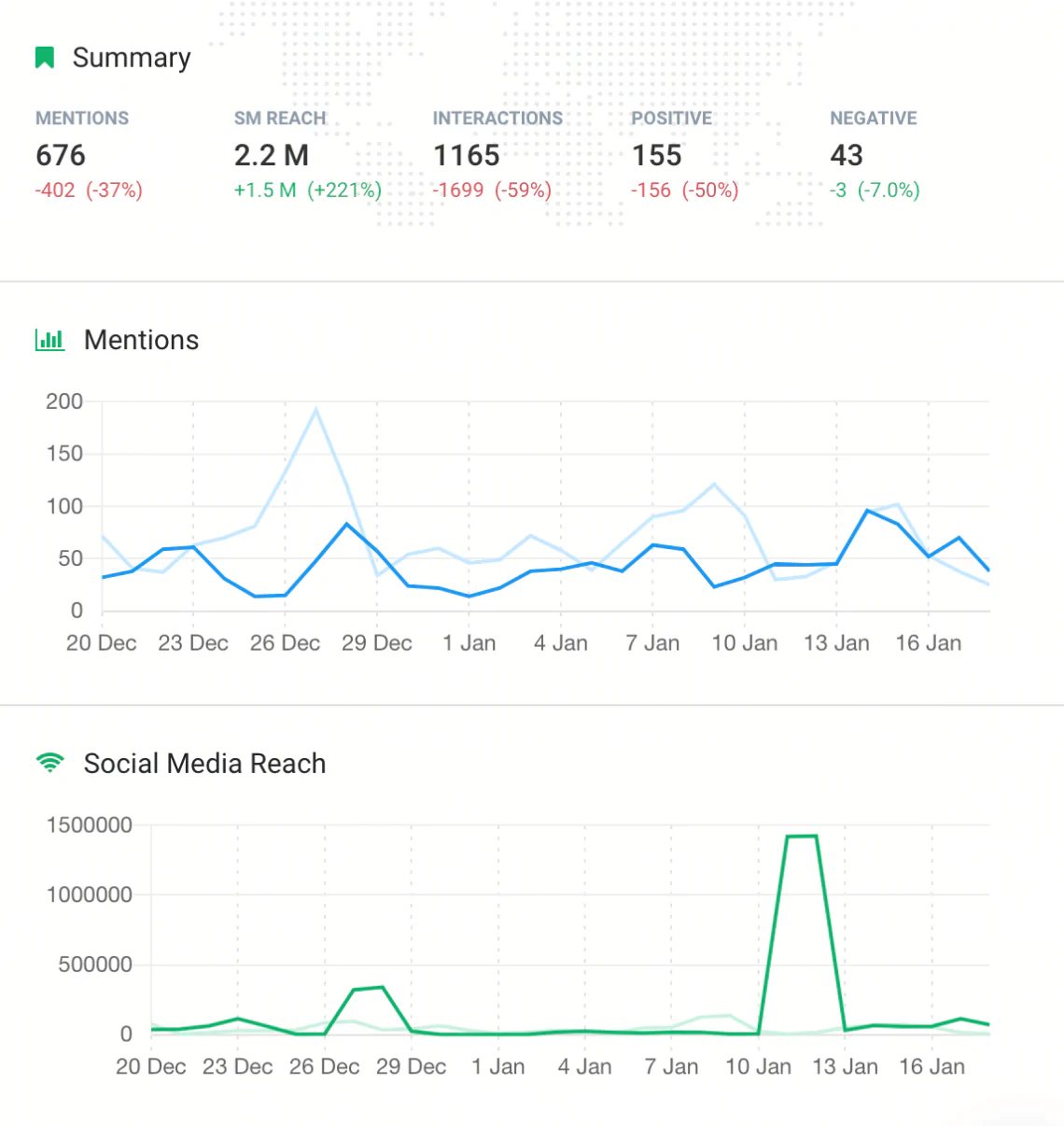 You can get the most important information straight to your inbox via email notifications, Storm alerts, or in-app notifications.
Brand24 will help:
measure the effectiveness of PR program
protect your brand reputation
provide more engaging content to your audience
track brand sentiment over time
and much more!
Sharing the results of your work is a piece of cake. You can prepare a customizable PDF report that contains the most important metrics and insights that will show the results of your work.
Brand24 is a tool that will allow you to measure the results of a PR campaign.
Why measure the results of your PR campaign?
Why should PR pros keep a close track of the outcomes of their PR campaigns?
One of the most important rules for every analyst states: you can't improve any action, if you don't measure the results.
Measurement of a PR campaign will reveal what's working and what's not. You can adjust your campaign communications, so it will bring the desired goals.
No matter how hard you try, there will always be a part of your campaign you could improve. Measuring the results of a PR campaign will help you identify the weak spots and will prevent you from making the same mistake in the future. Measurement will determine your future success.
Moreover, measuring and reporting the results of your PR campaign will help you justify your PR spending to your supervisors and C-suite.
Considering how expensive a well-executed PR campaign could be, justifying the spending is one of the crucial parts of your job.
Benefits of public relations measurement
Why should you invest time and resources into measuring your PR efforts? The benefits are hard to miss!
There are multiple reasons why you need to measure the value of your paid, owned, and earned media:
to prove the value of your work to your superiors. PR can help you reach your business objectives, but you have to demonstrate the benefits of your work
measuring various PR campaigns will help you identify strengths and weaknesses of your actions. That way you could improve your next campaigns
constant monitoring of your brand will help you defend your business during the crisis. If you want to know more, take a look at our article about crisis management.
PR measurement in a nutshell
I hope by now you get a solid grasp on the importance of measuring the results of your PR campaigns.
Without proper public relations measurement in place you won't be able to assess the results of your work and provide even better services to your clients.
What are the most important takeaways?
Set up your goal clearly before you start the campaign.
Take a closer look at social media platforms – whether you like it or not, that's where the majority of life happens now.
Have a crisis management plan in action. A PR crisis will hit you, but you can turn the tables around and benefit from it.
Watch your competitors. Conducting competitor analysis will help you identify your strengths and weaknesses.
Don't forget about your website traffic. Analyse the results from GA regularly. All of this contributes to measuring public relations effectiveness.
FAQ
Is PR measurable?
Yes, PR is measurable. By using a series of metrics, it's possible to measure a PR campaign's success and determine the PR value. These measurements allow us to understand how effectively the campaign has reached its intended audience and influenced their perceptions or behavior. Various tools and methodologies are used in measuring PR, including media impressions, media coverage analysis, audience engagement on social media platforms, website traffic data, sentiment analysis, and more. Therefore, by carefully analyzing these parameters, one can effectively measure the success and value of PR.
What is the difference between PR value and Ave?
Advertising Value Equivalency (AVE) measures the cost of media space if it were bought as an advertisement. It quantifies the size of coverage but overlooks the value of credibility and influence of earned media.
In contrast, PR Value assesses the overall impact of a PR campaign, including brand recognition, trust, and audience engagement. It factors in qualitative elements like sentiment and relevance.
Both metrics provide different insights and are useful when planning future PR campaigns, with PR Value offering a more comprehensive picture.
What are the four typical measurements of public relations outcomes?
The four typical measurements of public relations outcomes are:
Media Coverage: This is where the PR team gauges the extent and quality of exposure received across print, broadcast, and online channels, contributing to measuring PR success.
Digital Media Mentions: This involves counting how frequently your organization or campaign is referred to across various digital media outlets.
Social Media Monitoring: A key aspect of tracking PR metrics. It tracks how often your brand is mentioned, the level of engagement, and sentiment across different social media platforms.
Web Analytics: This includes monitoring changes in website traffic, bounce rates, and other related metrics that might be influenced by PR activities.
These metrics offer a comprehensive understanding of the effectiveness and impact of a PR campaign.
HANDPICKED RELATED CONTENT
PR CLIPPING – How to do clipping using Brand24?