Why do you need brand monitoring tool? Brand reputation is everything. Especially in the age of the Internet, when anybody can talk about your company online. The number of channels and Internet users makes it hard to follow every mention about your brand. Notably, if it happens outside your earned social media accounts. Spotting and analysing mentions about your brand is a job for a brand monitoring tool.
Brand monitoring tools will help you get a grip on online public mentions.
To spare you some time, I've selected the creme de la creme — top 10 brand monitoring tools!
Monitoring the online mentions is essential for building a robust brand.
Thanks to the online brand monitoring tools, you will always know what people say about you.
Brand monitoring tools will help you measure many different marketing and sales KPIs. The results can provide valuable insights. Think about issues such as:
boosting your sales by completing a successful influencer marketing campaign to promote your business
measuring the results of your hashtag marketing campaign to determine the success of your efforts
monitoring your competitors to know what's going on in your industry
bringing your customer experience to the next level by spotting and reacting to negative comments
analysing the sentiment around certain products, campaigns, or services
and much more!
Of course, there's a simple solution. You can manually search for all the online mentions across different media channels.
There are, however, at least two drawbacks of this approach.
Firstly, browsing through different channels, even only your earned ones, is extremely time-consuming. New channels emerge every day which makes it hard to keep up.
Secondly, it's easy to miss crucial mention regarding your brand. A negative mention can slip through your fingers and potentially lead to a crisis.
That's where brand monitoring tools come in handy!
Brand monitoring tools provide you with much more than a collection of mentions containing your predefined keyword.
Brand monitoring tools provide robust analytics that can immensely help your business.
When it comes to brand monitoring tools, the analytics section is where you find your pot full of information gold.
You'll find out about:
the sentiment around your brand
how often your brand is named in online discussions
which channels your potential customers use
That's why it's vital to choose the right brand monitoring tool!
Here they are! The top 10 brand monitoring tools:
As a bonus read, take a look at the benefits of using media monitoring tools.
1. Brand24
What a plot twist, we've made our list!
According to HubSpot, Brand24 is one of the most robust brand monitoring tools.
The monitoring tool collects publicly available data from various sources, including, Instagram, Twitter, Facebook, news sites, blogs, forum, TikTok, and Twitch.
The tool is 100% compliant with Facebook regulations and the GDPR. Mentions from Facebook and Instagram are collected via official Facebook API.
This brand monitoring tools will give you plenty of information about your brand, how it is perceived online, and where people are talking about your brand.
Moreover, Brand24 will give you some hefty brand monitoring data, such as:
the volume of mentions
the sentiment of mentions
type and number of interactions
estimated social media reach
most active locations where your keyword is used on Twitter
the context of a discussion for your project
list of most influential authors for your industry niche
But that's not all! Brand24 also offers two comparison modes.
You can compare two separate projects in the Comparison tab.
That's useful if you want to compare your brand reputation to your competitors. Or if you have two services, products, or marketing campaigns and you want to see which one achieved the desired KPIs.
But you can also see how social media KPIs of a specific project change over time. You'll find these pieces of information in the Summary tab.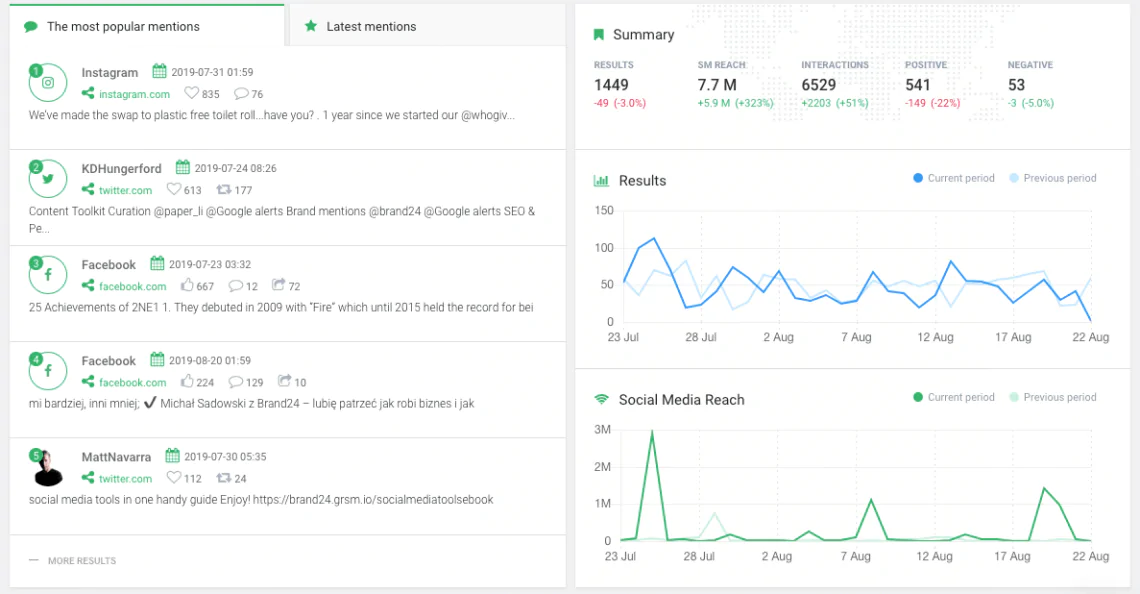 You can measure changes in:
the total number of results
social media reach
the total number of interactions
the number of results with positive and negative sentiment
the type of social media interactions
You can generate a customised PDF report to display the results of your brand monitoring project.
As a bonus, you get a list of trending hashtags that could help you get some more exposure
Brand24 starts at $49 per month, and you can set up your free trial account here!
2. Google Alerts
There are some free brand monitoring tools which would work perfectly fine, especially if you are beginning your business journey.
Google Alerts is a much simpler tool than other brand monitoring tools, which has its advantages and disadvantages.
For starters, Google Alerts is a free brand monitoring tool.
It's also easy to use. Enter the keyword you want to monitor into the search bar and enter your email address. That's all!
Every time someone uses your keyword online, you'll receive an email.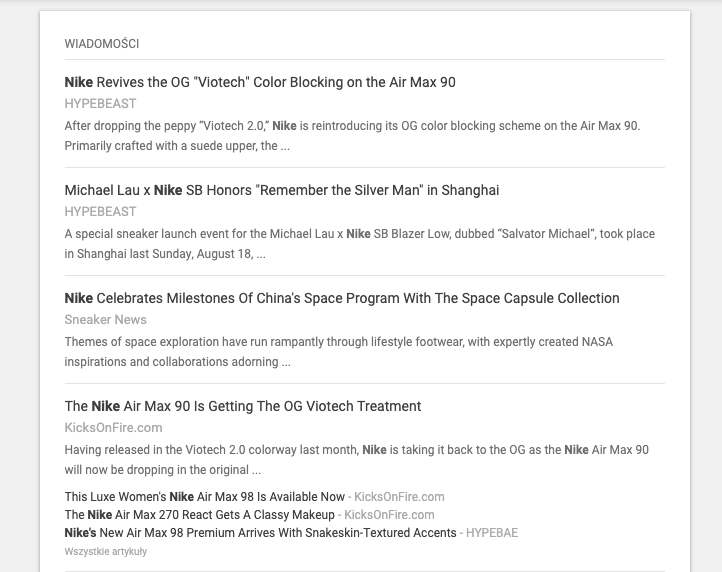 The simplicity can be a blessing, but can also be a curse.
You won't receive any advanced analytics sections, nor will you be able to set up dedicated notifications or generate reports.
Google Alerts is a free brand monitoring tool.
3. Brandwatch
Brandwatch is on the other side of the spectrum of brand monitoring tools — it offers extensive data analytics and business intelligence.
It is, however, one of the most expensive brand monitoring tools on the market.
Let's start with positives.
Brandwatch offers historical data and powerful algorithms based on machine learning.
The algorithms will slice and dice data for you to provide:
the most accurate and insightful information about your audience
segment the data into relevant categories that will help you build the perfect customer persona.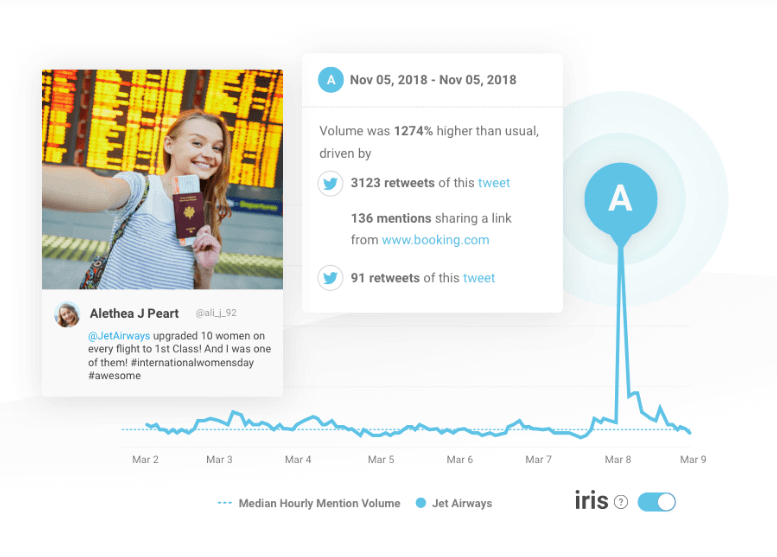 Moreover, Brandwatch offers a reporting platform featuring live data reports and real-time displays.
Brandwatch is a brand monitoring tool dedicated to large companies and enterprises. The pricing is available upon request.
4. Hootsuite
Hootsuite is best known as a social media management tool. With the help of HootSuite, you can schedule your social media posts.
But you can also use Hootsuite as a brand monitoring tool and gather all the mentions about your brand online.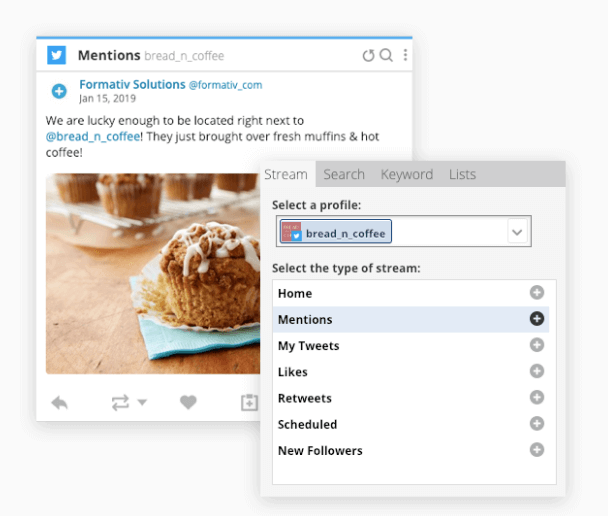 Set up the social media streams that monitor conversations and predefined keywords.
Hootsuite is still a social media management tool. It means it will only collect mentions from social media channels, such as Instagram, Twitter, LinkedIn, or YouTube.
Hootsuite starts at $19 per month.
5. BuzzSumo
BuzzSumo is another tool not commonly associated with brand monitoring.
However, it offers brand monitoring services.
The brand monitoring tool provides many features that can help you spot all the relevant mentions, for example:
keywords and brand alerts
domain alerts — receive a notification any time new content is published on a given domain
author alerts — track all content posted by a certain author
link alerts — get notified any time there's a new backlink to your website (excellent for SEO purposes)
personalised dashboard
real-time notifications
filters to receive precisely the results you need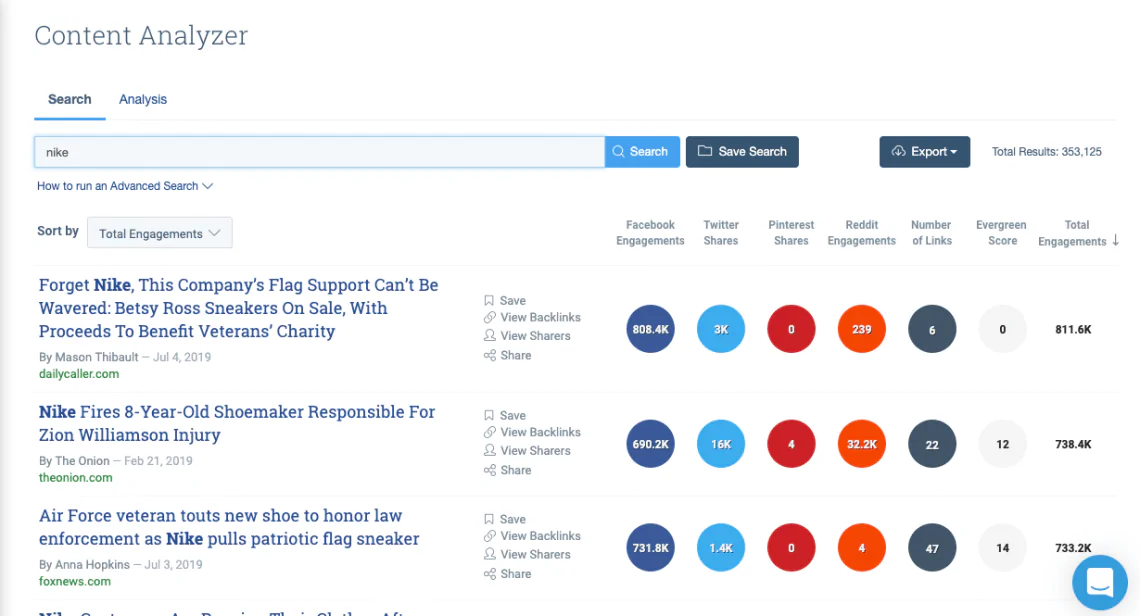 BuzzSumo starts at $99 per month.
6. Social Mention
Social Mention is a free brand monitoring tool.
Does the interface look familiar?
I bet it does!
It's looks very similar to Google search engine.
Enter the keyword you want to track in the search bar. Then you can define the source you'd like to look into. You can choose from blogs, microblogs, bookmarks, images, videos, and questions (so no social media results, unfortunately).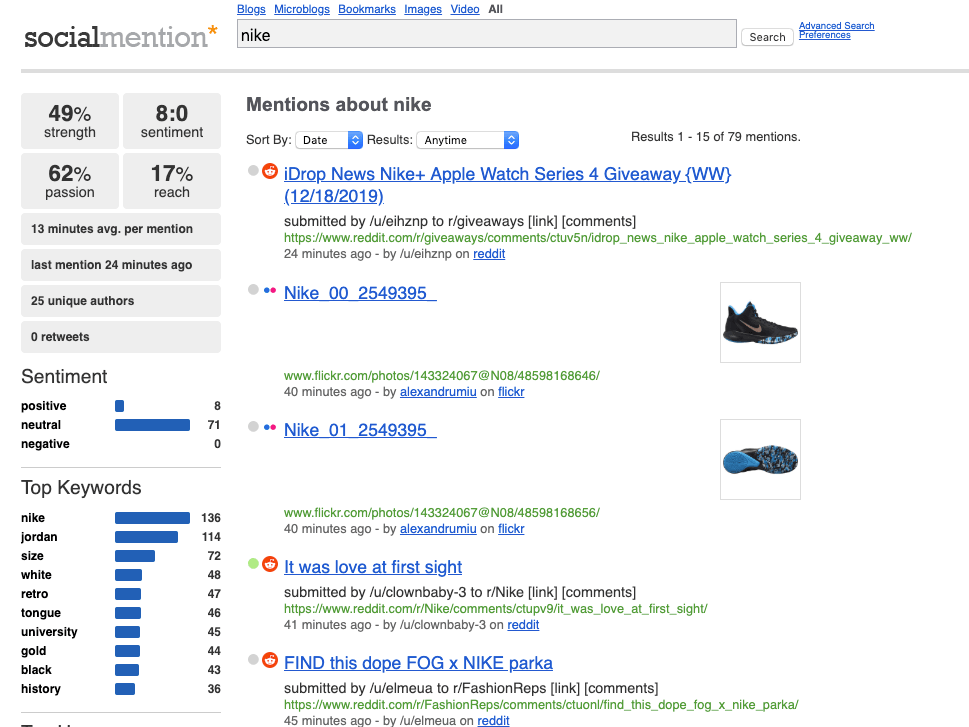 Social Mention provides some analytics you could use to boost your business, for example:
reach
sentiment analysis
top keywords
top users
top hashtags
sources.
The main drawback to Social Mention is that it does not offer data from social media platforms. Therefore, the results and analytics are limited, and not always 100% accurate.
7. Native social media networks and analytics
Sometimes the easiest solution is the best!
Many social media platforms offer built-in analytics platforms and notifications systems.
It's by far one of the cheapest ways to monitor your brand mentions, at least, in terms of money.
To get the data you need from native analytics tools, you need to spend a vast amount of time inside the panel, manually analysing the mentions. That's the right solution for individuals or small brands, but will be ineffective for SME and big corporations.
8. Ahrefs
It may happen that someone links to your website, without mentioning the name of the brand you monitor.
Just what I did a minute ago with Ahrefs.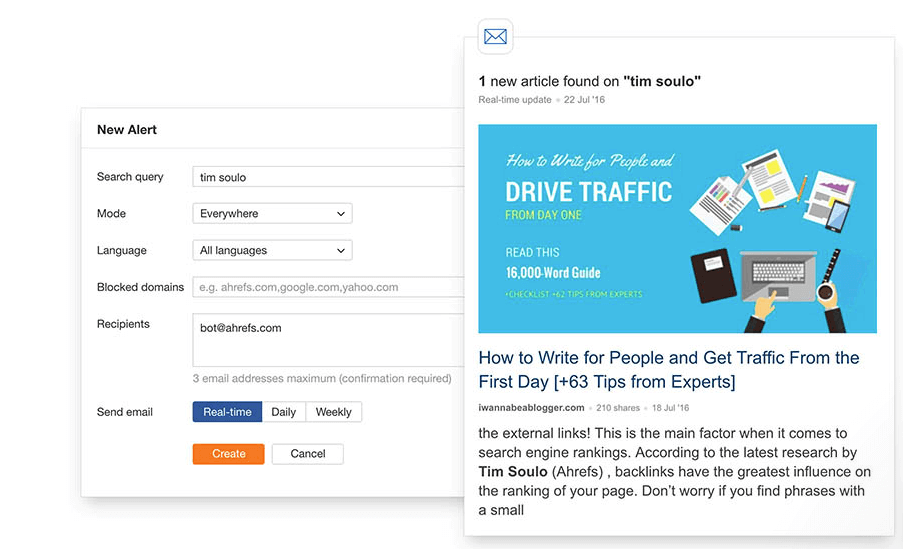 Ahrefs is a SEO tool that offers limited brand monitoring. As a brand monitoring tool, Ahrefs will let you follow the backlinks to your website.
Apart from looking for the best keywords and your website overall position in Google, you can track backlinks to your site.
The link monitoring tool starts at $99 per month.
9. TweetDeck
Do you want to focus solely on Twitter? Brand monitoring on Twitter is a piece of cake!
Then take a look at TweetDeck.
With TweetDeck, you can create a Twitter dashboard that perfectly suits your needs.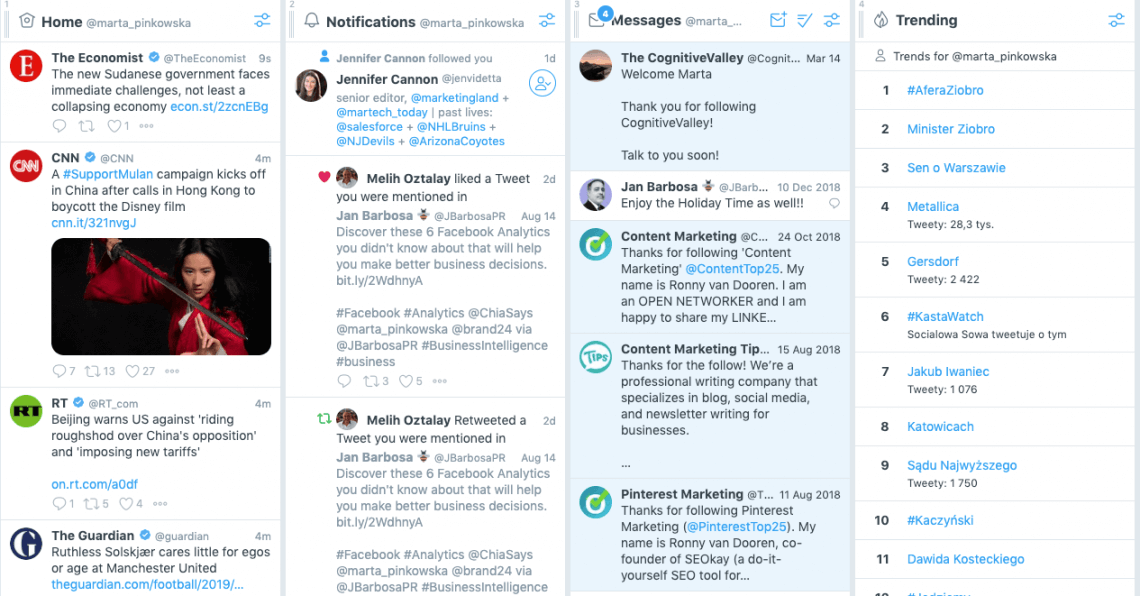 The tool allows you to carefully follow hashtags during events or live storms and effectively take part in the conversation.
TweetDeck is a free brand monitoring tool.
10. Keyhole
Keyhole will give insights into your brand online performance.
The brand monitoring tool gives you a quick rundown of the most important social metrics, for example:
total impressions
total engagement
total link clicks
Keyhole monitors the performance of predefined keywords, URLs, hashtags, and @mentions.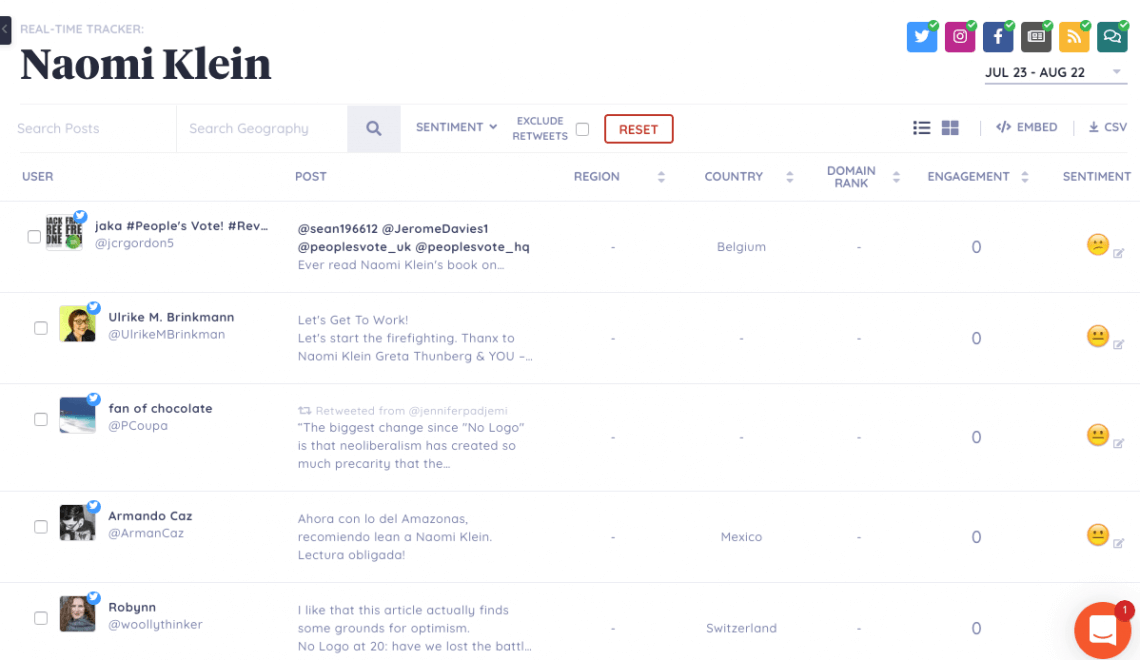 Keyhole offers real-time monitoring and reporting. You can use the brand monitoring tool to track your company's performance or to compare your results against your competitors.
Keyhole starts at $179 a month.
Why do you need brand monitoring tools?
No matter which brand monitoring tool you opt for, it will give you a much better grip of what is said about your brand.
Considering the fact, that the majority of conversations about your brand, product, or service happens online you need to be aware of the online chatter.
Brand monitoring tool will help you stay on top of things.
To protect your brand reputation
Brand reputation is one of the most valuable assets you have. Without brand monitoring, you have limited ability to manage your brand reputation.
Brand monitoring tools offer instant notifications, for example, email alerts or Slack messages.
You can filter the messages and receive only the information about negative mentions.
That way you can react swiftly to any mentions and nip most of the brand reputation crisis in the bud.
That will help you maintain positive brand reputation.
A positive brand reputation will help you gain and retain customers, survive reputation crises, and, ultimately, it will increase your profit.
To measure and build your brand awareness
Have you ever measured brand awareness? What is the sentiment around your brand? Where do people talk about your company? How many people see your brand's messages?
All of these pieces of information are insights into your brand perception that should shape your business strategy.
A good brand recall will help you make sure customers choose your company from your competitors.
Brand monitoring tool will help you establish your current brand awareness level and provide you with insights to improve your brand awareness levels.
That's why implementing a brand monitoring tool into your business strategy is an investment you can't miss.
To monitor the social media KPIs
Brand monitoring tools will also help you monitor your social media performance. Most of them will track hashtag performance across different platforms, including Twitter, YouTube, and TikTok.
Moreover, brand monitoring tools will analyse the sentiment of the mentions, telling you whether your audience liked or disliked your product, service, or messaging.
HANDPICKED RELATED CONTENT
8 marketing tactics to build brand awareness
Brand reputation crisis management: a step-by-step guide
---
---