Sentiment analysis tools will collect all publicly available mentions containing your predefined keyword and analyse the emotions behind the message. The results of sentiment analysis are a wealth of information for your customer service teams, product development, or marketing.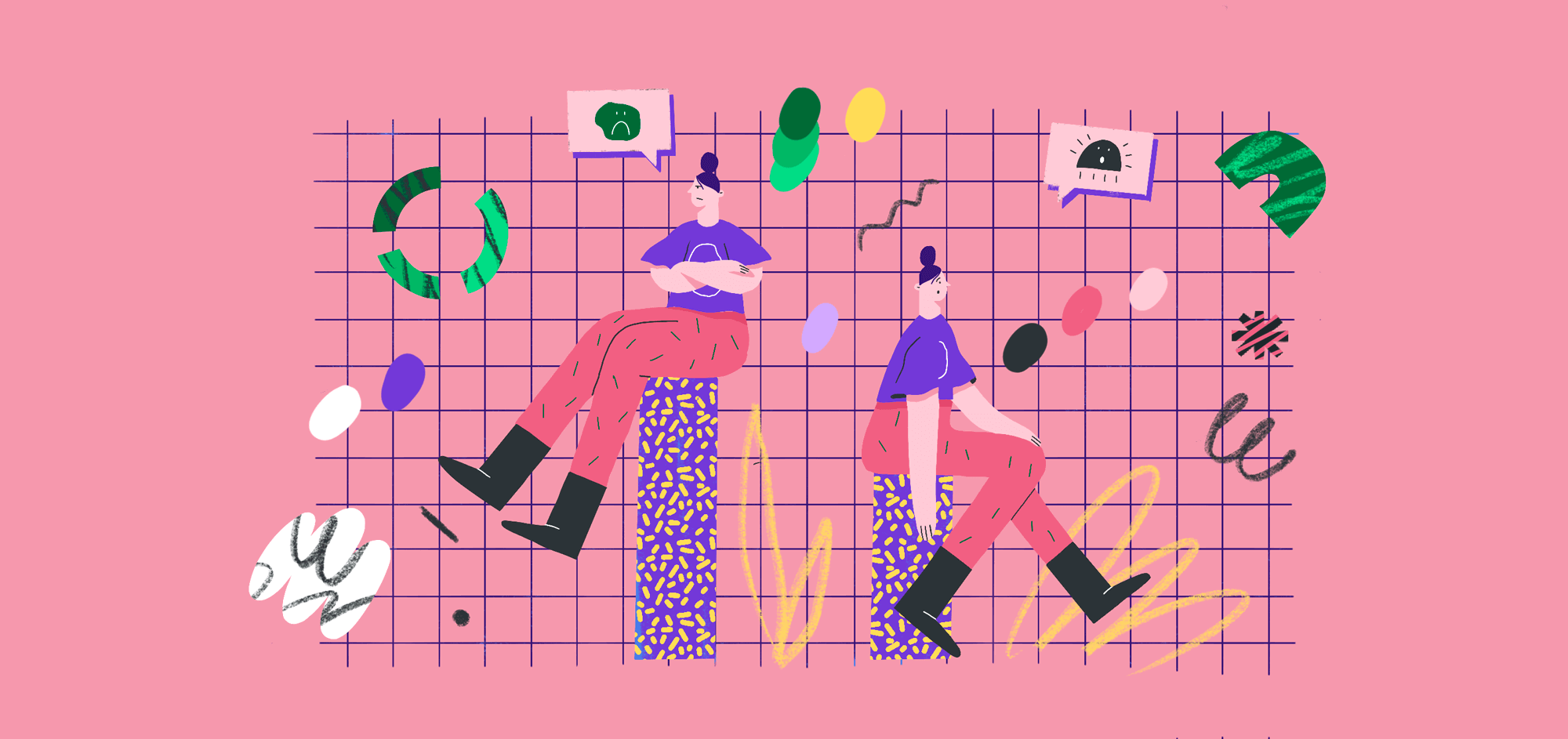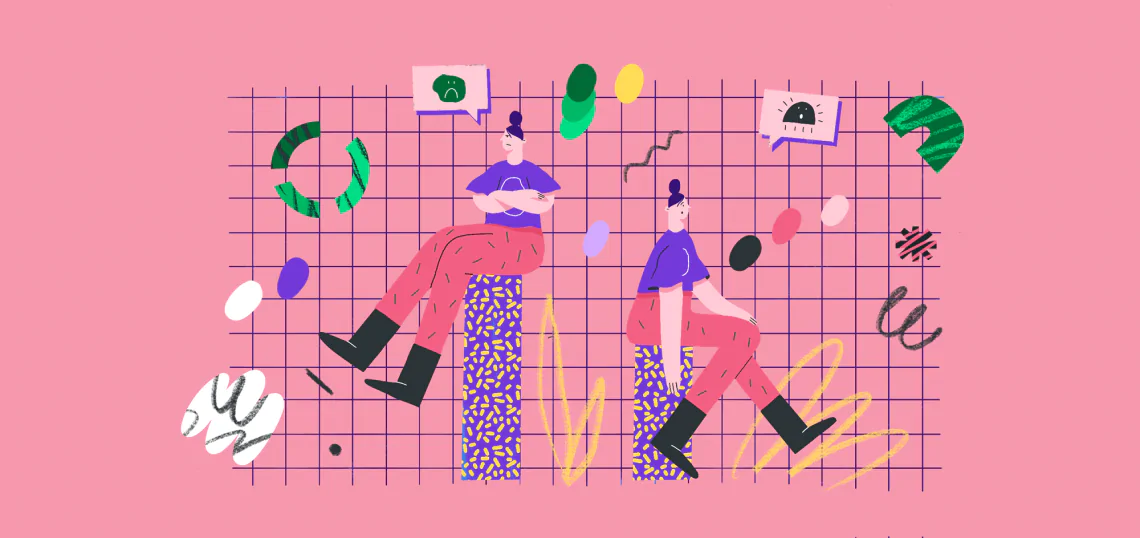 Back in the day, you had to analyze hundreds of comments, posts, and survey responses to even get started with sentiment analysis.
Now, you can use one of many sentiment analysis tools that will automate the process and provide your team with the insights they need to achieve their goals. Sentiment analysis should be an inherent part of your media monitoring project.
Sentiment analysis tools provide a thorough text analysis using machine learning and natural language processing. It means that the more online mentions are analyzed, the more accurate the results will be. Sentiment analysis tools help you identify your customers' feelings toward your brand, product, or service in real-time.
Sentiment analysis models can correctly classify sentiment and leave you with actionable insights to apply across various company departments.
Let's take a closer look at the selection of the best sentiment analysis tools and discover a bit more about the process itself.
The 17 best AI sentiment analysis tools out there – both paid and free. Let's have a look at them!
Top AI sentiment analysis software
01 Brand24
Brand24 is a media monitoring tool in its essence and sentiment analysis is just one of the features you can use to your advantage. Brand24 offers web and social media monitoring. The tool covers all major social media networks, blogs, forums, web, news sites, podcasts, and newsletters.
The sentiment analysis algorithm is applied to all collected mentions and social media posts. Brand24 covers the majority of online sources, including:
Web
Blogs and forums
Social media platforms, including Facebook, X (Twitter), Instagram, YouTube, LinkedIn, Reddit, Quora, Telegram and Twitch
Podcasts
Newsletters
News sites
Brand24 collects mentions in real-time and offers robust media monitoring analytics. That's why it's one of the best sentiment analysis tools on the market.
Thanks to sentiment analysis, you can not only track your brand online but also determine brand sentiment.
It can be used inside the different tabs of the tool's dashboard. Brand24 applies machine learning algorithms and natural language processing to analyze text data in real-time.
Thanks to Brand24, you can easily check which mentions are positive, negative, or neutral.
First and foremost, we need to take a look inside the Mentions tab.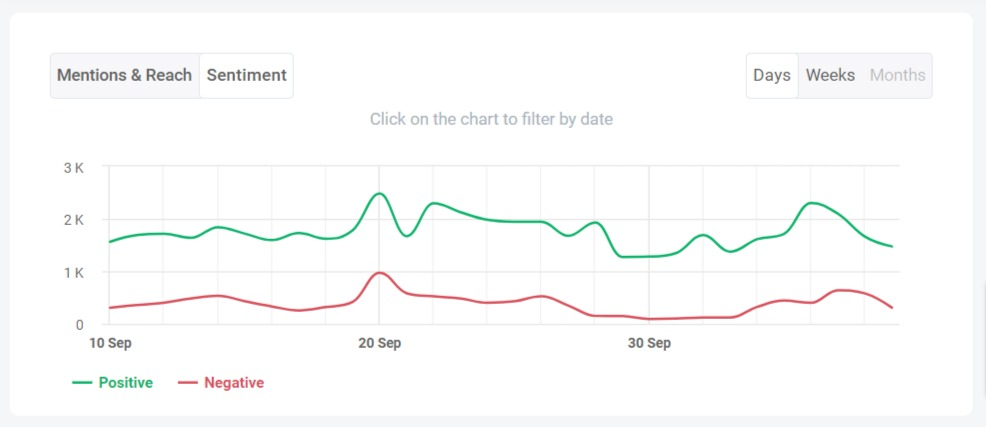 Discover the power of sentiment analysis. Start your free trial!
The green and red lines on the bottom part of the graph represent changes in the sentiment score over time. The spikes and dips make it easy to identify what were the reasons for changes in sentiment. Additionally, you can filter your mentions based on sentiment.
Furthermore, each mention is described as positive, negative, or neutral.

With Brand24, you can compare your sentiment to any other brand. You can also track your sentiment progress by comparing periods.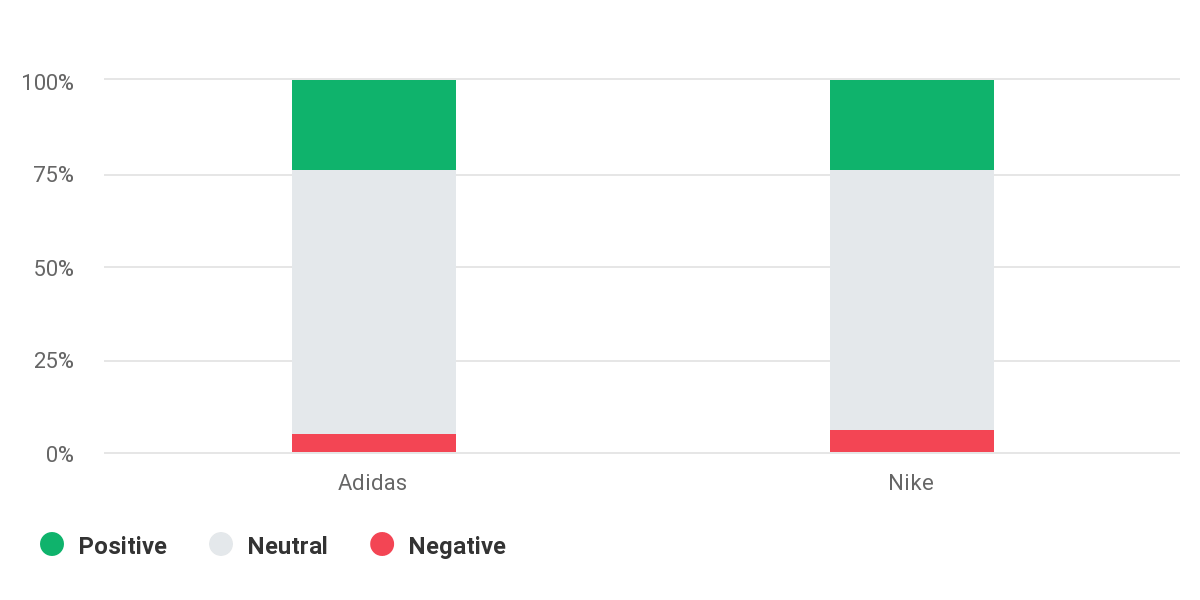 The tool also explores topics related to monitored projects. As a result, it will show you the most popular topics your target audience is discussing. Each detected topis has a sentiment breakdown.
As I mentioned above, Brand24 monitors lots of sources. You can easily check which source has the most positive and negative sentiment.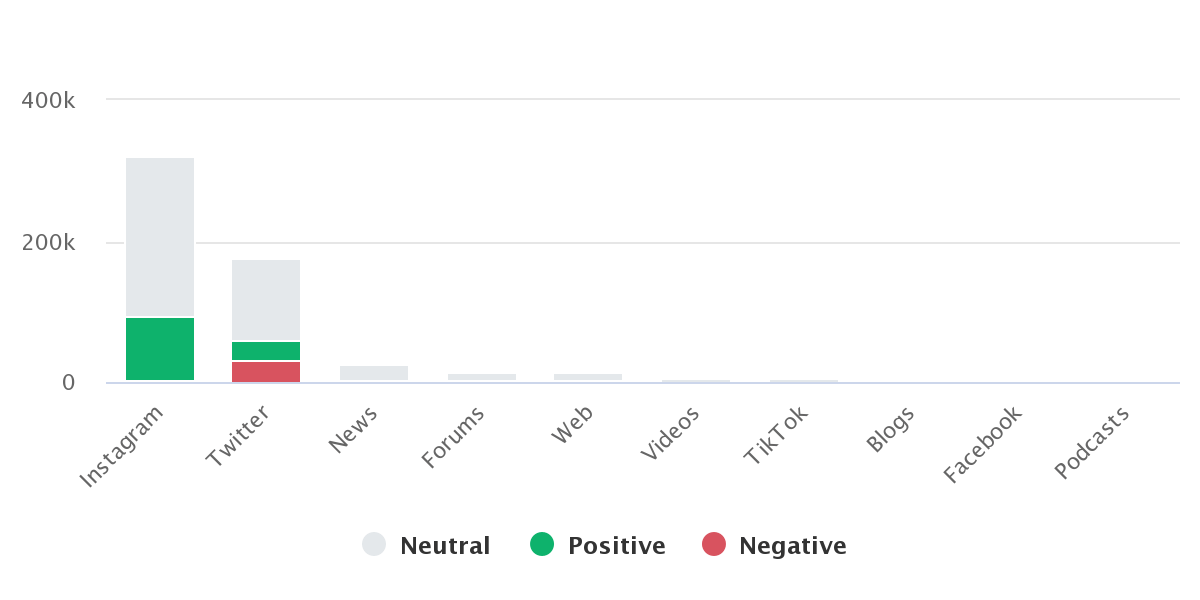 One of the most interesting features is detailed emotion analysis.
Analyze the sentiment around your brand for free!
02 Clarabridge
Clarabridge's sentiment analysis tool is a part of their Customer Experience Management solution, which consists of CX Analytics and CX Social.
They use an 11-point scale to index the sentiment of collected content. Grammar, context, industry and source are all taken into account while scoring a piece of text.
I am amazed by the example they point out:
We know customers are pleased when they mention how "thin" their new laptop is, but that they're complaining when they talk about the "thin" walls in your hotel.
And I take their word for it!
This sentiment analysis tool is perfect for collecting customer feedback and find positive, negative or neutral opinions.
You need to request a demo to get a quote for CX Analytics. At the same time, you can try CX Social that covers social media monitoring for 14 days for free.
03 Repustate
Repustate is a sentiment analysis tool that provides text analytics for businesses in 17 different languages. Before the actual analysis takes place, the tool triggers a mechanism known as part-of-speech tagging, which is based on the decomposition of blocks of text into grammatical parts: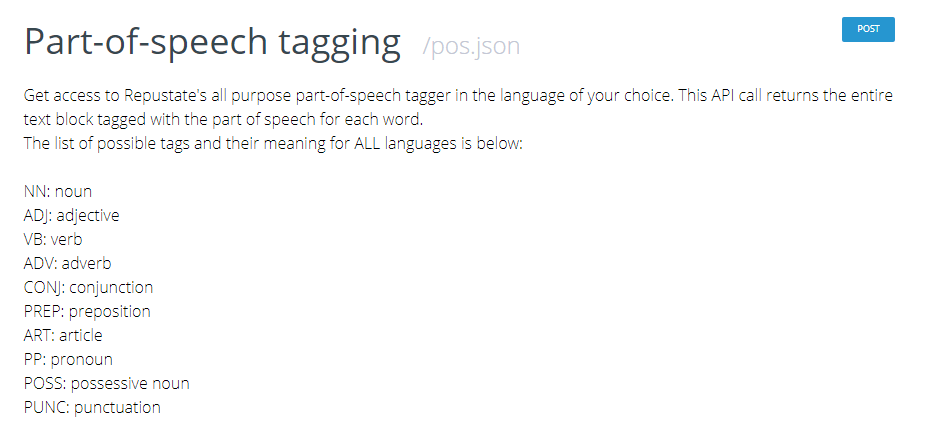 Once this part is done, it's way easier to state which phrases are the most interesting from the sentiment analysis standpoint.
It's vital to point out the tool puts emphasis on a variety of other factors, such as lemmatization, prior polarity, etc.
Repustate offers a free trial. You can take it for a spin before you eventually decide to go for one of the paid plans ranging from $99 to $1699.
04 OpenText
OpenText Sentiment Analysis Tool is a part of a broader OpenText Content Analytics platform. It is a specialized classification that you can use to identify and evaluate subjective patterns and expressions of sentiment within textual content.
The analysis takes place on three different levels: topic, sentence, and document. It's programmed in a way so that it can recognize if the portions of text are factual or subjective. Speaking of the latter, it's also meant to evaluate whether the opinion expressed within particular pieces of content are positive, negative, mixed, or neutral.
The OpenText offers full support of five languages: English, German French, Spanish, and Portuguese.
Similarly to other, robust sentiment analysis tools on the list, you need to fill out a contact form in order to find out what price points we're talking about here.
05 ParallelDots
ParrallelDots is an applied AI research group and the sentiment analysis tool is just one of their services. Actually, their offering can be distinguished into Products, APIs, and Plugins, which is where their sentiment analysis tool falls into.
Their sentiment analysis API uses Long Short Term Memory (LSTM) algorithms to classify a text blob's sentiment into positive or negative. LSTMs model sentences as a chain of forget-remember decisions based on context. It is trained on social media data and news data differently for handling casual and formal language.

The user interface is easy to use. You can spot the most important information right away.
This sentiment analysis tool works in 14 different languages. You can sign up for a free account and use a free forever plan which you can use to test their APIs, build MVPs, or finish your personal projects.
In case you need some more firepower, you can choose one of the 5 available plans priced $79-$499 as well as a custom plan.
06 Lexalytics
Whether you're processing high volumes of text data, need security to run the system behind your firewall, or want to tune and configure your text analytics, Lexalytics has got you covered.
They explain how text analytics platform works in three steps:
First, with the use of text deconstruction and natural language processing, they brake phrases and sentences apart to evaluate semantics, syntax, etc.
The second step is where sentiment analysis comes into play, along categorization, name entity recognition, intention detection, and more
Lastly, structured data and conclusions are transferred into their data visualization suite or business intelligence platforms so that it's easier for the user to conduct historical and predictive analytics.
They claim lots of tools can tell you who's talking and what they are talking about, some of those tools can tell you how those people feel, but only Lexalytics gives you the why. The analysis if audience sentiment can have a huge impact on your business bottom line.
You can find information about the pricing upon scheduling a product demo.
07 Hi-Tech BPO
Hitech is a robust sentiment analysis software with services ranging from data analytics, market intelligence, data processing and a sentiment analysis tool. They pride themselves in extracting meaning from product and service review in the form of text, speech, emoji, images, visuals etc.
They divide sentiment analysis into four different segments:
Opinion mining that focuses on assessing an opinion and its polarity
Text mining
Social sentiment
and social listening
No fixed pricing is available so if you're interested in their services, use the contact form for any business inquiries with a few details of what your needs are.
08 Social Searcher
Social Searcher looks like Social Mention on steroids. It's a product with a variety of tools such as Social Buzz, Google Social Search, Media Monitoring, etc.
You can use it without registering an account, but there are obvious benefits for creating one. In fact, you can stay on a free plan or alternatively pick one of the other three ranging from 3,49 to 19,49 Euro per month.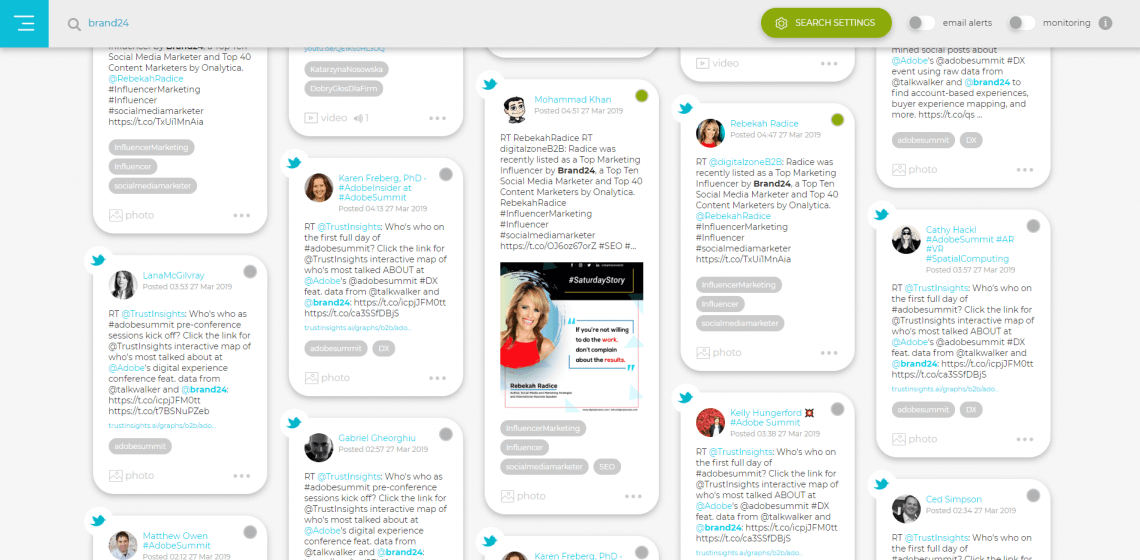 As far as sentiment analysis goes, each mention has green, grey or red dots assigned to them, that correspond to the sentiment of respective mentions.
On top of that, you can apply sentiment filters so that you can only see a particular set of mentions.

Detailed statistics give you an overview of the sentiment looks like on separate media platforms.

09 Sentigem
Sentigem is pretty similar to Sentiment Analyzer that we've already discussed. You simply paste a block of text that you want to inspect, click Analyse, wham, bam and you're done! The sentiment behind the mention is there!

As we learn, the text analysis tool is in the phase of public beta, which means the version we can test is still in development and encountering some errors is possible.
The creators of the tool are proud of the speed with which Sentigem analyses content and I can vouch for it – I pasted huge chunks of text into the tool and got the results in real-time!
Analyze the sentiment around your brand for free!
10 SentiStrength
Sentistrength provides automatic sentiment analysis of up to 16,000 social web texts per second with up to human level accuracy for English.
Unlike any other on the list, it's downloadable software that is primarily a Windows program but works with Crossover on a Mac, Linux, and Android), However, you can see it in action in a web-based version as well.
It boasts human-level accuracy for a majority of web texts in English.
It's based on two sentiment strengths:
-1 (not negative) to -5 (extremely negative)
1 (not positive) to 5 (extremely positive)
The reason why it uses two scores lies in psychology research that revealed people process positive or negative sentiment in parallel.

As the maker of the tool says, keep in mind the results are not always accurate. It's because they are guesses using a set of rules to identify words and language patterns usually associated with the sentiment.
11 Meaning Cloud
The sentiment analysis tool is just one of the products on the robust list from Meaning Cloud. Their API analyzes the text by identifying individual phrases and evaluating the relationship between them.
To go deeper into the details, some of the features are:
Global sentiment, which is a general opinion expressed in a given mention
Sentiment at attribute level that provides a detailed analysis of sentiment of each sentence
Identification of opinions and facts
Detection of irony ( I am super curious how that works, as irony and sarcasm are sometimes difficult to read in face-to-face conversations, let alone text mining)
Graduate polarity which means the distinction between the biggest differences in sentiment
Agreement and disagreement, so messages for and against the analysed content
As far as the level of accuracy goes, it's obviously never a 100%, mostly because of the number of factors a tool has to take into consideration while evaluating the sentiment. Sometimes you have to take the coverage at the expense of accuracy, and vice versa.
12 Rapidminer
Rapidminer is a data science platform that spices up analytics with artificial intelligence.
As they say, Rapidminer unifies the entire data science lifecycle from data prep to machine learning to predictive model deployment. That includes text analysis and mining as one of the solutions Rapidminer has on offer.
They emphasize how data is no longer just about numbers and figures but qualitative, textual content. The pricing structure seems a little bit complicated at first glance and is divided according to four different products, but you can test their text mining capabilities for 30 days for free.
13 Hootsuite Insights
As their slogan goes, Hootsuite Insights provides richer social listening and helps you make smarter business decisions. Once again, it's one of the many products in a bigger arsenal of the social media management legend. Sentiment analysis tool provided by Hootsuite Insights helps you understand sentiment behind your brand.
The platform will help you mine your customer opinions and share the insights with your team. Social media data will be beneficial in improving your business's bottom line.
Once you find out what's the people's attitude towards your brand, you can filter your mentions by language, location and gender. This helps you build your market segment in a more structured and detailed way.
Real-time access to data from more than 100 million sources in over 50 languages helps you monitor conversations across social, blogs, forums, etc.
14 Talkwalker's Quick Search
It's one of a few products from Talkwalker, a social media search engine that helps you take care of your brand. As the landing page copy for the Quick Search states, you should find it helpful for finding content ideas, influencers and discovering trends.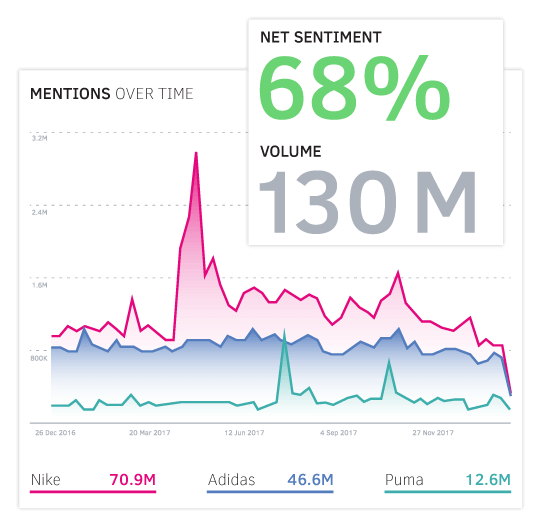 Talkwalker also claims Quick Search offers image recognition which I sadly haven't tested. There's no free trial you can sign up for right away but you can schedule a personalised demo.
The cool thing is you can compare sentiment between two different brands or products so that you know how you stack up against competitors. Talkwalker is one of the listening tools that will help you get a grid on your social networks.
Analyze the sentiment around your brand for free!
Are there any free sentiment analysis tools?
In the past, we could use many free sentiment analysis tools such as Social Mention, Sentiment Analyzer, and Tweet Sentiment Visualization. Currently, they don't exist.
Still, we can find some free tools, for example:
Sentiment Analyzer by MonkeyLearn
Sentiment Analysis Checker by ClientZen
Sentigem
SentiStrength
They all have one thing in common – they are very basic. All you can do is paste some text, and the tool will judge whether it is positive, negative, or neutral.
Now, imagine you are trying to conduct a social media sentiment analysis using a free sentiment analysis tool.
Pasting each social media post and mention into a tool would be time-consuming and ineffective.
What are the best social media sentiment analysis tools?
By monitoring sentiments on social media, you can keep a pulse on brand reputation by looming PR crises before they escalate.
While choosing the best social media sentiment analysis tool, you should strongly pay attention to the number of monitored sources.
Here's a quick overview:
Brand24 monitors and analyzes Instagram, X (Twitter), Facebook, Reddit, LinkedIn, Quora, YouTube, TikTok, Telegram, and Twitch.
Mention monitors Facebook, Instagram, X (Twitter), YouTube, LinkedIn, Reddit, Pinterest, and TikTok.
Awario tracks and analyzes Facebook, Instagram, X (Twitter), YouTube, and Reddit. Unfortunately, it doesn't monitor Telegram, TikTok, and LinkedIn.
BrandMnetions supports X (Twitter), Instagram, Facebook, YouTube, LinkedIn, Reddit, Pinterest, and Quora. The tool doesn't support TikTok.
Check: The Best Social Media Monitoring Tools
Set up the Brand24 tool and start the sentiment analysis!
Why do you need a sentiment analysis tool?
Sentiment analysis is necessary in today's data-driven world, providing invaluable insights from vast amounts of text data generated every day.
Calculating sentiment score will help you across many different departments of your organization. The process will help you to increase your brand awareness and raise customer satisfaction. Listening to your customers' opinions will help you improve your product.
Your audience will leave actionable insights online. Part of your job is to listen to your customers and help them overcome their problems.
Sentiment analysis tools can be invaluable as far as brand reputation management is concerned. Even using the free ones, with all their limitations, can save your business from potential PR crises and financial losses.
While sentiment analysis tools are amazing additions to the marketers' toolkits, just like people, they sometimes make mistakes. Keep that in mind anytime you do the sentiment analysis (a.k.a. opinion mining) for your brand, product, service, or clients you work for.
What do I mean by saying this? Think of someone being sarcastic or just joking about a brand on social media. In such instances, people tend to use words that carry negative meaning, but the whole expressions don't necessarily have to be negative in general when you take the whole context into consideration. Have a look at the example below:

As you can see, this particular mention was labeled as negative, even though it doesn't actually carry a negative meaning. However, the word guilty caused the tool to classify it as negative sentiment.
While we still need to be aware of how they can sometimes make mistakes while evaluating social mentions, there's no better way to stay on top of the emotions towards your businesses than using one of the best sentiment analysis tools on this list!
What is the sentiment score of your brand and products? You can easily check it for free. Start a free trial!