The Best Real-Time Marketing Reactions To Oscars 2016 (And Leo Finally Getting One)
February 29, 2016 ・ 3 min read
At the 2016 Academy Awards, not only did the stars shine. Some brands did pretty well themselves, engaging with their communities using content posted in real-time. Let's take a look at some of the examples.
Get Ready… #oscars pic.twitter.com/VgNqyBiVP4

— Chris Rock (@chrisrock) February 28, 2016
And The Oscar Goes To…
Firstly, let's talk about Leo. The actor finally did it. He took home an Oscar for his role in The Revenant, which happened after six nominations over the course of 22 years.
Thank you to the Academy and the incredible cast & crew of #TheRevenant. #Oscars

— Leonardo DiCaprio (@LeoDiCaprio) February 29, 2016
If you have been connected to the Internet for some time, you must have seen all the memes and fans posts appearing everywhere for at least a few years now. Until yesterday, Leo getting an Oscar was something like the Half-Life 3 premiere. It theoretically was bound to happen, but… didn't.
Anyhow, DiCaprio, whom we wholeheartedly congratulate, is the undisputed winner of the gala. Even with all that pressure on him, he managed to deliver the most selfless speech, focusing largely on climate change.
"Climate change is real. It is happening right now. It's the most urgent threat facing our entire species and we need to work collectively together and stop procrastinating."
It's safe to assume that these sentences resonated with everyone. Greenpeace congratulated the actor via Twitter in real-time, gathering over 1,5K retweets.
"Let us not take this planet for granted. I do not take this night for granted." Bravo @LeoDiCaprio#Oscars pic.twitter.com/btd8bRJSwf

— Greenpeace (@Greenpeace) February 29, 2016
The same has to be said for The White House, which thanked DiCaprio for walking the extra mile and pointing out the problem. By the way, US First Lady Michelle Obama is using Brand24 – our tool – for one of her educational projects.
?Climate change is real…let's not take this planet for granted."

Thank you, @LeoDiCaprio. #ActOnClimate #Oscars pic.twitter.com/AHfflR6VkN

— White House Archived (@ObamaWhiteHouse) February 29, 2016
The long-awaited Oscar for Leo did not only meet with the environmentalists' reactions. The creators of League of Legends, one of the most popular MOBA games, had something prepared, as well.
congrats @LeoDiCaprio! #Oscars #BanVolibear https://t.co/eUkq9dqtGu

— League of Legends EU (@loleu) February 29, 2016
True, that makes the seriousness of the whole speech vanish, but hey. It's a game.
Something that couldn't have been missing from the equation is a famous shot from The Great Gatsby, which appeared to be the most often shared graphic throughout private Twitter accounts.
It's about damn time. #TheOscars pic.twitter.com/i4sTpZyMIA

— Matt Philie (@MattPhilie) February 29, 2016
In 2014, someone even set up a Twitter account named "Has Leo Won An Oscar". And while for the last two years most of the tweets were gathering mostly 700 hearts, this time, the ultimate "Yes" basically broke the Internet.
yes

— has Leo won an oscar (@LeoAndHisOscar) February 29, 2016
Kanye also did throw in his two cents:
https://twitter.com/kanyewest/status/704173836372217857
As did LEGO: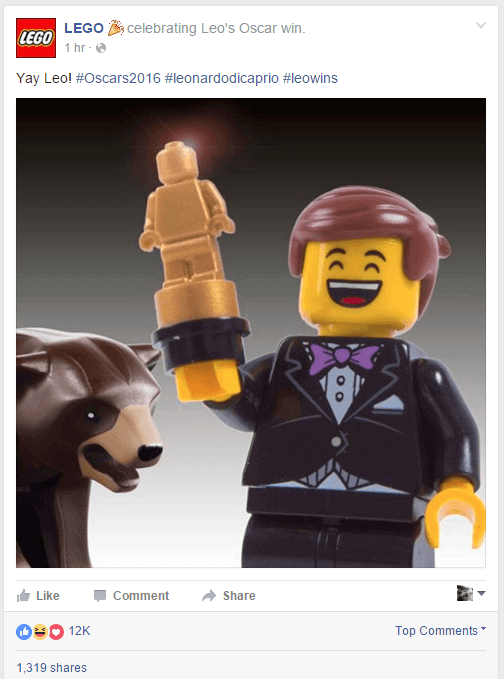 But even before the Oscars, actors, singers and companies worldwide have been rooting for Leo. Here's one of the examples: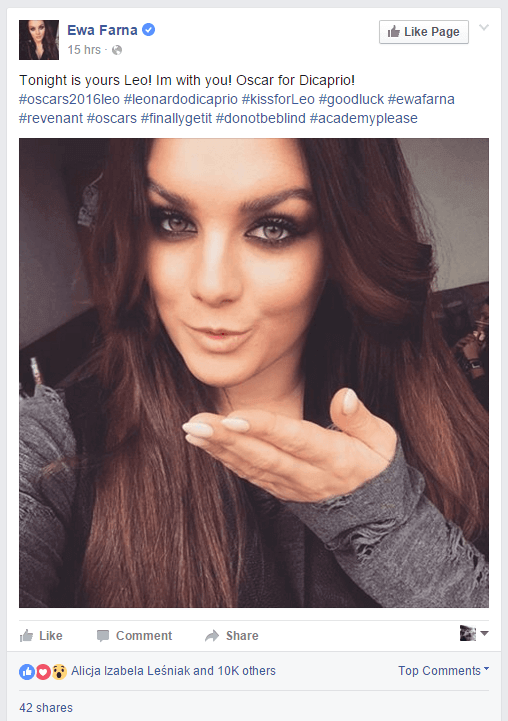 Not Only Leo
Let's change the subject and talk about Oscars in general. How did brands worldwide use the buzz? How did they manage to engage with their communities before and throughout the Academy Awards gala?
One of the most successful posts belongs to Jeep. The company did a great job, publishing a word game to present the Wrangler as a "legend in a night of stars".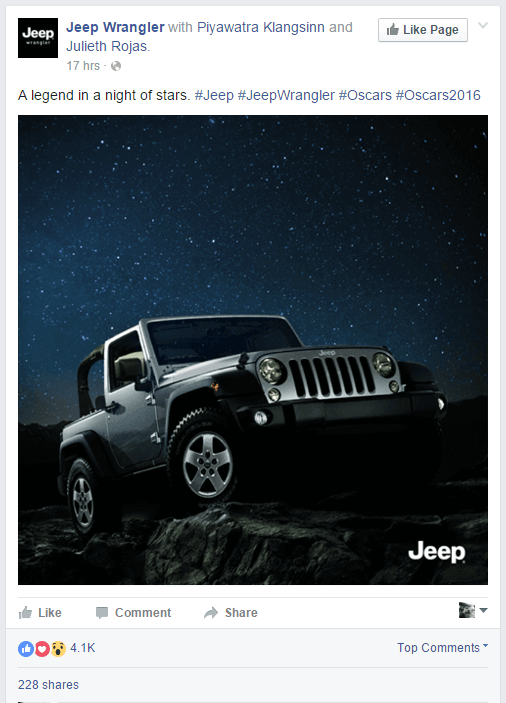 The same can be said about Samsung Mobile India. They did not push the sales, they were simply showcasing their latest work…
[fb_pe url="https://web.facebook.com/SamsungMobileIndia/posts/10154049121589374″ bottom="30″]
… whereas OLX India weren't beating around the bush.
[fb_pe url="https://web.facebook.com/olxindia/posts/976863329030307″ bottom="30″]
The Science Channel, on the other hand, did take an advantage of the opportunity to smuggle some knowledge in: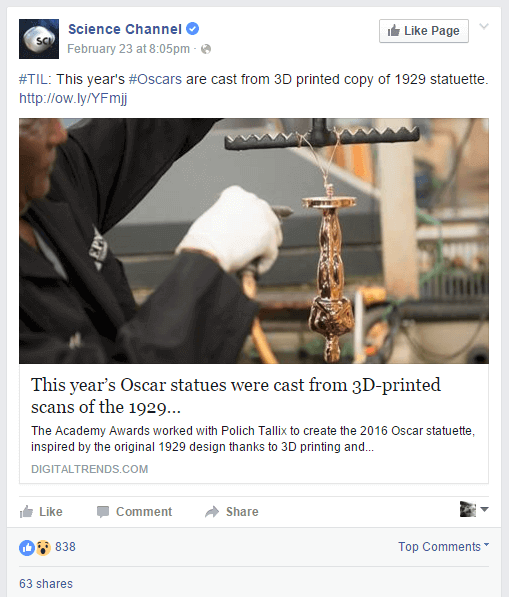 Kinder Bueno – as one would assume – poked around a bit with the racism controversy surrounding the Oscars.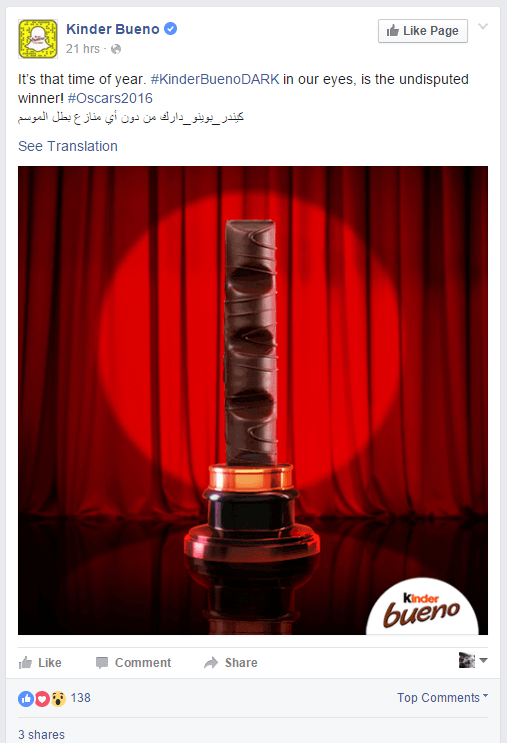 And KFC Sri Lanka just wanted to talk.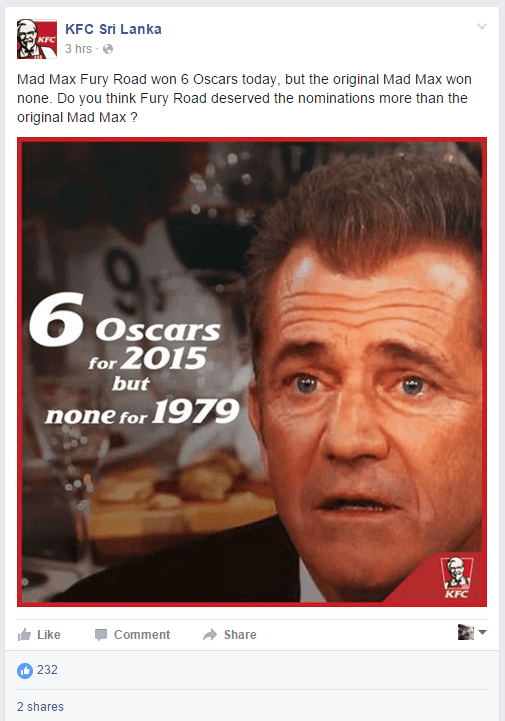 What caught our attention was also this post by Spotify Poland. It might not be considered an example of real-time marketing, but is still a great way of interacting with your fans.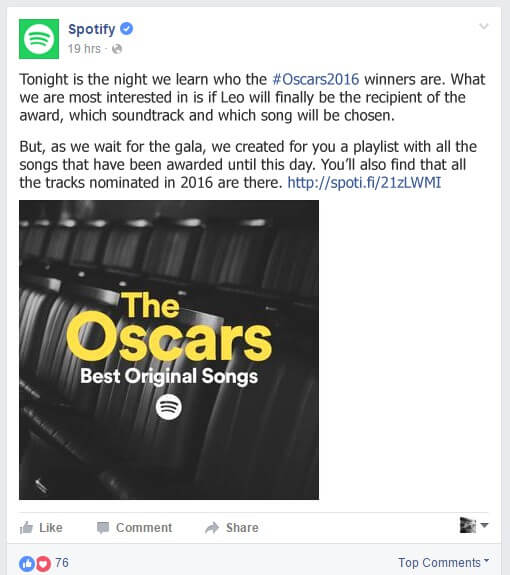 The same can be said for Dubsmash, the lip-syncing app.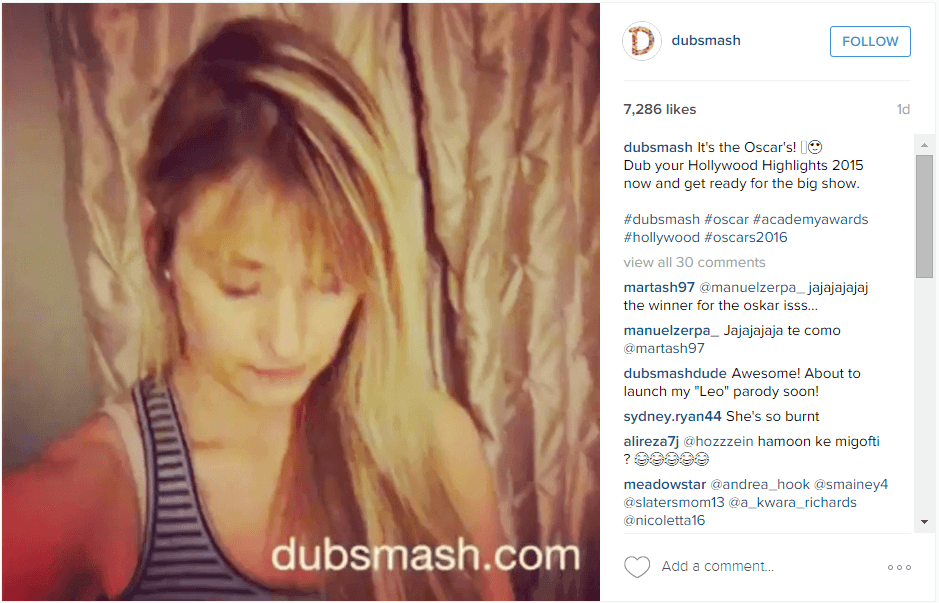 Last, but not least – our own example with our CEO, Mike, subbing in for Leo. They look kind of similar, wouldn't you say?
[fb_pe url="https://web.facebook.com/Brand24/posts/1015199685201279″ bottom="30″]
Any Other Ideas?
What we want to know now is how would you use the event. Any ideas? Care to share and/or include a link in the comment section below?
Related read: