SaaS brand reputation monitoring with Brand24
August 5, 2019 ・ 4 min read
Given that SaaS businesses are technology-driven and product-orientated businesses, they sometimes fall into a trap called "devaluing what's immeasurable". One of such things is brand reputation. If it's neither a new feature nor an exciting growth hack that can deliver immediate results, and bunch of much-worshipped numbers, then what's the point of going after it? – some would say.
Brand reputation monitoring is a process of monitoring, measuring and influencing the public perception of a brand on the Internet and in social media.
Brand reputation monitoring is supremely important for SaaS even though it doesn't influence business performance immediately. If taken care of properly, it can have a massive impact in a longer time frame.
Here's why brand reputation monitoring is important for SaaS businesses:
It's a source of suggestions of product improvement – Consumers use social media to express their opinions and initiate a debate about a variety of topics, including SaaS products. After all, where else should they talk about software?
It's a source of product and feature feedback – It's good to seek the opinion of a fresh pair of eyes looking at your product. It often happens that customers and other reviewers suggest some brilliant ideas for the product.
It's a source of customer insights – By monitoring your brand, you discover people and places they talk in about your product. You then learn who they are, where do they hang out online and what their needs are.
It's a source of knowledge about online reviews and publications about your SaaS product – Brand reputation monitoring is inherent to public relations. With brand monitoring turned on, you stay on top of every single online publication about your SaaS business.
It detects negative pieces of opinion – Of all online publications, the negative ones can have a tremendous impact no only on the perception of your brand, but also its business performance.
It identifies customer seeking assistance – It happens particularly in the SaaS market that customers write about their problems online, be it in social media, or on discussion forums.
It's a source of knowledge about strong sides of your SaaS business you might have been unaware of – Doing brand monitoring lets you discover positive opinions about aspects you never considered valuable.
All in all, brand reputation monitoring is your access to business intelligence your SaaS business shouldn't neglect.
---
1. Create a project for brand reputation monitoring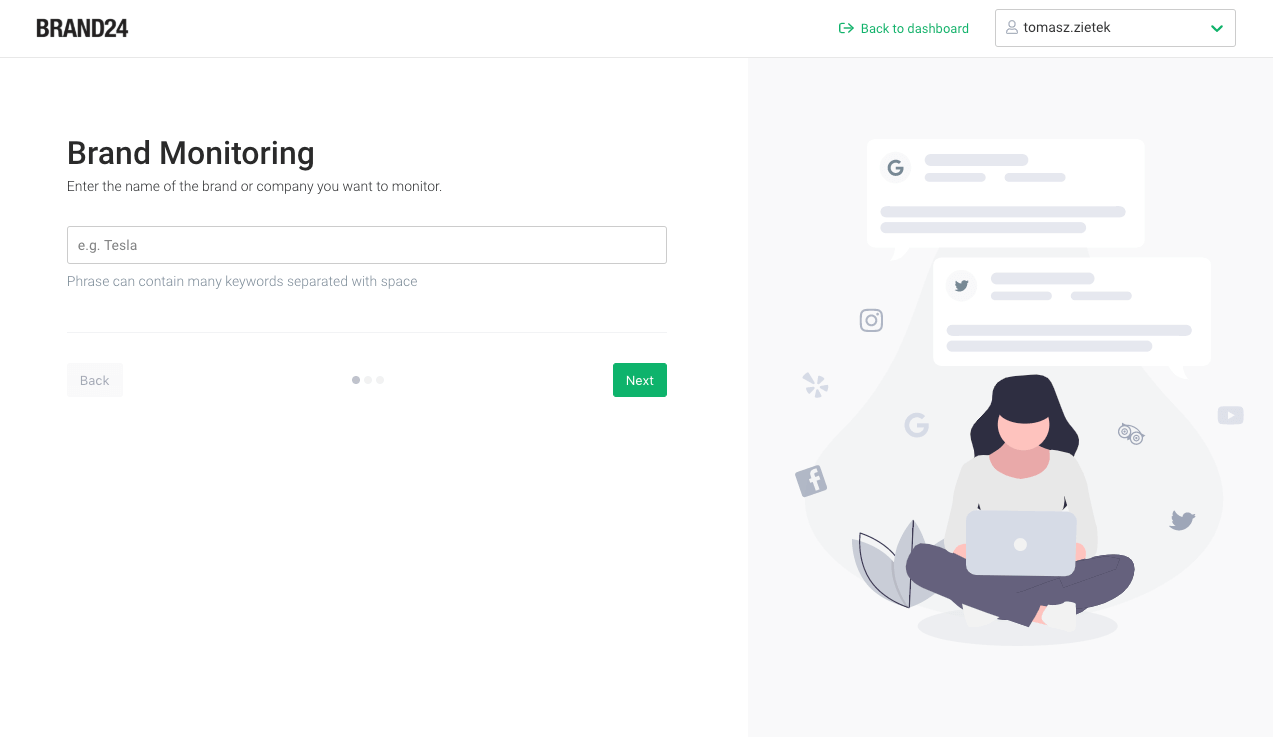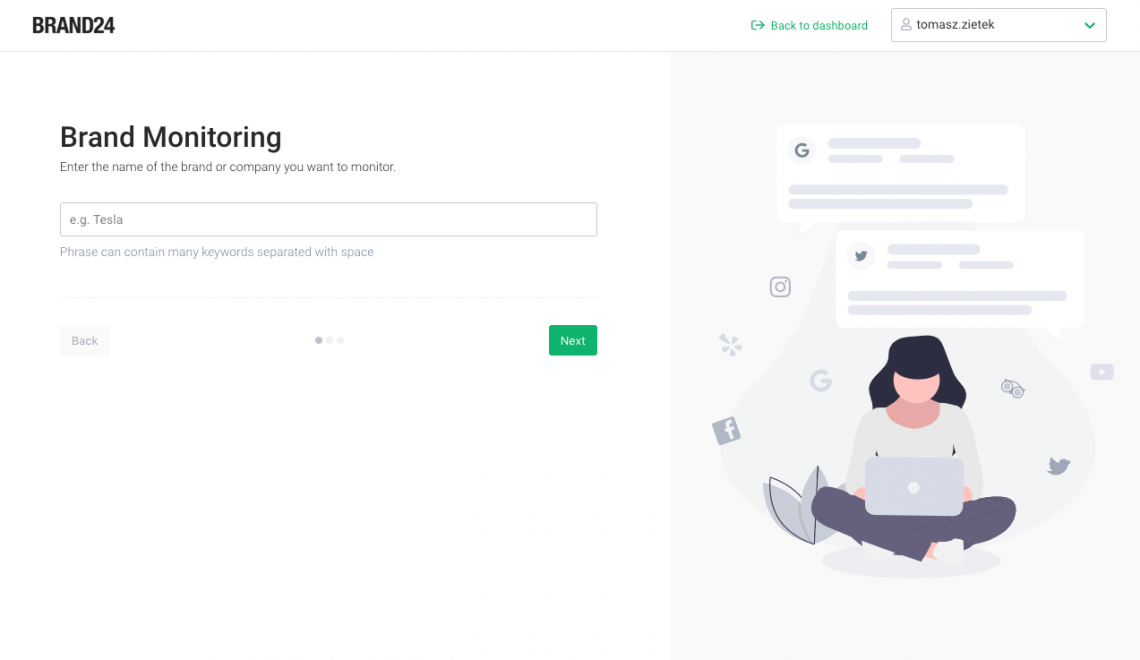 Create a new project for brand monitoring. As keywords, provide:
Your brand name
Your branded hashtag
Your product name
Your service name
Website address
Social media handles of your profiles
If your brand name is a common word, you might get a lot of irrelevant mentions. To avoid them, go to Advanced Settings and use Required and Excluded keywords.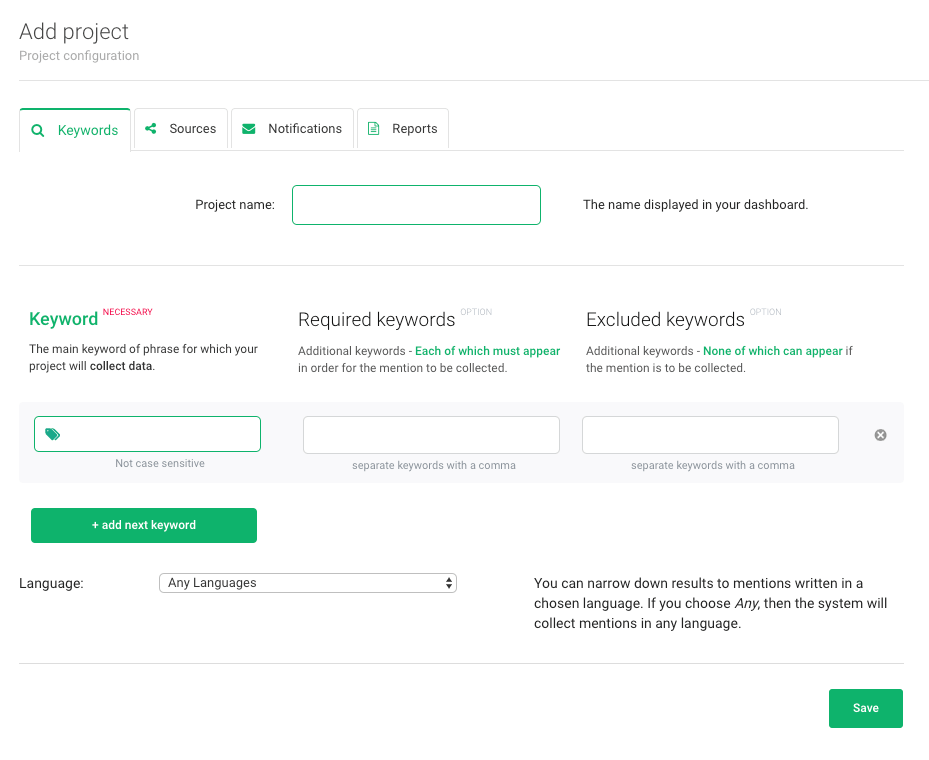 Assume you want to monitor Brooklyn. Because the word brooklyn is a common word used in various contexts, you need to provide Required keywords to narrow down results results. Otherwise you'll get plenty of irrelevant mentions connected to Brooklyn Heights, Brooklyn Botanic Garden, Brooklyn Museum and other brooklyn's that have nothing to do with beer.
Therefore, as Required keywords you shall provide: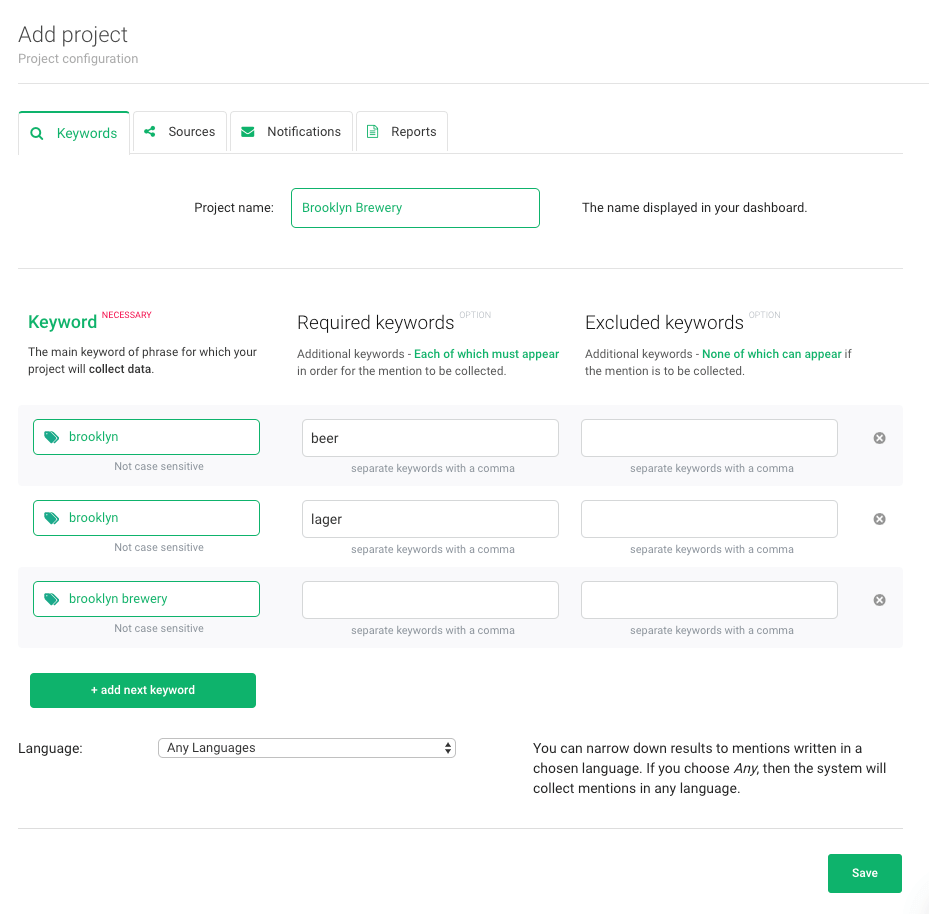 ---
2. Follow your brand mentions
There's a few ways you can check up on new mentions about your brand:
Mentions tab
Your inbox
A dedicated Slack channel
Mentions tab
Mentions tab a home of mentions, sources, filters and charts.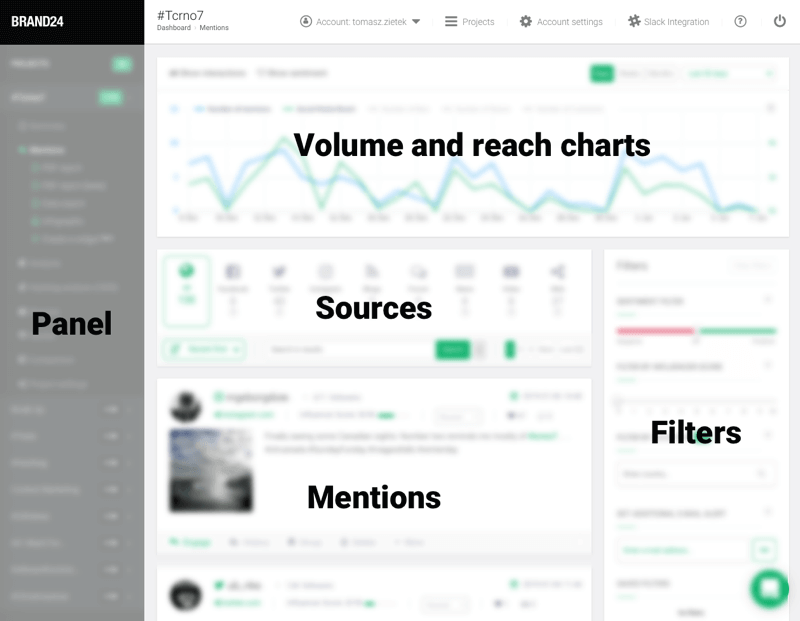 You can see there all mentions of your keyword. By default, mentions are there sorted from the newest to the oldest.
Each mention about your SaaS contains a few bits of information:
Author's name
Source
Numbers of followers
Influencer score
Sentiment
Number of interactions
Date
Content of the mention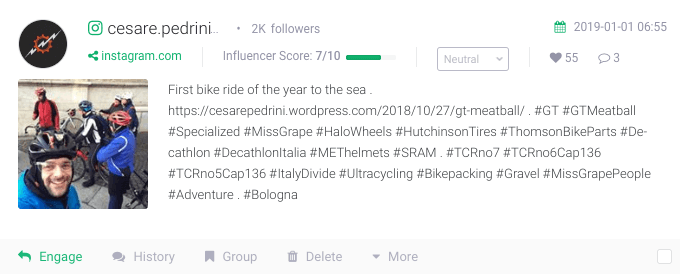 Sources
Inside the Mentions tab you can find Sources which is where you can see where all your mentions come from. You can also display mentions from particular sources by clicking them.

Charts
Next, inside the Mentions tab there're Charts which are a visual representation of your data about your mentions. They present:
Volume
Social media reach
Number of interactions
Sentiment analysis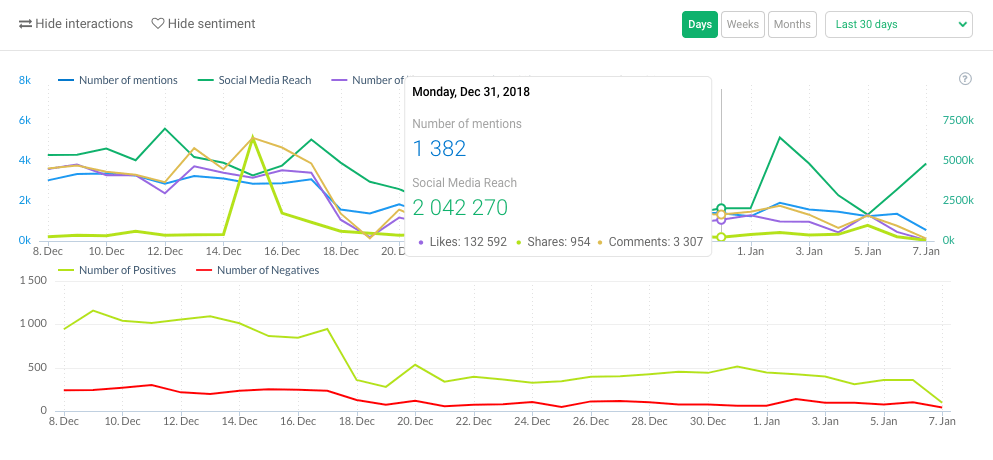 Filters
With numerous filters at your disposal, you can display mentions of particular quality, for example, positive mentions from influential social media profiles on Twitter. Filters at your disposal include:
Sentiment
Influencer score
Interactions
Number of visits
Domain
Author
Groups
Mentions order
Date
Visited / not visited mentions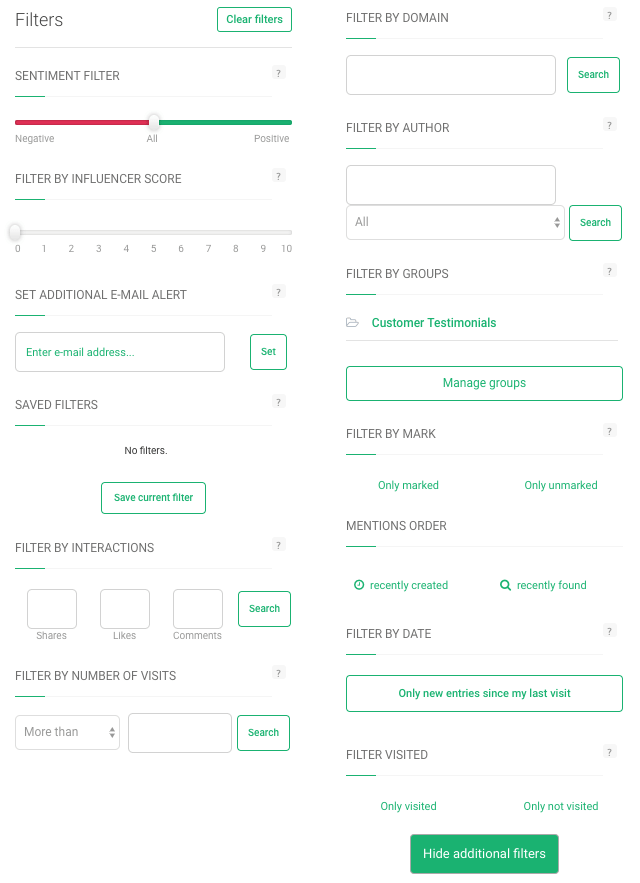 Email notifications
Email notifications keep you notified via your inbox about new mentions. Once you set up email notifications, there's no need to open Brand24 app to see new mentions.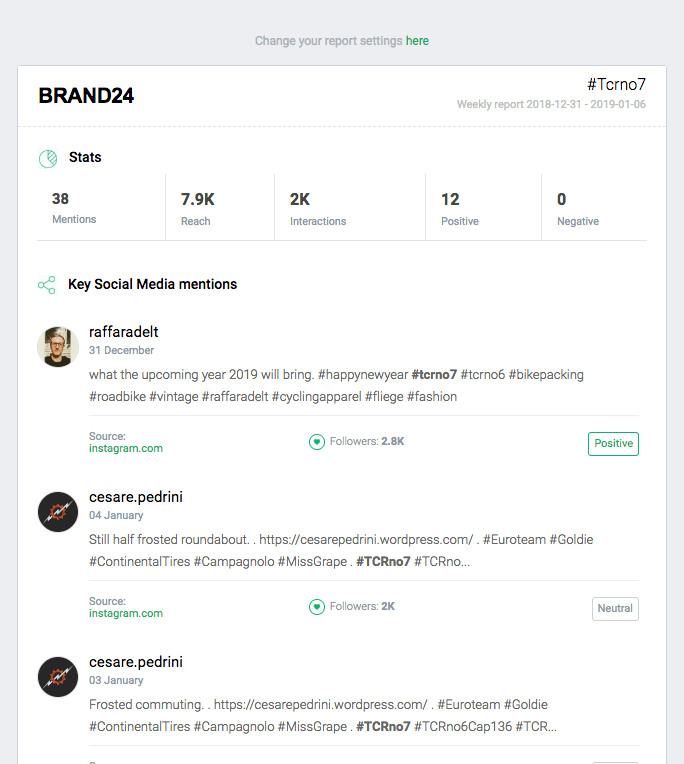 To set notifications up, follow these steps:
Go to your project's settings.
Click Notifications.
Click Add more notifications.
Choose an email address you want notifications to arrive to.
Choose frequency.
Choose filter (see more about filters).
Choose the number of new notifications to trigger notification.
Tick Email.
Click Save.
Slack notifications
If your company uses Slack as a communication tool, you can use Brand24's Slack Integration to receive new mentions about your SaaS business in a dedicated channel.

To set up Slack notifications:
Go to Integrations and choose Slack.
Choose a project.
Choose a filter.
Click Add Slack integration.
Choose a Slack channel.
Click Authorize.
Open your Slack to receive notifications about new mentions.
---