5 Incredibly Useful Social Media Automation Tools to Simplify Marketing, Sales & Customer Service
June 8, 2017 ・ 4 min read
How can you stay updated and active across multiple social networks? Social media opened up the world to you, and contrary to the cliched saying, the world is a large place. Automation tools can help you tune out the noise and speak to only the people that matter.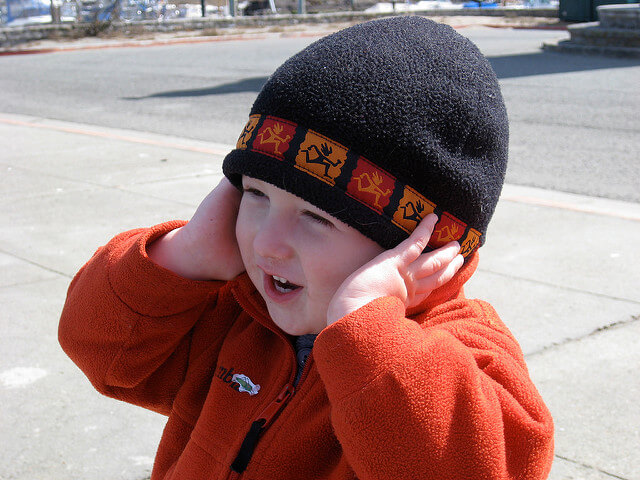 We're already dependent on automation in more ways than one. Google sorts information for us. We use algorithms to find dates and companionship. Automation can enable relationships.
The access that social media provides makes it indispensable to every business department. Here are five social media automation tools that can benefit your marketing, sales and customer service departments. GrowthBot
GrowthBot
Recon is a crucial business phase that you can't miss, but it's most effective when you conduct it on a regular basis. Every good marketer/businessman knows what their competition is doing at all times, so they can benchmark themselves and outdo everybody else.
GrowthBot is a nifty Slack integration that can answer your questions about the competition. It's as simple as chatting with a friend who's keeping tabs on important businesses for you. Here are a few questions that you can ask GrowthBot.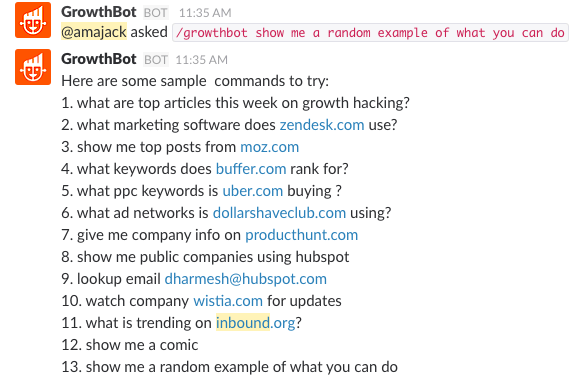 As the bot integrates with Slack, you can share intel real-time with your social media and sales managers, who can optimize your strategy.
Brand24
Social media can be a mess of people chatting with each other unless you know how to make sense of it all. It's easy to get carried away and end up wasting time on social when you aren't focused on the conversations that matter.
Brand24 is a social media monitoring tool that can zero in on themes or conversations that matter to your brand the most, such as reputation management, brand awareness, social selling and more. Also, you can do analytics, including hashtags. With a well-organized dashboard, you can optimize your effort-result ratio and even find great PR opportunities in the process.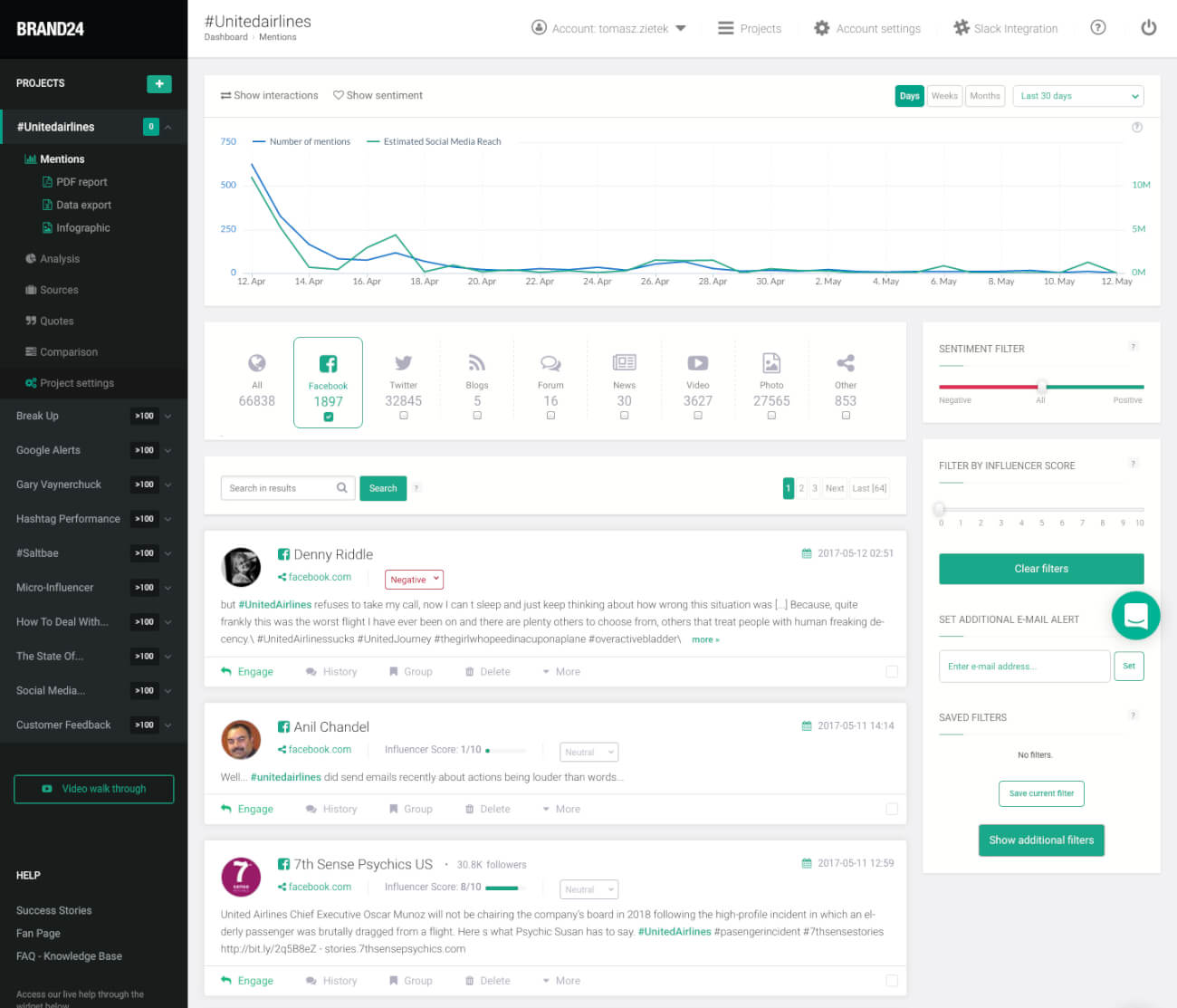 This tool is especially a boon for customer service executives, who can create a prioritized line-up of mentions to respond to.
Moovly
Video has become an important way to communicate with an audience. Creating video content isn't easy, however, and most offline, traditional video editing software involves a steep learning curve and intensive time investments.
Moovly is a neat online video creation suite, that provides templates and images to simplify your video creation process. The software is easy to use and demands little time when creating simple explainer and concept based videos that you can share on social media.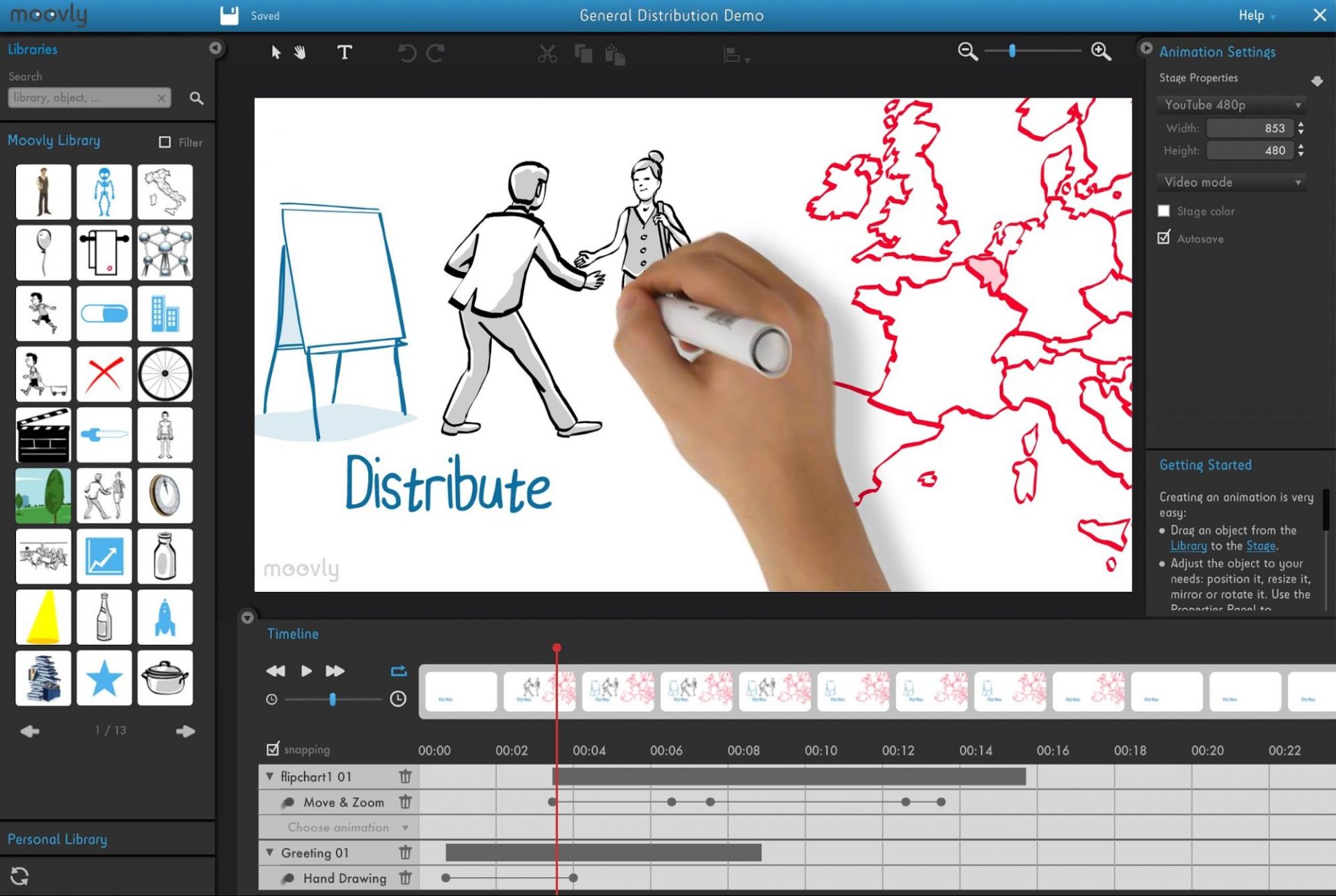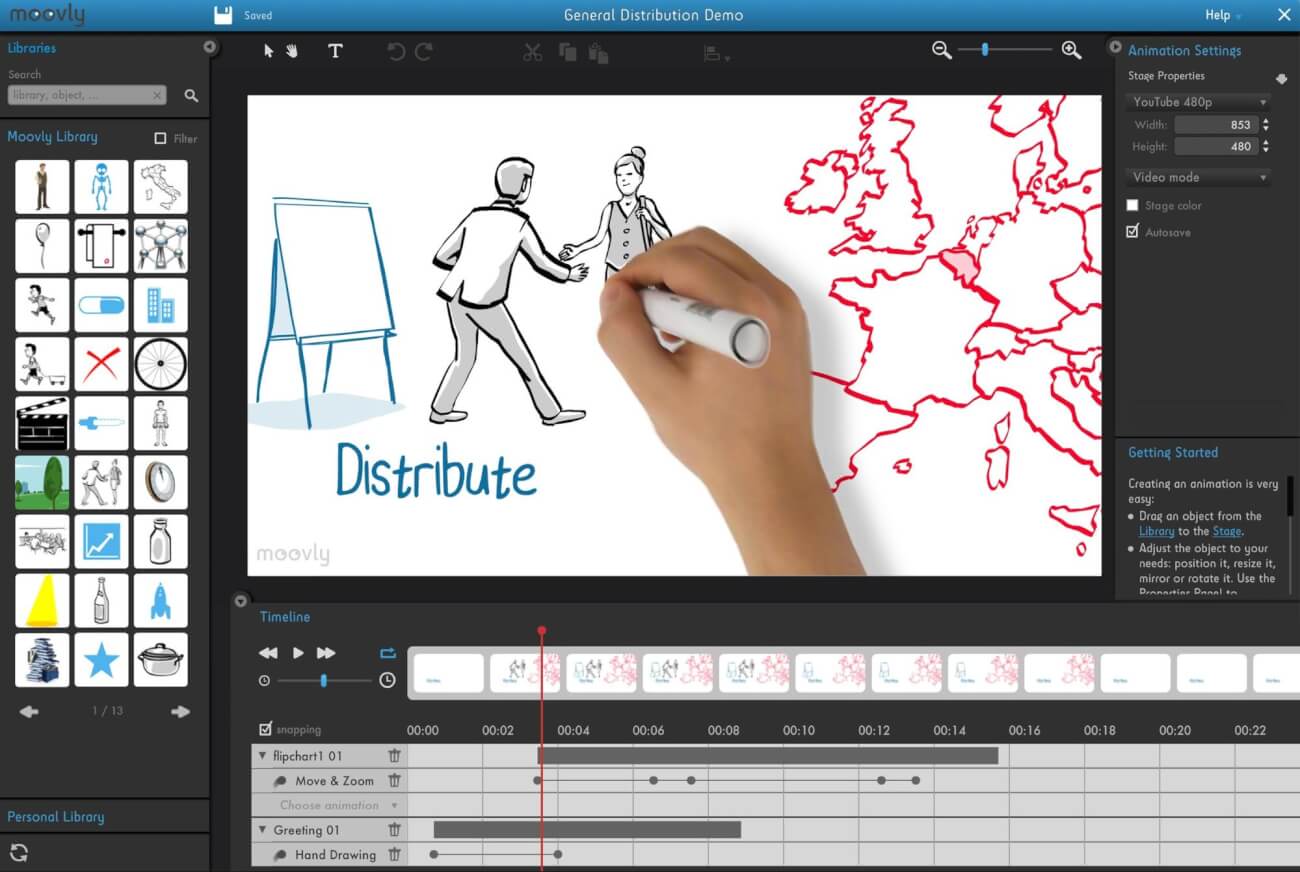 DrumUp
What you share on social media matters, and consistency and frequency are important concerns. Creating enough content for multiple platforms is an expensive affair, so you need a way to maximize the content you create.
DrumUp is a social media management tool, that lets you create content libraries, RSS feeds and content suggestion streams. Content stored in libraries can be automated to post on your social accounts effortlessly. RSS feeds and suggestion streams can provide you with relevant, curated content to share.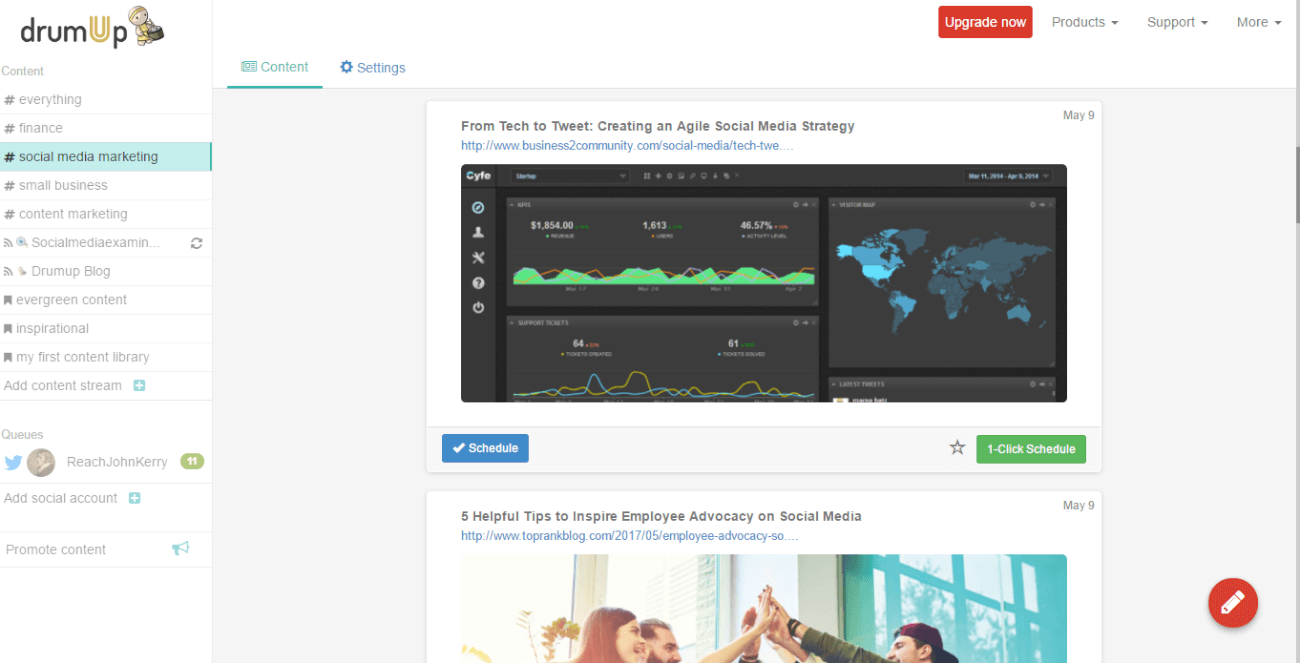 All content can be scheduled in advance, across chosen networks to easily manage social and leave time for one-on-one interactions.
Socedo
Finding real prospects on social media can be hard, as people rarely use the platform with the primary intent of engaging brands. Even if you consider social media targeting, where you focus on people who match your buyer profiles, you're not considering their intent to buy.
Socedo is a social media lead generation tool that records intent of people, and lets you generate leads falling within your industry and market. The data collected is real-time and so, the closest to actual purchase intent.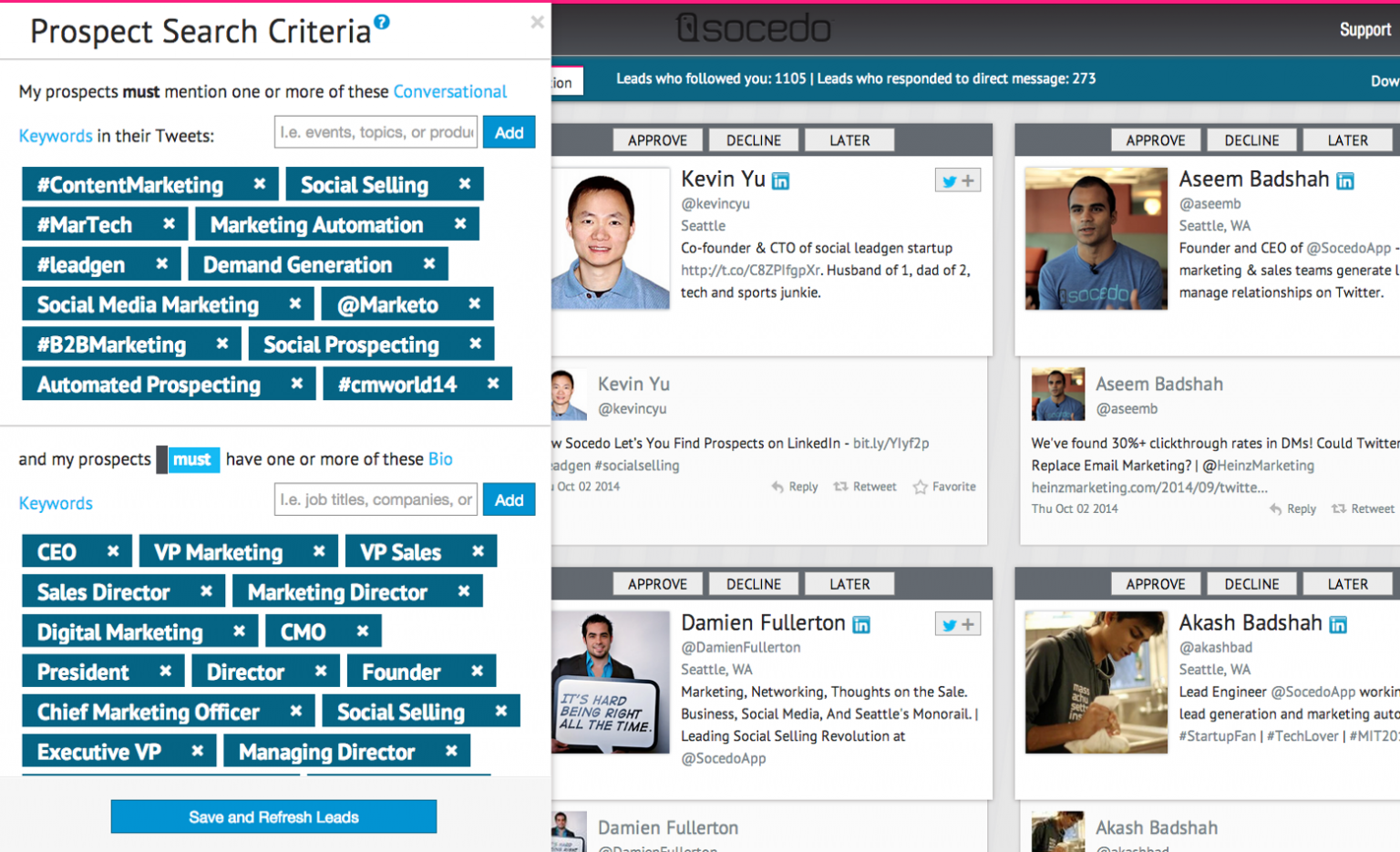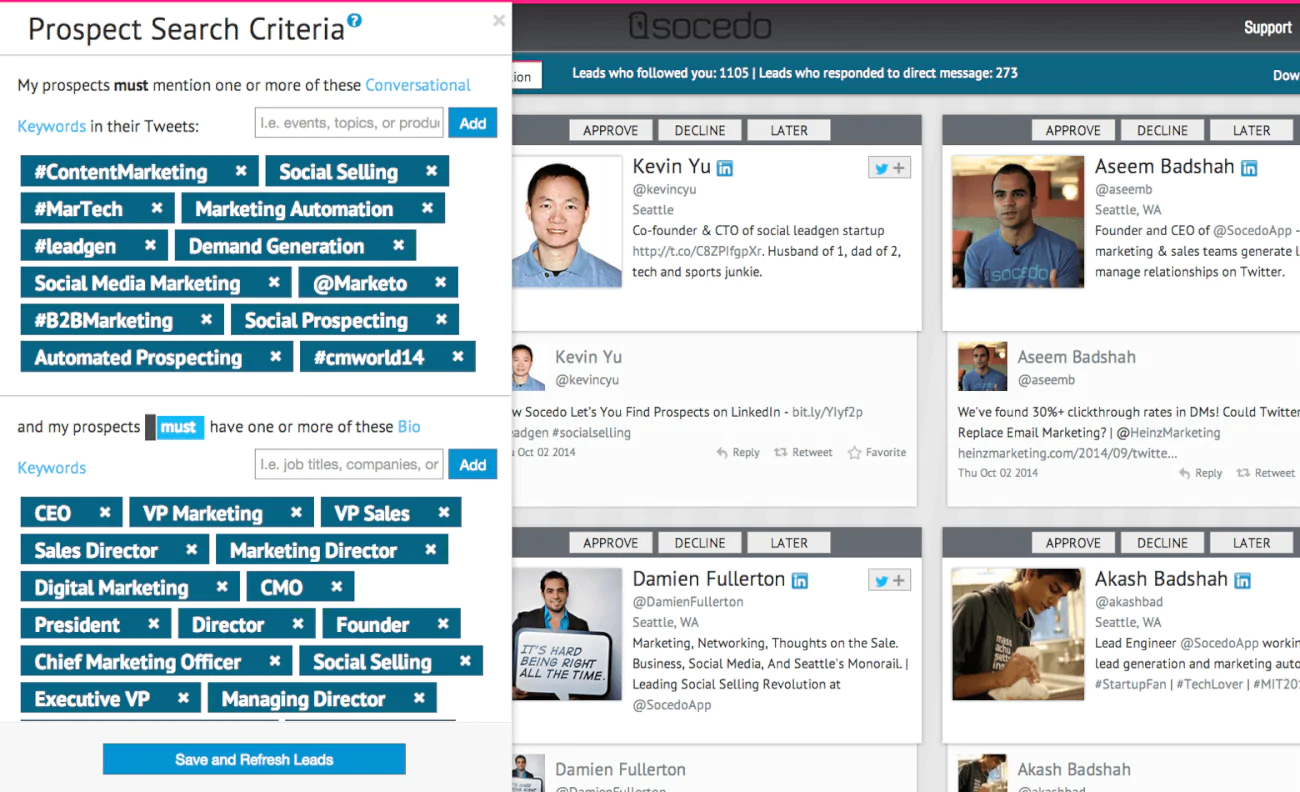 Bonus
If you have lead capture forms that record contact details of visitors, you can use tools that unify that data with their social media profiles for an added sales advantage.
SyncMe
SyncMe syncs your phone book with corresponding details on social networks. Everything from your contacts' latest job change to a profile picture change is recorded on your device, so you are reminded of important details before a call takes place.
Tips to follow when automating social media
Ensure that you consider your business goals when investing in automation and that you make the most of every tool you subscribe to. Some tools are capable of more than you know, so it's important to read their manuals/guides thoroughly before you set up your workflows.
1. Keep your goals in mind.
Setup workflows that help you further your goals. For instance, if your goals include follower growth (followers relevant to your industry), you should set up pathways that pull people into conversations.
On DrumUp, you can use @mention and #tag suggestions to increase exposure and prompt engagement with the right people. Decide on metrics to track
2. Decide on metrics to track.
When you're automating tasks, it's important to measure performance. For social media, you can track engagement metrics (likes, shares and click-throughs), referral traffic and conversions. Depending on the content you're sharing and what it's meant to achieve, you can track metrics.
Depending on the content you're sharing and what it's meant to achieve, you can track metrics. Don't ignore personal interaction
3. Don't ignore personal interaction.
Tools are meant to make room for personal interactions. The idea is to automate the tasks that don't really require your attention (like posting content and finding mentions), to create space for one-on-one interactions that matter.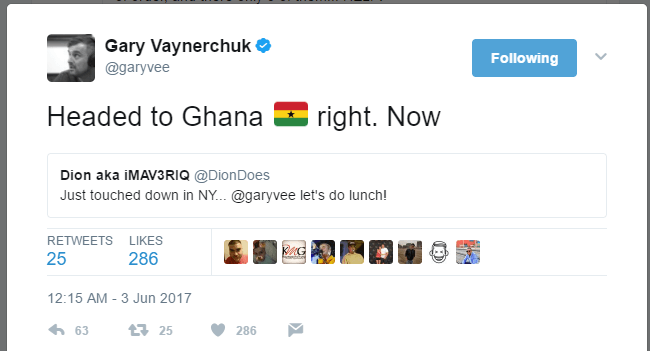 Treat social media automation tools as enablers that can help you cut down effort, improve results and increase personal interactions. This post is a great way to begin. It's over to you now!
Author bio:
Disha Dinesh is a social media and content marketing enthusiast who writes extensively about small business marketing at DrumUp.io. When she's not buried in books and writing, she's foot-tapping to the latest in progressive music.