10 Proven Social Media Lead Generation Strategies You Should Try
June 25, 2023 ・ 12 min read
You may have some great marketing strategy ideas but, after all, you need to generate leads to call yourself a successful marketer. Here are 10 social media lead generation strategies that have been tested and proven to work. I hope they will help you to increase conversions.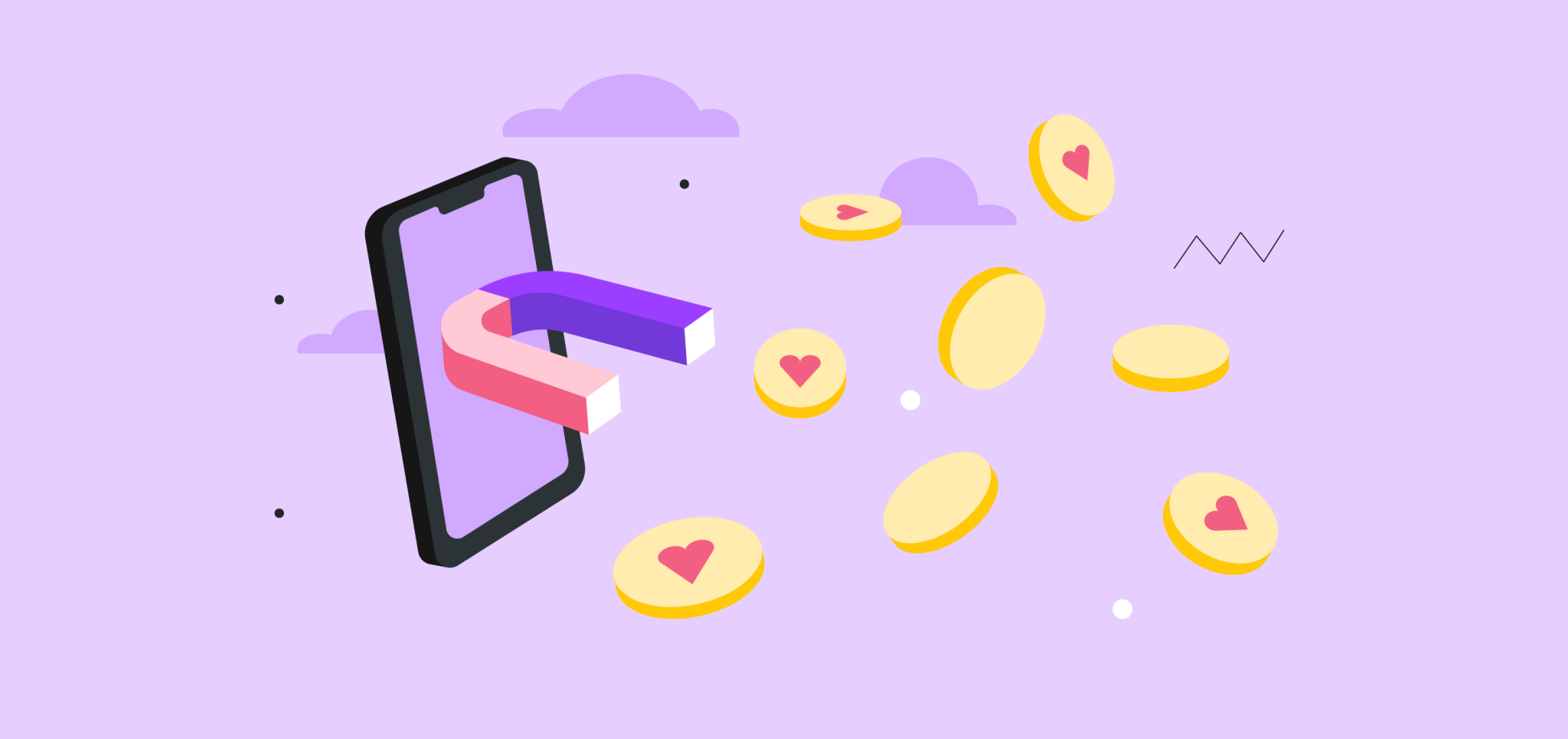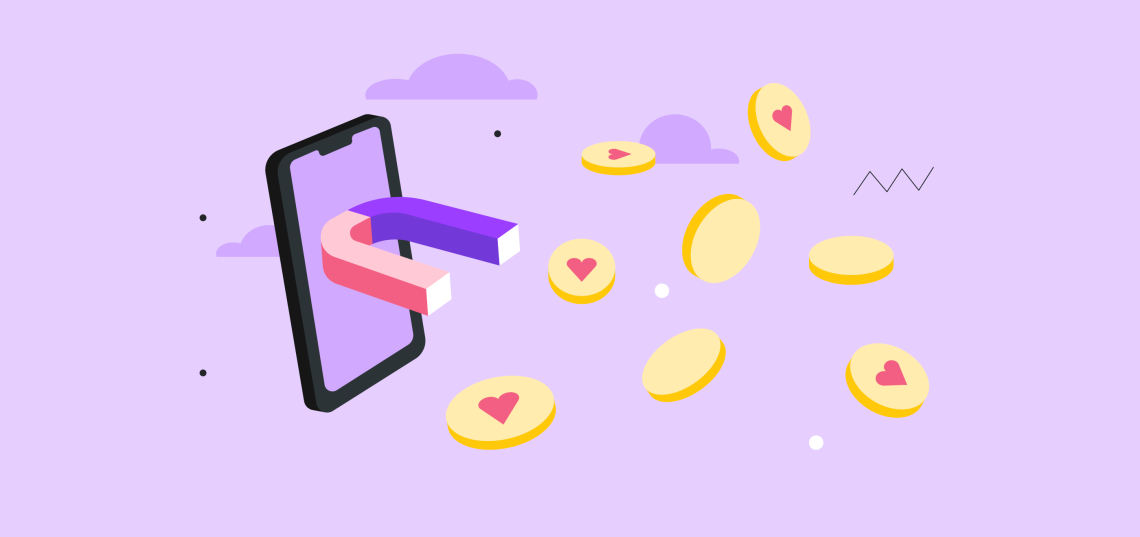 Research shows that 31% of marketers spend 10+ hours weekly on lead generation, whereas social media brings in more than 20% of leads for 4 in 10 marketers, according to a study conducted by RefferalRock.
I'm sure you can agree with me on this one – social media is a great way to communicate with your target audience and generate conversions. SproutSocial says almost 80% of people use social media to buy from brands.
Fortunately, there are some proven ways of generating more leads from social media. If you are struggling with your marketing efforts, I'm here to help.
Contents:
Let's find out more about generating social media leads!
How to use social media marketing for lead generation?
Generic social media marketing won't bring you many new leads, especially in the B2B sector. You might generate a lot of engagement and have many followers, but it takes a special skill to turn them into buyers.
You need to change your mindset and apply specific strategies for social media lead generation, and today I will share some of my favorite ways of gaining quality leads.
Try Brand24 social media monitoring to improve lead generation efforts.
Social media lead generation strategies
There are many ways you can generate leads via social media platforms – but you don't have to limit your efforts to one of them. If you have enough resources, time, and planning, you can use all of them and focus your marketing efforts solely on social media lead generation.
Here are different strategies that will boost the sales process in your organization:
01 Social listening for lead generation
Using social listening for social selling and lead generation is a great way of increasing sales but is almost impossible (or at least very difficult) without the right tool.
To start social listening you should invest in a media monitoring tool, such as Brand24, Brandwatch, Mention, or similar (more about tools later) and start looking for brand or keyword mentions across the Web.
We've prepared handy tips for social selling so you'll know how to do it right.
Be genuine, prepare a tailored offer, and don't be too pushy with your message and I'll guarantee that sooner or later social media users will be more and more interested in your products or services.
Social listening means using the right tools to find online mentions about your brand or related keywords that are relevant and in the right context – you can use it for PR efforts, social selling, or other marketing techniques.
Start generating social media leads with Brand24 social listening tool. Free trial available.
Here's what our customer service expert says about social listening for lead generation:
"Lead generation is a very popular area of social media listening tools usage. Many of our clients want to reach mentions with queries about companies dealing with particular issues, such as "I'm looking for a social media agency," "Who offers the best social media audit?" etc.

Yes, social listening can help you find leads, but you need to remember two things. First, you must set up a project correctly. Monitoring a general keyword such as "social media agency" might not work. You will receive thousands of mentions. It will be difficult to find lead queries. Second, you need to use filters smartly. The biggest challenge while looking for leads is dealing with the mass of mentions in different contexts. Of course, our Customer Success Team willingly helps with those tasks."
Katarzyna Fryc, Customer Success Manager at Brand24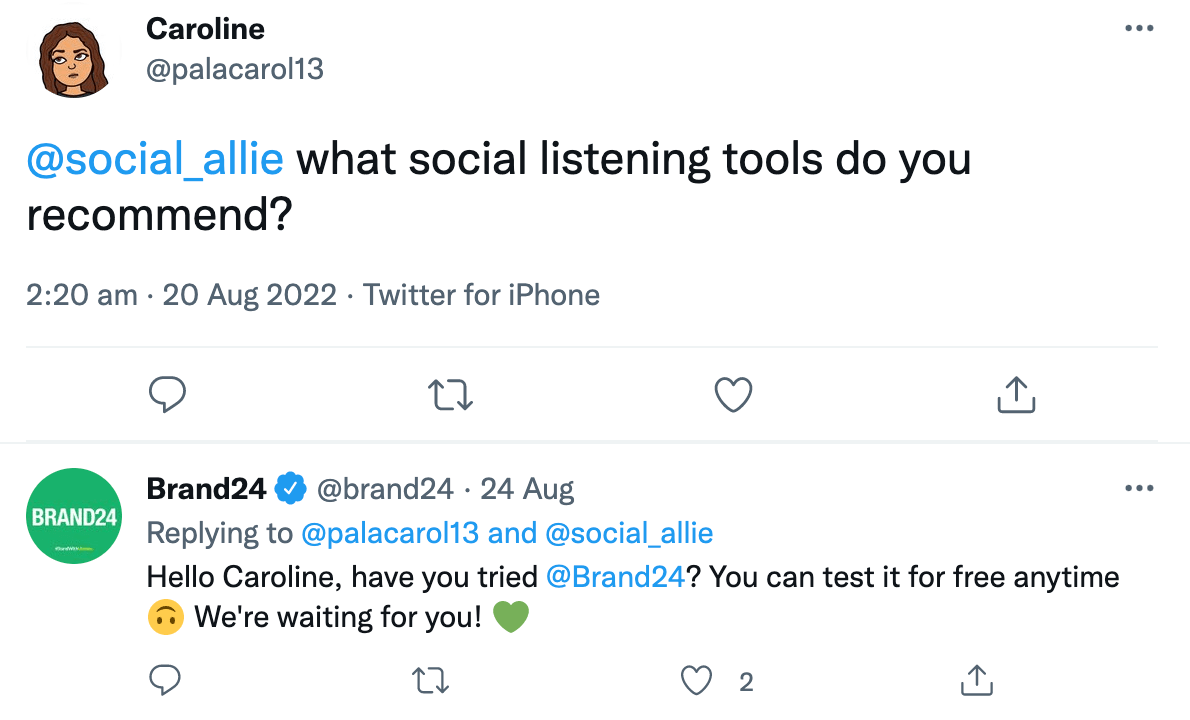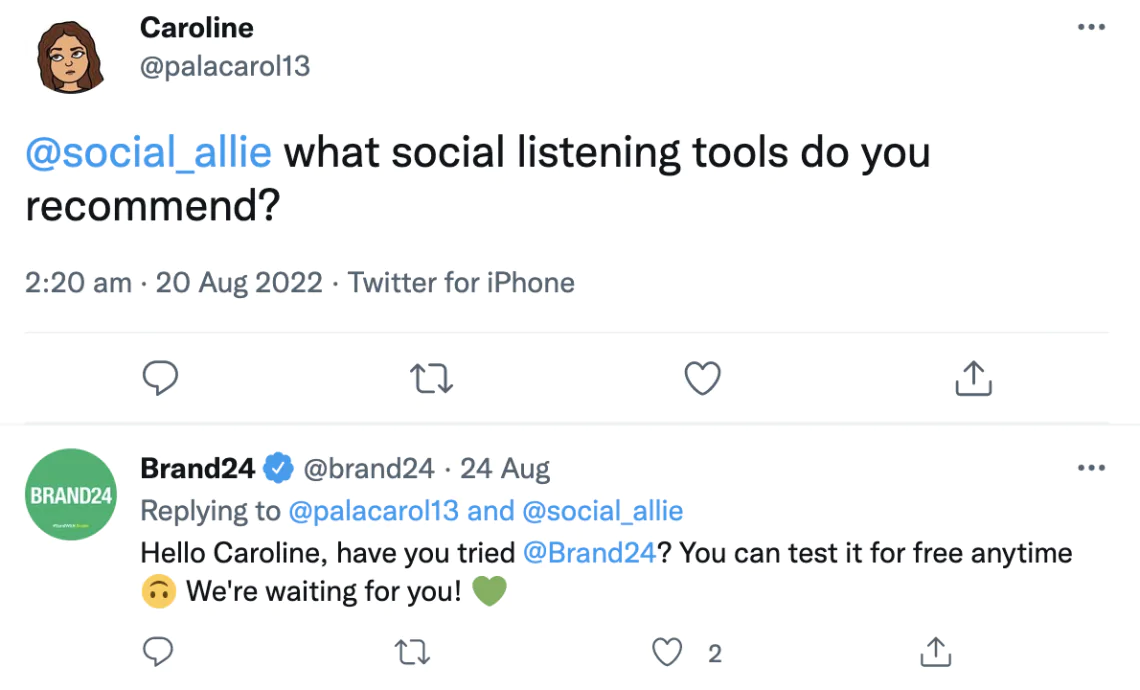 02 Running contests on social media channels
Giveaways are always a very engaging tactic and, if it's in your budget, a great one to increase brand awareness and recognition.
If you want to generate leads via contests, giveaways, and similar strategies, you need to do it right. Each user has to leave contact information and give marketing permissions. Otherwise, you won't be able to reach out to them after the contest is finished.
To use this lead generation strategy, ask your contestants for contact details (e-mail or phone number), then prepare an outreach campaign to collect leads.
03 Lead generation paid ads
Paid ads are one of the easiest lead generation strategies presented in this article, but they require a budget and careful planning.
Social media platforms such as Linkedin or Facebook have great templates for lead generation ads and you can get the contact details right to your e-mail inbox.
Because ads with lead gen forms can backfire – meaning they can bring you a lot of low-quality leads – you need to thoroughly plan your campaign to find potential clients. I've asked my friend Mariusz, who specializes in social media ads and worked with lead generation forms for quite a while now, what's important in this type of strategy.
"The key to success in lead campaigns is transparency. Your users need to know why they are leaving a lead and what the entire process you invite them will look like. Explain everything thoroughly in the creative.

You and the people you work with on lead ads must also stick to the campaign scenario. In addition, perhaps obvious, set yourself up to talk about needs, not to sell a specific product.

The customer who left the contact data often bought a different product than the one mentioned in the creative. Remember, the phone call or email you send is your brand's business card. Provide a pleasant experience.

Due to this strategy, I achieve multiple returns on investment."
Mariusz Kruczek, freelancer and social media expert
04 Building social media community
It may seem easy, but building a devoted and engaged community on social media is a hard task. However, the results can be magnificent.
By building a social media community, you can dramatically shorten the distance between the brand and the user. For example, Facebook is promoting groups, making them appear higher on the social feed – plus members get notifications for each new post.
As a benchmark, you can check SEO Surfers on Facebook. It's a group for users of SEO Surfer tool. It's a great community with a lot of activity and social selling ideas.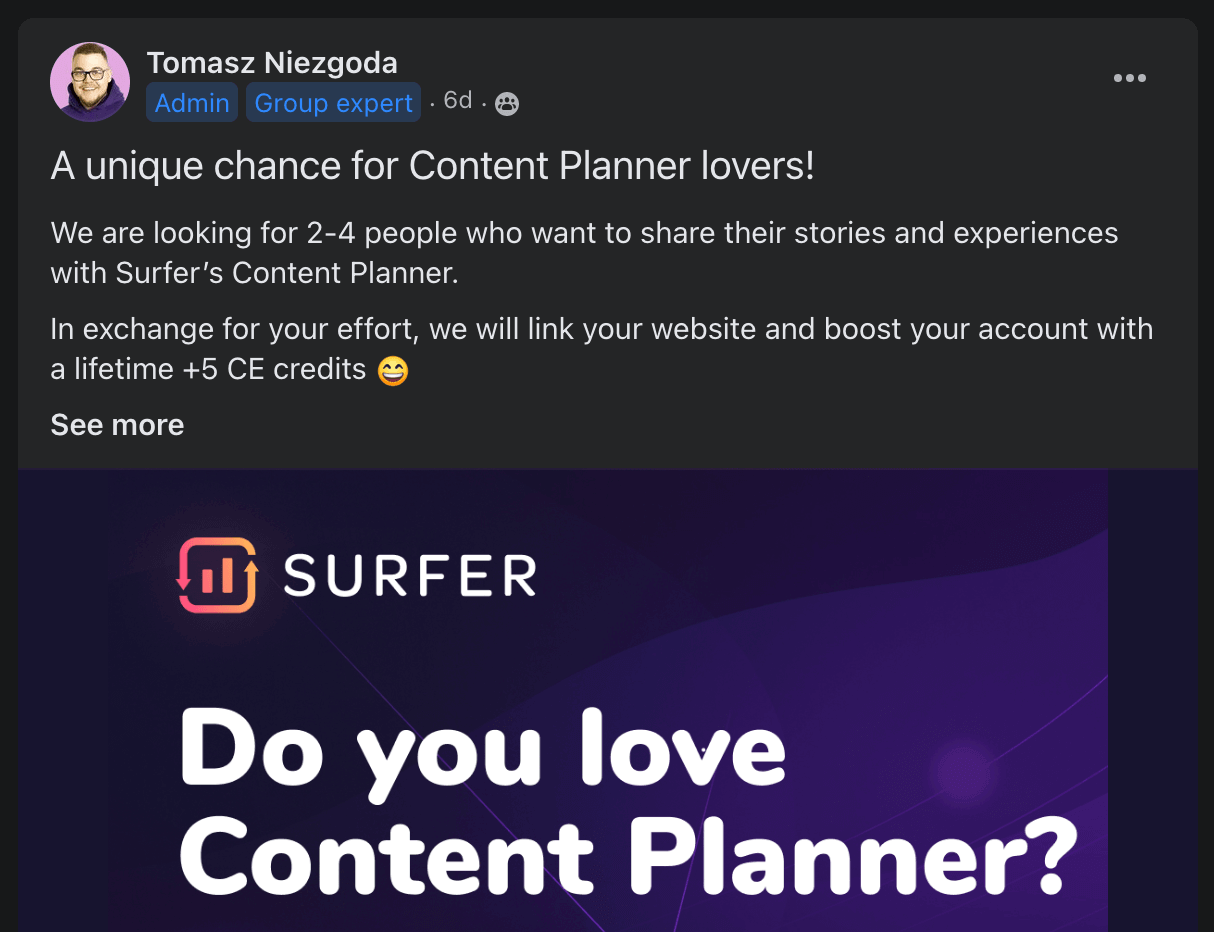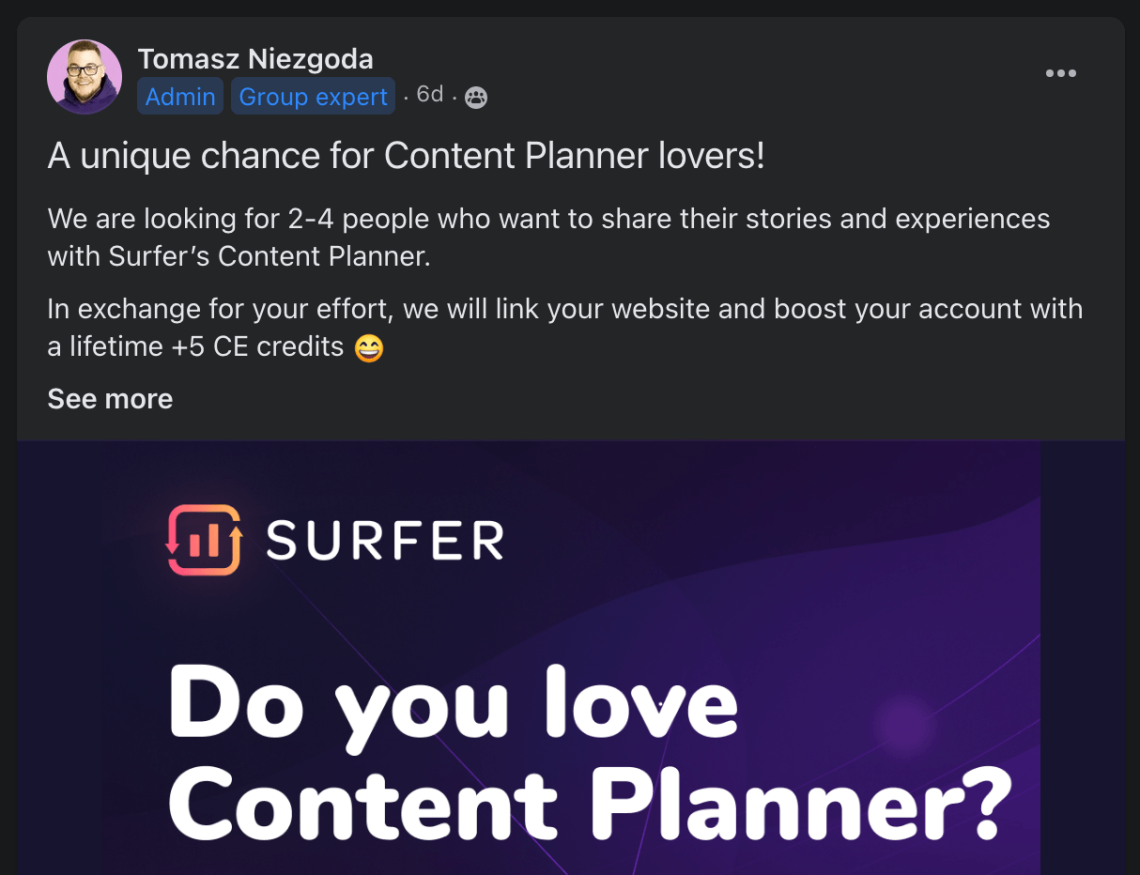 I've asked Tomasz from Surfer what lies behind the success of building their community. Here's what he told me:
"With over 17,000 active users, our Facebook community is one of the most important points of touch with thousands of Surfer customers and SEO enthusiasts in general.

There's nothing more behind the growth of our community than commitment, patience, quality, and leadership.

Our go-to strategy? We try to keep people engaged, active, and kind to each other.

Many Surfer employees spend a lot of time in the group conducting conversations, answering questions, and motivating people to be even more helpful to one another.

To put that simply, the more valuable this place becomes, the more Iikely people invite their friends and colleagues from work. And that's what it's all about – to help and inspire as many people as possible."
Tomasz Niezgoda, Head of Marketing & Partner at Surfer
05 Testimonials and social proof
Let's face it – no one wants to buy from an unknown brand with zero recognition and recommendations. To gain the trust of your potential customers, you have to show them that your products or services are real and reliable.
Twitter is an especially great tool for that because of the retweet function, but there's nothing stopping you from sharing testimonials via other channels.
Read more: What is social proof?
06 Hosting virtual events
By hosting virtual events, you can showcase your products and generate relevant leads on the spot.
There are three ways of social media lead generation with virtual events:
Gated content – in this case, users can access the event only by providing an e-mail address (or other contact information) that you can later use for a sales pitch,
Engaging during the event – in this scenario, you enlist interested customers during your presentation or webinar,
Post-event registration – after the event you can send a message via your social media to engage new followers and turn them into leads.
07 Using social media for content distribution
Most brands use social media channels to promote their content anyway, so why not use it to boost lead generation efforts? Content marketing can effectively help with generating leads if you do it right.
Use analytics tools to determine which content brings the most leads and promote it additionally through social channels. If it converts via organic traffic, there's a good chance you'll get high-quality leads also through social.
08 Involving social media influencers
Influencer marketing also can help you in generating quality leads.
Think of your brand ambassadors and how they can influence their followers to sign up for your newsletter or other mailing lists.
Social media influencers can educate your potential leads and create demand for your products or services. You can also use them to make a referral campaign that will drive traffic to a previously prepared landing page with a lead gen form.
09 Setting up retargeting ads
Apart from ads with lead generation forms, you can also set up retargeting ads.
Social media advertising can help strengthen your brand in the minds of your potential customers. You can even set up sequential ads that will support the sales funnel. For example, the ad will show up on social media after the potential buyer visits your website. More ads with different copy will show up after they open the link from the first ad. You can start the lead nurturing process straight away from the social media ads.
And the best thing is this process can be fully automated.
Studies show that retargeting ads have a 10x better click-through rate than any other display ads.
10 Optimizing your social media profiles
Did you know that you can add a lead generation form to your Facebook profile? Well, now you know.
There are tons of tricks for personalizing your social media profiles so that they serve as lead generation tools. The easiest way is to include links in the description to a landing page with an option to subscribe to your mailing list. Facebook pages have a customized button that serves as such a link (by default, it's set for messaging).
Don't be afraid to use emojis to direct users to your most important links and to describe what they can find inside. Emojis stand out in regular text and are most welcome on social media.
Watch what Josh from Brand24 recommends doing to increase engagement on social media:
Best tools for social media lead generation
Efficient social media management requires a set of specific tools that will help you do your job. Here are some tools you might want to check out to boost your social media lead generation process.
01 Brand24
Media monitoring tools such as Brand24 are extremely useful if you want to implement strategies such as social selling to generate more leads from social media.
With tools like Brand24, you can easily find qualified leads on social media. After you set up a project, you can turn on e-mail notifications (or check them in the dashboard) with mentions of your brand, tracked hashtags or keywords.
Social listening will let you easily reach out to people that are potentially interested in your product or services. Use your best sales skills to turn them into leads!
Brand24 offers a free 14-day trial (no card required!). Try our social media monitoring tool today.
02 Buffer
Buffer is a social media management tool that will help you to organize your posts. If you want to be active on social media, you need to produce a lot of quality posts and comments to engage your followers.
With Buffer you will easily schedule your posts in different time zones and analyze which ones brought you the most engagement. There's nothing wrong with repurposing your posts, so always check which ones resonate the most with your target audience. Do not overuse them, but you can use the same post on different social media sites more than once.
03 Meta Ad Manager (Facebook Ad Manager)
To advertise on Facebook and Instagram and generate sales leads, you need to get acquainted with the Meta Ad Manager.
The ad creator lets you get creative with various pre-made templates, but you can also design an ad from scratch.
For lead generation, I highly recommend experimenting with forms. A highly skilled social media advertiser can acquire a lot of valuable contacts through lead gen forms. You can get the e-mail addresses and phone numbers directly to your inbox and start conversations right away.
04 Clickmeeting
If you want to include webinars in your social media lead generation process, Clickmeeting is your friend.
The platform is a great tool for hosting online meetings and managing attendees. It will allow you to host multiple events, share videos from different cameras, include breakout rooms, record your live webinars, and more.
Use the webinars as a chance for generating leads from the contacts database you acquire after each event.
05 Canva
When sharing content on your social media profiles, you can use graphic design to create engaging CTAs. Facebook, Linkedin, and Twitter allow uploading custom illustrations to links you share. Use that opportunity and create CTAs for lead generation.
06 Zapier
There's a lot of manual work with social media lead generation, but there are ways to cut it.
Smart marketers use every opportunity to automate their work, especially dull tasks like filling out spreadsheets or copying databases.
Fortunately, there are tools like Zapier that let you automate a lot of your tasks. For example, you can connect Zapier and social media, so that each contact that appears in lead generation ads automatically is copied to a previously prepared Google Sheets document. Or get a Slack notification each time somebody subscribes to your Mailchimp list. Or share your contact lists via e-mail with your coworkers. You get the idea.
Zapier has a lot of integrations available. For example, you can connect it to your ad accounts, CRMs (like Hubspot), Google Docs, Slack, and more.
07 Hootsuite
Hootsuite is a social media management platform. You can use it to schedule posts, track conversations, and manage paid ads. It's an all-in-one social media marketing solution that will be a great addition to your stack.
Hootsuite can help you to generate leads through social media in more ways than one. You can monitor the latest trends, talk with your potential customers without leaving the app, manage the leads database, or even use it as a link shortener, which helps a lot while creating promoted posts.
As you can see, there are plenty of tools that will help you generate leads from social media. Did anything catch your eye?
Social media lead generation vs lead nurturing
What's the difference between lead generation and nurturing leads?
Before you start engaging with your leads and begin the sales processes, you need to establish contact – the lead generation process begins before lead nurturing.
After generating social media leads, you can start building relationships – this process is what we call nurturing leads. This procedure involves educating and informing the social media leads, and then encouraging them to engage and convert.
Don't waste time and start generating leads today!
Hopefully, with this short guide, you will be able to generate more leads via social channels.
As you can see, there are tons of ideas for social media lead generation and even more tools that will help you manage and nurture them. It's entirely up to you which way you will choose and how you will encourage them to convert to paying customers.
The chances are you already have some processes that can be turned into full-scale lead generation operations. Read my suggestions carefully and think about how you can expand them in your organization.
I wish you good luck and many great new leads!