What is dynamic (or personalized) remarketing? Usually, it's used to show users products they were looking at earlier. We've all seen it. It's one of the most abused techniques in online marketing. Sometimes it can even ruin a long-awaited surprise for someone!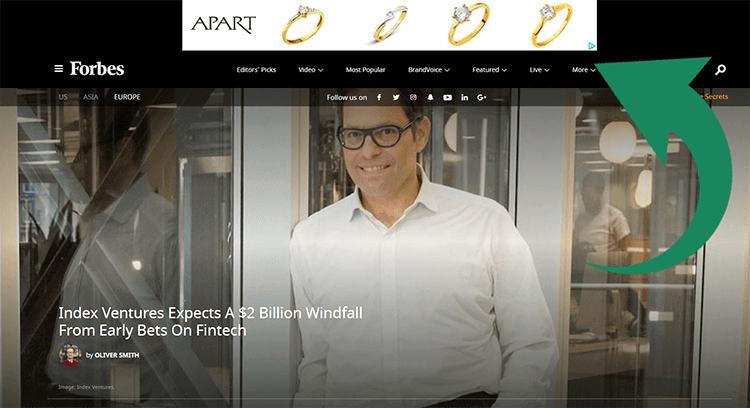 Busted!
Traditionally, the tool was used by retail companies with a variety of products. But it doesn't have to be like this.
This is not just for big e-commerce retailers only.
With our friends from Bluerank – an award-winning online marketing agency (and the ones behind the idea of this campaign) – we've created a different kind of dynamic campaign. How does it work?
So, in case you don't know. Brand24 is an internet monitoring tool. You sign up, choose keywords (i.e., your brand name or product name or hashtag) and then you can see mentions from social media, blogs and forums, etc,. places where someone used your keyword. If you want to check it out yourself, you can sign up for free, at any time.
And I know how it is when you test a new tool. Sometimes, the next day, you forget all about it, even if it's cool. We are all busy. I get it. But our users have audiences that talk about them all the time – and who are often waiting for a response! So we feel obliged to remind our users to check their mentions. And this is where a remarketing campaign can help.
Users see ads with real mentions based on the keywords they chose. We simply tell them: "Hey, someone is talking about you. Are you sure you're not interested?" Here are a few examples: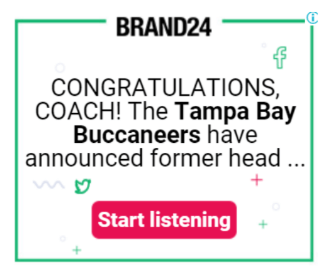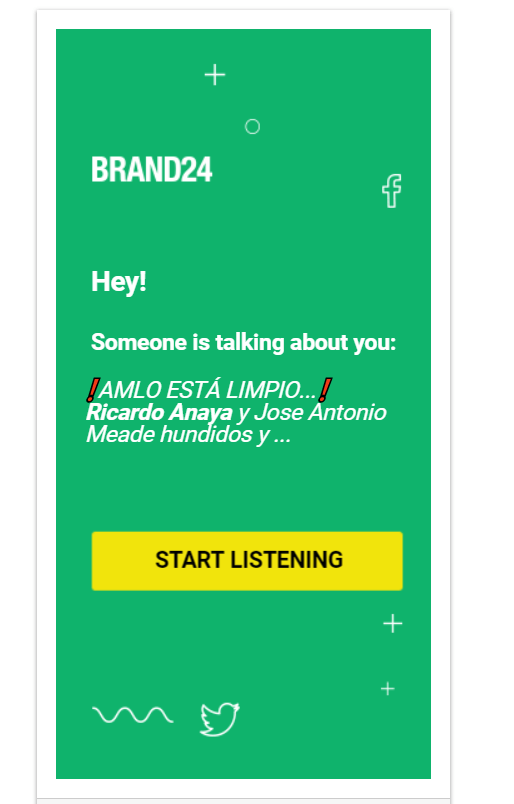 These ads are animated (I put the static versions here so that the message is clear for everyone). The users who see them see a few different mentions displayed in a rotation, with the user's selected keywords always in bold. In the first example, the keyword is "Tampa Bay Buccaneers" and in the second version, it's "Ricardo Anaya".
What's interesting – is that the white version generated +50% clicks and conversions compared to the green one. We are always running tests and optimizing.
After clicking on the ad, the user is redirected to a landing page which is also personalized – with the same mentions from their project and a few benefits that convince the user to engage his or her mentions.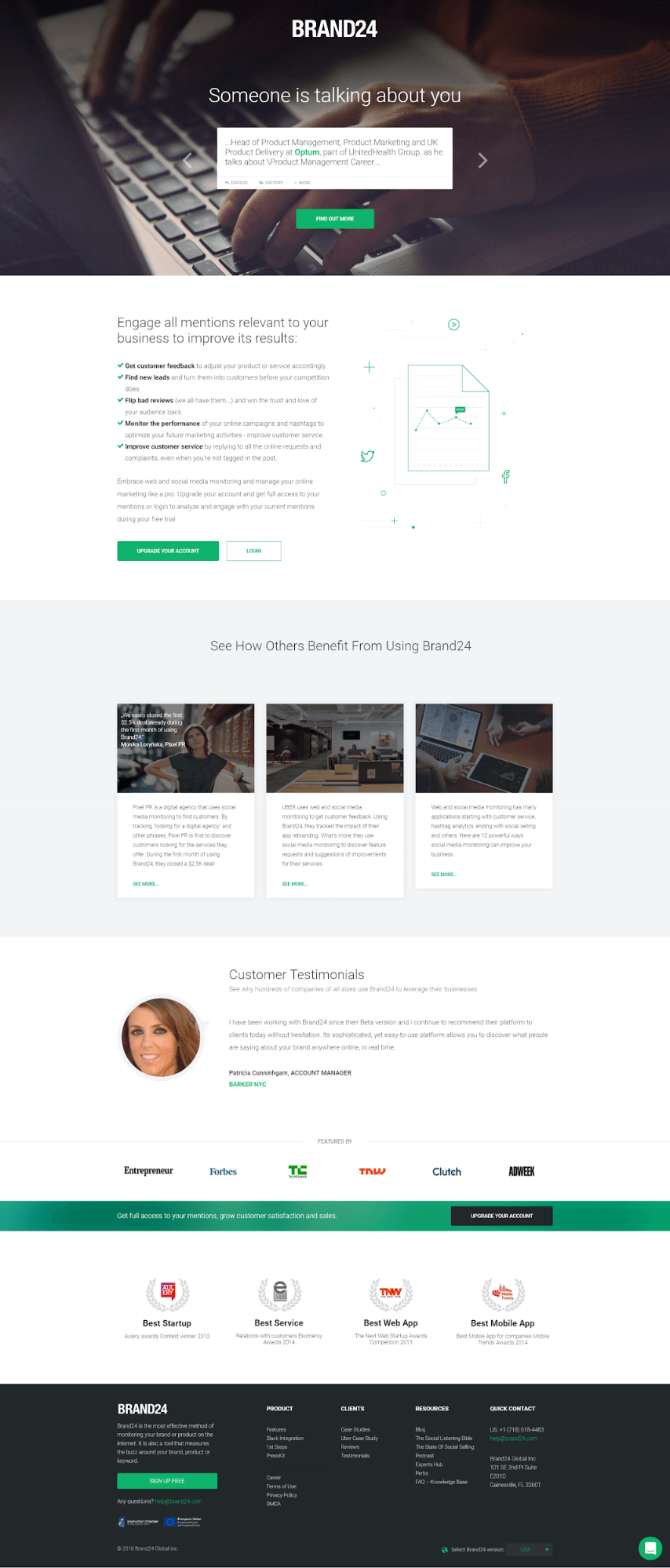 Ok, great, but show me the results!
As you wish.
Simultaneously with these personalized remarketing adds, we also ran a typical non-personalized campaign and here are the results:

Compared to regular remarketing, the quality and quantity indicators went up significantly with personalization. We've also seen people buy the full account after viewing or clicking on an ad. But this, of course, is the last step in a process that also includes e-mail communication and other remarketing ads, etc.
I want it!
So how do you do it and what kind of businesses can launch campaigns like this? We used AdWords and the Doubleclick platform for our remarketing campaign. Instead of products, we sent mentions from our API. The rest stays the same, and it's explained here: https://support.google.com/adwords/answer/3124536?hl=en. You can use things like the number of days still left in your user trial accounts, personalized discount codes, etc.
We asked Jacek Tkaczuk from Bluerank for some insights on personalized remarketing:
"Personalization is definitely one of the top trends in online marketing today. With increasing advertising costs and user reluctance towards banners, the need for tailored and well-aimed communication is more important than ever. We can already see that responding to current individual customer needs is not only very effective as far as costs are concerned, but it also enhances the user experience and increases the quality of their interactions with the advertised brand. That is why, together with Brand24, we've created a concept for personalized communication that not only shows the possibilities that media monitoring brings but also engages users much more effectively than standard remarketing creatives."
Long story short:
– Personalization is not only for email marketing, you can personalize ads and landing pages too.
– Communication adjusted to every single user in your campaign can achieve significantly better results.
– Dynamic ads are not only for big e-commerce retailers, there are also ways for B2B service-based businesses to use this tool.
If you have any questions – just let us know anywhere on the web. We're the internet monitoring company. We'll find your comment 🙂
Wishing you high conversion rates!