Media monitoring is the process of collecting and analyzing publicly available pieces of content containing mentioning a particular keyword. Despite popular opinion, media monitoring has been around for at least 150 years. Back in the day, media monitoring was literally a cut-and-paste job. Workers had to manually search for articles containing specific keywords, cut them and paste into a dedicated clipbook.
Fast-forward a century and a half and the media monitoring service is even more in demand. With the development of technology and the Internet, Thanks to technological advancement and the Internet, we can outsource a part of the job to media monitoring tools.
But, for many, media monitoring is still a new kid on the block. They don't see the benefits of media monitoring, think it's expensive, and the media monitoring process can be replaced by a simple Google search.
Today, I'll do my best to demystify the media monitoring, show how the process had evolved and pinpoint all the advantages of media monitoring!
Ready? Let's dive in!
What is media monitoring and analysis?
Media monitoring is the process of listening to millions of conversations on the web to determine what's being said about a particular brand, issue, topics, etc. with the help of media monitoring tools.
The pieces of information gathered by a media monitoring tool can give you valuable insight into how your business is portrayed in the digital (and offline) media. You can use this knowledge in many different ways such as:
Brand reputation management
Customer service
Crisis management
Measuring the results of our marketing campaigns
Measuring the reach of social media posts and dedicated hashtags
Competition research
Market research
etc.
But we wouldn't get these insights without hard data. Media monitoring tools offer you a wide range of stats, metrics, and analysis features such as:
Total number of mentions
Estimated social media reach
Social media interactions (shares and likes)
The number of videos
The number of positive and negative mentions
The number of mentions from blogs and forums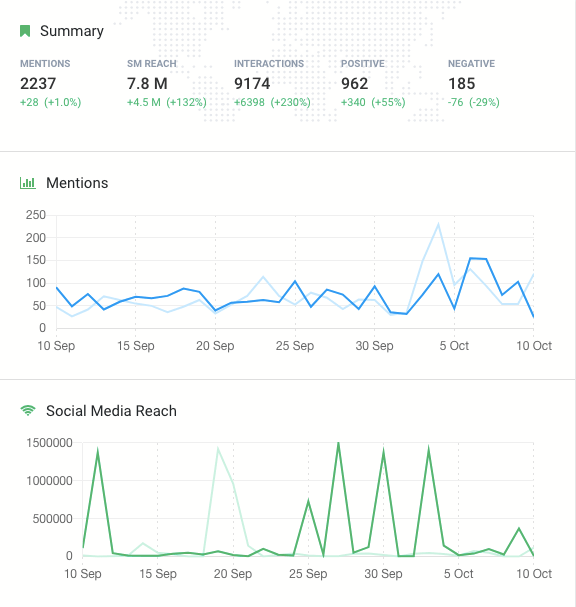 Also, media monitoring tools include many features that can be extremely helpful in your daily marketing duties, for example:
Mentions feed – it looks like a wall on popular social media platforms and displays the newest mentions containing your keywords. Also, it allows you to react to the mention with one click of the mouse.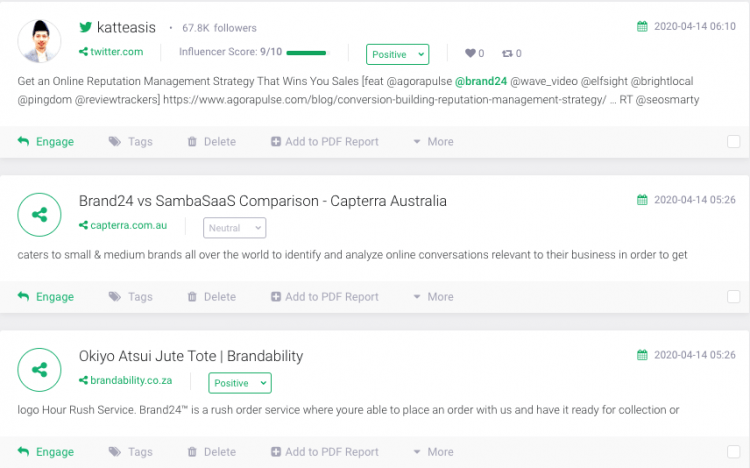 Discussion volume chart – this graph allows you to identify changes in the discussion volume.

Sentiment analysis – this feature can determine whether a mention is positive, negative, or neutral. In more than 90 languages!
PDF Reports – this feature allows you to create complex media monitoring and analysis reports based on data gathered by media monitoring tools. In more or less, 5 minutes. Find out more details about PDF Reports here.
Why is media monitoring important?
Media monitoring helps you stay on the top of all publicly available information concerning your company, brand, or product.
We live in the age of information, in a society constantly connected to the Internet. What is being said about your company or product can travel thousands of miles within minutes.
You can't be in the dark when it comes to crucial mentions regarding your business entity.
What's more, media monitoring will help you with different aspects of your online presence.
How exactly media monitoring can help you grow your business?
1. Monitoring brand reputation
Monitoring the mentions about your brand is one of the crucial aspects of building online presence, increasing your brand awareness, and building trust to your brand.
Yet all of these aspects are often neglected by many companies.
Why should you monitor the media coverage of your brand?
Because your reputation is one of the most important assets your company has. Once you lose it it might be impossible to regain it.
Media monitoring can help you protect your brand reputation.
Media monitoring can help you identify potential crises and mitigate the results. With a correctly set up project, you will receive mentions containing your keyword in real-time. Once you receive a notification, you can react right away, preventing the crisis from spreading.
Media monitoring can help you control the narrative around your brand. The media monitoring process can help you become more proactive player and shape the public image of your company.
2. Preventing crises
Sooner or later, you will face a crises. Whether you come away unscathed from the crisis situation depends largely on how well you'll be able to prepare and fight the crises.
A crisis can hit from the most unexpected place, for example, one of your vendors, subsidiaries, or suppliers.
A media monitoring tool will help you stay one step ahead of what is happening, giving you enough time to react to negative mentions and protecting your brand.
Media monitoring can help you control the market perception of your brand and your associates.
3. Knowing your audience
At the end of the day, the most important aspect of your work is serving your target audience the best way you can and doing it better than your competitors.
To gain the competitive advantage, you need to listen to what the pain points of your customers are.
Media monitoring is all about listening. Listening to your existing and potential clients will help you deliver exactly the experience, product, or service they desire.
Moreover, you will know how to reach them more effectively. The key to successful communication is to find common language with your interlocutor. Media monitoring is an ideal way to get to know your target audience better.
4. Measuring the results of PR and marketing campaigns
You need to measure the results of your marketing and PR campaigns. Otherwise, you will not know what is working to your advantage, how to improve your communication and marketing strategy.
Since the main goal of many campaigns is to raise your brand awareness and promote your product or service, you need to know how the campaign resonates with your target audience.
Media monitoring helps track the reach and sentiment of your campaigns, giving you insights on what went well and which aspects need improvement.
5. Identifying public profiles for influencer campaigns
Endorsements from recognisable public profiles can help verify your brand, product, or service. They will help you build trust in your company, helping you to get ahead of your competitors.
The key to a successful endorsement is to find the right influencers. One that has authority in your niche, is trustworthy, and can genuinely promote your product.
Media monitoring finds people already talking about your business niche, product, or service.
A media monitoring tool will give you a list of public profiles you can investigate further. This helps you make the most informed decision that will benefit your brand.
Should you use media monitoring?
Once you discovered the benefits of media monitoring, another question arises: is media monitoring a solution you can successfully implement in your company? Will it bring any value that will justify the spending?
There are number of business entities that will benefit from media monitoring, starting with start ups and SME, through large corporations and ending with public administration and governments.
To make a long story short, media monitoring is a service that will benefit anyone who cares about brand reputation and the public perception of their company. If you work with other people (customers, partners, investors, donors, constituents, you name it), media monitoring should be an essential part of your marketing and PR stack.
Media monitoring can not only help with protecting your brand reputation.
Media monitoring is also an invaluable tool when it comes to preparing for the future changes in your industry.
You can track what is being said about your competitors, industry, products, services, and other issues your organization cares about. That will help you prepare to all changes in your market and stay a couple of steps ahead of your competitors.
Media monitoring can solve problems encountered in every type of organisations.
Media monitoring will help you:
build credibility
manage reputation
prepare for a crisis
strategically plan the development of your company
monitor the coverage of the issues concerning your business
monitor the results of your PR or marketing campaigns
How does media monitoring work?
Ok, you know what media monitoring is and what business knowledge it provides, but how does it work?
As I said in the beginning, media monitoring is a process, let me explain it in a few steps.
Step 1. Decide what do you want to monitor.
First and foremost, you need to know what do you want to achieve by using media monitoring platforms. In the beginning, ask yourself what kind of data will best fulfil your needs. It may be data about your brand's reputation, your competitors' marketing campaign results, or maybe trends in your industry?
You should always monitor your own brand. Monitoring your company will provide two types of information:
you will know what, where, and who is talking about your company and how and what changes over time. This will help you assess the performance of your marketing campaigns and identify your biggest supporters and detractors. You will be able to mitigate the results of bad publicity.
over time, the results of media monitoring will help you set up benchmarks. You will know whether you are making progress or not.
By monitoring yourself, you are in control of the narrative around your brand. You get the business insights needed to shape the story about your company.
Moreover, you should monitor your competitors.
To grow, you need to stay ahead of your competitors. The first step in becoming an industry leader, is to know what your competitors are doing.
Media monitoring will pull all the information needed in one place. You will know what your competitors are saying, what campaigns are they using, which channels, and much more.
The last topic you should keep a finger is industry monitoring.
If you want to become a leader in your field, you need to know it by heart. The more you know, the more efficient you can operate.
Define what type of data do you need and then go to step 2.
Step 2. Setting up a project for media monitoring
In general, media monitoring tools track every public mentions containing keywords, which you are asked to type at the beginning of the media monitoring process.
This is the most critical part of the media monitoring process. The tools will collect mentions containing your selected keywords, so it determines the data you'll get.
That's why you should pay attention to keywords and choose them wisely to get the best possible data.
Keywords should be strongly associated with the topic you want to follow. For example, if you want to track mentions about your brand, I'd recommend keywords such as:
You brand name
Your product or service name
Your branded hashtag
Thematically related hashtag or phrase
Learn more: How to do media monitoring?
Step 3. Gather and analyse media monitoring results
Media monitoring tools look up and analyze publicly available online content from websites and social media platforms, based on the API of these websites.
Brand24 collects publicly available mentions from Facebook and Instagram. The tool is compliant with strict Facebook regulations and the GDPR.
The analysis part is one of the most valuable parts of media monitoring projects.
Media monitoring tools analyse gathered data and present them in an actionable way.
What pieces of information will media monitoring give you?
The volume of mentions. That's a basic media monitoring metric. It will tell you how popular your keyword is and on which platforms
Sentiment analysis. Analysing the mentions by sentiment will tell you how your audience feels about your brand, product, or service.
Estimated social media reach. To know how many people could have seen your posts. This metric will help you measure the results of marketing or brand awareness campaigns.
Trending hashtags. Carefully generated list of trending hashtags that will help you boost your brand visibility and reach new audiences.
The share of voice. The share of voice will indicate what part of the market your brand owns compared to your competitors.
Top public profiles. Media monitoring tool will identify social media accounts talking about your product. This metric can help you run an influencer marketing campaign.
Tip: Media monitoring tools don't collect historical data, so be aware of this while planning your marketing campaigns.
Which media does media monitoring cover?
In most cases, media monitoring tools are collecting mentions from all the publicly available websites such as:
Forums
Blogs
Podcasts
News sites, review sites
Facebook fan pages
Instagram hashtags
Twitter
YouTube
TikTok
Twitch
Discussion forums
etc., but also can track mentions form some offline sources like TV.
Media monitoring tools
The type of media monitoring tool you should choose depends on your needs and budget.
In general, we can distinguish three types of media monitoring tools:
free media monitoring tools
affordable media monitoring tools
premium media monitoring tools
Free media monitoring tools
Free media monitoring tools, for example, Google Alerts, are a great solution, especially if you don't have the funds to pay monthly fee.
Free media monitoring will collect publicly available mentions, but that's all they will do. You won't be able to see analytics section, set up reports or custom notifications.
Still, imperfect media monitoring tool is better than no media monitoring tool at all.
Affordable media monitoring tools
An example of an affordable media monitoring tool is Brand24.
Brand24 will automate most of the processes and will give you all the numbers and insights you need to get the most valuable insights for your company.
Start monitoring! Brand24 offers a 14-day free trial (no credit card required)
Media monitoring tool will collect all publicly available mentions and give information about:
the reach of mentions
sentiment analysis
volume of mentions
social media interactions
most active locations
the most popular public profiles
Moreover, with a help from a paid media monitoring tool you should be able to generate PDF reports, integrate the tools with external communicators, for example, Slack, and set up the most convenient notifications system.
Premium media monitoring tools
Premium media monitoring tools cost a lot of money and are dedicated to the big players.
The main difference between paid and premium monitoring tools is that premium monitoring tools offer a dedicated consultant. You don't have to analyse the results yourself.
This is especially important when you have a project with a high number of results. In that case it's hard to separate the valuable sources from the Internet noise. Consultants can help you created custom reports and they will make sure that sentiment analysis is spot on.
How much does media monitoring cost?
The cost of media monitoring software is much more complicated than you probably think. When it comes to fees for using the tools, it's quite simple. The more features you want to use, the more you have to pay for the tool. Most of media monitoring tools offer a free trial period for 14 or 30 days.
After that period, you need to choose one of the subscription plans. For example, in Brand24, we offer three plans, from 49$ to 199$ per month.
Pricing is getting more complicated when we take into consideration such elements as:
Opportunity cost
Time cost
Opportunity costs refer to the cost you'd have to bear if you miss some leads or opportunities to earn more. It may be, for example:
Cost of missed leads
Loss caused by a lack of customer service and unhappy clients turning to our competitors
Loss caused by a possible PR crisis or bad brand reputation
Cost caused by lack of competitor analysis
When it comes to time cost, thanks to media monitoring, you get all the data about your online presence, competitors' results, and your industry in one place. Now you don't have to search all the Internet for data manually. These tools do it for you.
Learn more: Read more details about media monitoring costs including opportunity cost and time-savings in this post.
Media monitoring in the times of crisis
A crisis will strike your business.
Media monitoring can help you prepare for a public relations crisis.
The first step to recover from a PR crisis is to be aware of the situation happening. I bet you can recall at least a couple of companies that get into serious trouble by not responding to negative news in time.
Bad news travel fast, and bad news online travels even faster. A crisis can affect different aspects of your organisation. A badly-handled crisis can have an effect on your reputation or stock prices. Moreover, fighting the negative effects will take time and money.
How does media monitoring help combat a PR crisis?
Prepare before a crisis
Prepare for the worst, hope for the best.
Preparation is one of the key elements when it comes to dealing with a crisis. You should invest in a crisis response plan that will outline who is responsible for crisis communication, how the problem will be tackled, what messages will be send to the press, etc.
Many companies run crisis drills. Every member of the crisis response team can practice their role, identify any shortcomings and improve the plan.
Media monitoring will help you in twa ways.
First, you should monitor mentions regarding your brand. Pay special attention to mentions from social media. Complaints made on various social media platforms tend to catch people attention.
Secondly, you should monitor mentions regarding your main competitors. You can learn from your competitors' mistakes. What's more, you might be blamed by association.
During the crisis
Media monitoring is essential during a PR crisis.
Once the crisis erupts, you want to be the first one to know about it. That's why you need real-time media monitoring with a robust alert system.
Media monitoring will help you catch complaints made by your customers and react to the problems before they escalate. Moreover, a media monitoring tool will monitor the sentiment. That will help you assess the severity of the crisis.
Brand24 offers various type sof notifications that will help you stay on top of things, for example:
Slack notifications
email alerts
in-app notifications
When it comes to handling a PR crisis every minute counts. Media monitoring will give you the extra time to react to the situation.
After the crisis
The last, but not the least. Once the crisis is over you should take a look at all the actions you evaluate you crisis management plan.
Monitoring the conversation around your brand will give you necessary insights into how to restore your brand reputation.
Evaluating your crisis response will help you protect your company against any new threats that might emerge.
Do you need media monitoring?
To sum up, media monitoring can be a beneficial tool if we use it properly and understand how it works.
Thanks to its data and features, you can get valuable knowledge about your brand's online presence, our competitors, stay up-to-date with trends in our industry, and improve our customers' experience.
I hope that now you know more about what is media monitoring and analysis, and why is it worth your attention. Although it's not for free, media monitoring is worth investing money in it because of its wide range of benefits and opportunities to boost your business' growth.
RELEVANT READS
Why Is Media Monitoring Important?
8 Daily Media Monitoring Tips
Top 10 brand monitoring tools
---
---