#SocialRecap: Top Social Media News and Digital Marketing Trends
June 16, 2018 ・ 7 min read
The Social Recap covers top social media news and key digital marketing trends that are taking over the Internet. Stay up-to-date and get a fresh take on all things SMM inside each new post. Follow our recurring column for the latest social recap!
This week's topics include how Instagram's algorithm really works, how SnapChat plans to follow in Facebook's footsteps, and which social platforms companies need to get on board with ASAP… plus much more in the full recap.
Prefer listening to social media news instead of reading about it?
Catch the video version of the #SocialRecap on YouTube. Each new Recap fills you in on recent highlights and trends in social media and digital marketing news, just like the recurring column. No reading required on YouTube.
Forgot your headphones but still want SMM news NOW?
Catch up on the top highlights and trends in social media and online marketing, below!
1. Instagram's algorithm, explained
Instagram has just revealed how its algorithm works! The posts that show up in your feed are based on three main factors:
Your predicted level of interest – which takes into consideration your past interactions with other content.
How fresh the post is – giving priority to newer posts
How close you are to the user that posted – so, the algorithm will show you more content from users whose posts you've commented on, from those who have mentioned you, as well as from users who've ever tagged you in any of their posts.
There are also three secondary factors that contribute to the algorithm, including:
How many accounts you follow
How often you use Insta
How much time you spend there
If you follow a bunch of accounts, the algorithm will show you posts from a large selection of people, so you don't just see posts from the same 5 users.
How much time you usually spend on IG will tell the algorithm how deep it needs to dig into its inventory to show you the best content. You'll just see a few of the top posts if you only spend a couple minutes at a time in your account. But if you stay longer, you'll find a deeper selection of posts that the algorithm essentially curates for you.
The good thing is that Instagram doesn't hide any posts, so if you stay on the platform long enough, you will eventually see every single post from every single user in your feed!
2. Reddit is actually more popular than Facebook
According to recent rankings from Alexa, the top 3 most popular websites in the US are: Google, YouTube, and Reddit (which pushed Facebook down a spot, to number 4).
Plus, Reddit beat out every other website for the amount of time spent on site per session, along with the number of daily page views per visitor.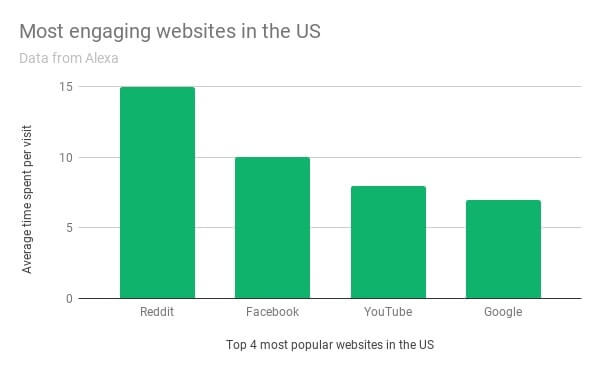 Users spend on average about 15 minutes per visit on Reddit, 7 minutes per visit on Google, and 8 minutes per visit on YouTube. However, Facebook had the second highest user attention span with 10 minutes per visit.
How did Reddit become more popular than Facebook?
Well, Reddit recently had a little face lift which has, no doubt, improved their UX, encouraging users to visit more often and spend more time on the platform. And Facebook's recent data security leak has likely affected the social media giant more than it's willing to let on, resulting in some of its users going elsewhere – including its younger audience.
3. FB is losing its teen audience
According to the latest survey from the Pew Center of Research, 95% of teens in the US have access to a smartphone, which is greater than the amount with access to laptops or desktop computers. This makes visually powered sites like YT, Instagram, and SnapChat even more appealing than Facebook, at least to this newer generation of mobile natives.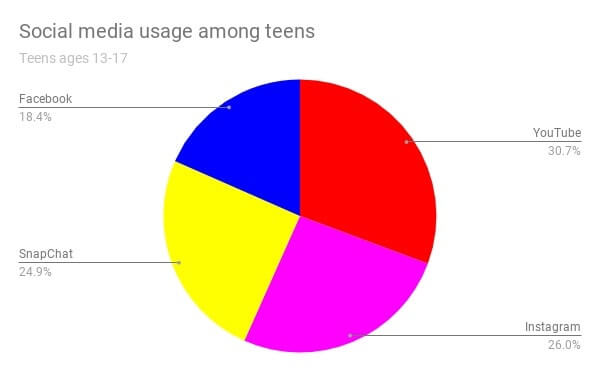 A recent survey among teens ages 13-17 revealed that approximately 85% use YouTube, 72% use Instagram, 69% use SnapChat, and just 51% use Facebook.
Only a couple years ago, in 2015, 71% of teens were using Facebook, making this a significant drop among younger users over just a short time.
4. Facebook says goodbye to Trending Topics and introduces 2 new features
Facebook is still implementing a series of changes in response to its data security link. One of them includes getting rid of Trending Topics. This was a highly criticized feature that became a pain in the neck for the platform, since it was accused of showing bias and helping to distribute fake news. Trending Topics will be replaced with 2 new features: Breaking News and Today In.
"Breaking News" will be available for 80 select publishers in North & South America, India, Australia, and Europe, and it will let these publishers label stories as Breaking News. The feature "Today In" will connect users to Breaking News in their cities, and notify them of important updates from local officials and organizations.
5. Pinterest acquires new users faster than Twitter and SnapChat
Meanwhile, without focusing on teens, Pinterest is actually growing at an astounding rate, faster than Twitter and Snapchat. Even though Twitter & Snap still have a lot more active users – at least for now – Pinterest has already gained 50 million new users since September, while Snap added 25 million & Twitter 9 million during this time.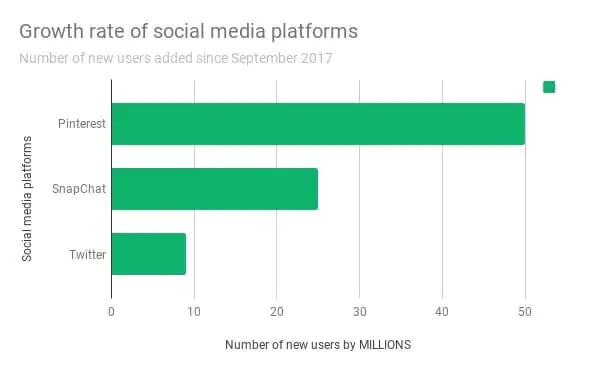 It looks like Pinterest will hit 250 million monthly active users any day now, so it still has a long way to go before catching up to Twitter and SnapChat in terms of audience size. However, the platform has recently come out with a number of brand-friendly features, and considering the way that users use the platform – to visually bookmark products of interest, this will surely attract brands who are eager to promote their products to a highly targeted audience who are ready to buy.
6. SnapChat builds its own devs platform, which is a key step in how Facebook became FACEBOOK
And a big announcement from Snapchat is that it's building its own developer platform, which means they're gearing up to grow their Brand beyond the app. SnapKit will let developers bring the Augmented Reality camera outside of Snap, making it more accessible to a wider audience, not just teens. And once it's ready, users will also have the option to "Log in with SnapChat" across external apps.
Engaging developers with its API was a key step for FB years ago that helped make them what they are today. And by giving developers the capacity to extend its AR capabilities outside of its own app, SnapChat may be able to increase its share of the AR Lens market even further.
7. Google makes streaming music services like Spotify available for programmatic audio ads
What's the next step once a platform has established a sizable audience? Usually, it'll start to test different ways it can tap into its ad potential. So Google has decided that it's time to explore audio ads within its streaming music services like Spotify. The ads will be supported by "DoubleClick", a programmatic ad platform. So, any brands that use DoubleClick will be able to buy streaming audio ad space on Spotify, SoundCloud, and soon Pandora as well.
Audio ads are becoming increasingly popular, and for good reason.
Technology like Google Home foresees the future disruption of SEO with audio search, making the audio realm more and more important from various aspects. Just last year, audio ads generated $1.6 billion, which is a 39% increase from the previous year. And Pandora recently acquired an ad tech company, AdsWizz, that created its own programmatic ad platform, for $130 Million and stock.
8. New camera effects in FB, Messenger and Instagram for Pride Month… will be available year round
And last but not least, Facebook, Messenger, and Instagram are releasing new camera features to celebrate Pride Month, and they will be available to users throughout the year. Just search for fbpride (no spaces) on Facebook, and look for stickers, text and other effects in the camera on Facebook, Messenger, and Instagram. Then snap your picture, add your effects, and then upload directly to your feed or your Stories – all year round.
Social Recap: SMM highlights, top social media news and key digital marketing trends
Hope you enjoyed this week's Social Recap, our recurring news column on all the latest highlights and trends from the world of social media!
Catch the #SocialRecap on YouTube for an audio update of recent news in SMM. And if you're REALLY strapped for time, check out the mini #SocialRecap on Facebook for just the headlines + a few fun facts.
Are there any other topics you want us to cover? Drop a comment below to let us know – we'll be listening!