#MarketersTalks: The Future of Visual Content in 2022 – An Interview with Donna Moritz
November 2, 2022 ・ 9 min read
In our #MarketersTalk series we interviewed the top digital marketers of 2022 and asked them personal questions. Today we talk with Donna Moritz, one of the top Canva Verified Experts, about different approaches to visual content in marketing.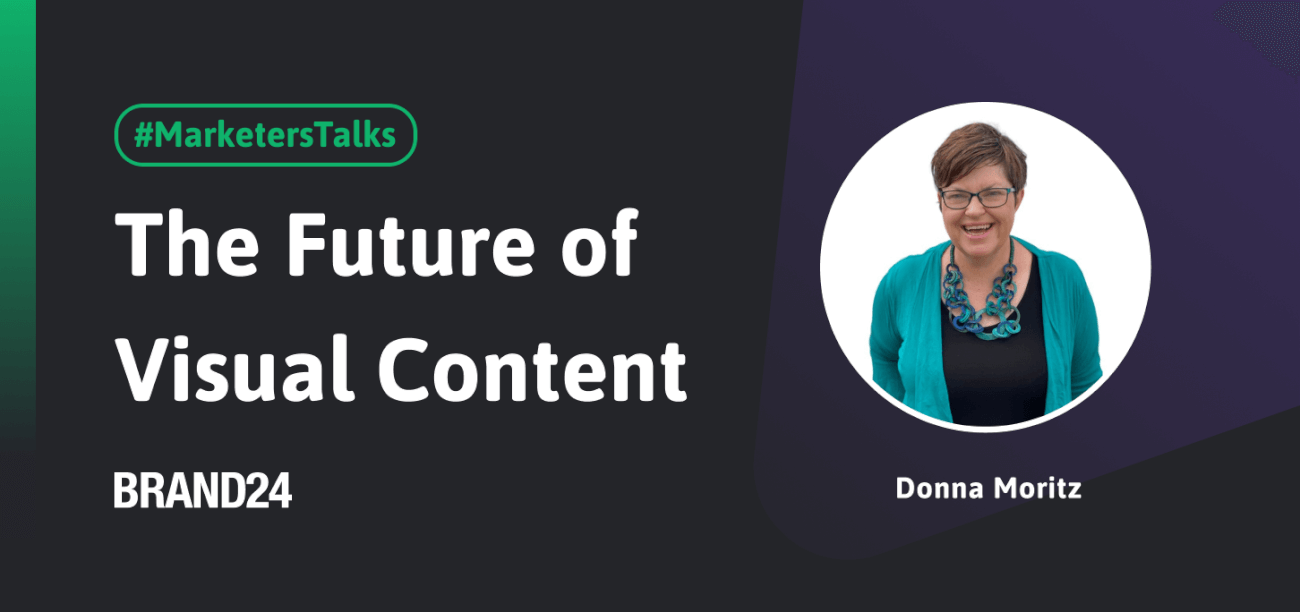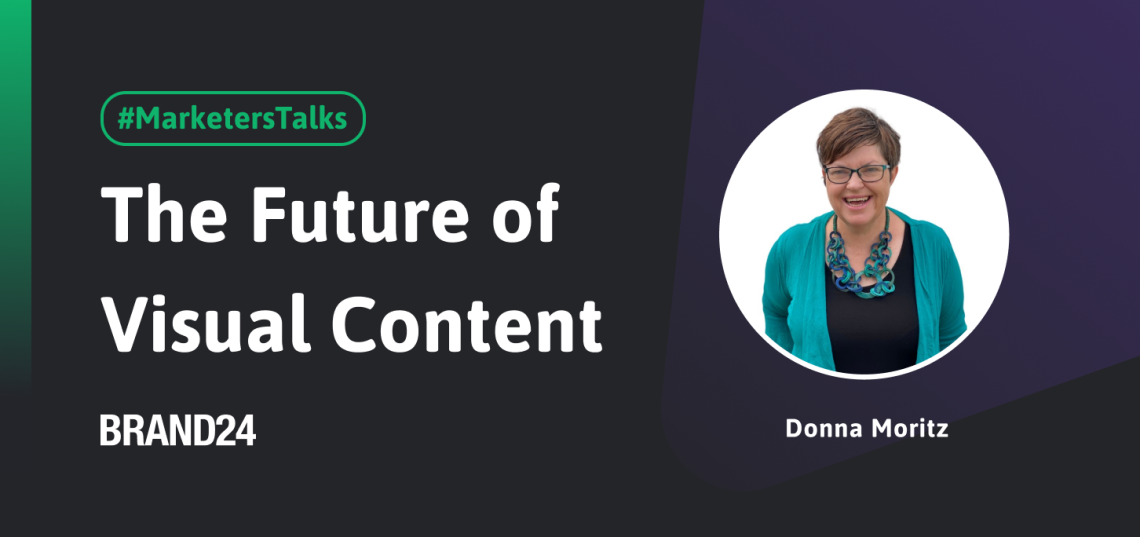 In this interview, we talk to Donna Moritz, Visual Content Strategist from Queensland, Australia, and founder of Socially Sorted, a leading social media blog globally and featured by Inc. as a Social Media Blog you should be following. Donna helps brands, businesses and creators leverage the power of visual storytelling in their business and is one of just 26 Canva Verified Experts in the world, teaching non-designers how to create amazing visuals using Canva. She's also a Canva Creator of templates in the Canva library and is an ambassador for the Canva Creator program. Donna is a sought-after speaker and trainer in the marketing and tourism industries internationally and her content has been featured in publications like Forbes, Entrepreneur, Inc, and Social Media Examiner.
Donna Moritz is one of the top 100 digital marketing influencers presented in Brand24's report.
1. What inspired you to focus your business on visual storytelling and visual content creation?
In 2011-2012 I was working with a lot of small businesses on their social media strategy. They all struggled with the growing expectation that they needed to create engaging graphics to post on sites like Facebook, Instagram and PInterest – with no graphic design skills, and limited tools to help them. Adobe was too complicated, but tools like Picmonkey (Hallelujah!) were starting to emerge for non-designers so they could create DIY visuals more easily.

By the time Canva was launched in 2013, I was "all in" on the importance of visuals. I was one of Canva's first few hundred "beta" users before they launched to the public and loved it. Having accessible DIY-design tools that would allow non-designers to create visuals quickly and easily was a huge win.

So, it was a natural evolution to pivot my blog (Socially Sorted) and business towards helping non-designers (business owners, social media managers and content creators) to develop visual storytelling skills and create amazing visuals to get results in their business – using DIY design tools.
2. How important is visual content in marketing?
Visual content is a huge part of marketing as we take in so much visually. It makes sense, as we have been communicating and storytelling visually for centuries. It's more important than ever now, with video being so popular for engaging and communicating online. Cisco continues to predict that 82% or more of our internet traffic will be video year on year – and the pandemic only accelerated the rise of video over the past couple of years (from video to Zoom to live video).

Visual content is also important as a "catalyst for trust". When your ideal customer sees your images, videos, infographics, live videos, they are spending time visually with your brand, and they start to have an affinity with your content. This helps move the relationship forward so they can know and trust you… and ultimately do business with you and/or advocate for your brand.

It's also probably worth mentioning the myth that we all have short attention spans. I think it's more about how we are bombarded with so much content every day. We have to make quick decisions about what we will engage with, which means consumers are engaging with video at a rapid pace.  Being able to create content that hooks viewers in and motivates them to interact with you is a big part of doing business in 2022.

So, the demand for brands and businesses to become 'visual storytellers' and create visual content has definitely increased as we do more business online. We need to be able to mobilize quickly and create visuals easily, and this requires a lot more content creation in-house vs outsourcing it. 
3. You've been training non-designers to create visual content for over a decade. What is the biggest challenge for non-designers when it comes to creating visual content in 2022?
The obvious challenges for non-designers lie in a shortage of time, budget or skills to create visuals. Tools like Canva help to address this problem by having everything in one place for creating images, animations, videos, presentations, whiteboards and even print on demand.
But after years of teaching non-designers basic design principles and how to use DIY design software to "design", I began to realize that there might be a better way. When non-designers try to "design" from scratch like a designer it can end up costing them in terms of time and quality. It's much easier if they use the templates provided in DIY software tools (created by a designer), and that they learn how to edit them effectively for their brand.
Here are a few tips to help with this:
Set up your Brand Kit in Canva – most DIY software allows you to do this, including your brand fonts, colors and logos.
Start with a Template – Search for a template in the document type or visual format you wish to create (ie Facebook post, presentation, Instagram reel, Infographic, social video). Then choose a template to help you design. This can be then adapted for the content you with to convey and, if relevant, adapted to your brand style and assets.
Stick to the Elements – Try not to change the main elements of the design too much. This includes layout, frames, borders, and position of titles or text. The designers use particular layouts, size, alignment and hierarchy for a reason.

Switch 1 or 2 things only – Don't rush to change everything at once. Change just the text and the images. Or the fonts and the colors. Switching just one or two things means that you are less likely to mess up the core design.
Switch similar for similar – if you are changing an element in the design, switch it for a similar element in terms of type and size. This applies to graphics, photos, illustrations, and videos and even the style of fonts you use and how many colors are in the template. Also try to keep the length of the text copy the same when you change it. Size matters!
Remember, the designer has done all the hard work to create an awesome design template for you. Take advantage of this as a non-designer and you'll be able to create visual content more quickly and easily, creating visuals that look professional AND catch the attention of your audience.

Note: this also applies to video. Most of the social video tools like Canva and Wave.video provide templates as a starting point for your videos, making it much easier to edit.
4. Do you think all digital marketers should acquire some level of designing skills? Why or why not?
If you use the tips above, you can create visuals easily without having to learn specific "design" skills, especially if you use templates to guide you. The bonus is that if you use DIY design software tools over time, there's a chance you will pick up some basic design skills along the way. But it's not necessary to study design in order to create great visuals as a digital marketer.

However, if you are creatively inclined, and want to take your design skills to the next level, then YES, you can develop your creative skills as a non-designer. It can be fun to do some basic design lessons to develop your awareness and use of layout, alignment, hierarchy and overall cohesiveness of a design.

Canva has a fabulous library of videos in their Design School as a great place to get started. You can also read my blog for design tips and tricks for non-designers. Just remember that the templates are always there to help you, so you don't have to "be a designer" in order to create amazing visuals.
5. What led you to becoming recognized as a Canva Verified Expert?
As I mentioned, I was one of the first few hundred users of Canva in early 2013 when Canva was still in beta. They launched "officially" in August, 2013 and recently reached 100 million active users – so I've been teaching non-designers how to use Canva for 9 years now (among other visual tools). This has included in-person and online training as well as speaking at major conferences like Social Media Marketing World in the US and Unesco World Heritage Cities in China.

As a long-standing Canva Educator and trainer I was invited to be part of the Canva Verified Experts program, launched in 2022. This program is for content creators and educators who are both leaders and experts in their communities, have a solid following and a passion for teaching others how to make the most of Canva's products and features.

Currently there are 26 Canva Verified Experts around the world and I am one of two experts based in Australia. You can find out more about Canva Verified Experts here as well as all the other Canva communities that you can join to learn more about visual design.
6. How can virtual teams better plan and create visual content?
It's never been easier for teams to work together – IRL or virtually. We have so many fabulous tools at our disposal. It's not just individuals working with tools like Canva, but now small (and large) teams can work together on visual projects from anywhere.
You can create high quality visuals (without design experience), use branded templates (created by designers), visualize data (using presentations, whiteboards and documents), leverage brand controls, permissions and approvals (to ensure brand integrity) and use collaboration tools for commenting and sharing.
For example, 3 simple things that I teach virtual teams to use in Canva are to:
Set up Team brand kits, with brand elements like logos, fonts and colors.
Create Branded templates (re-usable for projects). Templates can be designed by an in-house or external designer so that non-designer team members can then use them to create branded content.
Use Collaboration features for template sharing, setting brand permissions and adding comments/feedback on designs.
With the right set up and training, all the skills I've been teaching individual non-designers can be applied to teams, only now the branding and collaboration features make it so much easier. Never before has it been easier to create visuals!
7. You are also one of the first Canva Creators – what does that entail? And where do you get inspiration for creating new Canva templates for the Canva library?
I was invited to be one of the first Canva Creators in late 2020 which means I am trained to publish original image and video templates for the Canva library on my Creator profile. These templates are then used by Canva's 100 million+ users. I've had over 5 million exports of my Canva designs to date, so I guess all those years of getting to know what non-designers like in templates has been handy!

Finding template inspiration can be a challenge and it ebbs and flow on any given day, so I have a few places to go for ideas and inspiration when that happens:

Getting outside in the world around me (murals, signs, posters, color palettes).
Other design websites like Behance and Muz.li (design curation).
Visual platforms like Instagram, TikTok and Pinterest are great for ideas and to see what my community is consuming and creating.
Pinterest Predicts and Pinterest for Business are also great for content trends.
Blog posts about visual design trends released every year like this one and this one.
Observational humor about the quirkiness of life. I like to have a lot of fun with template design and there's nothing more fun than laughing at yourself or the world around you (and sharing a few memes or puns).
Canva Creators is a great evolution to my business, and has allowed me to provide templates and training to my clients, community and online program members. It's fun growing my skills as a designer for Canva, alongside a thriving community of designers ("Creators") making templates in multiple languages around the world. And helping to build Canva's library after nearly 10 years as a user and Canva educator is awesome!
8. What do you think will be big trends in terms of visual content for businesses in 2023?
Visual trends get more mind-blowing every year (hello, "text to image" tools and virtual reality!). Here are 3 visual trends that I believe will matter for businesses in 2023:
Short-form Video – While I will always sing the praises of long-form video content for search and SEO (I'm looking at you, YouTube) there's no doubt that short-form vertical video is here to stay. Platforms like TikTok and Instagram Reels will continue this trend and learning how to create short form video content is a valuable skill for digital marketers. 
Nimble Teams – The online world requires us to create visuals quickly. By using team tools like brand kids, templates and workflows, small and large teams alike can create visual content easily and at scale.  This will reduce the bottleneck of needing to outsource design or content creation all the time. 
User Generated Content – I am a big believer in the power of consumer generated content where customers create brand-specific content about a product or brand they love. It's more authentic, less polished visual content and we are starting to see a lot more of these types of videos on sites like TikTok where visuals don't have to be perfect and polished. I believe all brands should leverage UGC as part of their overall marketing strategy and of course a tool like Brand24 can be great for tracking mentions online – it's amazing how much great content can be missed if you don't know where to look! 
I can't wait to see where we go with visual storytelling in the next year. With the tools we have available to us, it's never been more fun to create visual content!