Linkbuilding strategy
A very important part of TimeCamp's strategy is valuable content. The company strives to reach companies that are potentially interested in their product. They provide quality knowledge to all those who are looking for information about time tracking, time management, and everything related to efficiency and productivity. 
The SEO department makes every effort to ensure that articles rank high in Google search. To make this possible, it is important to have many relevant sites linking to it.
Link building, along with content marketing, should be an integral part of any SEO strategy. And it's definitely easier to acquire backlinks from sites that mention a specific brand or market area that is close to its business. That's why TimeCamp use the Brand24 tool to support their link-building efforts.
"We monitor content on specific topics to identify sites or individuals who can help us with SEO efforts by posting or exchanging links," says Maksymilian. 

TIP: How to acquire backlinks in a few easy steps?
  ・ Find unlinked brand mentions using a media monitoring tool such as Brand24. Choose mentions that have positive or neutral sentiments.
  ・ Use an SEO tool (Ahrefs or Semrush) to check the website's authority and other metrics such as URL rating, domain rating, number of backlinks, referring domains, organic keywords, organic traffic, and traffic value.
  ・ Find contact information – it could be the author of the article or site owner.
  ・ Reach out and ask for a link.
Brand monitoring
Today an online presence is definitely not enough. An integral part of brands' operations is the awareness of what, where and how is said about your brand and products online.
According to a study by Asap Care 24, 80% of consumers say that brand opinions have the most significant impact on their purchase decisions. Therefore, no matter what direction your online activities take, it is worth keeping your hand on the pulse and being on top of all emerging information about your brand.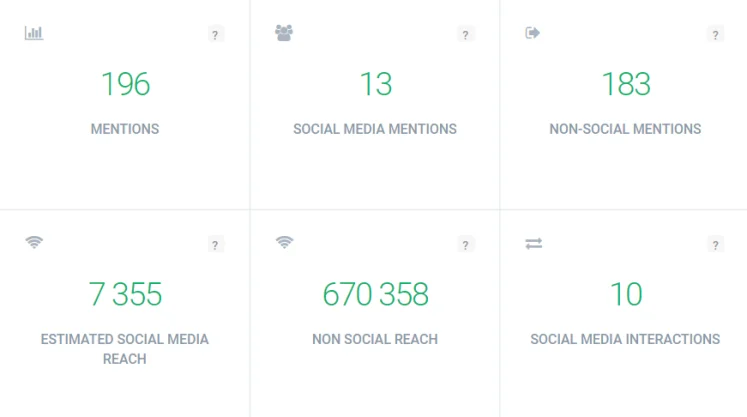 Brand24 collects and analyzes mentions from all sorts of publicly available sources on the Internet, and helps you see the bigger picture. "Brand24 helps us with our social media profiles. Thanks to media monitoring, we can stay up-to-date on topics worth mentioning, and we can see where we are being discussed. On top of that, we can find interesting threads worth leaving a comment on," Marta comments.
In the case of TimeCamp, Twitter proved to be a particularly interesting platform in terms of how much information users share.

"Such activities are particularly effective with Twitter, whose algorithm outright loves user interaction. For example, we recently contributed to popular threads about programming during business hours, and saw a significant increase in traffic from Twitter and a higher number of registrations," Maximilian says. Marta gives an example of such a situation, where with one Twitter post and reactions to comments, they generated 30 additional hits to the website of their strong target audience – the programmers only. There were 30 entrances and 3 registrations with about 10 minutes of work. That's a 900% increase over the standard user's activity at TimeCamp.
TIP: Twitter's algorithm favors accounts with a high level of user interaction. If you want your brand to be recognized on this channel, consider responding to audience comments more frequently and quickly.
Monitoring the Internet in search of every mention of your brand sounds like biting off more than one can chew. Not so for TimeCamp – "Previously, we performed a large part of the task manually. Using Brand24 made us realize how tedious and time-consuming the process was compared to the operation of a specialized algorithm." 
Competitive and market analysis
Competitor analysis is an important part of any business. It allows you to learn about your competitors' strengths and weaknesses, which can be key to strengthening your position in the market. 
Another benefit that the tool offers is monitoring and analysis of the market using keywords that are related to TimeCamp's business area. "Another task we perform with the help of Brand24 is monitoring the activities of our competitors. This ensures that we always keep an ear to the ground," Maksymilian says.

As a tool for monitoring time at the computer, they monitor keywords such as:
  ・ timecamp,
  ・ time tracking,
  ・ time management,
and other topics connected with productivity at the computer. 
If you want to keep up with your industry competitors, monitor their activities and not miss anything in the competitive environment then a social listening tool such as Brand24 will not only make it easier to search the Internet but also speed up these activities.