Responding to user needs
For Jacek, monitoring mentions is essential, but analyzing the recipients and authors of content related to the Ultrakrew campaign seems even more crucial. Why did someone comment on this? In what context? Who is this person? To better respond to your audience's needs, you must first get to know them well.
The pandemic allowed Jacek to understand how important the whole action is in the social dimension. "Many people wrote to us informing us that they could not attend the event in person. They asked if there were any other forms of participation in the whole action," – recalls Jacek. In response to this willingness to participate, the GoKrew mobile application appeared. It combined the charity and sports dimensions of Ultrakrew.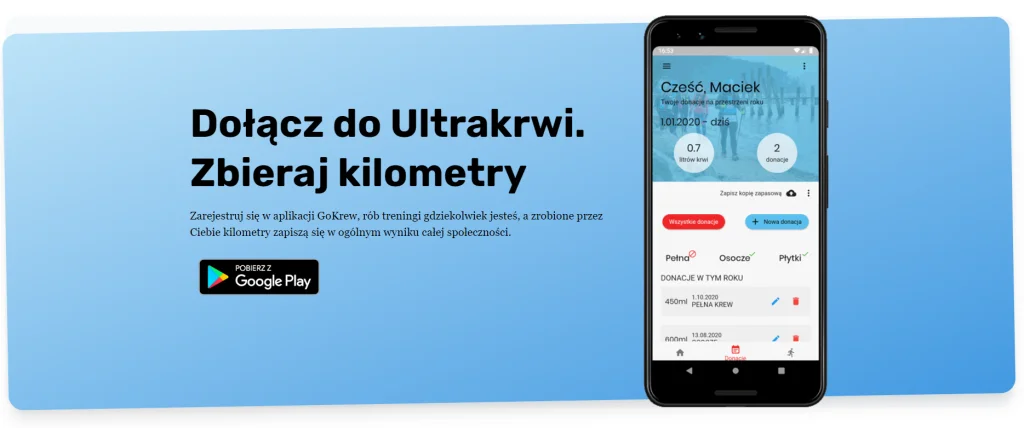 Collecting and analyzing references to Ultrakrew, Jacek also drew another important conclusion – "The level of knowledge about blood donation in Poland is deficient. People want to educate themselves, asking questions on forums related to this issue, but the quality of the answers is awful," he says. In response, they decided to organize an information campaign to promote substantive blog resources and information for blood donors. Thus, they want to ensure the recipients get quality content that will be a collection of practical advice on blood donation. 
Such activities are important in the context of business or company development. In marketing, we talk about stepping into the user's shoes. What better way to do that than by analyzing information extracted from the source, i.e., monitoring the behavior of our recipients with the help of Brand24?