5 Easy Ways Social Media Can Rock Your Inbound Marketing Strategy
January 12, 2016 ・ 5 min read
Looking to improve your inbound marketing strategy? In the inbound marketing methodology, social media is part of the initial stage where you're attracting people to your website. Along with SEO and your blog, social media is an important means of attracting new visitors and hopefully converting these into leads.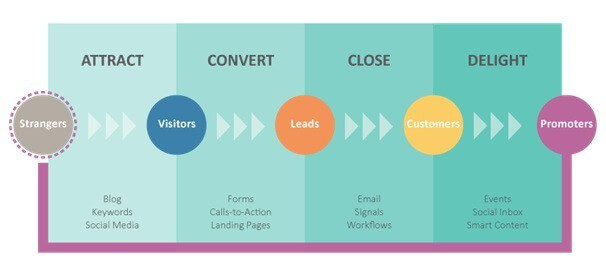 However the benefits of social media are not just restricted to the first stage. You can use social media throughout the entire buyer journey. Here's how you can get the best out of social media to improve your ROI of your inbound plan:
1. Attract New Readers to Your Site
What's great about social media is you can talk to millions of people, for free. Rather than standing outside in the cold with a billboard, you can sit behind a desk and engage with readers from a computer (and stay warm).
Social media is an important tool for attracting new visitors to your site but you will only succeed in getting new people if you make your posts relevant for readers. During your personal research you will discover the topics your ideal customers are interested in reading.
Create social posts based on these optimised topics, make them insightful and engaging. Use language and imagery that's eye catching (remember you're competing with other companies on social media). Every month look at your social media posts and note which ones received the best response, learn from them to improve your future posts to attract more readers.
2. Build Your Brand
Social media is an excellent means of putting your brand under people's noses, building up an authority and also interacting with any potential customers online. It's a fast and easy means of communication and people who see your social media profile can get a good idea what your business is about just by looking at your posts.
As part of your inbound marketing strategy, you want to show your readers and customers that you're a reliable company with credible information they can trust. You can build the brand of your business by how you present yourself on social media. The images you use, the topics you talk about and your tone of voice will help you engage with people online and help build your brand.
Before you start on social media, determine what tone of voice you want to use for your business and what types of posts you will be sharing. You need to share content that is relevant to your ideal customers and make sure your topics and weekly posting is consistent to keep your readers interested.
Take inspiration from social media pros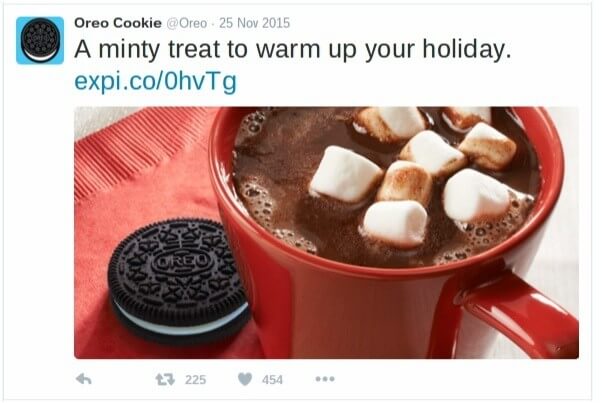 Oreo shares fun and quirky images of their cookies. This Christmas inspired image is certainly a treat for their followers. If you have a look at Oreo's newsfeed on Twitter you can see there is a consistency with what they post. They focus on creating comical and heartwarming graphics centred on their cookie product – this is what their followers enjoy seeing!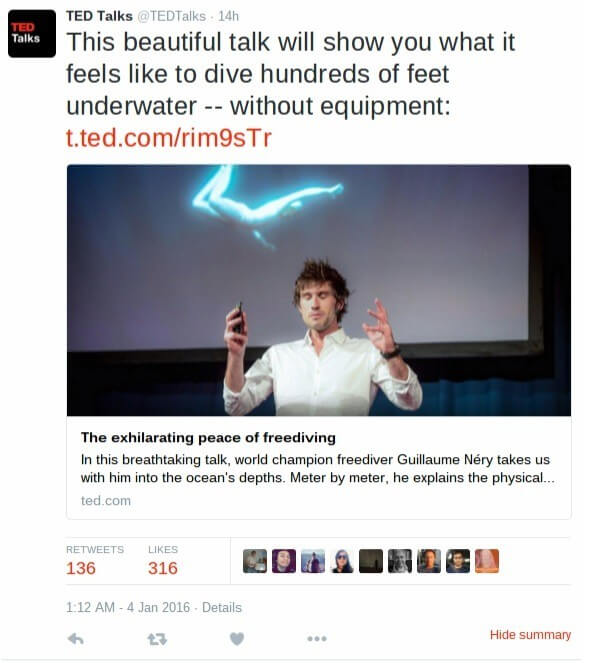 TED Talks shares innovative, inspirational and educational chats. When you look at their newsfeed, you can see they are consistent with the types of posts they share. The use of terms such as 'breathtaking' and 'exhilarating' will appeal to their personas – casual yet educated readers looking for daily inspiration online.
3. Social Engagement Shows Your Company Cares
One survey in 2014 estimated 51% of employers look at an applicant's social media profiles before they decide to hire them.
Just like this, more potential customers are checking out business' social media before they decide to buy their products or services. Active social media profiles can give people insight about a company and avoid being scammed.
The way you respond to customer enquiries and feedback on social media can be a benefit or a detriment to your inbound strategy. Responding positively and being considerate to bad reviews, shows you're a business who cares and this looks good in the eyes of potential customers reading your responses.
4. Social Ads Engage With More Readers
Creating social ads can help maximise the use of social media as a tool for attracting new visitors to your site. Most people prefer using social media for posting and sharing because it's free, but creating paid social ads can get your ads in front of the right people, faster.
As long as you use them correctly, social ads can be very beneficial for your inbound marketing strategy.
These are the three factors you need to consider before you pay for your social ad.
Relevant – Is your social ad relevant? Will people care when they see it? Create posts that are relevant and your audience will care about.
Audience – Choose your audience carefully. You want your posts to be seen by the right people rather than wasted on people who aren't interested. During your research and setup of your inbound strategy, you will know who your ideal customers are; focus your social ads on them. Have a contacts database? Most social platforms now allow you to upload this data to an Ads manager. Use this to turbo-boost your targeting.
Timing – Is the social ad you want to create time sensitive? Some social ads do well because they are live at the right time. Consider your audience as you need to think what time they will likely be most receptive to your ads.
5. Transform Readers into Contacts
As social media is described as a tool in the initial process of any inbound marketing strategy, some people forget you can use social media to convert visitors into contacts, and even customers.
As you build your brand on social media through consistent posting and social ads, you can increase your readership and get more followers. The more followers and engagement you have can encourage more people to your site and increase the likelihood of conversion.
Quick tip: Offering 'follower only' discounts and incentives can bring in those middle of the funnel readers and push them to the checkout.
So there you have it – social media is a long term tool that can be used to attract, convert, close and delight; and boost your inbound marketing strategy. If managed correctly it can quickly support and improve any business, brand or eCommerce site.
About an Author:
Digital 22 is a UK based inbound marketing agency. Rikki Lear is a director and has been in the digital marketing industry for 8 years and is certified by the Chartered Institute of Marketing, Google, Bing and Hubspot