Entrepreneurs who own online shop websites for more than a couple of years have had their fair share of difficulties, especially when it comes to search engine optimization (SEO). This process is the most important part of building visibility within search engines' unpaid or organic results. The most widespread method to achieve visibility is through creating content. It is easy to fill up your eCommerce store with content, but not all content ranks higher in search engines. Let's look at the essential tactics that help your eCommerce gather visitors who convert into customers.
Avoiding Duplicate Content
The websites that contain duplicate content have smaller chances of even competing for higher rankings. That's because search engines cannot decipher which of the websites with the exact same information is more valuable for the search query. Thus making it hard for retailers who sell a large number of the products of the same category.
This video does an excellent job explaining how to handle and avoid duplicate content:
Content problems can occur when URL parameters used for tracking don't modify the content, or when another website doesn't link back to the original source, but another version of it. When multiple URLs take users to the identical data, the possibility of ranking higher decreases.
This can be fixed by using canonical URLs. Canonical URLs are the "correct" URLs for a certain piece of content. To identify the duplicated content, it is best to use Google Webmaster Tools. Webmaster tools will help you uncover the problems regarding duplicates so you can solve them.
Furthermore, if you manage your site in WordPress, its SEO plugin helps you establish a canonical URL by filling the intended field.

Product Photo Modification
Photos are very important for any eCommerce website. Without them, people wouldn't even scroll through your site, let alone purchase anything. The key points you would want to watch out for are the alt tags, image file size, and product variant images.
Alt tags are chunks of text which serve as a substitute for images that cannot be rendered by a browser. Adding alt tags links your images with keywords. That way the photos deliver SEO value to the website.

The image file size can really ruin the user experience. Websites load much longer when they contain larger images. If a viewer has to wait more than 3 seconds for the photo to load, he will probably leave the site soon. Correct this by reducing the file size of each image.

If a certain type of product is available in more than one color, make sure you provide product variant images. They help users decide which color to pick. The screenshot below shows one of REI's hiking boots. They provided a product variant in the listing to choose which color you prefer.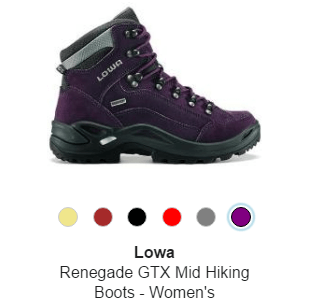 Better Product Descriptions
Product descriptions can pose huge problems when they are non-existent or fall under the same category. When you provide images, but no text, it is bad for search engines as they cannot see them. Therefore, they mean nothing without text. So make sure to provide item descriptions.
Nevertheless, the descriptions don't help if they're badly written or if the same exact text is next to ten different products. It is thus creating the same content all over again. Don't shy away from using unique words and emphasis. The image below shows a screenshot from Monsoon's online shop. They used two fairly different descriptions for the boots of the same type.
Chelsea Boot number 1: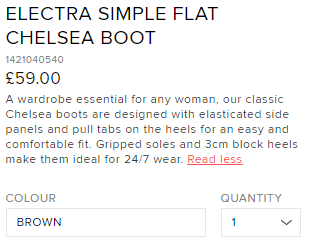 Chelsea boot number 2: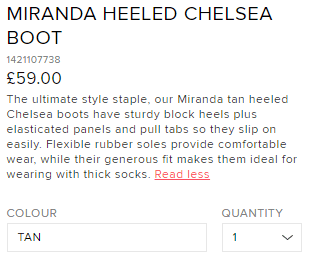 Reviews
Customer reviews are the most underrated part of every online shop, even if you use hosted eCommerce platforms. Some online retailers exclude them completely from their shops, not knowing that 72% of people will take action only after reading a positive review. Following are some benefits reviews can bring:
User feedbacks create a unique and free content for your site. Plus, it is updated rather fast.
Improvement of long-tail keywords. The buyers of your products leave reviews in language similar to that of a whole target group.
The highest-rated sites automatically rank higher on Google.
Lastly, rankings can help you realize what is wrong with your products and how can you change that. The easiest way to implement reviews to your site is by using a ready-made solution like ReviewBuddy.
Social Listening
Social listening can be used to spot the places where consumers talk about your product. Having discovered it, you can engage these communities and increase your e-store traffic. Social media monitoring tool, like Brand24, in real time collects mentions relevant to your business from all over the internet. Mentions can be related to your business, industry, type of a product, etc.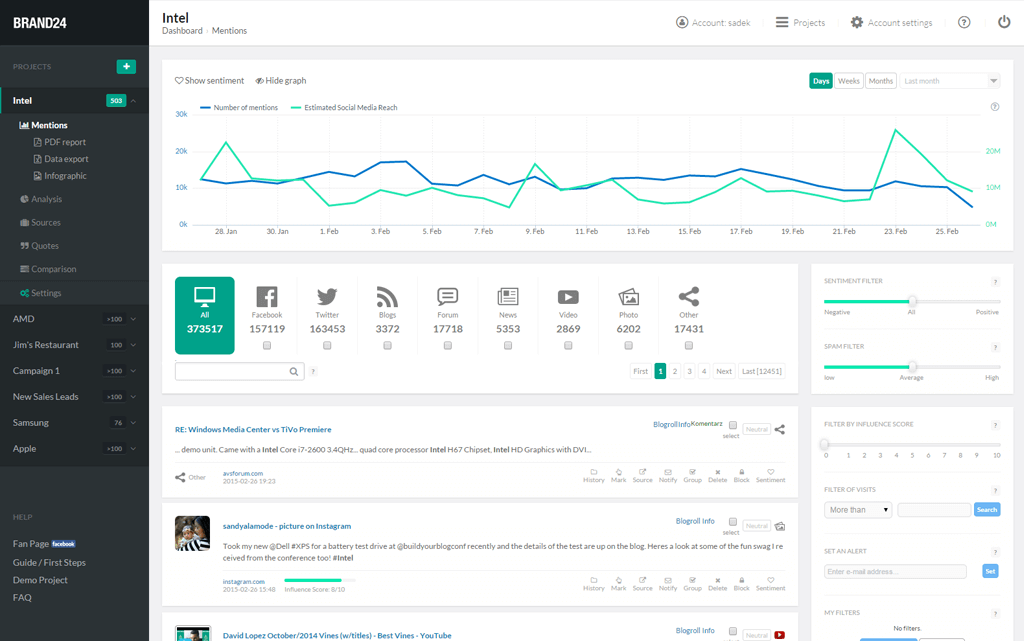 Also, you can track online mentions of your store and request authors to backlink them. Here are other 12 powerful ways social listening can improve your business. And here you can sign up for a trial. It's completely free.
Conclusion
Online retailers often have problems with their website's search engine ranking. Little they know that those rankings can be vastly improved if they follow certain tips. The most important SEO tactics for eCommerce websites are avoiding duplicate content, photo, and product description modification, and adding reviews to the site. Every eCommerce owner should make use of these simple steps to assure his position in the sea of online retail and increase ecommerce valuation.
If you want to delve deeper into SEO, don't forget to check an article about adjusting a Google+ profile to improve your website's SEO.
Author bio:
Lea Kuscer is a writer who works for payever and enjoys gathering and sharing information about the newest trends in technology. Apart from doing word craft, she is relaxing her mind by traveling, painting and creating natural cosmetics and eco-friendly jewelry.