This is another success story of a company that showed off on social media with great skills of engaging users online. More and more companies use monitoring tools to collect and engage with content about their brands or products. So did Volvo, a Swedish multinational car manufacturing company, that won the Internet on Thursday morning making a small gesture towards one of Facebook users. Read on and learn social media management from the best.
It was a typical Thursday morning while I was scrolling through my social media news feeds in search for some interesting information. When I was browsing Facebook, I stumbled upon a screenshot with a piece of Facebook chat conversation that was shared many times on the platform. The discussion was held between a Facebook user and official Volvo Fanpage.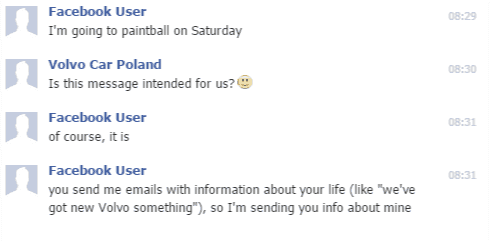 This short chat made me smile. The guy informed the company about his Saturday plan to play paintball. A person that manages Volvo's profile probably got confused and wanted to ensure if this messaged was supposed to be sent to them. The Facebook user confirmed that, explaining that if they email him with information about their life (like "we've got new Volvo"), he might as well report them about his life.
OK, that was nice and kind of funny, but probably nobody expected any other response from Volvo's side. Those who did not were very wrong.
The brand decided to surprise a guy who proved a good sense of humor. They shared an image with Volvo car's interior presenting a transmission and a gun next to it. The message under the picture was even more interesting: "We know from some sources, that Tomek is going to play paintball this Saturday. Tomek, admittedly, we don't have professional equipment for this sport, but we will lend you a professional Volvo car for the weekend! Drop us a message, so we can discuss details!"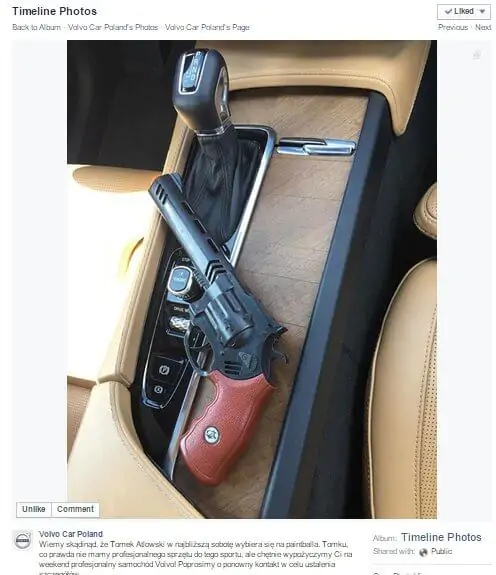 The message was well-received and widely shared. People loved how the Volvo marketing team played it and, of course, Tomek was more the happy to hear this news.
The post above has got over 18 thousand likes, 840 shares and hundreds of comments (and still counting). All the content about Volvo reached to over 0.5M users and got over 30K likes (data from the monitoring). With this small stunt the company managed to get wide social media reach, high engagement and a new brand ambassador.
And it's all thanks to being alert and responsive to mentions about a brand. People post loads of content on social media and it is crucial to stay up-to-date with it and react properly and as soon as possible. This is why social listening is getting more and more popular, becoming one of key areas of business operation. As it enables to track mentions about your brand in a real time, you will not miss any comment that might be important to your business.
Well played, Volvo, well played…
UPDATE: Here is another example of companies that listen to their audience. Audi's witty and timely response to this case was just brilliant. A few hours after Volvo posted an image on its Facebook page, Audi shared a video on Fanpage with a comment saying: "Paintball only with #Audi!".