⚡ FEATURE UPDATE⚡ TripAdvisor & Yelp Monitoring
December 20, 2017 ・ 3 min read
Do you run a restaurant or own a B&B? If you do, you must be present on TripAdvisor or Yelp.
Reputation management is an inevitable part of online presence. Today, we rolled up a brand new feature that will help you manage your online reputation — TripAdvisor and Yelp monitoring!
Monitor online reviews of your company and competitors, and gather them in one dashboard.
How cool is that? Just keep reading!
If you're in restaurant or hotel industry, TripAdvisor and Yelp should be the apple of your eye.
TripAdvisor has has over 570 million reviews and millions of users who are your potential customers. Customer reviews and recommendations have a huge influence on purchasing decisions, therefore it's extremely important to hone your online reputation.
Browsing a number of websites in the search for customers talking about your business can be a struggle — you spend lots of time on browsing one site after another.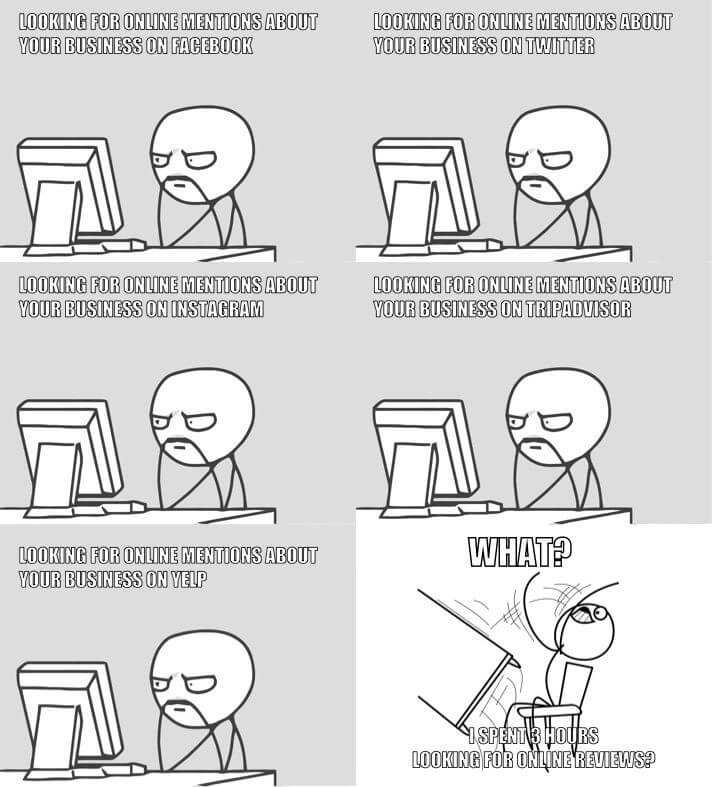 We've got your back here — TripAdvisor and Yelp monitoring is now here.
Good reviews = your success
Online reputation management is becoming more and more important these days.
It's crucial to remember that Internet users share online not only their disappointments but also positive feedback and customer experiences. Your competitors are just on click away and information spreads in the nick of time. Having this in mind, it's good to take a proper care of your online reputation.
Restaurants, hotels and other businesses with good reviews and scores attract the attention of consumers which in the long run translates into profits.
Zendesk's research shows that 90% of consumers say good reviews influence their purchasing decisions with 63% of consumers is ready to pay up to 15% more for a better customer experience.
More than 82% of customers read online reviews before making a purchase.
Your positive reviews work as social proof that can be used as testimonials on your website. What's interesting, Yelp shows that a half-star difference can increase customer interest by 27%.
Integrating Brand24 with TripAdvisor and Yelp
With our newest feature, you can easily collect all online reviews from TripAdvisor and Yelp in one dashboard.
You can collect not only online reviews of your business, but also keep track of your competitors and their reviews.
With TripAdvisor and Yelp monitoring, you're done for good with browsing the web in the search for online reviews. Sounds good?

Set it up
To start collecting online reviews, you need to already have a project up and running.
Three clicks is all you need to do. 
Click Edit next to a project you want to integrate with TripAdvisor or Yelp.
Go to Additional sources tab.
Paste in the link you want to monitor. Done!
And here's how to do it:
But what if I don't have an account or project?
It's all good — I'll explain.
You can create your free account here. No credit card required.
Once you create your account, you'll get to the project creation wizard.
Enter your keywords related to your business, for example, your company name.
Choose your language.
Click Get mentions. Done!
Here's a video tutorial to help you out:
Best practices of project creation
When creating your project, it's good to remember about other keywords related to your business, such as:
Unique hashtags
Names of your social media accounts
Website address
With such a project, you can monitor both mentions of your keywords from all across the web, including websites, social media, blogs, news sites, forums and review sites TripAdvisor and Yelp.
With automatic reports, you don't even have to look inside the dashboard — all important mentions arrive to your inbox in reports.
Still hesitating? Give it a try. It's absolutely free and no credit card required.