10 Pieces of Best Reputation Management Software
December 29, 2018 ・ 5 min read
Reputation management software is a reasonable choice for businesses of all sizes that have online presence. Tracking customer feedback, media mentions, negative comments and press on the web, by hand is next to impossible. Reputation management software is an affordable way to manage reputation management of an online business. Have a look at 10 of the best of reputation management software out there.
Small to medium companies might not afford the most popular reputation management software simply because of their price.
When it comes to free reputation management software, there is Google Alerts – a very basic Internet monitoring tool from Google. The tool, however, doesn't perform well in essential tasks needed for effective online reputation management.
Still, if you want to learn more about Google Alerts, here's a comparison of it with Brand24, a Google Alerts alternative.
Fortunately enough, there's good deal of inexpensive reputation management software that are just enough to keep track of what the world says about your business, products, and services on the web.
Here are the best online reputation management software out there.
---
I can't talk about online reputation management tools without mentioning our own Brand24 – a media monitoring tool mostly for small and medium companies.
Apart from many various sources Brand24 covers, and analytical capabilities, there're few particularly important ones for reputation management:
Email notifications
Storm Alerts
Daily and weekly reports
Slack notifications
Sentiment analysis
PDF reports
You also get legendary customer support!
Prices: Starting at $49. See prices
---
Founded in 2005, Brandwatch has become one of the best online reputation management software there is. It's a web and social media monitoring with lots of powerful functions mostly for medium and large companies.
One feature is particularly handy – reputation management dashboard and it's just a starting point.
Pricing: Starts at $800 and increases with volume of data
---
Another online reputation management tool is Mention. As one of the top web and social media monitoring tools, Mentions does a great job as an online reputation management software tracking company mentions across social media and websites.
Mentions has also a separate tool to monitor and analyze online reputation management – The Brand Grader.
Pricing: Starts at $29 a month
---
Reputology is a reputation management software for small, medium, and large companies. The great thing about it is that it strongly relies on location which is something of huge value for business operating locally.
Reputology offers solutions for customer feedback, review monitoring, and text analysis.
Prices: Starts at $10 / one location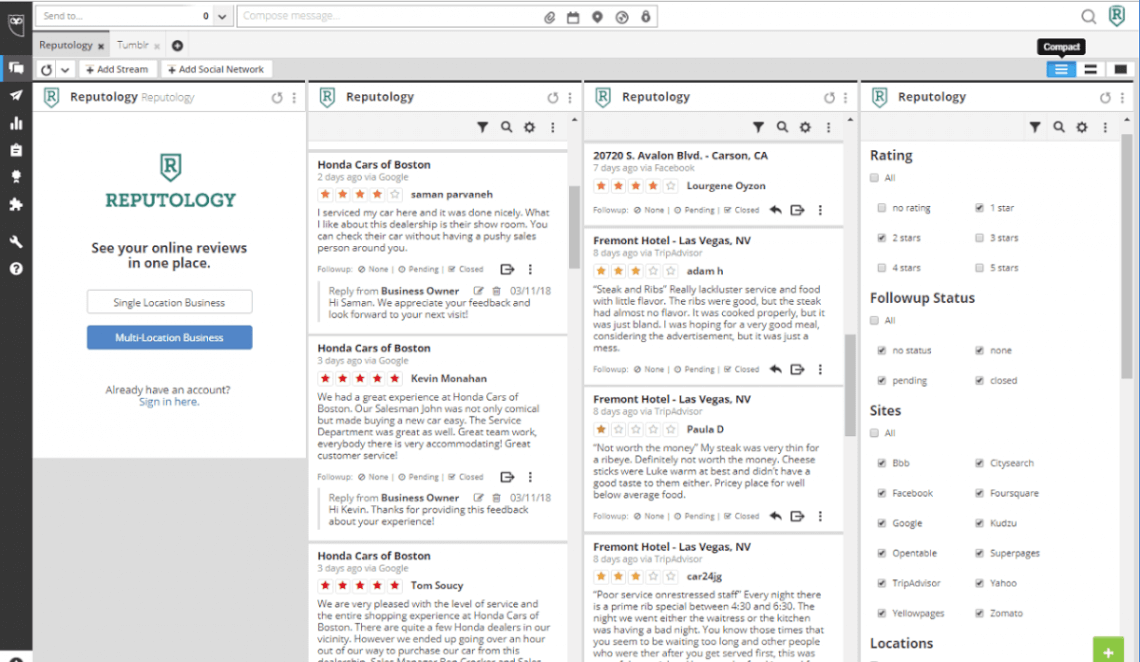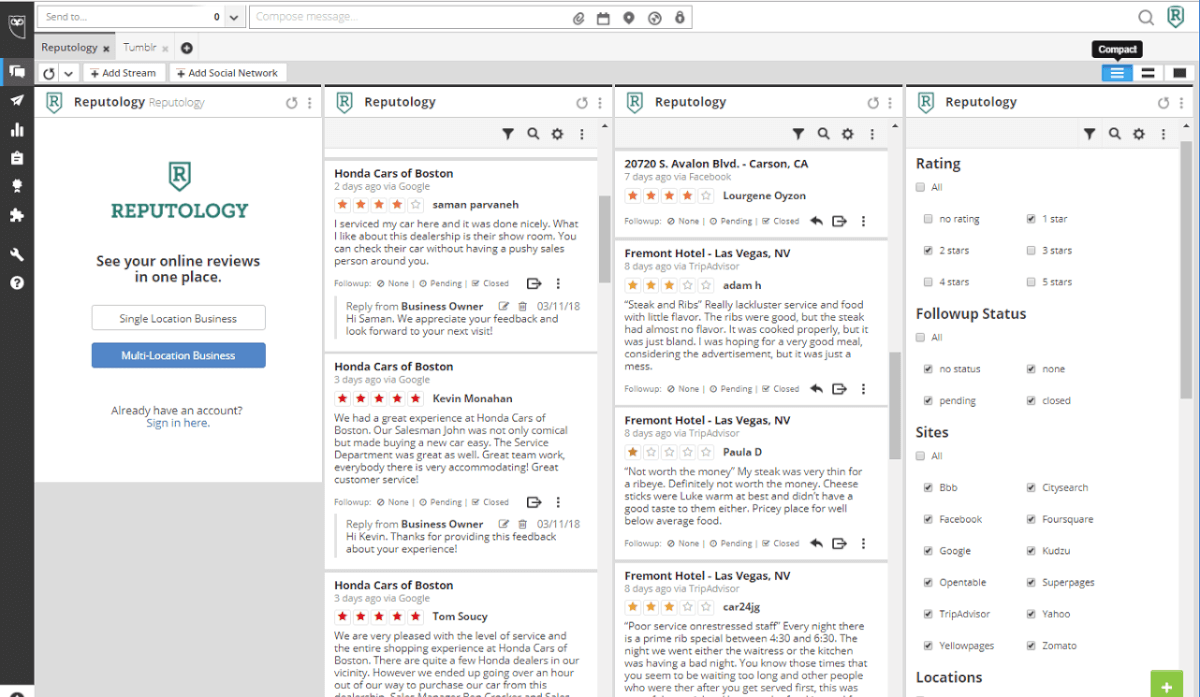 ---
BirdEye is another piece of SaaS software that helps manage online reputation by giving the user tools to hone customer experience. Apart from the strong focus on reviews, BirdEye offers a glimpse into Google search reputation of an online business.
Other cool features that make BridEye stand out include surveys, web chat and customer insight algorithm based on reviews.
Prices: Contact BirdEye to get a quota
---
Another worth-mentioning online reputation management software is Podium. Similarly to BirdEye, Podium concentrates on managing and improving customer experience.
Some of the most important features include messaging platform, reviews management, webchat and feedback management.
Prices: Contact Podium to get a quote
---
It's an all-in-one online reputation management software with solutions stretching beyond reputation management.
Some of the features include social listening and an engagement platform, Online Reputation Management platform, Reputation Score, and Business Listings.
Prices: Contact Reputation.com to get a price
---
Yext is a data management tool to keep track of your business' location-related information on multiple business directories. The tools helps you manage the business listings your business is present on and find new ones.
Moreover, it provides solutions for local SEO, and voice search optimization.
Prices: Starting at $199 / year
---
Sprout Social is another social media monitoring tool you can use to manage your online reputation. It not only allows social media monitoring but also provides sentiment analysis, reporting, review management and other features to help you take care of online reputation.
Prices: Starting at $99 a month.
---
There's no conversation about online reputation management without mentioning Hootsuite. The tool allows managing reputation across social media platforms and offers plenty of features to make managing, analyzing and reporting even more effective.
Prices: Starting at $19 a month. See prices
---
Free reputation management masterclass
If you happen to try Brand24, you might be interested in our Media Monitoring Masterclass which is now free on YouTube.
It's a crash course that covers fundamentals of media monitoring and reputation management using our software.