The 10 Best Online Reputation Management Software [2023 Guide]
November 24, 2022 ・ 21 min read
Online reputation management software can be a lifesaver for businesses looking to protect their brand. It can help you maintain a positive image online. Let's figure out which tool is right for your business. This blog post will also introduce you to reputation management benefits and tips. So read on!
Table of contents:
What is online reputation management?
It is the process of monitoring, analyzing, and improving a brand's online presence. It includes identifying, managing, and responding to online reviews and ratings to maintain a positive online reputation.
Why is it important?
In today's digital age, online reputation management is increasingly important. More and more people are using the internet to research businesses before making purchase decisions. What people say about you online can have a real impact on your company.
A strong reputation has always been one of the keys to a company's success.
Reputation is an outcome; but it is also a valuable, strategic asset.
Brand24 is a tool that monitors the online reputation of your brand.
Benefits of a well-managed online reputation
According to Invoca, 81% of potential customers use the Internet to research the company before purchasing. That is why it is important to stay in control of it and manage your online image.
Gives a competitive advantage – At some point, your potential customers will decide whether to buy your or your competitor's product. Believe me, they will likely choose the brand with a stronger online reputation.
Brings popularity – Help to establish strong brand awareness, which refers to being first in customers' minds when thinking of a particular industry or category. In that case, you need to manage your reputation. It will make you more visible on the market and among competitors. The more people talk about your brand online, especially positively, the more popular you will get.
Makes your brand more trustworthy – A solid online reputation confirms your credibility and the best social proof you can think of. It certifies the quality and value of your product or service. It is a sign of your customers' loyalty and attachment.
Attracts top talents – a good online reputation can also help you attract top talent to your company. The best employees want to work for companies with a good reputation, which also reflects positively on them.
Reduced customer service costs – Businesses with positive online reputations typically receive fewer customer complaints, as customers trust that the business will resolve any issues they may have in a satisfactory manner.
Word-of-mouth advertising – Customers who have had a positive experience with a business are more likely to tell their friends and family about the business. Word-of-mouth is an effective form of marketing because it is seen as more trustworthy than traditional advertising methods.
10 online reputation management tools
There are a number of great online reputation management tools available. They will let you:
Keep an eye on what's being said about your business online,
Respond quickly if any negative content or comments arise,
Protect your brand's image,
Track customers' feedback,
Ensure your customers have a positive experience when interacting with your business online.
Have a look at the best reputation management tools:
01 Brand24
Free 14-day trial. Individual plan for $39.
Brand24 is one of the best reputation management software money can buy: it's easy to use, effective, in-depth, and affordable.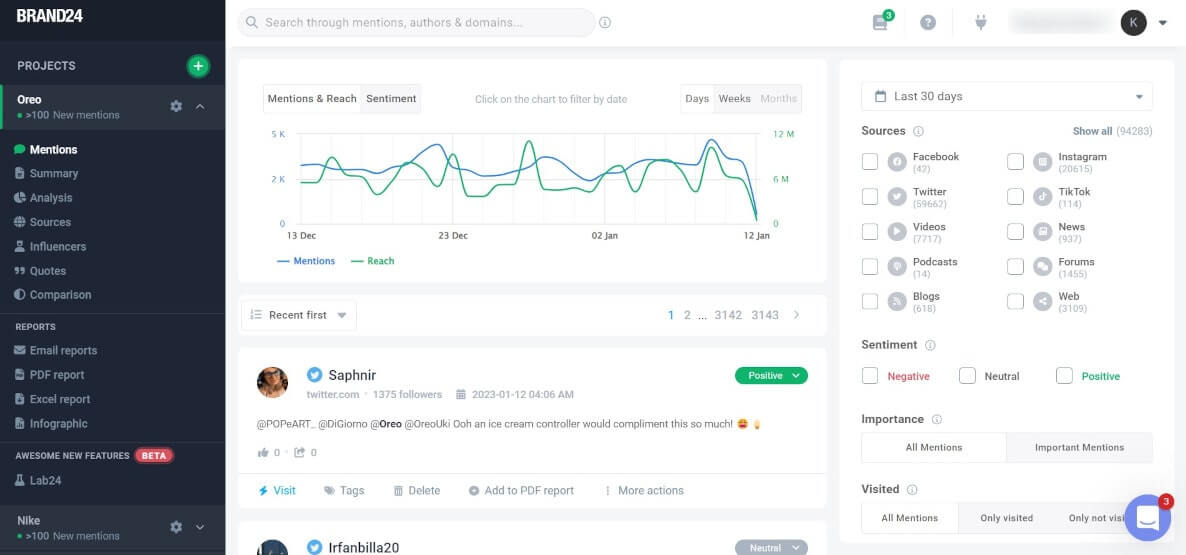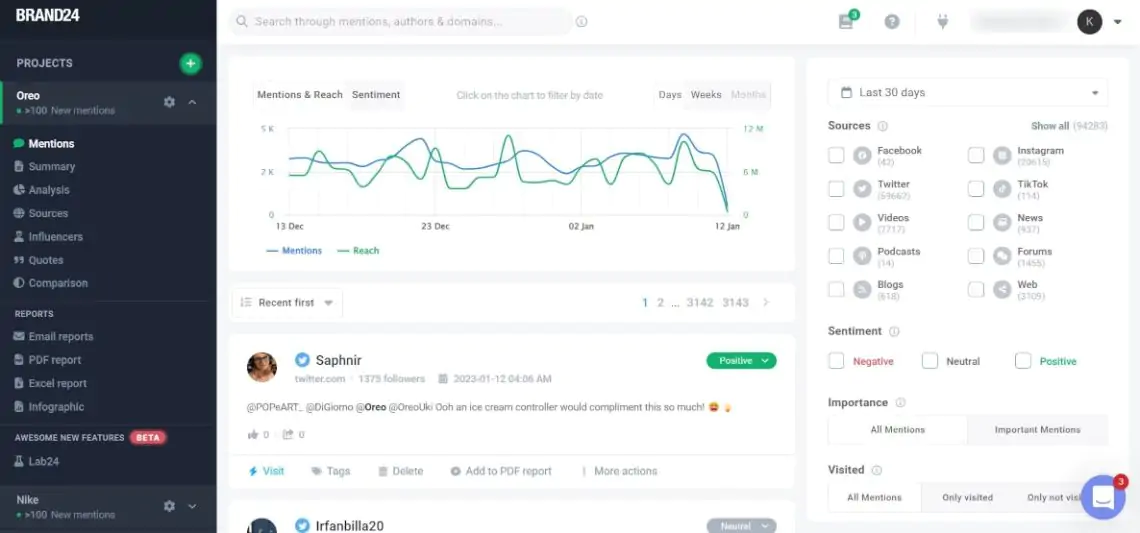 It's a media monitoring and analytics tool which offers great insight into an online presence. It helps you track what people say about your brand online, so you can quickly address any negative sentiment.
The tool not only collects mentions of any keyword from social media, such as Twitter, Instagram, Facebook, Reddit, Telegram, and TikTok.
What's more, it monitors news sites, customer reviews, review sites, blogs, discussion forums, podcasts, videos, and other places.
The tool also analyzes the performance of these mentions on numerous levels:
Sentiment analysis
Reach and social media reach
Most influential sources
Most popular sources
Trending hashtags
Most popular mentions
What's important, Brand24 has Reputation Score metrics that measure brand reputation. 

All online mentions of your keywords arrive on one dashboard. However, you can also receive them by:
Email: Daily and weekly reports, Storm Alerts
Slack
Mobile app
You also get legendary customer support!
Use the social listening tool to detect the Reputation Score of your brand!
02 Brandwatch
Detailed pricing is available upon request.
Brandwatch is online reputation management software. It allows you to monitor and respond to online reviews, social media posts, and other online content. It also provides tools for analyzing online sentiment and identifying influencers.
With Brandwatch, you can see all online mentions of your brand in one place, including on social media, news sites, and forums.
One feature is particularly handy – the reputation management dashboard, and it's just a starting point. Brandwatch is used by medium and large companies.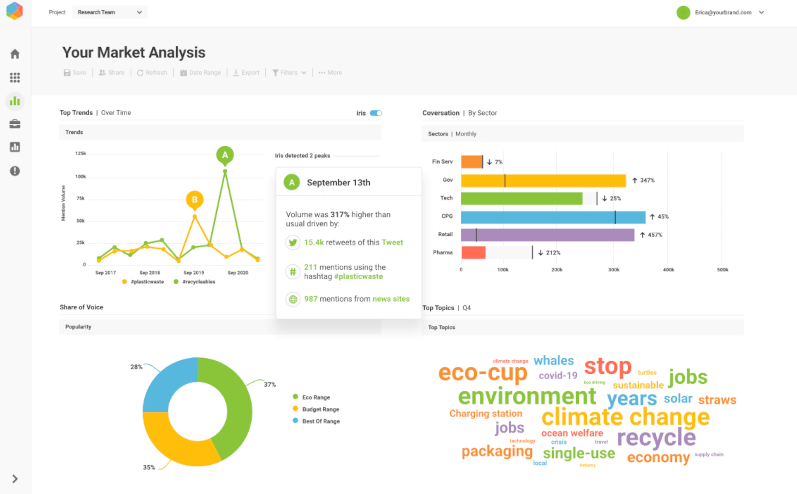 Check: Brandwatch Alternative
03 Mention
The Solo plan costs $49 per month.
Mention is software that can help you to monitor and control your online reputation. As one of the top web and social media monitoring tools, Mentions does a great job as an online r tracking company mentions across social media and websites.
Mentions also have a separate tool to monitor and analyze online reputation management – The Brand Grader.
To use the sentiment analysis feature, you must buy a Pro plan that costs $99.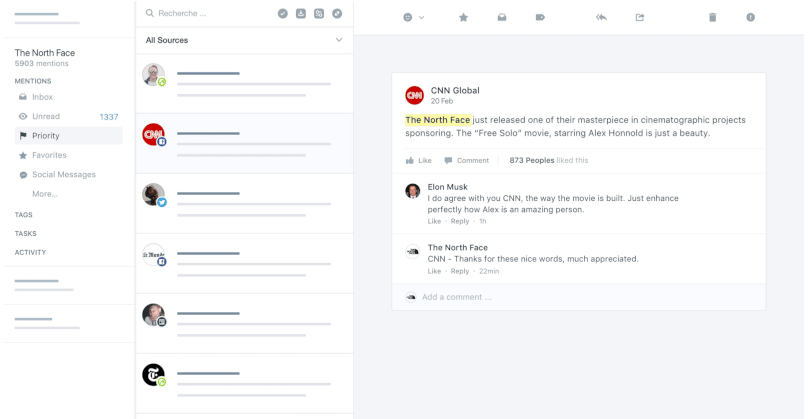 04 Reputology
The Single Location plan costs $29 – $49 per month and location.
Reputology is software for small, medium, and large companies. The great thing about it is that it strongly relies on location, which is something of huge value for businesses operating locally.
Reputology offers solutions for customer feedback, review monitoring, and text analysis.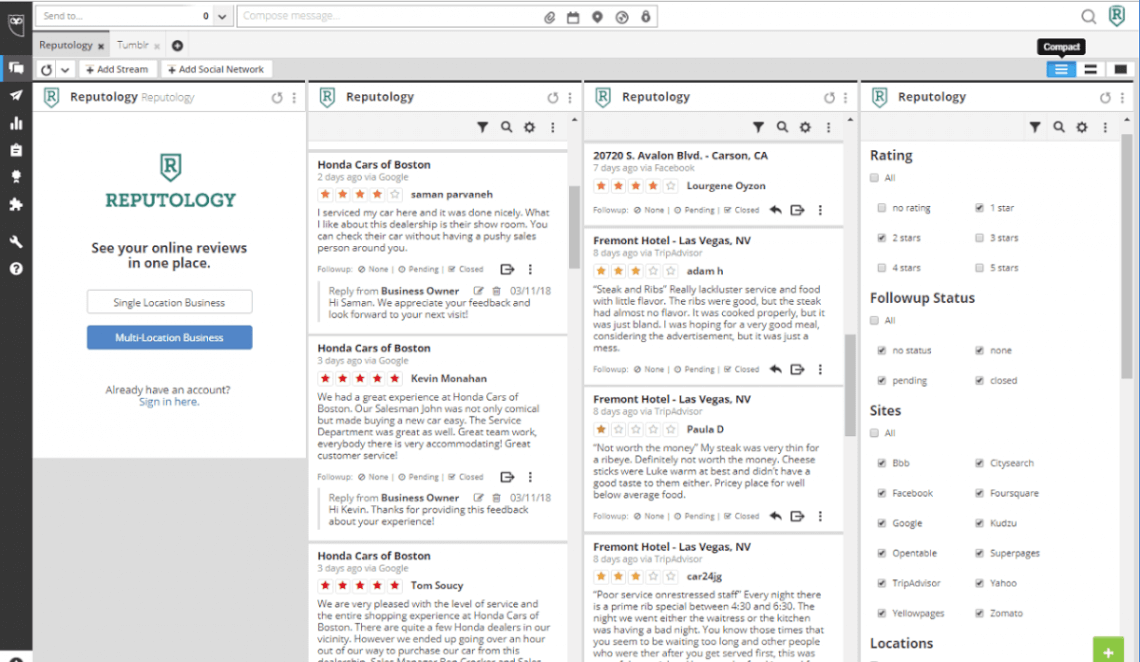 05 BirdEye
Detailed pricing is available upon request.
BirdEye is another SaaS software that helps manage reputation by giving the user tools to hone customer experience. Besides the strong focus on reviews, BirdEye offers a glimpse into the Google search reputation of an online business.
Other cool features that make BridEye stand out include surveys, web chat, and a customer insight algorithm based on reviews.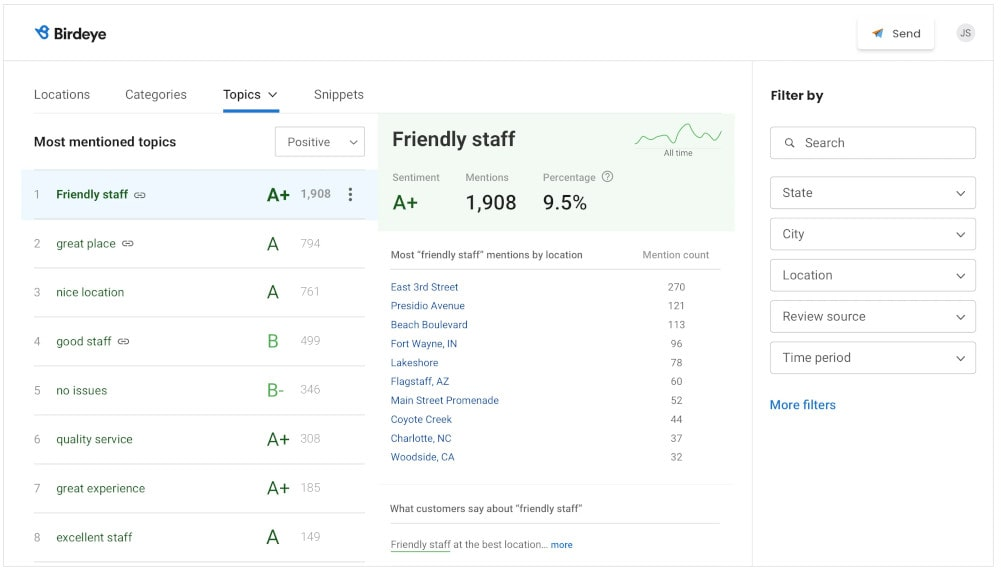 Use the social listening tool to detect the Reputation Score of your brand!
06 Podium
The Essentials plan costs $49 per month.
Another worth-mentioning reputation management tool is Podium. Similarly to BirdEye, Podium concentrates on managing and improving customer experience.
Some of the most important features include messaging platform, reviews management, web chat, and feedback management.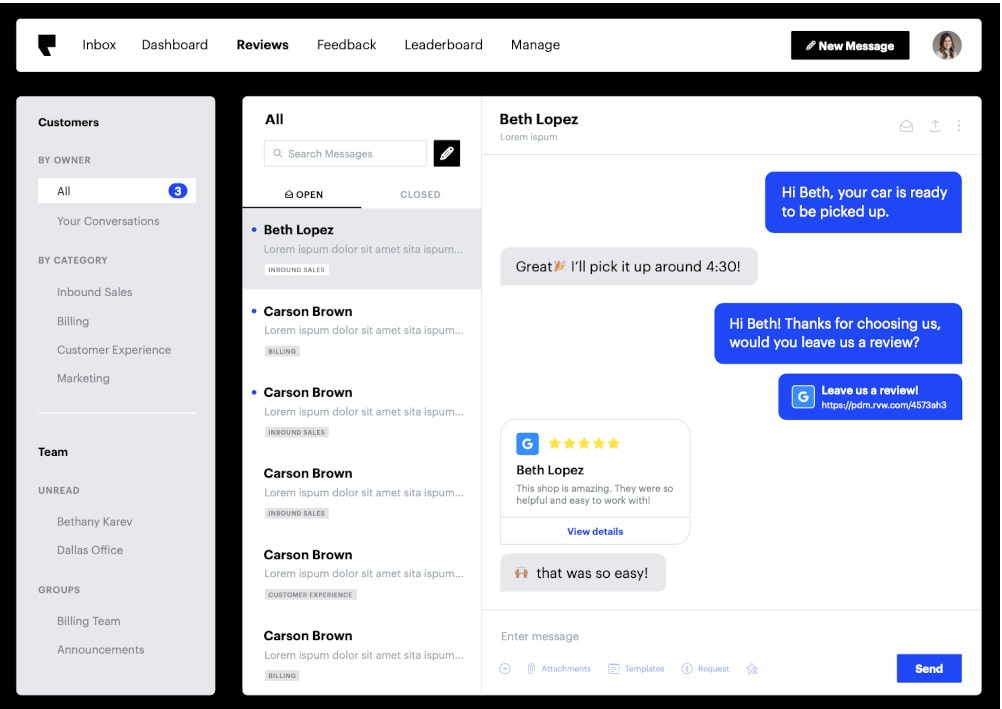 07 Reputation.com
Detailed pricing is available upon request.
It's an all-in-one reputation management software with solutions stretching beyond reputation management. The tool helps to understand the sentiment and analyze feedback.
Some of the features include social listening and an engagement platform, an online reputation management platform, a Reputation Score, and Business Listings.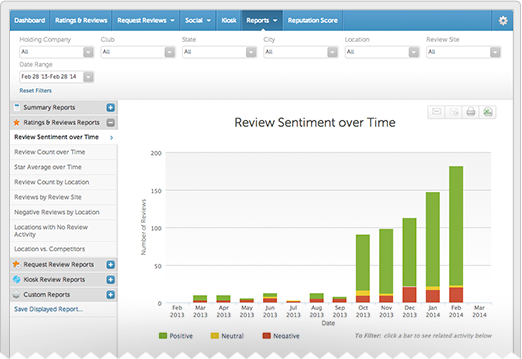 08 Yext
Detailed pricing is available upon request.
Yext is a data management tool to keep track of your business location-related information on multiple business directories. The tools help you manage the business listings your business is present on and find new ones.
Moreover, it provides solutions for local search engine optimization (SEO) and voice search optimization.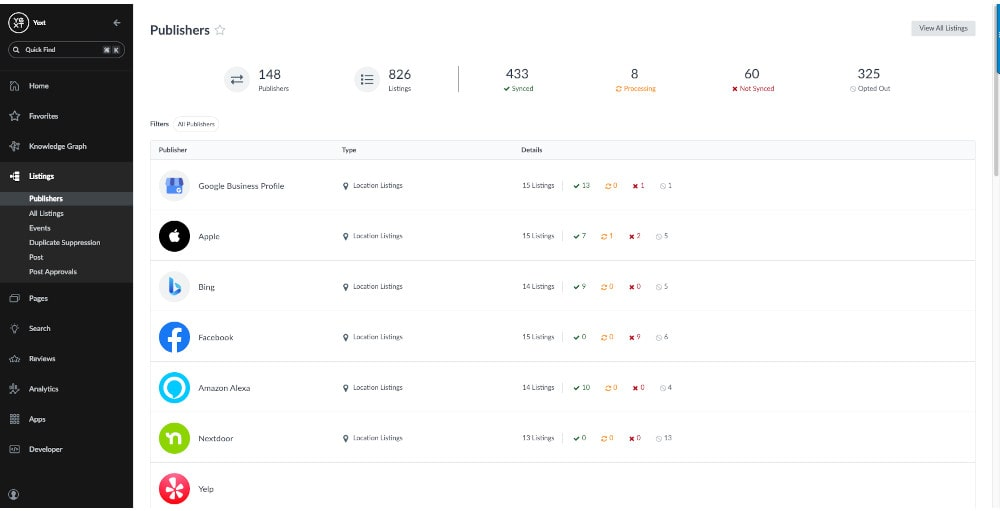 09 Sprout Social
The Standard plan costs $249 per month.
Sprout Social is another social media monitoring tool you can use to manage your online reputation.
It provides sentiment analysis, reporting, review management, and other features to help you take care of your online reputation.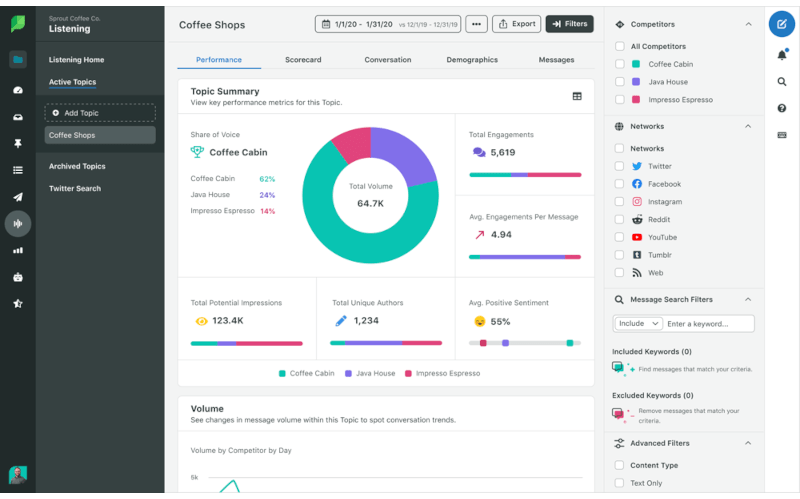 Check: Sprout Social alternative
10 Hootsuite
The Professional plan costs $49 per month.
There's no conversation about online reputation management without mentioning Hootsuite.
The tool allows for managing reputation across social media platforms and offers plenty of features to make managing, analyzing, and reporting even more effective.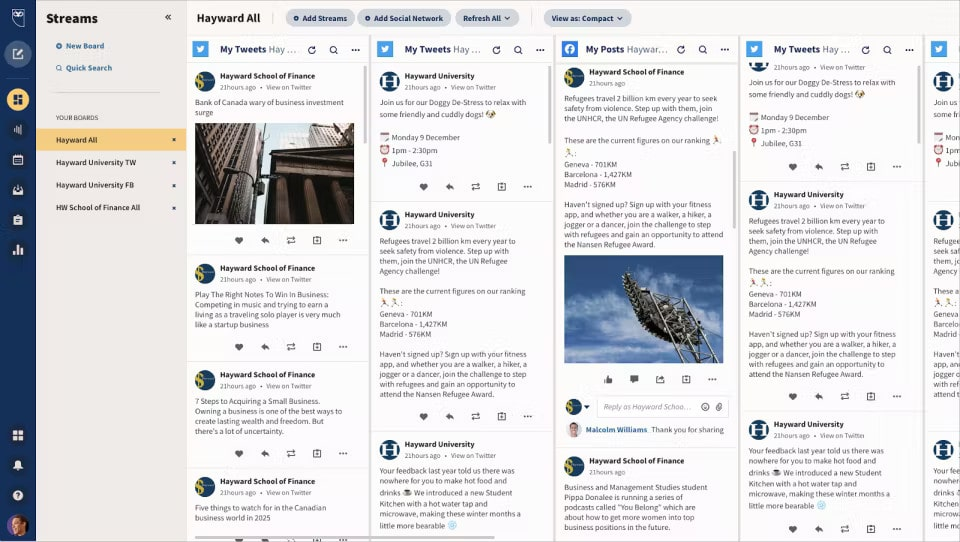 How to choose an online reputation management tool?
There are a lot of tools available. How do you know which one is right for you? Here are a few things to keep in mind:
First, consider what your goals are. Do you want to improve your online presence? Or are you trying to repair the damage that has already been done? Depending on your objectives, you'll want to look for different features in a tool.
Next, take into account your budget. You need to invest a little bit of money to access powerful tools that can help you achieve your goals.
Think about your level of expertise. If you're not very familiar with the brand's online reputation management, you'll want to look for a tool that's easy to use and understand. On the other hand, if you have some experience, you can get by with a more complex tool.
Finally, look at reviews and testimonials. See what other businesses have said about the online reputation management services you're considering. Read both positive and negative reviews to get a well-rounded view.
By keeping these factors in mind, you can choose the software that's right for you.
Can you monitor the brand reputation for free?
Small to medium companies might not afford the most popular reputation management tools simply because of their price.
Regarding free reputation management software, there is Google Alerts, a very basic Internet monitoring tool from Google. The tool, however, doesn't perform well in essential tasks needed for an effective online reputation management platform.
Still, if you want to learn more about Google Alerts, here's a comparison of it with Brand24, a Google Alerts alternative.
Fortunately enough, there are good and inexpensive reputation management tools that are just enough to keep track of what the world says about your business, products, and services on the web.
How to manage online reputation with a monitoring tool?
First, think about keywords that will help you reach online mentions of your business.
Choosing the right keywords and hashtags and setting up your monitoring project correctly is important. If you do so, the tool will surely provide valuable and accurate results that will help you manage your online reputation.
Which keywords should you monitor?
Your brand name
Your branded hashtag
Names of your social media accounts
Names of your products or services name
Other keywords relevant to your business
What's more, tools like Brand24 offer lots of other features that make online reputation management quantifiable and easy:
Metrics of volume
Metrics of influence
Metrics of Engagement
Sentiment analysis
Email notifications
Push notifications
Graphs, comparisons, and other gizmos and gadgets
Even more!
Sentiment analysis segments positive, negative, and neutral mentions. It helps you get a better understanding of customer attitudes & spot problematic areas that need immediate attention.
For example, this detection lets you find negative online reviews before it's too late. We all know that these can impact your reputation the most.
Being able to reach out to people who are dissatisfied in the first place enables you to prevent unflattering opinions from spreading. Time and immediate response are key when it comes to managing reputation.


Alerts and reports let you be the first one to discover changes in the volume of discussion around your brand.
A sudden change in the reach or number of mentions may be caused by a positive or negative situation. Whether your new campaign is extremely successful and the buzz around it rises, or an influencer posts an unfavorable opinion about your brand – Brand24 will inform you about the source of the changes and let you react to it immediately.
This is how you can not only learn about online sources talking about your business but also measure it and see in numbers how it performs. This helps you draw valuable conclusions and learn insights that can improve your reputation management strategy and marketing, leading to a better customer experience.
To do online reputation management yourself, learn how to monitor your brand on social media and beyond.
Free reputation management masterclass
If you try Brand24, you might be interested in our Media Monitoring Masterclass, available for free on Udemy: Media Monitoring: Guide to Online Reputation Management.
It's a crash course that covers the fundamentals of media monitoring and reputation management using our software.
Manage and monitor the reputation of your brand on the internet!
Online reputation management strategy
A good strategy can help keep your company's name clean and protect your bottom line. Here are some tips to get started:
01 Gather data
First of all, online reputation management starts before any actions on the Web and in social media – the first steps are about gathering, analyzing, making sense of data, and turning it into actions.
The very first step should be implementing a web and social media monitoring tool – it will be much more affordable than hiring the reputation management companies I mentioned before.
What for?
To collect online mentions about your business
To see sentiment analysis of these mentions
To see the volume of conversation about your business
All in all, to get a picture of the online presence of your business

Keeping up with customers' thoughts and opinions can help you spot problem areas first, prevent PR crises, reach out to both satisfied and dissatisfied customers, build relationships with them and react before it's too late. All of these actions will let you be in control of your brand reputation.
Once data is gathered, it's time to go through it with a prying eye for:
Mentions from the influential web and social media authors as they reach many people
Negative mentions and reviews
Suggestions of improvements
Customer pain points
Positive feedback and reviews
This process gives an idea of the online reputation of a business.
02 Analyze your reputation
In the next step, you should analyze your reputation and draw conclusions. It's time to give your findings a thought, think about what you can improve, and turn them into actions.
Example: You stumble upon numerous complaints about a long response time to customer queries. Since the only people to respond to customers seeking help are yourself and your partner, and you're already overwhelmed with other responsibilities, you realize these complaints are true to the bone. To satisfy your customers and improve your reputation in terms of customer service, you need to hire a full-time customer service assistant. From this moment, your customers will be taken care of immediately, and your reputation in their eyes will improve.
This is where online reputation management influences the performance and processes of a business.
03 Take actions
In my theory, external online reputation management activities depend on influencing an online perception of a company. It means a whole bunch of actions to communicate, shape, and protect a company's online reputation in social media and beyond.
Proactively responding to positive online mentions of business
Proactively responding to negative mentions and reviews
Do not neglect any opinions made about you, especially online. Try to understand every client's point of view and appreciate every word of suggestion or advice they give you.
Listening to feedback can give you loads of valuable insights that you might use to develop and improve your brand. These kinds of efforts will be rewarded with a constant, good reputation.
Proactively answering customer questions
Solving and mitigating problems customers write about online
Acquiring customer feedback and insights
Presenting customer testimonials and success stories in various forms
Managing reviews sites and marketplaces
Implementing website plugins boosting credibility
Online reputation management is a multistage process that gets easier with the help of dedicated tools and activities.
How to monitor online reputation?
You can research online reputation management companies and pick one to cooperate with. But an online reputation management service can be expensive.
The second, more cost-effective way is to use a social media monitoring tool.
Media monitoring is the process of tracking online media outlets in search of pieces of information mentioning particular topics.
Information found in the media can have a commercial, business, or scientific value.
Brand monitoring is about tracking mentions of your company, your products, services, and also following keywords connected to your industry or competitors.
This method lets you immediately communicate with people who talk about your product and service. Being present in customers' conversations is key if you want to engage with them, build relationships, and, most importantly, manage reputation.
Some sources media monitoring covers include:
Websites
News sites
Blogs
Discussion forums
Social media platforms
Newsletters
Videos
Podcasts
As we mentioned earlier, media monitoring is fundamental to reputation management as it plugs you into the online buzz about your business.
By following online conversations connected to your business, product, service, or competitors, you can gain knowledge about your brand reputation.
As people nowadays speak their minds all over the Web, manually searching mentions about your brand would be almost impossible.
Here is where media monitoring tools come in handy. They do the research for you. They are the perfect solution for those who wonder how to manage their online reputation in the easiest, least time-consuming, and most effective way.
Clients tend not to tag the social media accounts of companies that they are dissatisfied with. Fortunately, media monitoring tools help you spot all types of mentions that you wouldn't have found manually, including mentions like these ones.
Importance of sentiment analysis
Online reputation management and sentiment analysis go together like peanut butter and jelly.
Sentiment analysis is an algorithm that analyzes text and identifies the emotional resonance of a particular text: whether it conveys positive, negative, or neutral emotions.


It gives you an idea of whether your reputation is positive or negative.
It helps you discover what your customers, the media, or the industry media think about:
Your company
Your product
Your service
Your marketing campaign
Your competitors
It's particularly important in the case of customer complaints, negative comments, press, and reviews as they threaten a company's reputation and, at the same time, are a valuable source of feedback and suggestions for improvements.
Identifying negative mentions, comments and reviews are one.
Using sentiment analysis to identify positive content is important as well. This is how you can not only find your customers, experts, and the media sharing a good word on the Web but also get the social proof and validation of your business actions
This metric can be performed by web and social media monitoring tools. The technology, however, isn't all roses – it faces a couple of issues you can learn more about here: What is Sentiment Analysis? An Ultimate Guide
The benefits of online reputation monitoring:
Helps you stay in control of your online reputation, which is incredibly important;
Lets you find news mentions, expert reviews, negative reviews, and positive comments;
Helps you spot dissatisfied clients, problematic reviews, or opinions first and prevent your company from PR crises;
Allows you to reach out to satisfied clients as well, gain their trust and loyalty, and build strong relationships with them;
Helps you strengthen your customer service by making it easier to communicate with your clients on various online platforms;
Lets you find valuable insights and information, collect feedback and suggestions needed to develop your brand and satisfy your clients;
Gives you a chance to contact your clients directly and show them the human side of your business;
Helps you discover consumer insights – find out what are their needs, preferences, and characteristics to make sure your brand reflects the same values;
Helps you analyze metrics like Sentiment analysis, Social media reach, Non-social reach, Share of voice, Number of mentions, and Engagement.
Challenges of online reputation management
ORM is about mitigating, preventing, and nipping the problem in the bud.
Every type of business should be aware of how reputation can impact the overall image of their business.
Sure – the bigger brand, the bigger impact there is.
This, however, doesn't mean that smaller brands and companies should neglect their online reputation – no matter what the size of a company is, the customer is always just a human who trusts the promise you make.
Keeping a crystal clear reputation requires preventing and sometimes facing the inevitable.
Negative social comments
Negative reviews
Negative feedback
Shitstorms
Bad press
Trolling
Brandjacking
Another challenge of online reputation management is knowing how to handle and react to negative reviews or online trolls.
How to react to negative reviews?
Keep up with mentions of your company.
Set email notifications in your tool to be able to react immediately if something threatens your online reputation.
Act fast.
Time is key while replying to mentions of your company. The longer a customer's complaint, comment, or review remains unanswered, the worse impact it can possibly have on your business. My number one suggestion here would be to respond to bad reviews in the first place, simply before it's too late. These kinds of opinions tend to spread faster than positive ones. Brand24 gives you access to all the mentions of your brand, and sends alerts, and allows for your prompt reaction.
Apologize.
No matter if the reason for a negative review was truly your fault or not, an apology costs you nothing, but it'll certainly help you. If a customer is dissatisfied and driven by emotions, it is always better to show him a little bit of understanding and empathy. It will for sure put you in a better situation.
Hold back your emotions.
It's never a good idea to show your disagreement with an angry customer. Try to respond in a positive manner, act politely, and never show aggression toward your client. It will be appreciated, I promise.
Offer solution.
You can also tell the reviewer how you will fix the problem and prevent it from happening again, offer a discount on a customer's next purchase or visit at your place, or even give something for free if you feel like that's the best way to go.
Do your best to turn it around.
Try to make the best out of every review. Make sure to do everything to deal with an unsatisfied customer. Show your engagement, efforts, and believe that even bad reviews can bring something positive to your business. They can be a source of valuable insights that can help you see people's pain points and develop your product to meet their expectations.
Online reputation management fails
Sadly, some companies neglect online reputation management and manage it poorly when the need arises. Let's have a look at some examples.
United Airlines
Their 2017 flop is probably one of the most infamous online reputation management fails of the new media.
During the summer of 2017, a passenger of UA recorded and shared to Twitter a video of security officers dragging out forcefully another passenger because of an overbooked seat.
The story spread in the blink of an eye, causing outrage across social media, traditional media, and the public in general.
What's more, it was not only the video that shocked people but also the reaction from the CEO of United Airlines, who was distant and victim-blaming.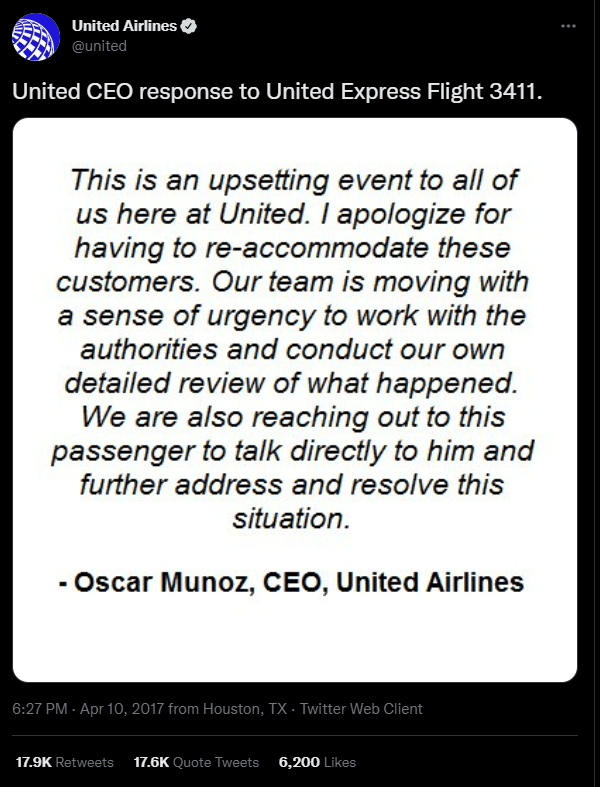 Now, have a look at how this situation affected United Airlines' reputation and business performance.
United's reputation crashed to a 10-year low
Decrease in customer loyalty
Millions of online mentions
Millions of dollars lost in market value
What went wrong: In the first place, the system of overbooking is wrong to the bone. Secondly, security officers made out of an everyday issue a violent scene. Lastly, United Airlines underestimated the power of the Web and social media and how its connectivity spreads information – no one really expected a short Twitter video to have such a devastating impact.
Nestlé
Another example of online reputation management failure is Nestlé and how they handled Greenpeace's accusations of using palm oil which production kills orangutans.
Greenpeace launched a viral ad campaign featuring an office worker having a Kit Kat, which turns into an orangutan's finger.
The ad quickly spread across the Internet sparking outrage.
Nestlé's Facebook page was flooded with negative comments and people asking Nestlé to stop killing orangutans. Instead of admitting it, Nestlé kept saying we welcome your comments, but don't post using an altered version of any of our logos as your profile pic—they will be deleted, which triggered even more negative responses.
What went wrong: Aside from causing environmental damage, Nestlé failed to manage its online reputation during the crisis as it didn't take any mitigating actions. One year later, the new head of digital and social media at Nestlé brought to life a digital acceleration team that became responsible for managing its online reputation 24 hours a day. There you have another proof that reputation influences performance and processes.
Burger King Germany
One of the German TV shows exposed poor conditions in a Burger King restaurant in Germany – unfresh food, dirty kitchens, and bad working conditions.
Burger King Germany responded the next day on Facebook and explained that such conditions concern only 90 franchise restaurants, while for the rest of them, the situation is spot-on.
The head of Burger King Germany admitted that the scandal resulted in massive financial losses. He assured that they're eagerly solving all the issues, talked about improving standards, invited an outside organization to oversee, and he fired the person responsible. Be as it may, the reputational crisis impacted all restaurants across Germany.
What went wrong: Apart from the issues regarding conditions in these restaurants, there was little done to proactively limit the damage. Only after some time did Burger King Germany launch the Tag der offenen Küche campaign to clean up its image.
Manage and monitor the reputation of your brand on the internet!
How much do you know about your online reputation?
Taking control of your brand's online image and reputation takes work.
That's where online reputation management software comes in.
Using the right tool can help you track down and remove any harmful content before it does any damage.
And since prevention is always the best cure, it can also help you proactively build a positive online presence.
So make sure to start using online reputation management software today! Try Brand24 for free!