The 13 Best Online Reputation Management Software [2023]
April 16, 2023 ・ 9 min read
Online reputation management software can be a lifesaver for businesses looking to protect their brand. It can help you maintain a positive image online. Let's figure out which tool is right for your business.
There are a number of great online reputation management tools available. They will let you:
Keep an eye on what's being said about your business online,
Respond quickly if any negative content or comments arise,
Protect your brand's image,
Track customers' feedback,
Ensure your customers have a positive experience when interacting with your business online.
13 best online reputation management tools:
01 Brand24
Free 14-day trial. Individual plan for $69.
Brand24 is one of the best reputation management software money can buy: it's easy to use, effective, in-depth, and affordable.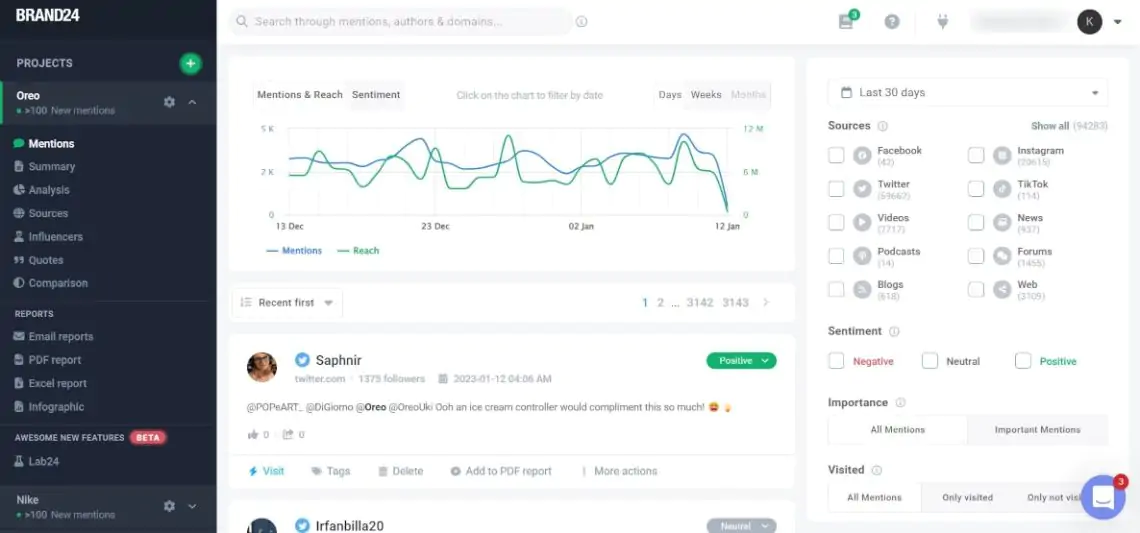 It's a media monitoring and analytics tool which offers great insight into an online presence. It helps you track what people say about your brand online, so you can quickly address any negative sentiment.
The tool not only collects mentions of any keyword from social media, such as Twitter, Instagram, Facebook, Reddit, Telegram, and TikTok.
What's more, it monitors news sites, customer reviews, review sites, blogs, discussion forums, podcasts, videos, and other places.
With Brand24, you can monitor and analyze online reviews posted on review websites such as TripAdvisor, Yelp, Booking, App Store, Google Play, and Trustpilot.
The tool also analyzes the performance of these mentions on numerous levels:
Sentiment analysis
Reach and social media reach
Most influential sources
Most popular sources
Trending hashtags
Most popular mentions
What's important, Brand24 has Reputation Score metrics that measure brand reputation.

All online mentions of your keywords arrive on one dashboard. However, you can also receive them by:
Email: Daily and weekly reports, Storm Alerts
Slack
Mobile app
You also get legendary customer support!
Use the social listening tool to detect the Reputation Score of your brand!
How can social media monitoring help improve your brand's online reputation?
"People rarely say mean things to your face. As marketers, we can't expect unhappy customers will complain on our social media profiles. They're everywhere else, and it's our job to find them. With media monitoring, it's super easy."
Justyna Dzikowska, Head of Marketing at Brand24
02 Brandwatch
Detailed pricing is available upon request.
Brandwatch is online reputation management software. It allows you to monitor and respond to online reviews, social media posts, and other online content. It also provides tools for analyzing online sentiment and identifying influencers.
With Brandwatch, you can see all online mentions of your brand in one place, including on social media, news sites, and forums.
One feature is particularly handy – the reputation management dashboard, and it's just a starting point. Brandwatch is used by medium and large companies.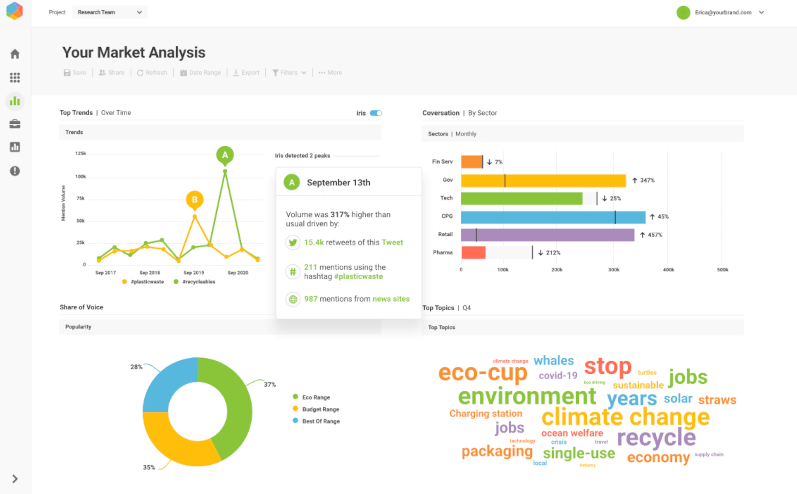 Check: Brandwatch Alternative
Use the social listening tool and detect the Reputation Score of your brand!
03 Mention
The Solo plan costs $49 per month.
Mention is software that can help you to monitor and control your online reputation. As one of the top web and social media monitoring tools, Mentions does a great job as an online r tracking company mentions across social media and websites.
Mentions also have a separate tool to monitor and analyze online reputation management – The Brand Grader.
To use the sentiment analysis feature, you must buy a Pro plan that costs $99.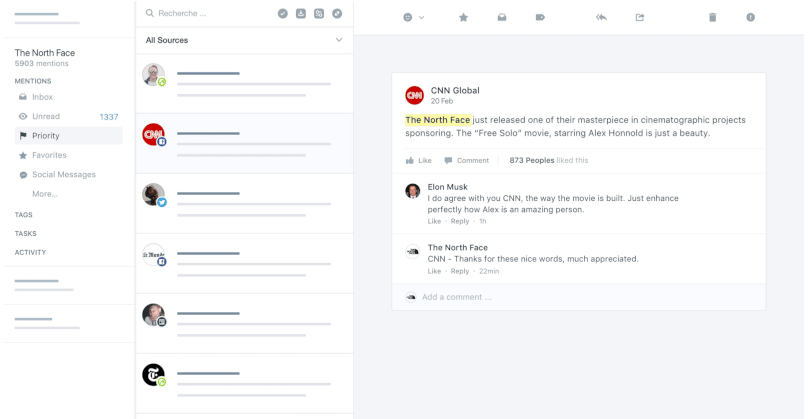 04 Reputology
The Single Location plan costs $29 – $49 per month and location.
Reputology is software for small, medium, and large companies. The great thing about it is that it strongly relies on location, which is something of huge value for businesses operating locally.
Reputology offers solutions for customer feedback, review monitoring, and text analysis. With Reputology, you can respond to customer reviews across multiple review sites from a single dashboard.
The tool provides real-time alerts when new reviews are posted, allowing businesses to respond to feedback in a timely manner.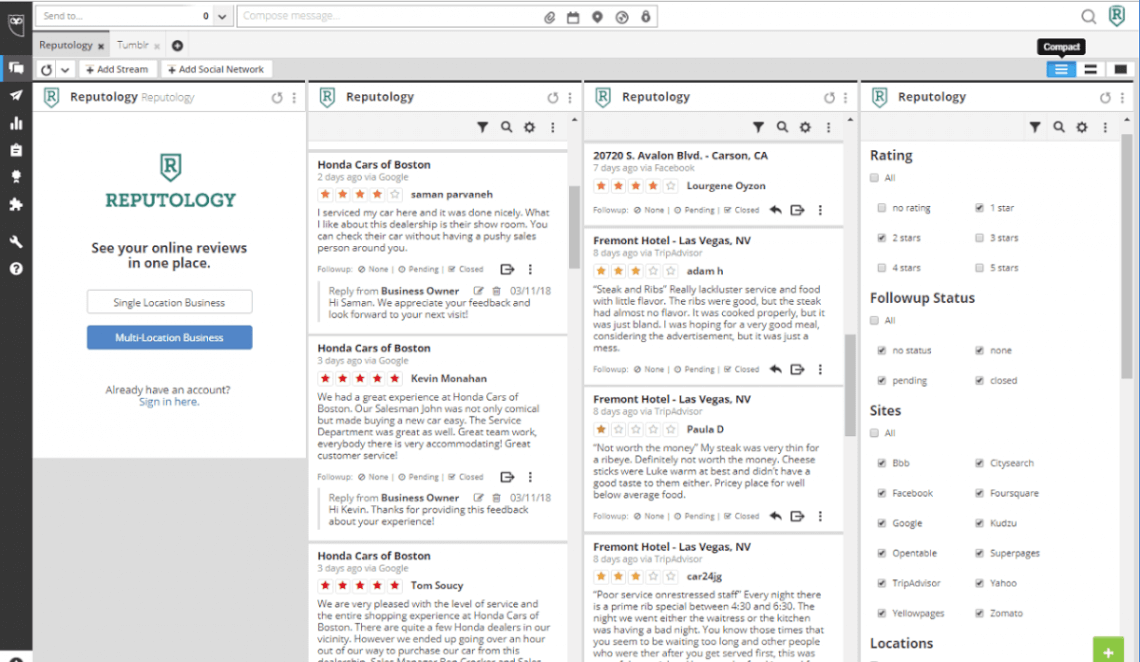 05 BirdEye
Detailed pricing is available upon request.
BirdEye is another SaaS software that helps manage reputation by giving the user tools to hone customer experience. Besides the strong focus on reviews, BirdEye offers a glimpse into the Google search reputation of an online business.
Other cool features that make BridEye stand out include surveys, web chat, and a customer insight algorithm based on reviews.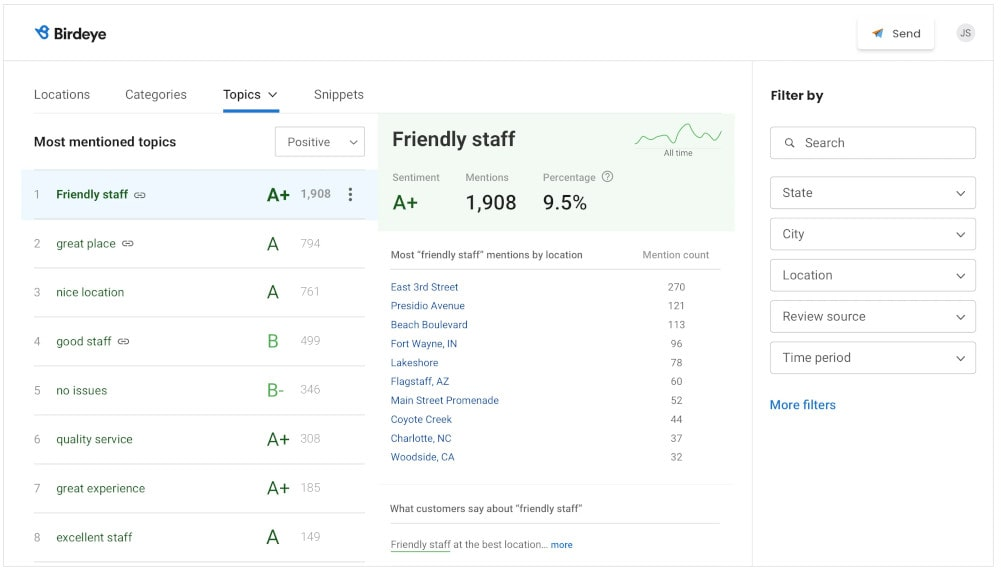 Monitor your reputation and detect the Reputation Score of your brand!
06 Podium
The Essentials plan costs $49 per month.
Another worth-mentioning reputation management tool is Podium. Similarly to BirdEye, Podium concentrates on managing and improving customer experience.
Some of the most important features include messaging platform, reviews management, web chat, and feedback management.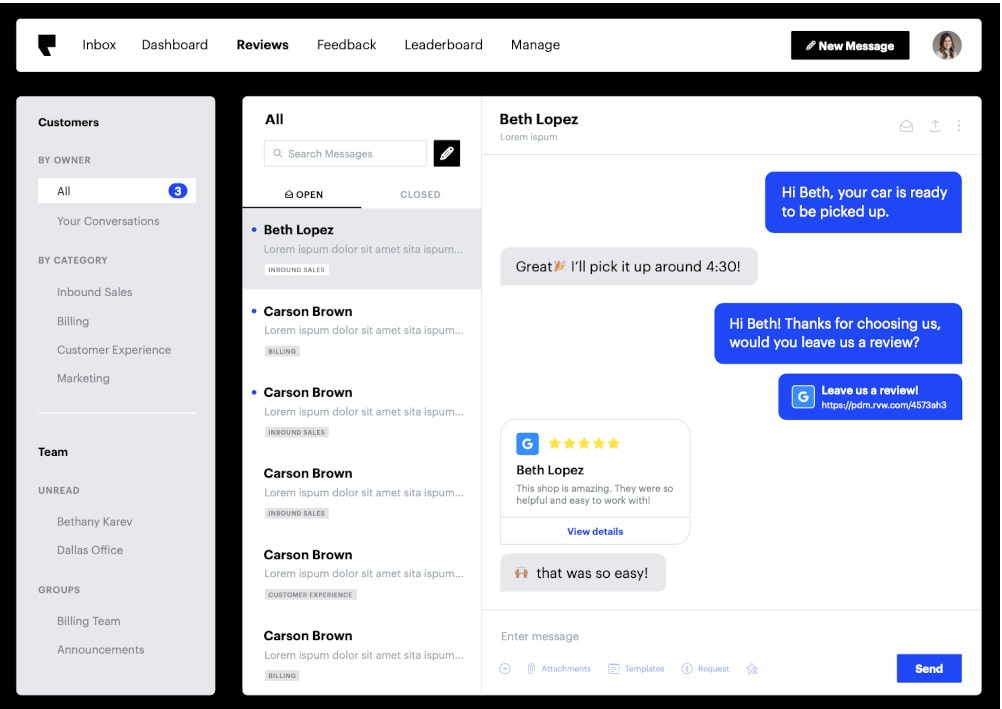 07 Reputation.com
Detailed pricing is available upon request.
It's an all-in-one reputation management software with solutions stretching beyond reputation management. The tool helps to understand the sentiment and analyze feedback.
Some of the features include social listening and an engagement platform, an online reputation management platform, a Reputation Score, and Business Listings.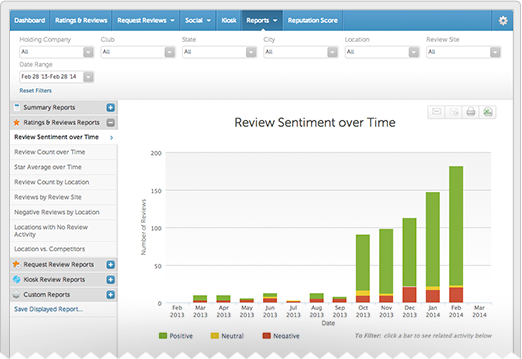 08 Yext
Detailed pricing is available upon request.
Yext is a data management tool to keep track of your business location-related information on multiple business directories. The tools help you manage the business listings your business is present on and find new ones.
Moreover, it provides solutions for local search engine optimization (SEO) and voice search optimization.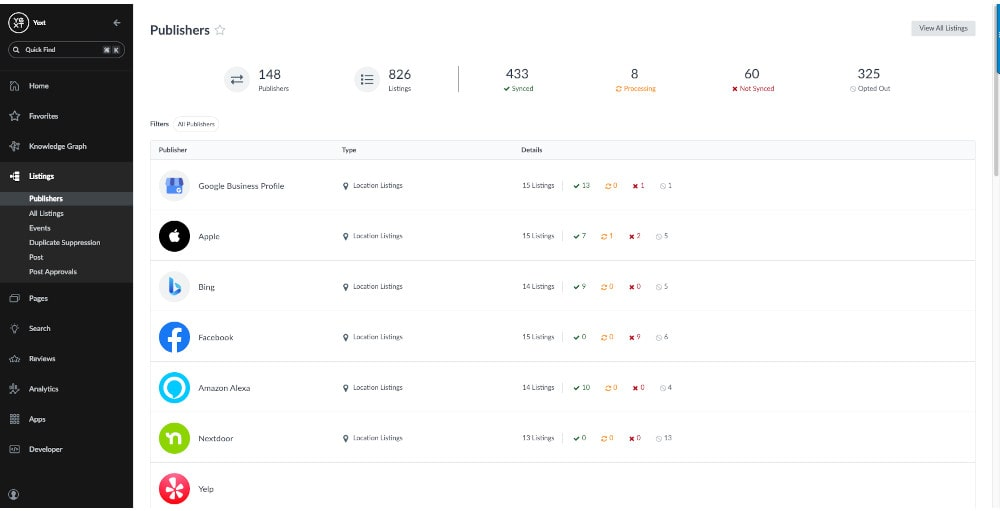 09 Sprout Social
The Standard plan costs $249 per month.
Sprout Social is another social media monitoring tool you can use to manage your online reputation.
While Sprout Social does not offer a specific reputation management solution, it does provide features that can help businesses monitor their online reputation and respond to customer feedback.
It provides sentiment analysis, reporting, review management, and other features to help you take care of your reputation.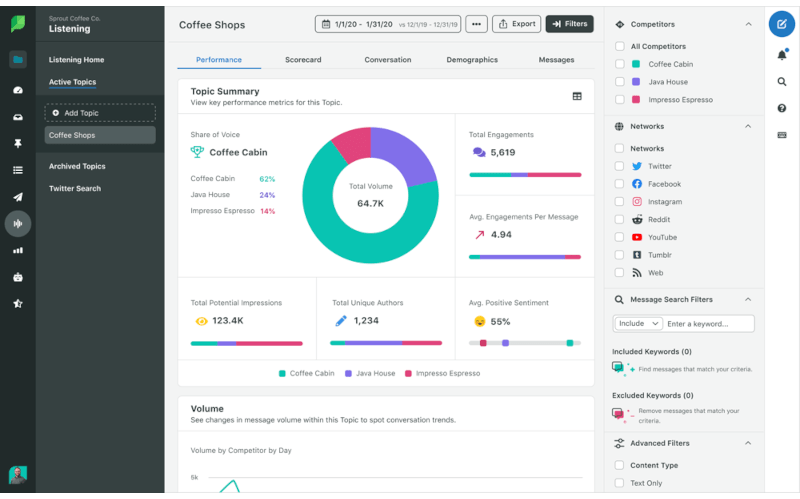 Check: Sprout Social alternative
10 Hootsuite
The Professional plan costs $49 per month.
With Hootsuite, digital marketing specialists can monitor social media channels, blogs, and news sites for mentions of their own brand or keywords related to their industry.
The tool tracks brand sentiment. This allows you to detect the tone of conversations around your brand. It's also a great way to keep an eye on your products and campaigns.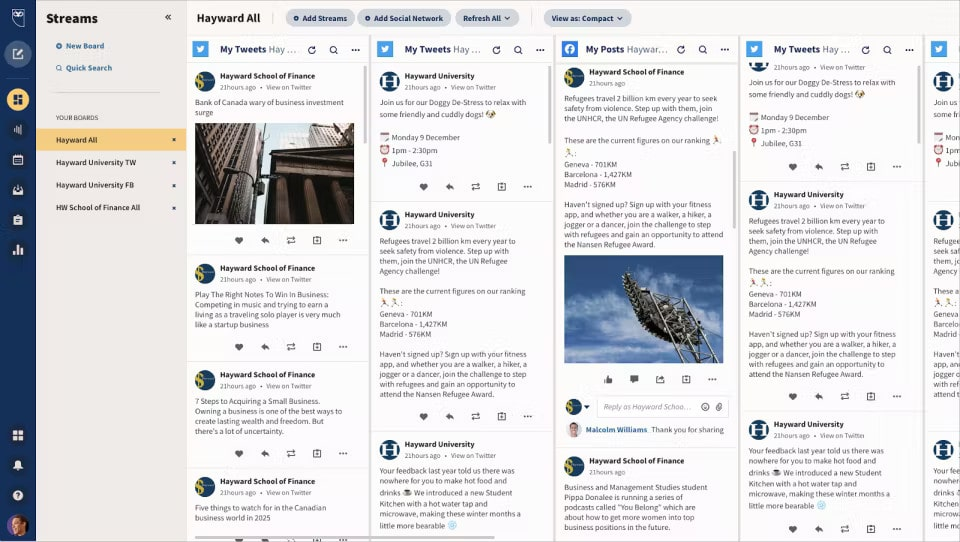 Monitor your reputation and detect the Reputation Score of your brand!
11 BrandYourself
Detailed pricing is available upon request.
BrandYourself is a tool that helps manage your personal online reputation.
It allows you to track and analyze search results, social media activity, and review sites and provides personalized guidance on improving your online presence. BrandYourself provides monitoring and reporting features that allow you to track their online reputation over time.
The tool provides real-time alerts when new mentions of your brand are detected, allowing you to respond to customer feedback in a timely manner.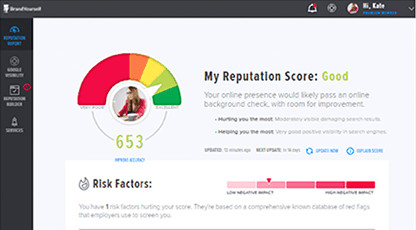 12 Digimind
Detailed pricing is available upon request.
Digimind is a social media monitoring and analytics tool that provides businesses with insights into their online reputation, among other things.
With Digimind, businesses can monitor their brand mentions across social media platforms, news sites, blogs, and other online sources in real-time.
The tool provides sentiment analysis, which allows businesses to track the tone of conversations around their brand and identify potential issues before they become crises.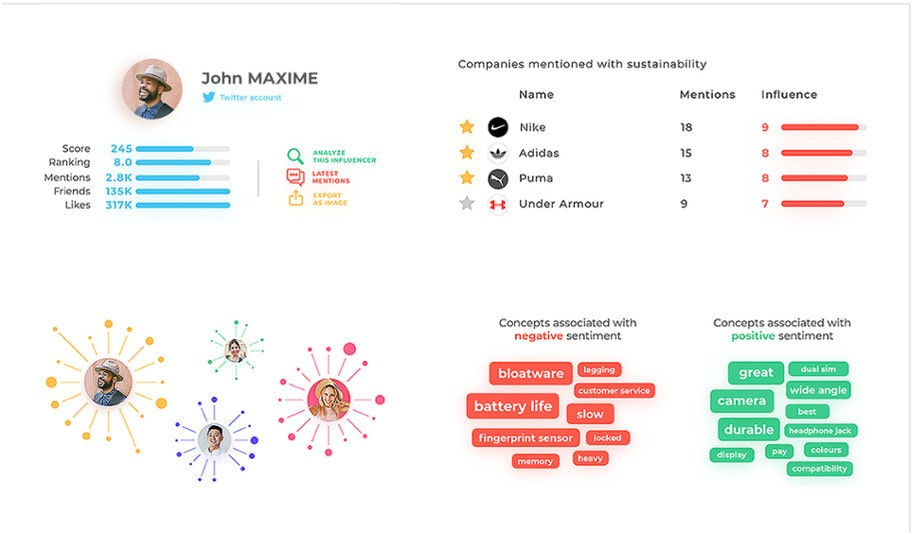 13 ReviewTrackers
Detailed pricing is available upon request.
ReviewTrackers is a review management tool that allows you to monitor reviews on sites like Google, Yelp, and Facebook. You can respond to Facebook and google reviews straight from the app.
The tool helps to understand customer experience through monitoring reviews and social media platforms.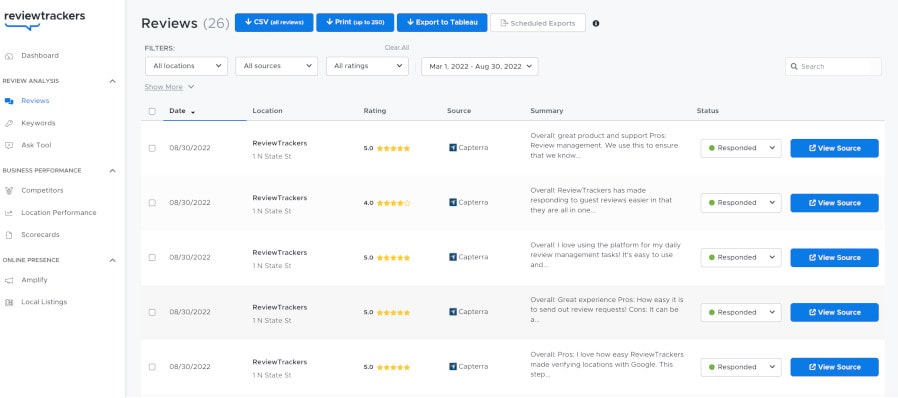 How to choose an online reputation management tool?
There are a lot of tools available. How do you know which one is right for you? Here are a few things to keep in mind:
First, consider what your goals are. Do you want to improve your online presence? Or are you trying to repair the damage that has already been done? Depending on your objectives, you'll want to look for different features in a tool.
Next, take into account your budget. You need to invest a little bit of money to access powerful tools that can help you achieve your goals.
Think about your level of expertise. If you're not very familiar with the brand's online reputation management, you'll want to look for a tool that's easy to use and understand. On the other hand, if you have some experience, you can get by with a more complex tool.
Finally, look at reviews and testimonials. See what other businesses have said about the online reputation management services you're considering. Read both positive and negative reviews to get a well-rounded view.
By keeping these factors in mind, you can choose the software that's right for you.
Monitor your reputation and detect the Reputation Score of your brand!
Can you manage the brand reputation for free?
Small to medium companies might not afford the most popular reputation management tools simply because of their price.
Regarding free reputation management software, there is Google Alerts, a very basic Internet monitoring tool from Google. The tool, however, doesn't perform well in essential tasks needed for an effective online reputation management platform.
Still, if you want to learn more about Google Alerts, here's a comparison of it with Brand24, a Google Alerts alternative.
Fortunately enough, there are good and inexpensive reputation management tools that are just enough to keep track of what the world says about your business, products, and services on the web.
Conclusion
Your online reputation can make or break your business in today's digital age.
With so many online platforms available to customers, monitoring your brand's online presence is essential. What's more, you need to address any potential issues quickly.
That's where online reputation management tools come in.
Using an online media monitoring tool, you can monitor your brand's online presence, identify potential issues, and take proactive steps effectively.
With features like sentiment analysis, storm alerts, and reputation score, these tools can help you stay ahead of the curve and make informed decisions.
So, to ensure your brand is doing well, try an online media monitoring tool today. Try the Brand24 tool for free!