Who is winning the streaming war?
January 16, 2020 ・ 7 min read
We are in the midst of war… A streaming war between Netflix, HBO, Disney+, and Apple TV. Netflix has a competitive advantage as the service basically created the market for video streaming. But Silicon Valley and Hollywood are getting ready to challenge Netflix and fight for their part of the market.
Who is going to win the battle? It all depends on the audience's reactions to shows, marketing campaigns, and their users' experience.
That's why we had analysed the online talk about Netflix, HBO, Disney+, and Apple TV for the last three months.
Brand24 collected 5.8 million online mentions from social media channels, including Twitter and YouTube, as well as from various online sources: specialised forums, reddits, news articles, and opinion magazines.
You can see the power of media monitoring yourself! Set up a free trial here.
The first thing we analysed was the total number of online mentions for the last three months.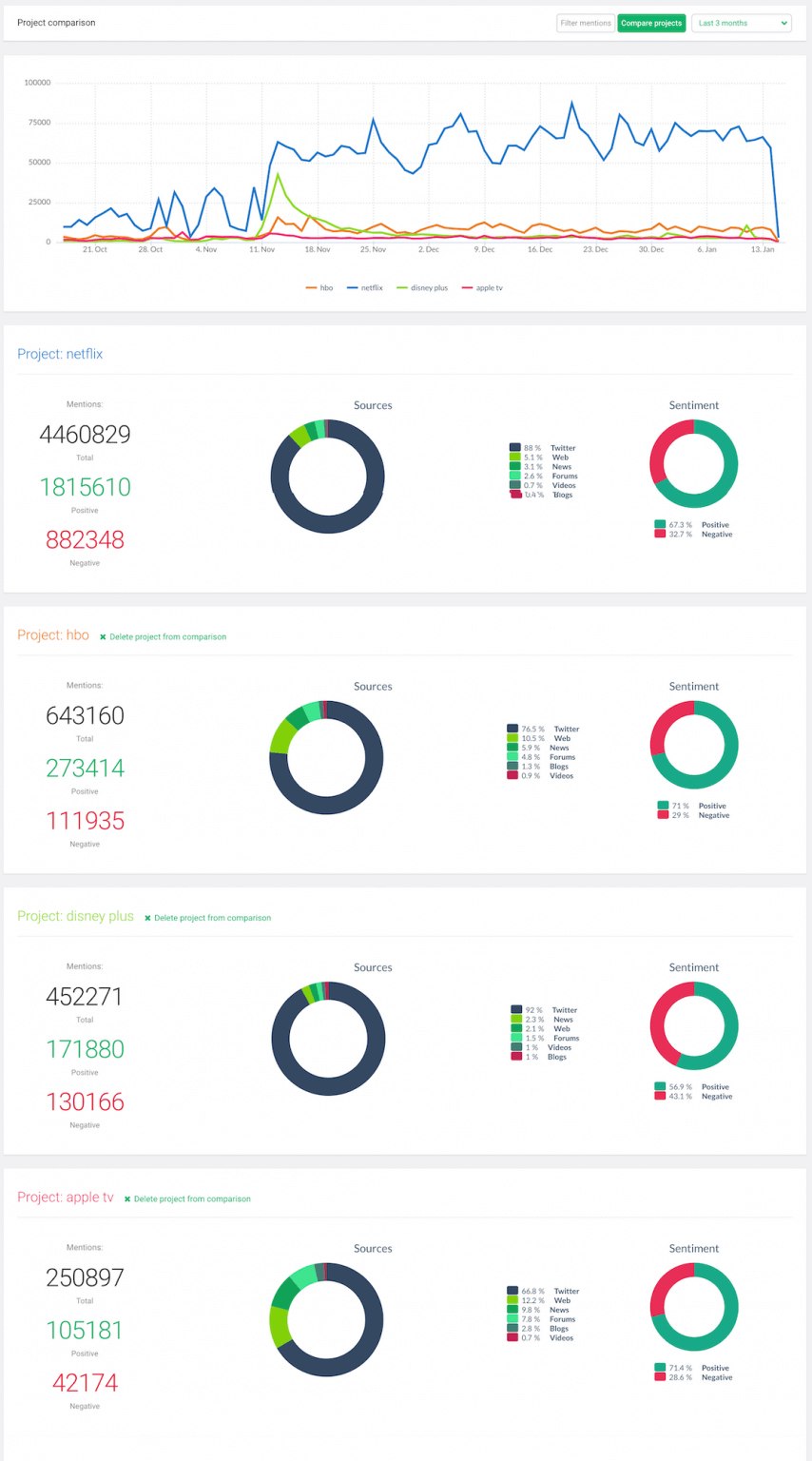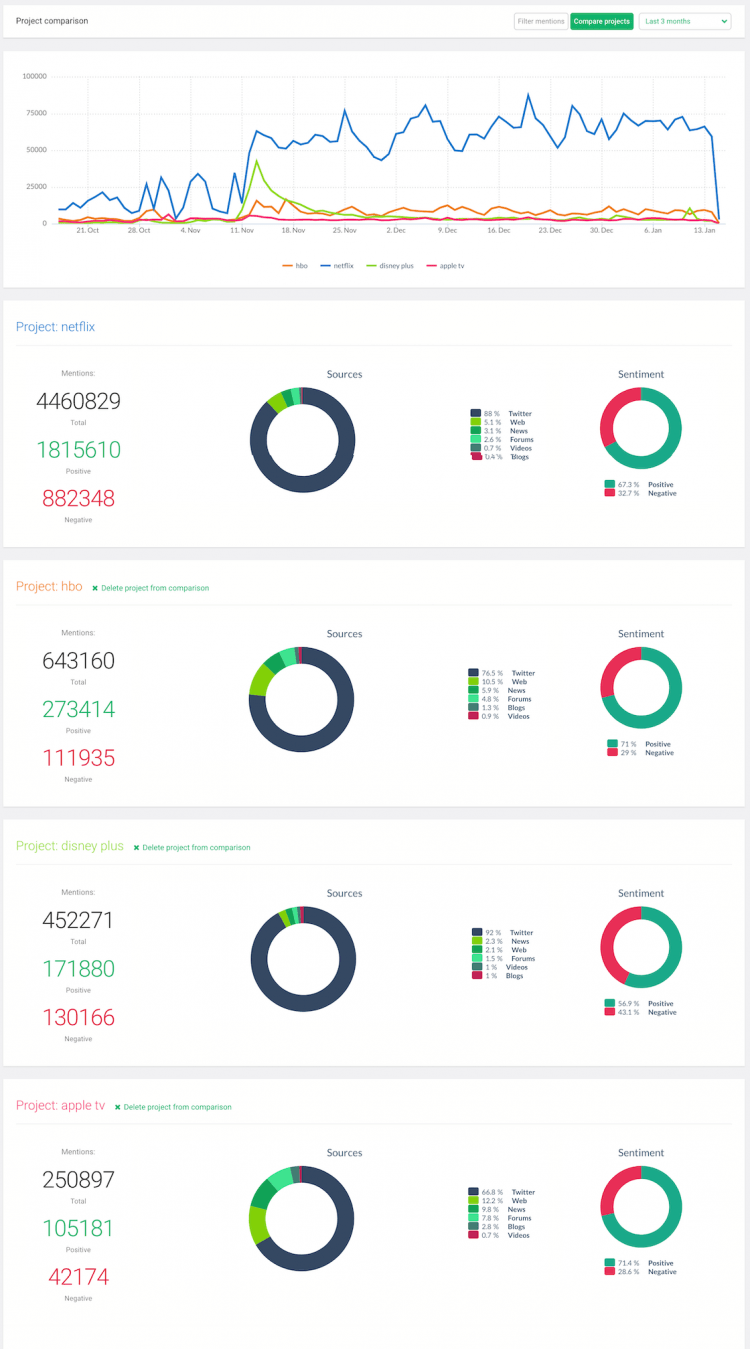 Then, the AI-powered sentiment analysis algorithm detected the sentiment of the online mentions. Brand24 automatically assigns positive, negative, or neutral sentiment.
In the third step, we took a closer look at the mentions. What do users like? What was their pet peeve? Were they experiencing some trouble with streaming? If yes, where were they looking for solutions?
Let's start!
Are people talking about streaming services?
Without a doubt, yes! Streaming services are the hot topic nowadays, no wonder they generate a lot of buzz online.
Moreover, a lot has happened during the last 6 months. Besides promoting new content, for example, "The Witcher" by Netflix or "The Watchmen" on HBO, new players joined the market.
Two giants from California had joined the game — Apple TV straight from Silicon Valley and a Hollywood giant, Disney+.
According to many experts in the field, Disney+ has the potential to hugely disrupt the market. The streaming service pulled its content from other platforms, including the Marvel Cinematic Universe and hit sitcom Friends from Netflix.
Disney+ hasn't had a worldwide launch and still managed to convinced over 10 million people to subscribe to its content. The number was a surprise to many, including Morgan Stanley, an investment bank.
Apple TV was a smaller success but the platform still has the potential to disrupt the market. Apple will include services into its core business unit. People wait longer to upgrade a smartphone or a laptop, hence the push into digital services, such as Apple Music or Apple TV.
What does media monitoring tells us about streaming platforms?
The volume of mentions
For starters, let's take a look at the basic metric — the volume of mentions.
The volume of mentions tells us how often a given keyword is used online.
Which streaming platform was discussed the most?
No surprise here, Netflix generated the most online buzz with an impressive result of 4,460,829 online mentions in just 3 months!
That was to be expected, considering the fact how long Netflix has been present in our lives and how many new shows they stream to its audience.
Things get more interesting when we analyse the numbers for the rest of the pack. HBO generated 643,160 mentions, Disney+ 452,266, and Apple TV 250,882.
Netflix left its competitors far behind. That statement is especially true for HBO, which is an established brand and produces a lot of original content.
At first glance, the result of Disney+ looks pretty impressive. More than 450,000 results right after the start of the platform launched only in chosen markets could be an indicator of success.
Let's examine the result in further detail.
Sentiment analysis
Sentiment analysis gives the necessary context to the volume of mentions.
Brand24 offers a state-of-the-art sentiment analysis algorithm powered by an AI. The algorithm can detect sarcasm, emojis, and works in over 80 languages.
How does sentiment analysis look like when it comes to our fabulous four?
The analysis sheds some light on the volume of mentions.
Let's handle the case of Disney+ first, as it is the most interesting one.
Users talked about Disney+ a lot, but almost half of the mentions were negative. To be exact, 43.1% of all mentions collected during the last three months.
That's a lot.
People had numerous complaints when it comes to Disney+.
Some of them were related to the fact that Disney didn't manage to get all the technical aspects of their website in order.
Some users had a whole list of complaints and planned to turn them into a blog post:


Other had some reservations about the amount and type of content available:


Filtering the mentions by sentiment can help you find the pain points and use them to your advantage.
When it comes to other streaming services, HBO and Apple TV got almost the same number of positive mentions — 71% and 71.4% respectively.
Netflix got third place with positive sentiment at 67.3%.
The difference between the results is likely caused by the size of the company. With over 158 million subscribers it's still an impressive outcome.
What can you learn from media monitoring?
Media monitoring is a goldmine of knowledge when it comes to your customers, your product, or your service.
People talk about their pain points, likes, and dislikes. Knowing your customers' needs is a cornerstone of your success.
What do people say about Netflix and the gang?
Let's start with one of the most recognisable brands — Netflix. Netflix's marketing is doing a great job when it comes to building brand awareness and brand image.
Sharing a Netflix password is synonymous with showing your affection towards someone:

Netflix cares about their customers to the point where they prefer to downgrade a plan than to charge clients for services they don't need. That's appreciated by customers: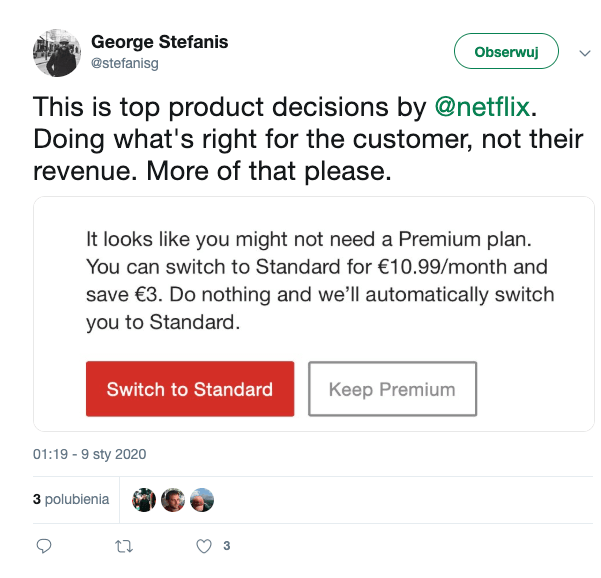 It's also worth noticing that Netflix has the lowest rate of complaints related to the technical side of their service.
The negative sentiment is mostly related to the review of their shows, for example, "The Witcher", or cancelations of "Anne with an E"

Apple TV released just a couple of shows and the reception was overwhelmingly positive.


Apple TV is an Apple product, so it encounters the same problems as the rest of them. The biggest one? It's not compatible with other devices, especially ones made by Samsung:
What people have to say about Disney+?
Firstly, Disney doesn't have to build its brand awareness from scratch. Of course, almost everyone knows Apple, but the brand is not associated with the film industry.
It's different with Disney.
People will buy the service only because they like… Mickey Mouse:

The question is whether they are going to stay with Disney for a longer period. Especially, considering the fact that some films are disappearing from the service.


HBO has been somewhat an underdog of the ranking. But recent decisions regarding original content has put the platform as a frontrunner.
"The Watchmen" was a hit series appreciated by many:

There are pain points common for the whole industry. Creating original content that attracts millions is one of them.
But some point to another problem, mainly recommendations.


Recommendations are based on AI algorithms and while some services are doing a pretty good job on serving content you might enjoy others still have a long way to go.
Moreover, some users are still looking for recommendations in an old-fashioned way — by asking other users:


Who will win the streaming wars?
Predicting the future is impossible, but, based on our analysis, we can make a few educated guesses.
Netflix is definitely the number one when it comes to streaming services. It wins on all ends — from a technological point of view, the quality of content, marketing campaigns, and customer service.
Disney+ and Apple TV are the new kids on the block. They don't have the database of films yet, but certainly have the means to create interesting content and invest hugely in marketing activities. Moreover, both are recognisable brands with devoted followers.
And there is HBO. HBO has been on the market for some time now and you can see that with shows like "The Watchmen" or "Chernobyl" they are stepping up their game.
There might be new entrants to the market. Will YouTube enter the game? Will Netflix lose its market share? For now, it is a clear winner, but the competition is fierce.
BTW, our awesome client, Wondery, has an amazing podcast series — Business Wars — Netflix vs. Blockbusters!