5 Examples of Excellent User Generated Campaigns
June 10, 2016 ・ 6 min read
Questions: What is the most trust-building sharable content that comes with a social proof and gets you a plenty of organic word-of-mouth marketing without draining your wallet out of money?
Answer: User- Generated Content!
User-generated content (UGC) is transforming the B2C marketing. There are countless reasons why marketers should (at least!) consider using user-driven input in their social media strategies, three of which we have described in details in the 3 Reasons Why User Generated Content Can Make You Money post. We have also given you already a brief introduction into How to Start Off With Fan Content Campaign.
Today, we are going to take a step forward and serve you with 5 Examples of Excellent User Generated Campaigns that actually worked out and can help you to generate brilliant ideas for your own effective social media activities. Stick with us and keep your mind full of fresh practice-based marketing inspirations!
5 Examples of Excellent User Generated Campaigns
1. Lay's – "Do Us a Flavor"
It has become a sort of tradition already for Lay's to "ask their fans for a flavor" and come up with ideas for a new chip flavor that would eventually land on the stores shelves.
The awards winning crowd-sourced "Do Us a Flavor" ad campaign run by Lay's since 2006 in a form of an entertaining contest for the fans, was initially planned only for the overseas markets and originally involved just regular snail mail and text messages for the public to communicate with the brand. However, the rise of social media has both challenged and enabled the popular potato chip manufacturer to connect with the audience on a brand new level and the campaign gained a real momentum in 2012 after embracing fully the social media unlimited marketing potential and debuting on the home U.S. market. That year, having hoped to receive 1.2 million flavor submissions over nearly 10-month campaign span, Lay's received 3.8 million suggestions from their fans and reported a sales increase of 12%.
The 2015 "Do Us a Flavor" contest edition got the fans amazed not only with a cleverly tailored online contest that incorporated all major social media platforms, but also a genius real-time marketing plan with short branded YouTube video clips and a Google-powered trend map to visualize the top ranking votes…not to mention the $1 million prize for the winning flavour of course!
The popular potato chip producer partnered up with a creative agency to first, with the use of social listening, to select the most intriguing Twitter conversations about the brand and then to create responses (in less than 2 days!) to the most interesting tweets in a form of amusing video clips:
Embracing the UGC trend and making an exemplary use of available social media channels, the potato chip brand has effectively transformed its marketing communication from a "one-way monologue" into a "two-way conversation" that has eventually led the brand to a great commercial success:
"The way that brands marketed in the past was very much one-way—what we wanted to do on Lay's was have much more of a two-way conversation with Lay's," says Tina Mahal, senior director of marketing at Lay's. "Last year we did a one-to-one as well as one-to-many communication [strategy], so this is an evolution of that. We saw that it worked extremely well last year, so we've continued that approach this year."
Key takeaways: Acknowledge the growing role of video in modern marketing communication, outsource creative forces if you need an extra marketing push, try out a one-to-one and a one-to-many communication with your customers available now via the social media channels.
2. Starbucks – White Cup Contest
Back in April 2014, Starbucks launched an online contest challenging customers in the U.S. and Canada to release their creative potential and decorate the Starbucks' iconic white cup with a customized art design. To enter the competition the participates were asked to share a photo of their original designs via social media under the hashtag #WhiteCupContest.
The contest was received by the fans with a great enthusiasm and engagement generating almost 4,000 amazing entries in just three weeks and awarding the winner, a young art college student from Pittsburgh, Brita Lynn Thompson, with a limited edition of Starbucks reusable plastic cups embellished with her design.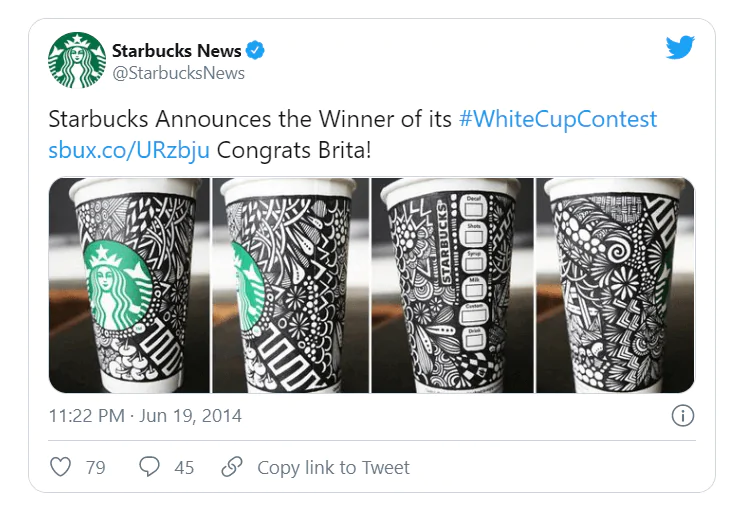 Key takeaways: Packaging matters. If you run a UGC campaign in a form of a contest, choose a prize that would reflect your target audience interests and/or lifestyle. No big budget is needed when your customers' creativity is involved.
3. Marc Jacobs
The brand that caused a real storm of selfies on the Internet back in 2014. Marc Jacobs. The popular U. S. fashion label that announced casting models for its AW 20014/15 ad campaign through Twitter and Instagram submissions made under the hashtag #CastMeMarc and received 15K selfie-applications in only 24h after the announcement and 70K at the contest closing date. At the time of writing this article, there are more than 105K Instagram posts under the campaign hashtag!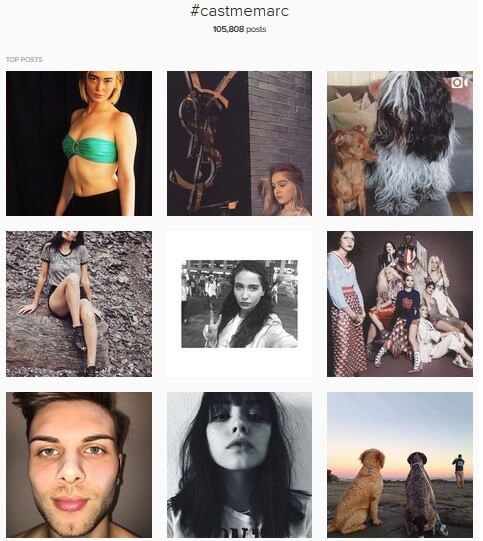 The #CastMeMarc campaign tapped into a massively growing social media phenomenon of "a selfie" and ended up with an overwhelming success. It also led to another, second edition of the contest and made the fashion label to be credited for initiating the phenomenon of so-called "social-casting" joined by other retailers such as Banana Republic, Barneys, J.Crew, Aerie, Cole Haan and Lanvin who use social media rather than modeling agencies for casting "real" and easier-to-relate-to models.
Key takeaway: Capitalize on the selfie trend!
4. National Geographic #WanderlustContest
In 2014 the globetrotters' favorite magazine, National Geographic partnered up with Honda to invite their fans to capture and share via Instagram images of "unforgettable people, places, and experiences that have impacted their lives from their travels around the world".
The user-driven pictures uploaded to Instagram under a #WanderlustContest hashtag entered then the competition for a chance to win a (relevant for the target audience!) 7- day National Geographic Photo Expedition to Yosemite National Park. The inspiring "wanderlusters" photo-stories were then featured on the National Geographic website (not active now). A very wise move and a lesson to learn for modern marketers as visitors to websites that include UGC galleries are told to spend 90% more time on the site.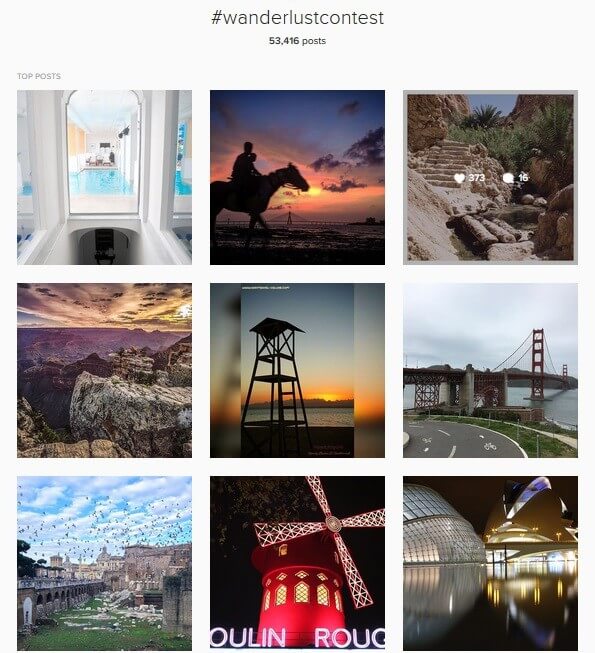 Key takeaway: Choose a social media platform that suits your brand best and is most popular among your target audience. Enable UGC to be visible on your website as this increases average visit time significantly!
5. Belkin
In 2013 Belkin, an American manufacturer of consumer electronics, teamed up with LEGO to come up with a line of iPhone cases that are customizable with the use of Lego blocks. Belkin, as opposed to the above-mentioned brands not only built the campaign around Instagram contest for the customers to upload their creative ideas under a dedicated campaign hashtag (#LEGOxBelkin), but they also integrated Facebook into the marketing plan by establishing a separate Facebook photo album with personalized phone case ideas created at the office: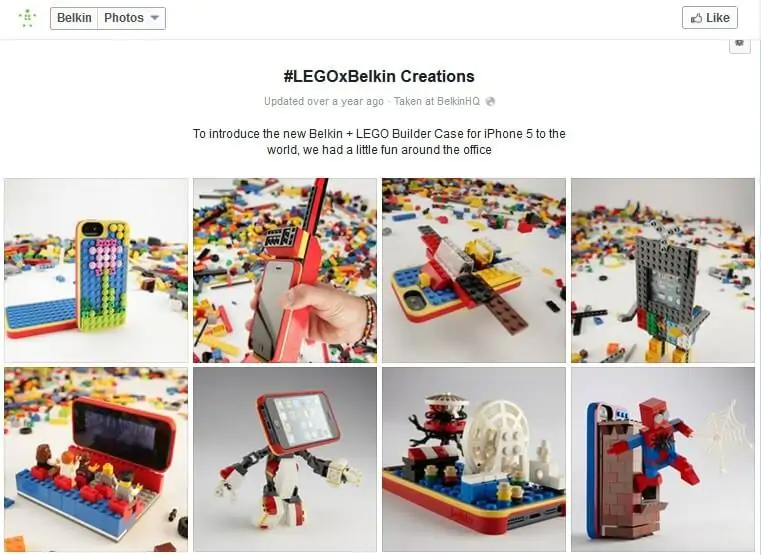 Key takeaways: Choose the social platform most relevant for your audience. Team up your marketing efforts with a partner brand or an influencer to amplify your UGC campaign results.
Before you start:
There are two essential things you need to keep in mind before you start your UGC campaign. First, keep your UGC campaign legal. Before using any content provided by your followers make sure you are aware of the law restrictions that apply to this usage. Get legal advice if necessary. Also, inform your followers clearly on how their images, videos or reviews will be incorporated in your communication. If there are any getaways planned, explain in a transparent manner when, how and under what circumstances this will happen. Running a UGC campaign seems to be just a great fun, but you need to ensure all "work safety regulations" are respected in order for everyone to enjoy the play!
Secondly, you are not making it all just for fun. Arm up your marketing arsenal with a social listening tool to monitor your campaign's results, compare the before and after reach, evaluate the sentiment of your audience conversations, access the most interesting ones in real-time and address them in a creative way just like Lay's did. Make your followers feel appreciated. They are selling your brand for you after all, aren't they?
Ever run a UGC campaign? What was the biggest challenge of it and what do you see as the biggest reward?