User-generated content can be helpful in so many instances. It's a great tool to drive more leads and boost sales. But not every company knows how to use it to the maximum. We are here to help you understand the importance of user-generated content, create a UGC strategy, and show examples of when it worked miracles. Stay tuned!
Giving away control has never been easy—both in life and business. However, there are certain situations when "letting things go" can actually have very positive effects not only on your personal well-being but also…your profits—thrilled to find out when that can happen? The answer is User Generated Content.
User-Generated Content, or in other words, the practice of having users contribute to a brand's content creation, has become one of the hottest social marketing trends now and a real driving force for growth and revenue. What exactly is user-generated content, and why many brands are voluntarily relinquishing their control over content creation in favour of their customers? Here is all you need to know.
Table of contents:
Ready? Let's start with what is user-generated content, and then I'll tell you how you can engage customers and make money from it.
They are talking about your company! Find user-generated content with social listening.
What is user-generated content?
User-Generated Content (UGC) is any form of brand-related content, e.g. a photo, a video, a case study or simply a customer review and used by a brand as a marketing tool. Often combined with a broader marketing promotion and a specific hashtag campaign, user-generated content gets particularly popular on Instagram (primarily, but not exclusively, among fashion and beauty brands), but also on YouTube (as how-tos) or Twitter (brand chat).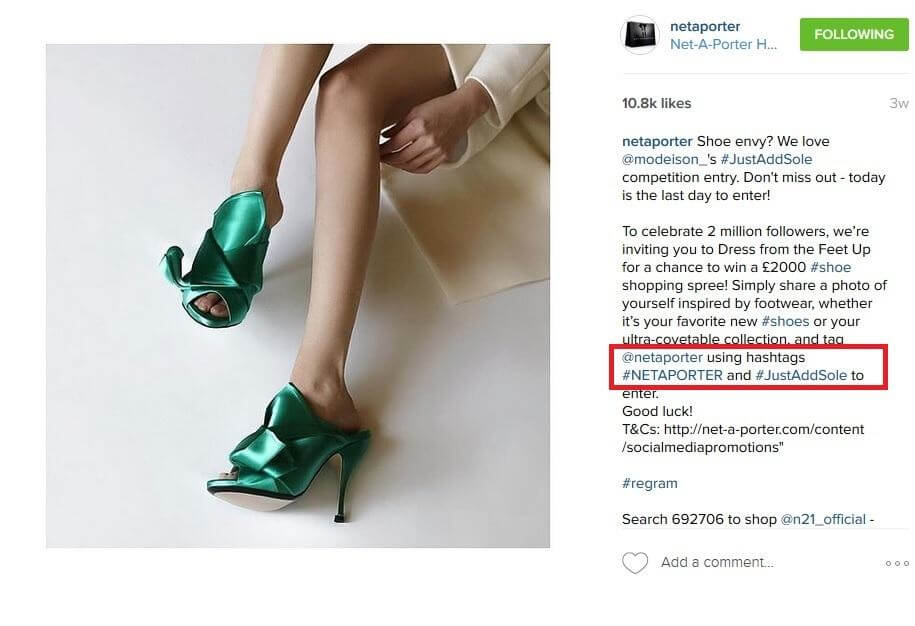 3 reasons why user-generated content can make you money
UGC is not a new concept for marketers, but that the rise of social media has popularized it by making the user-driven content much easier to access and to incorporate it into branded communication.
Before the Internet there weren't many channels where a brand could share user-generated content. Modern marketing campaigns can implement content created by the users into their communication with ease.
Today there are so many places where you can share user-generated content examples. First of all, you can show UGC in social media posts. Instagram is especially great channel for that, especially that you can quickly share users' posts to your stories with just two clicks. Secondly, you probably have a website where you can create landing pages with user-generated content (either embeded from social media, or ask your customers for photos to post them directly). Last but not least – newsletters. These are just some ideas off the top of my head. We'll see later some real-life examples of user-generated content.
Here are the 3 key reasons why more and more brands turn towards user-generated content to grow their online presence and revenues.
1. Customers can be trusted
Shopper behaviour has changed. Most consumers now, regardless the age, go to Google and research their purchase decision. In most of the cases, they look for user generated content to help them buy. Why? People trust other people more than just brands.
That's why influencer marketing is so popular right now. Especially nano influencers create great user-generated content, because they are more genuine.
Over half (51%) of Americans trust UGC more than any other form of media, says Bazaarvoice report. This tendency gets particularly valid for Millennials, people born between 1977 and 1994. For example, there are certain purchase decisions that Millennials will not make without UGC, such as major electronics or cars.
Brand Example: Whirlpool
Here is how Whirlpool used user generated content to encourage social conversations, build an emotional connection with their brand's community and reinforce trustworthy a "care" brand message.
As a part of the "Every Day, care" campaign the Whirlpool users were/are invited to share their real life examples of all the possible ways loved ones show their care for each other. The #EveryDayCare stories got (and continue to be) featured on carefully curated campaign microsite as well as in the brand's own and paid social channels.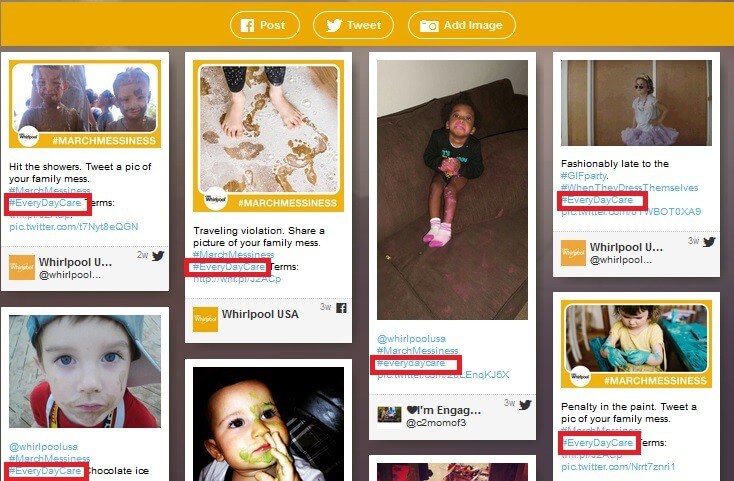 This campaign works on so many levels. Apart from getting valuable user generated content, Whirlpool influences brand loyalty by encouraging people to use the #EveryDayCare hashtag.
Hashtag campaigns are generally a good way of encouraging authentic user generated content. Branded hashtags can significantly boost the visibility of social media posts, which is exactly what people usually want when adding the hashtag.
Think of your own hashtag marketing strategy to inspire UGC.
2. Customers know your customers
No one else understands your target demographic better than your target demographic. Your current customers speak the same language as your future customers. Why not let them speak about your product/services on your behalf?
Let your current customers talk about benefits as well as frustrations (always address them!). As opposed to pre-arranged branded sales messages, this authenticity is the true value of user generated content that people look for and are willing to trust.
You might even reinforce the impact of your customer's voice further by inviting influencers to be your brand advocates and by making their suggestions shoppable, just as ASOS does it.
Brand Example: ASOS
British retailer ASOS is a real innovator in harnessing the user generated content marketing. The brand's Instagram account with more than 4 million followers is pretty much a stage for fans who pose with ASOS items and share their outfits images under a #AsSeenOnMe hashtag. The brand then directs the audience to the Instagram bio with a link to an appropriate purchase section on the brand's website where you can buy the presented items (UGC sales generating potential at its finest!).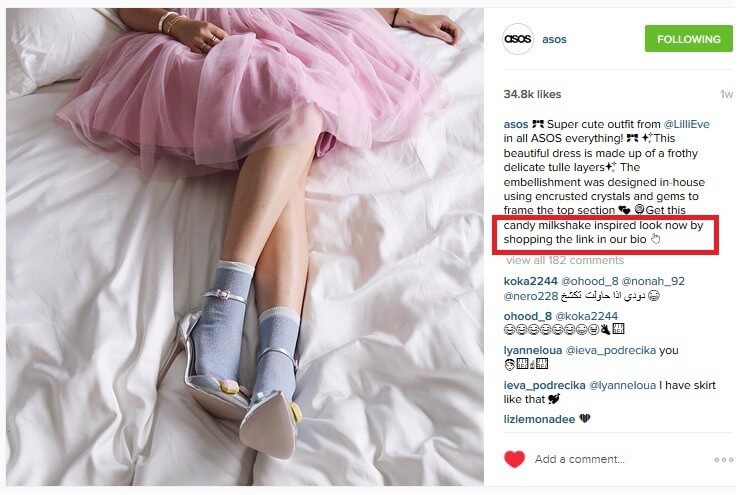 This customers content strategy is especially practical, because you can drastically shorten the buyer's journey. Potential customers land on your Instagram page, see an outfit they like, and with two or three clicks they can make a purchase. By the way, a great approach to leveraging your brand's social media channels in sales.
Here's some homework for you: think of products your company offers. Can they be tagged and sold via Instagram? Think of what user-generated content examples will help you achieve your goal.
3. Customer's content is affordable
User generated content strategies are applicable both to big and small companies. In fact, small companies with lower budget can benefit from technology-driven UGC innovation to bridge the gap and "punch above your weight" as very often content provided by their customers can be for free (it does not mean, however, it is usage rights free and you should always clarify the content's copyright and intellectual property ownership with your users).
The amount of customer-driven content on your site, therefore, is a factor of how many customers you have, what percentage of them are sharing and creating content and how effective you are at accessing this content. For getting an instant access to what your customers say about your brand online it is wise to use a social listening tool. This will help you to pick up quickly the most valuable and interesting opinions, as well as online reviews, and contact directly your users. For example for getting their usage rights approval.
Brand Example: Chobani
Among other great user generated content examples is Chobani, a Greek yogurt company that decided to use customer-driven content to boost sales and improve brand image.
The company invited its loyal customers to submit videos and images praising its yogurt to later successfully incorporate this content on the company website, billboards, and other channels. A lot of excitement has been generated by the billboards with an authentic user Tweet on it: "Chobani is heaven!!!!!!!" according to @kgmoll"

What's great about this campaign is that the company used real-life quotes to describe their products. They didn't have to come up with new communication strategies, slogans, or expensive brainstorming sessions. All they had to do is search the Internet for user-generated content.
You can do it too with a media monitoring tool, such as Brand24. More on that in the next chapter.
How can I find user-generated content?
If you read this far you probably now believe that user generated content strategy can positively affect your marketing campaigns. But here comes the tricky part. It's not that easy to get your hands on UGC.
Of course, you might try UGC campaigns and they will bring you a lot of great content with real-life examples, but in this case everything comes with a price.
Now, there are a lot of low hanging fruit on social media platforms. You just need to know how to find them.
Finding user generated content is easy with social listening and media monitoring tools like Brand24. We offer a free 14-day trial (no card required) where you can try all Brand24 features. Simply enter your brand name, connect your account to social media networks, and wait for the results. The tool is monitoring the Internet in real-time and will show you all your brand mentions. Just browse them and soon you will find great user generated content.
Additionally, you can monitor hashtags popular in your niche or use the tool to find the most influential personas connected to your monitored keywords. Curious how it works? Give us a chance 🙂
Brand24 is a tool that monitors online mentions about your company.
Of course, never forget to ask for a permission before using the user-generated content in your marketing campaigns!
Have you ever run a user generated content campaign? What are the main concerns that hold you back if haven't tried yet?
FAQ
What are the benefits of user-generated content on social media?
User-generated content (UGC), or consumer-generated content, has multiple benefits on social media. It helps to foster a stronger sense of community and engagement among social media users. People often feel more connected to a brand when they see content from fellow consumers. Moreover, UGC can lead to significant increases in brand trust and loyalty. This is because it often feels more genuine and less 'salesy' than traditional advertising. Finally, UGC can provide a steady stream of fresh content for a brand to share across various social platforms, reducing the pressure on businesses to continually create new content themselves.
What is the impact of UGC?
User-generated content (UGC) can significantly impact a brand's marketing campaign. When existing customers create content and share their positive experiences, it acts as a powerful form of word of mouth marketing, leading to increased brand awareness and credibility. Research has shown that consumers trust content created by their peers more than they trust traditional advertising, providing a powerful form of social proof. As such, UGC can influence purchase decisions, drive user engagement, and enhance customer loyalty, all of which contribute to improved marketing outcomes and business growth.
What does user-generated content focus on?
User-generated content (UGC) focuses primarily on engaging customers by leveraging content they create related to a brand or its products. This can be anything from reviews and testimonials to photos, videos, or blog posts. A successful UGC campaign integrates this consumer-created content into the brand's digital marketing strategies to enhance authenticity and increase engagement. The brand-specific content created by users not only supplements a brand's own content but also provides valuable insights into customer preferences and experiences, thereby helping to drive a brand's growth.