7 Powerful Pinterest Tools: Take Your Business to a New Level
June 6, 2016 ・ 5 min read
Pinterest's been introduced just a few years ago, and in a short span of time, it's become a famous photo sharing platform. The ever rising popularity made the service claims 100 million users last year. With a tremendous growth over the years, the number of users active monthly is expected to reach 329 million by 2018. Almost every leading brand today runs a Pinterest account. Even the online video giant, YouTube showed its interest and launched its own Pinterest account in 2012.
Pinterest is a massive source of leads. Make sure you know how your business can benefit from using Pinterest!
Recently, a research from the Global Web Index proved that the active user base for the social networking site, Pinterest registered 111% growth. For a newbie in the world of social media, leaving behind the other popular channels like Facebook, LinkedIn, Twitter, YouTube and even Google+, is certainly a big deal. Pinterest is becoming one of the best mediums for business promotion. How? If you are among those who are looking for an answer to how to boost up your business with Pinterest marketing? you need to learn about some helpful tools which make running Pinterest easier.
1. PinAlerts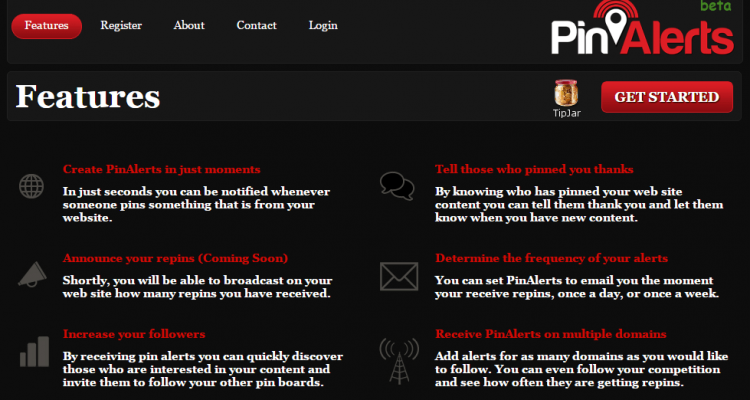 PinAlerts is really an interesting tool and it's quite clear what it does. Yes, it simply alerts you via an email whenever you get a re-pin. Hence, now you can easily keep an eye on your account and check for the number of re-pins. Remember, it notifies who has pinned the content from your website. It's to good thank and invite them to follow your other boards. That's how you can build up a community.
2. Pinvolve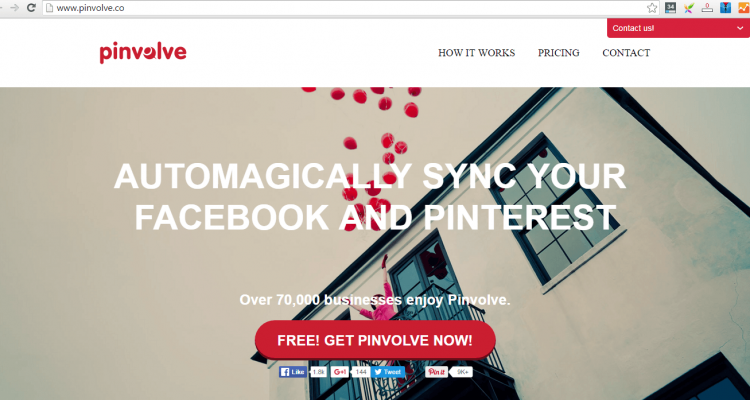 Want to include your Facebook fan page in a campaign? Don't forget to consider Pinvolve. With this nifty app you can pin anything directly to your Facebook fan page and add it to your Pinterest page. Actually, with the help of this tool you can create a separate tab on your fan page. It simply arranges your content in a Pinterest-like format. Moreover, it allows pulling all Facebook likes and comments linked to the post. So, now whenever you hover over an image, the Pin it button appears on the Pinvolve tab. While the free option comes with limited interaction, you can also go for the Pro version at $5 a month or a Bundle package for $25 a month.
3. Tailwind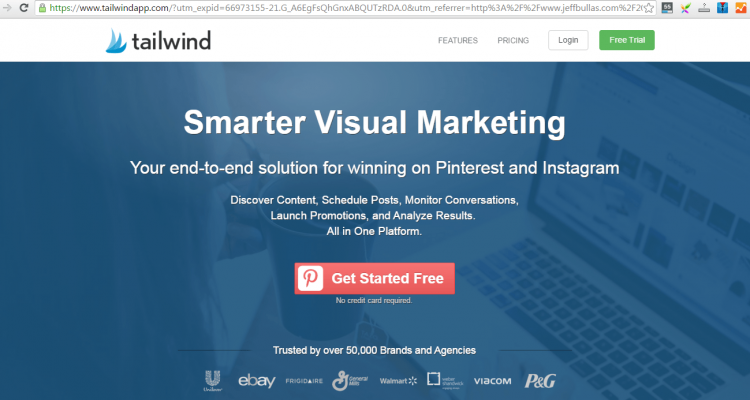 This amazing tool can be integrated with Google Analytics. Tailwinds helps you discover the most influential followers, track engagement on your account, identify popular pins, and monitor the competition. It is an analytics and campaign management tool which is being used by over 2,500 brands. Big names like Walmart, Nike, AOL, and Target are already using it for their campaigns.
4. ViralTag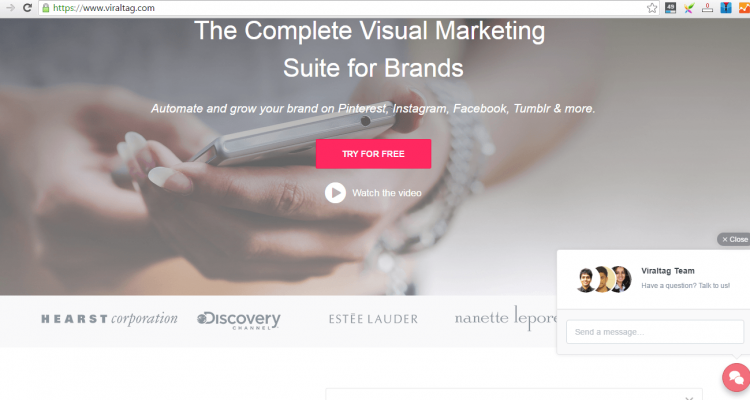 Known earlier as Pingraphy, it was the best friend of every busy pinner. It was a free tool and simply allowed the users to schedule pins. However, now the founders turn up with something new and highly improved – ViralTag. It allows you to do bulk scheduling for multiple accounts and also provides you with the access to analytics across different platforms.
If you are a Hootsuite user, you will certainly love it, as ViralTag recently collaborated with Hootsuite for a new facility for the Pro users. With ViralTag, it is now possible to schedule pins directly from the Hootsuite dashboard. And yes, you need to pay a small monthly fee. It is the most convenient way to manage your social media profiles from a single place.
5. PicMonkey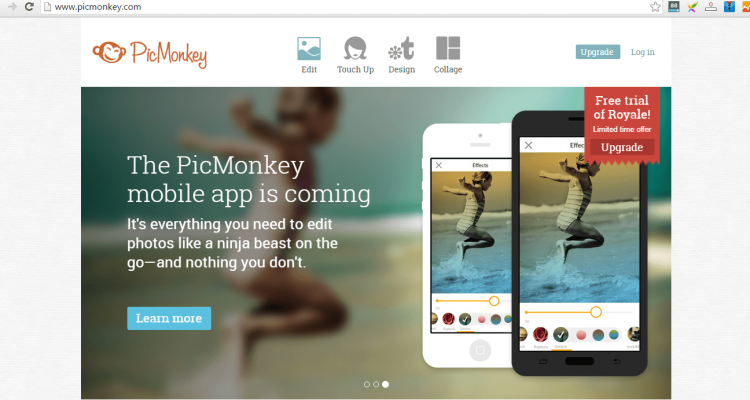 No doubt about the fact that images are everything on Pinterest. In order to maximize their impact, both product and service-based businesses need to turn their content into a visual format.
Don't worry. It is time to think beyond simple product shots and explore some creative ways using PicMonkey tool. This is an astounding tool to change your case studies, positive PR, customer testimonials, reviews, etc. into image format. And the best thing is that PicMonkey is a free tool. It is basically an online image editor which can be used for creating and editing images. So, now you don't need a Photoshop!
6. Viralwoot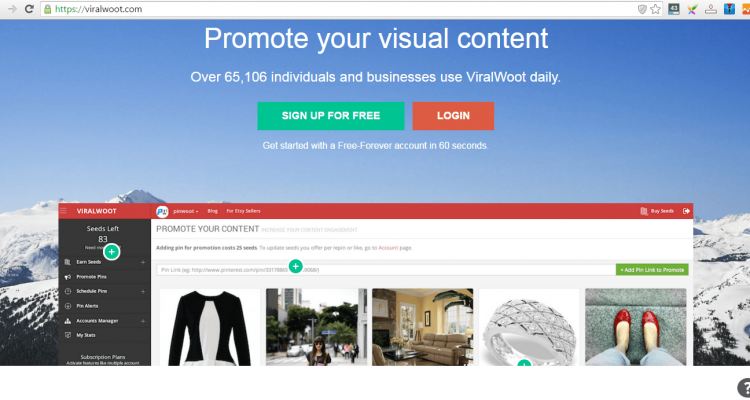 Another multi-tasking tool is Viralwoot. It allows you to create alerts, schedule pins, promote pins and also measure the performance of your Pinterest activity. If you really wish to boost your business with the help of Pinterest, it is an amazing tool.
7. Wisestamp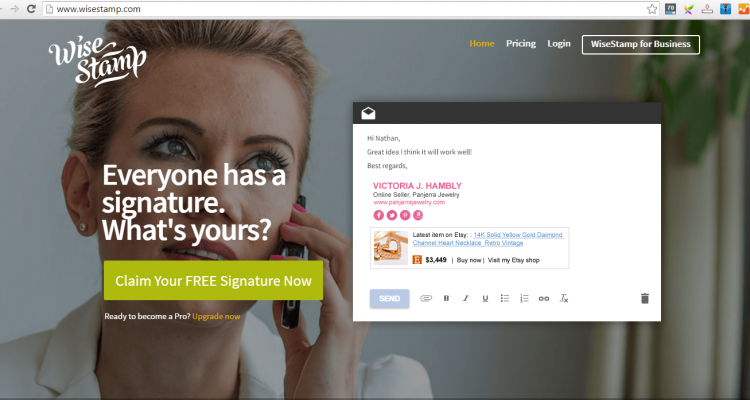 Are you looking for some exceptional tool for your web-based email accounts that will help you craft personalized email signatures? Wisestamp is the tool that works with most browsers and email accounts, including Gmail, Hotmail and Yahoo Mail. You can use it as an add-on to improve your emails, while engaging receivers with elegant links, colors and yes, social media profiles, too.
You might be thinking it isn't related to Pinterest. Well, that's not true. With the help of this tool you can put into an email a dynamic follow button linking to your Pinterest page. Now the recipients of your email will see it and start following you.
All in all, using these tools allow you to make best out of Pinterest and significantly benefit your business. Start using them today and share your experience. In fact, you should also learn how to promote your business with Pinterest. Tools and skills will surely improve your business.
Author Bio: Varun Sharma is a digital marketing expert and a director of the fast-growing digital agency in India, KVR WebTech. You can also follow them on Facebook or Twitter.