5 Reasons Why You Should Use Pinterest for Business
May 19, 2016 ・ 5 min read
Smart marketers are increasingly waking up to the fact that except for omnipotent Facebook, Twitter, Snapchat, and Instagram, there is another social platform with tremendous branding and content marketing potential.
(P)intetested in what that platform is?
Visual bookmarking and discovery engine with more than 100 million monthly active users and a very particular demographic represented in vast majority by…females.
Pinterest of course.
Is it a common Web destination only for arts and crafts lovers, avid home decorators and fashion bloggers hungry after discovering most tending style ideas and new inspirations? Not really. But saying that the image-focused social platform is absolutely for everyone would not be honest either.
In this article, we discover the facts that speak in favour of leveraging Pinterest to reach a new generation of "visual influencers", increase visits to your websites, and generate leads or retail sales so you can decide for yourself if it is a place to invest your marketing efforts.
Before we start, though, a short recap of all we should know about Pinterest so far.
What is Pinterest?
Pinterest works like your favourite photo album or a mood board. Launched in 2010, the social bookmarking site, with both a website and a mobile app, enables users to post, or "pin" images fund on the Internet to self-created theme-based photo galleries called pinboards, or simply "boards". It is a true heaven for smart marketers as the users' pins profiles reveal not only their aesthetic taste but also products and services they might be interested in buying.
There are two options when you sign up for a Pinterest account – you can do it either as an individual or a business. Both accounts are for free, however, the business profile gives you an access to analytics tools that are unavailable otherwise.
Here are the 5 compelling reasons why your business should start using Pinterest for marketing.
5 Reason You Should Use Pinterest for Business
1. Attract U.S. Female Customers
Pinterest holds a proud tag of being the most female-skewed social platform in the world. According to The Wall Street Journal, a 2014 comScore study found that approximately 71% of Pinteresters were women. Most of them are U. S. based as another 2015 report published by eMarketer reveals that only 30% of the platform users were from outside the U.S. In fact, in the prestigious social networks club, only Facebook boasts a higher percentage of the online U.S. female audience that, let's make it clear, is the audience with enormous spending power.
Now, why do you think UK woman fashion giant, Topshop, formed a duo with Pinterest at the end 2015 to create colour palette tool for their e-commerce site based on saved Pins?
2. Engage Easier with Users
Although smaller than Facebook, Instagram, and Twitter and rated just at the sixth place among major social networks in terms of monthly active user count – Pinterest has one strong attribute that other platforms only envy: that is the USERS who are eager to share their dream products, plans, and aspirations.
John Jantsch, a marketing consultant and the founder of the Duct Tape Marketing Consultant Network, states:
"Unlike many social sites, where the game is to get followers, Pinterest users seem very content to simply find stuff and share it with small groups. Pinterest users are keenly interested in what's hot and what's cool – a behavior that translates well into the kind of influencer marketers desire to attract."
In fact, about 70% of Pinteresters aren't just visiting the site, but they are actively engaged in taking actions – saving images and or clicking-through. Perhaps you know about it already, but marketers, and in particular those representing product heavy businesses, can further encourage Internet users to share on Pinterest visual content from their product pages by just adding the Pin this button to the home page. The button works similar to the "like" option on Facebook and makes it a way easier for site visitors to pin what interest them the most out of your offering.
3. Build Visual Links & Traffic
As we have all become quite overwhelmed with the cascades of information we are bombed with every single day, anything that is pleasant and easy to scan and digest with a minimum of our mental engagement is actually something that gets the most attention nowadays. Hence, the whole story about the importance of visual content we regularly bring here about. Pinterest is the winner here, and most precisely, marketers that build links through images posted on this platform.
Pinterest automatically creates links to the page from which you source the images, so you can easily acquire one of the most attractive links – the ones that actually get engagement. Beware, however, of the fact, that links from pins to your site are "no-follow".
Pro Tip: Aesthetics-driven E-commerce sites are probably the best prepared to benefit from this kind of link building, but don't give up so easily if your business is not. Think of what aesthetic content you are creating, which image properties you own that people might be particularly interested in sharing and saving as a pin. Then use Pinterest to take advantage of it.
4. Inspire Purchase. Effectively
Hubspot states that one of the Pinterest's most prominent characteristics is the ability to "reduces the number of steps from discovery to conversion" as the platform's visitors convert into leads or sales faster than from other social media sources. Look how effectively Perch Furniture – a custom sofa store in Portland, Oregon – showcases their products alongside interiors and related furnishings to inspire their customers and prospects.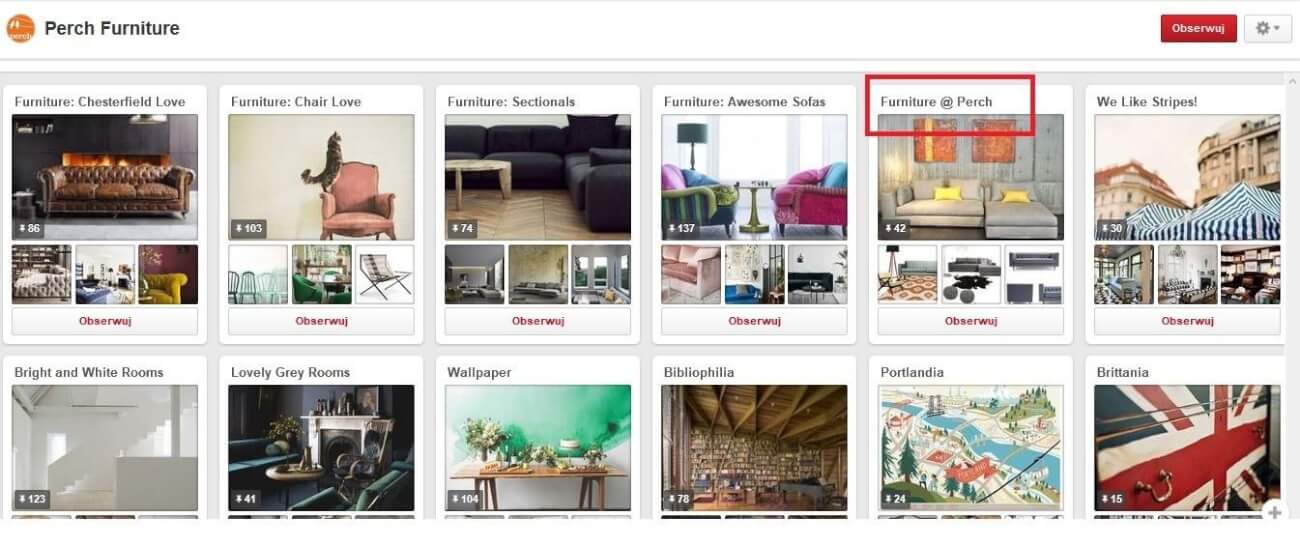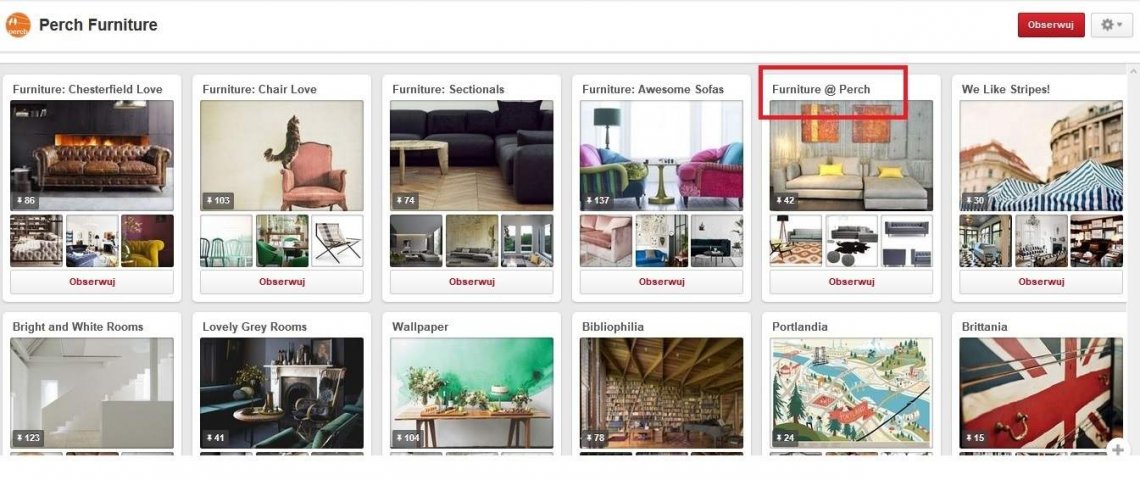 5. Cross-Promote Your Business Locally
Pinterest Place Pins are a special type of pins that allow associating image pins with geographic locations and extra information such as addresses and phone numbers. You can use Pinterest Place Pins for business networking and cross promoting your brand locally with other non-competitive businesses, especially with those enjoying a substantial followers count. Genuine Scooters – an independent scooter manufacturer from Chicago – takes advantage of this strategy by identifying interesting, local, off-the-main-stream spots like restaurants and bars in their neighborhood and pinning them to the boards as a perfect destination for a weekend scooter adventure. If you add another local business as a place pin, you are very likely to find that they will return this favour and promote you back.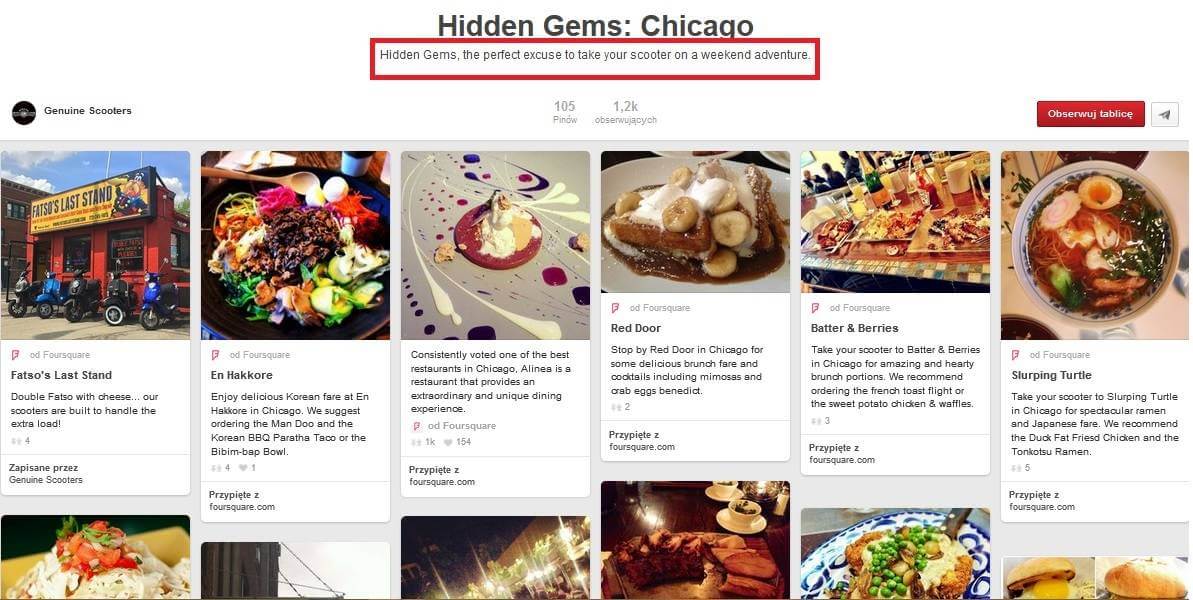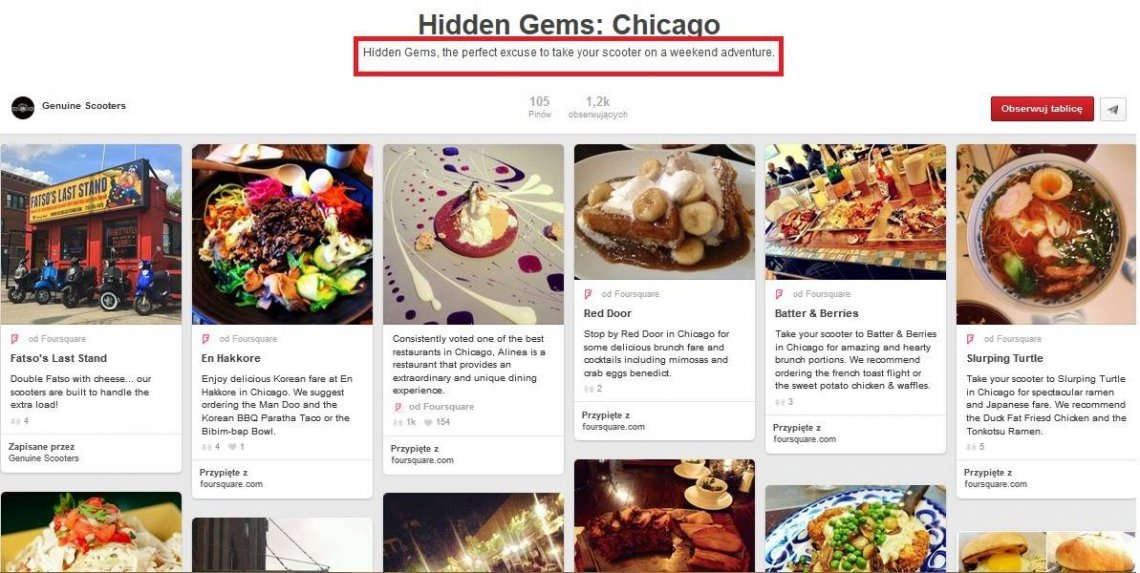 Are there any other benefits from using Pinterest for Business that you can name?
Learn more about the power of social listening and browse our blog!