8 Key Tips to Great Customer Service on Facebook
January 13, 2016 ・ 7 min read
Every day, social media continues to grow in importance when it comes to boosting your business. Mobile phones and tablets have made Facebook and other social media platforms accessible from almost anywhere at any time, so many people increasingly use them for different purposes.
Although many businesses use Facebook to post news and updates about their brands, many have yet to realize how to use this popular platform to improve the quality of their customer service. Those businesses that have gone beyond the use of Facebook for advertizing and collecting likes know that the platform also works as a great way to interact with customers.
Although messages left for your company on Facebook can either improve or destroy the reputation of your brand, they also provide a fantastic opportunity for your business to display a professional and courteous attitude in a public forum. Let us look at some examples of how some well-known companies utilized Facebook to communicate with their customers. Through those 8 examples, we will reveal eight useful ways to improve customer service on Facebook.
1. Address All Inquiries
No comment a customer posts to Facebook about your company should go unnoticed, and no question should go without a response. To illustrate this, consider the following example of Walmart's response to an inquiry.

Walmart answered their customer's question and, in return, the customer was appreciative for the received information. By listening and addressing the needs of the client, Walmart demonstrated that it pays attention to its customers. Moreover, the company not only gave an answer, they also went the extra mile to provide additional information. It was certainly worthy of the "thank you" they received. These principles also work for your business.
2. Explain Everything
Your company should go out of its way to present and explain your goods and services to your Facebook audience so they can become acquainted with what you have to offer. For example, when customers have questions about a sale or a special offer, you should make sure to provide a comprehensive response that directly addresses the concern. The following conversation from JetBlue Airways is a great example of a company explaining an offer to a customer. First, the company announced its offer:

However, there was a customer who didn't know what it was all about: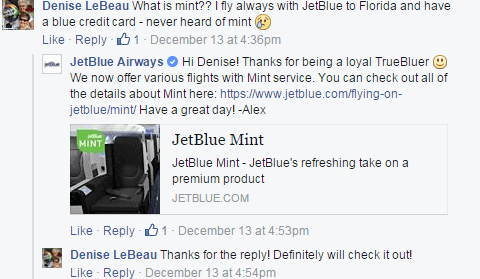 The company managed the situation well. By providing a helpful link that the customer (and future customers) could use for reference, they offered a satisfactory solution. The response and the link were useful to the customer who then showed an interest in the offer. Furthermore, they even expressed their appreciation for the client's loyalty, which is also something you should always remember to do.
3. Resolve Complaints
As a result of your company's presence on Facebook, you should expect to see angry customers leaving scathing complaints about either the goods or services you provided for them. However, you should consider those complaints as an opportunity to demonstrate exceptional customer service. Although your team might naturally want to avoid a dissatisfied customer, directly addressing the problem can save a sale, win a friend, and inspire confidence. The following example shows an unhappy customer complaining about AirAsia: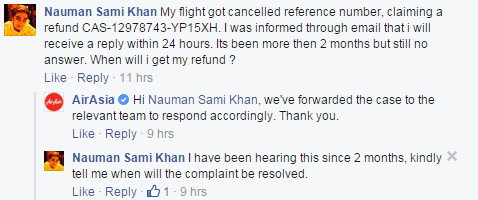 Although merely addressing the issue provides a good start, it is simply not enough – the company must provide a satisfactory resolution. So let us look at another example by the same company: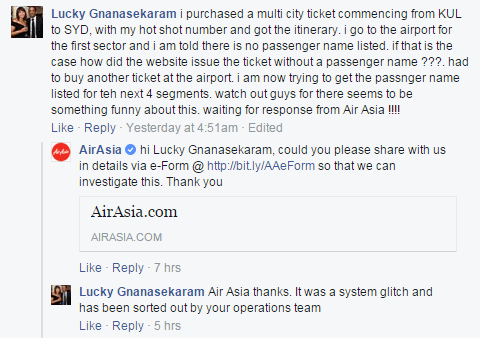 What did the company do better this time? They resolved the issue to the customer's satisfaction. In the first example, they didn't show consistency across channels – though addressing the issue on Facebook, their email service was evidently not as fast, and the problem remained unresolved. In the second example, however, they acted efficiently on all channels to solve the customer's problem, and succeeded at it. What to make of all this? Customer's problems need not only be addressed but also resolved. In order to do so, your business should quickly respond to all customer messages, not just those seen on Facebook. This brings us to the following point.
4. Be Prompt and Consistent
Time plays a crucial role in customer service – people who are upset about their experience with a company expect a quick resolution. As time passes without a resolution, customers can get more aggravated, leaving increasingly angry remarks on your Facebook page.
A fast response results in a successful customer service experience. In fact, research shows that people expect a response on social media within an hour of leaving a comment. In the following example, Pottery Barn responded to their customer in approximately thirty minutes: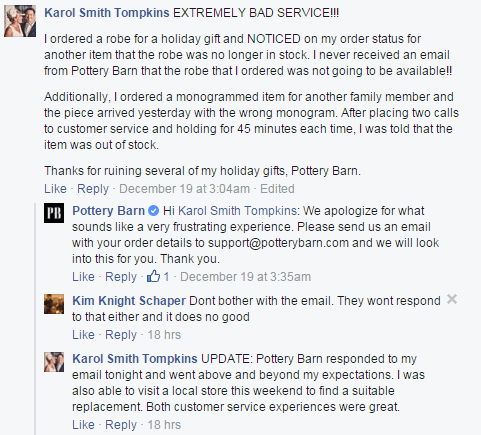 The company also apologized to the customer, showed empathy, and proposed a solution via email. Their subsequent email message quickly reached the client and satisfactorily resolved the matter. In fact, Pottery Barn did everything right, including showing a consistent promptness across multiple communication channels. They showed consistency again by providing the customer with excellent service in one of their stores.
Notice that, although the contents of the email message from the company were private, the promptness with which the company handled the matter became public. Therefore, you must serve customers fast and consistently regardless of the method of communication – the public will find out if you fail.
5. Use the Appropriate Tone
When a customer communicates, try to understand their tone so you can formulate a response appropriately. For example, if the client uses informal speech, your answer should have a casual tone. The following example by Xbox shows how they use emoticons, exclamation points, and other elements to communicate friendly, polite, and informal messages that reflect their customers' comments: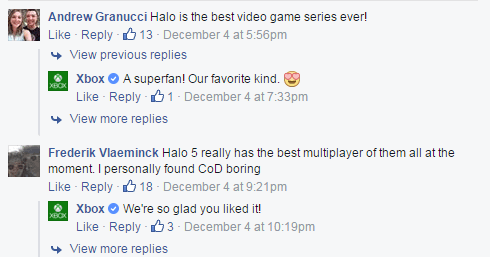 This example also shows the importance of responding to all customer remarks, not just complaints – by paying attention to all that they say, you show appreciation for their opinions. Incidentally, Xbox holds the Guinness record as the most responsive brand on social media. While you don't have to chase that record, you should try to be as responsive as you can.
6. Show That You Care
In the previous example, Xbox showed that they care by responding with an appropriate tone. The following example also shows how a company can display a caring, human element by displaying a genuine interest in customers and their situation. Let us see how a company can respond to seemingly random comments to create a positive customer experience: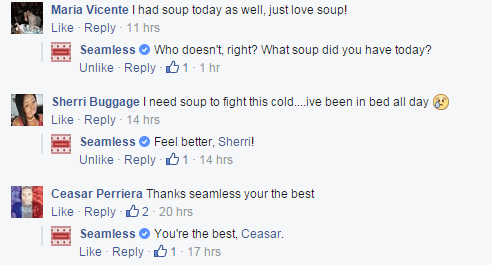 As shown, Seamless expressed their interest in their customers and spent time talking with them. By expressing empathy, the ability to understand how others feel, your company becomes mindful and considerate of anything customers say. This type of human touch builds relationships with your clients and prospects, and adds value to your brand. Therefore, you should always try to connect with your customers as much as possible.
7. Express Appreciation
Like we've already pointed out, your company should avoid falling into the trap of responding to customers only when they complain – it is equally important to respond to them when they say good things. When a client posts a comment praising your business, express your appreciation for the comment and for the privilege of having them as a customer. The following example demonstrates that: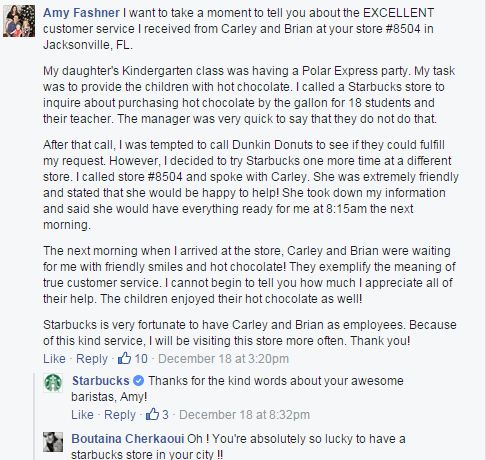 Evidently, Starbucks thanked a customer who had left a positive comment about them on their Facebook page. Also, another customer reacted to the positive review, illustrating how quickly the word can spread of an excellent customer service experience. Because customers can be free advocates of your brand, always try to show appreciation by saying at least "thank you" to their positive messages.
8. Manage Facebook Content
While it sounds simple to apply all of the above tips, it is sometimes easier said than done – Facebook can be a pretty crowded place. Therefore, your company needs someone who will read and pay attention to Facebook posts and comments as part of your social media effort. That person should pay attention to everything said, and post appropriate replies. Some companies might have trouble coping with an active social media presence, so you might need to train your entire customer service staff with proper social media procedures.
Finally, there is an important aspect of Facebook management that should not be ignored – in addition to maintaining your company's Facebook page, you should also engage in active social listening and choose a monitoring tool that can track every online mention of your brand. Those tools can help you find comments posted elsewhere on the platform and respond to them appropriately.
This will allow you to engage people who might not exclusively write on your page, and provide them with tips and advice that can add value to their experience. You can also use those tools to collect and analyze your customers' online behavior, which will help you provide them with outstanding customer service. They will be amazed at your concern, and you will benefit from their engagement.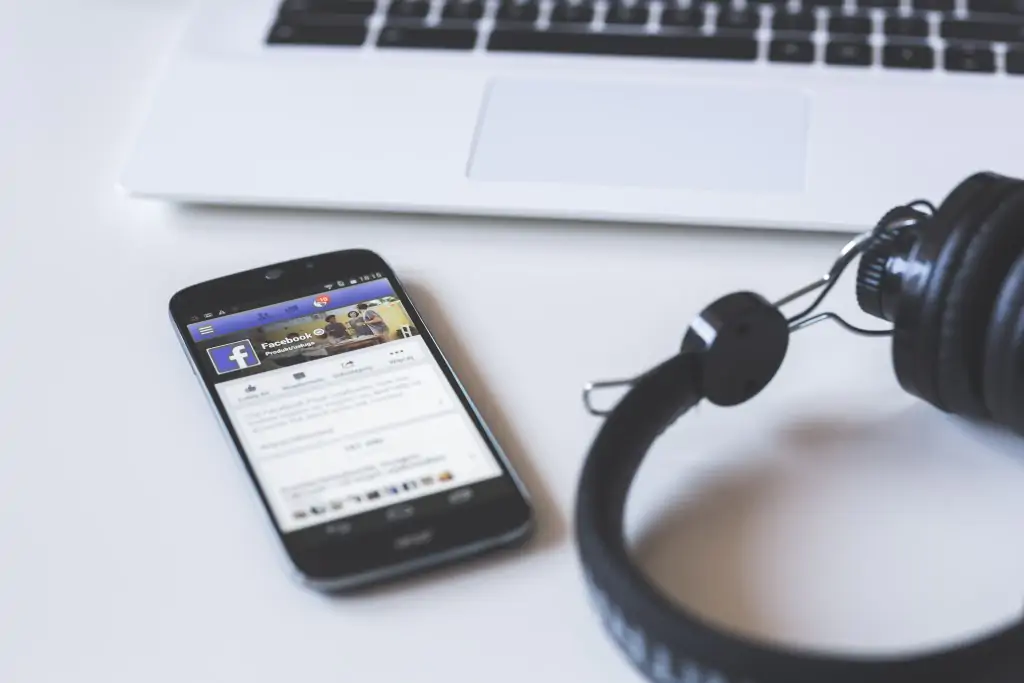 Your company's Facebook page and the way you respond to customers´ comments have a great impact on how your brand is perceived, so make sure you respond appropriately to everything your customers say.
When you promptly answer questions, resolve issues, engage in conversations, and express empathy and gratitude as part of your customer service initiative, you please your audience and set an example for others to follow. Best of all, everyone will see how your company handles customers on Facebook and respond positively to your efforts. By following these tips, you will improve your Facebook customer service, build relationships, and gain the much needed customer loyalty and trust.
About the Author:
Natalie Smith, a Seattle-based freelance writer and copywriter, enjoys writing about marketing, social media, and customer service. She is also an ardent follower of the new trends in the business world, as well as on the Internet. You can reach her @Natalie Smith.