An Easy Way to Enhance Sales: Somersby's Cooperation with bloggers – Case Study
October 24, 2014 ・ 5 min read
Do you want to get to know an effective way to increase your brand recognition, reputation and improve sales results without spending a fortune on marketing activities? We have a solution for you. Read the article and check out the full report on SlideShare to find out more.
More and more people tend to seek Internet users' advice more willingly than expert's. One blogger from the list of top 10 most influential Polish bloggers and vloggers reaches approximately to over 6 million people monthly. It is the impressive result comparing it to 38-million population of Poland and to Polish benchmarks. Thus it might be very tempting to take a chance of their power.
Introduction
A company which seized the opportunity and opted for a cooperation with Polish bloggers in their campaigns was Somersby – cider producer. The company involved dozens of bloggers in their last marketing campaign and the result exceeded expectations. After one month Somersby Blackberry became the bestselling beer in Poland, the annual sales plans were accomplished in 3 months and the distribution plan surpassed the reality many a times. It has been another year of such collaboration between the brand and bloggers. Now the blogosphere is Somersby's fixed marketing communication channel.
About the brand

Somersby is a brand of beer brewed by the Carlsberg Group. While its flagship brand is Carlsberg Beer, the company brews over 500 local beers. The Carlsberg Group's Somersby was originally developed for the Danish market in 2008, but since then it has been launched in more than 46 countries around the World. On the Polish market it was introduced in March 2012.
Campaigns with bloggers
Cooperation with bloggers and vloggers is a fixed element of Somersby's marketing strategies. The brand cultivates the relationships with them in a consistent and natural manner. Thanks to their approach, they managed to create an effective model for their marketing campaigns, which bear fruit and are more and more beneficial to sales results. This model is generally based on the blogosphere, as the main driving force and on Facebook, which supports all the activities.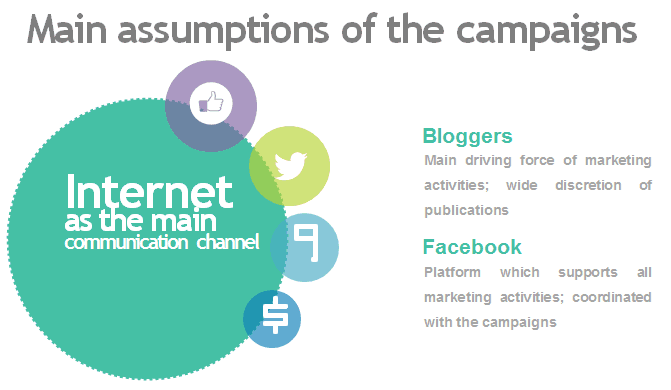 Introduction of Somersby Blackberry
The Carlsberg crew which included Maciek Pichlak, Joanna Dmochowska and Janek Rudziński, involved Kominek (one of the most influential Polish bloggers) in the campaign to coordinate the cooperation with bloggers and vloggers. In addition, two media agencies: PHD Media Direction and Fenomem supported Facebook activities and communication with the influencers.
The campaign itself included four steps:
1. Somersby Blackbery introduced to bloggers and vloggers
The participating bloggers and influencers were given personalized packages with a lanyard, letter, six bottles of Somersby beer and some other gadgets from Lord Somersby. What is important, they were not given any instructions concerning the publication. Then they started sharing photos of packages on their blogs.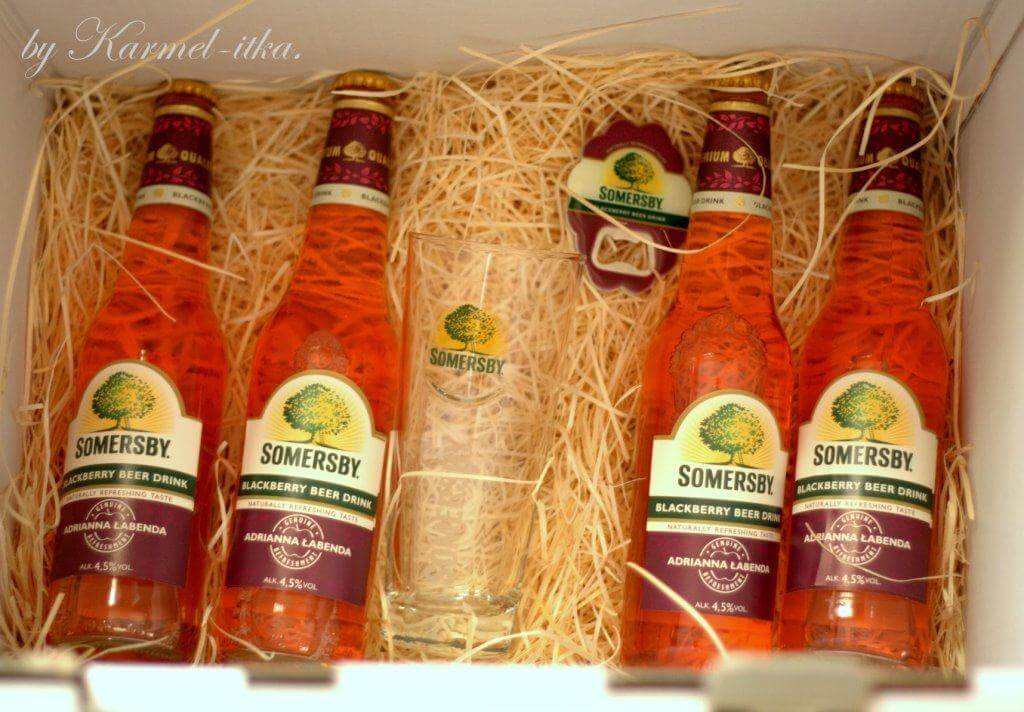 2. Bloggers as the first consumers
Bloggers and vloggers who were the first to try the new flavor of the beer could share opinions about Somersby Blackberry. As they had no tips how to do it, the publications were very diversified and reached to wide audience. For example, food bloggers published recipes for making delicious treats which included Somersby Blackberry or which went well with the beer, while others came up with creative ideas for competitions with attractive prizes.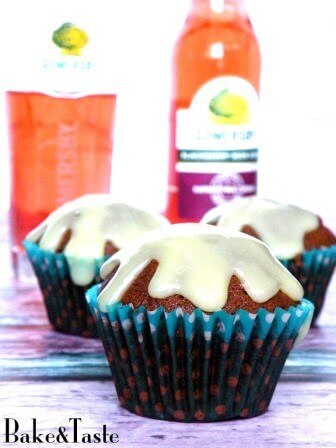 3. Coordination with Facebook
At the same time, media agency ran activities on the Facebook profile – Lord Somersby.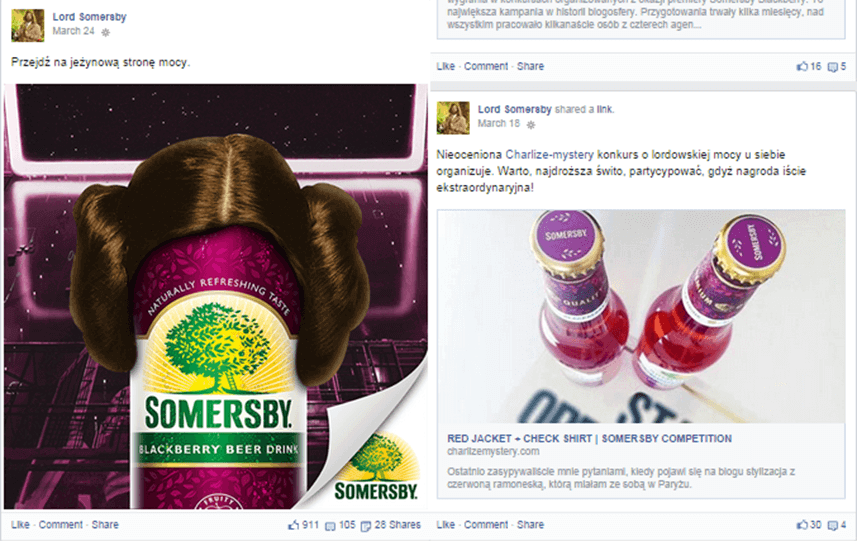 4. Consumers as brand ambassadors
Consumers became brand ambassadors and published their own contents on their social media profiles on a huge scale.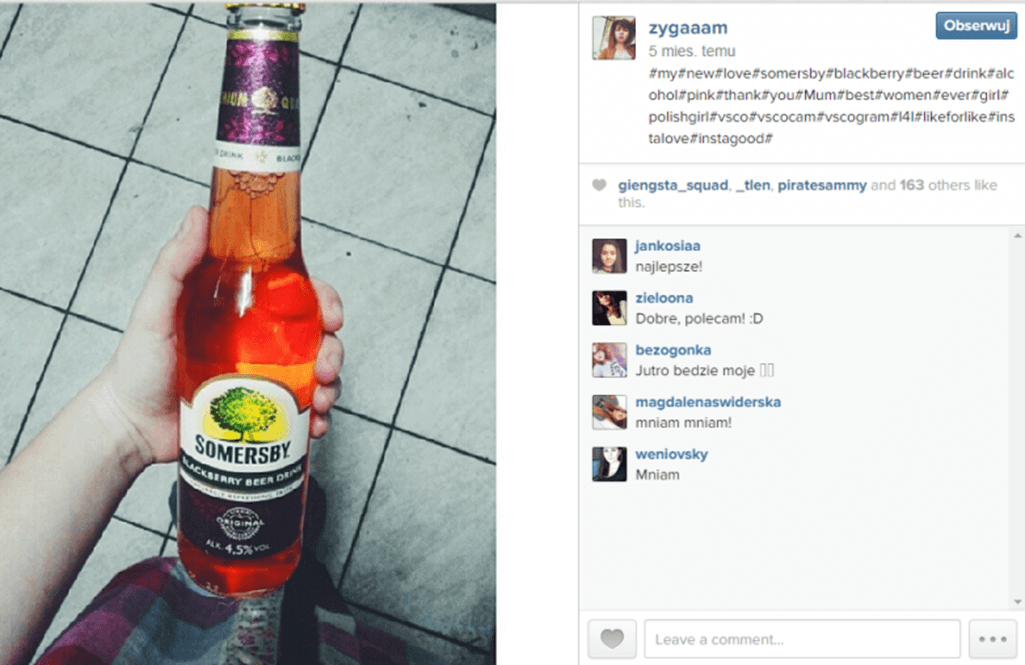 Results
Distinct improvement of sentiment structure

The share of positive mentions increased from 68.4% to 84.6%, while the share of neutral and negative ones dropped to 1.4% and 13.9% accordingly.

Rapid rise in the number of photos

In March the number of mentions which included photos increased by 400% in relation to February. In April it went up again – by 63% (comparing to March).

The number of engaged users rose by nearly 400%

The number of engaged users (who interacted with contents about Somersby, i.e. liked, commented, shared) increased nearly four times (391%).

The speed of new fans increase doubled
Contents about Somersby reached to approximately 1.32 million people during the campaign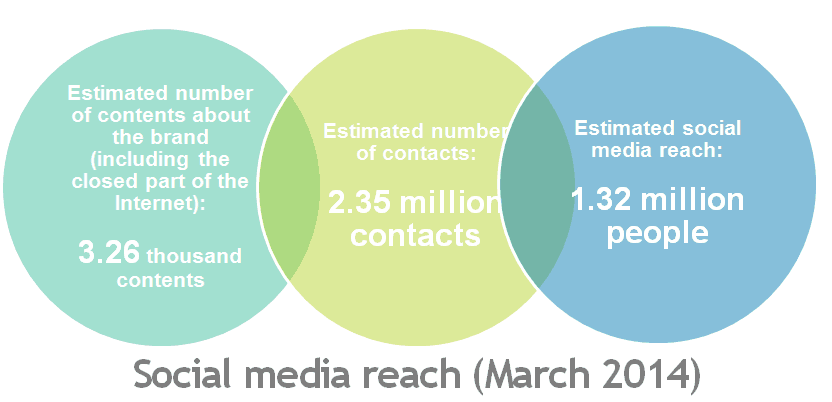 Best-selling flavored beer after one month
Sales many times bigger than distribution plan
Annual sales plan executed in four months
Some retailers lacked the product due to great demand
#Friendsie campaign
Another campaign conducted by Somersby aimed to promote social lifestyle. Social media users were encouraged to take photos with their friends, relatives, family and tag them with #friendsie #somersby. It was an alternative for selfish selfies. Lord Somersby rewarded the most creative authors with special packages which included beers and some gadgets. The cooperation with bloggers was not over after Somersby Blackberry introduction. The company still has kept positive relations with them. Bloggers actively promoted Friendsie campaign.
Results
Huge increase in the number of mentions and social media reach

The number of mentions about Somersby increased by 750% in relation to the period before the campaign. During the campaign, Internet users generated more than 11 thousand contents, which reached to approximately 4.5 million people.

Huge increase in the number of photos

The number of photos which concerned the brand Somersby or its campaign increased 15 times. In the first three weeks of the campaign it totaled 8.7 thousand pictures.
Sample Friendsies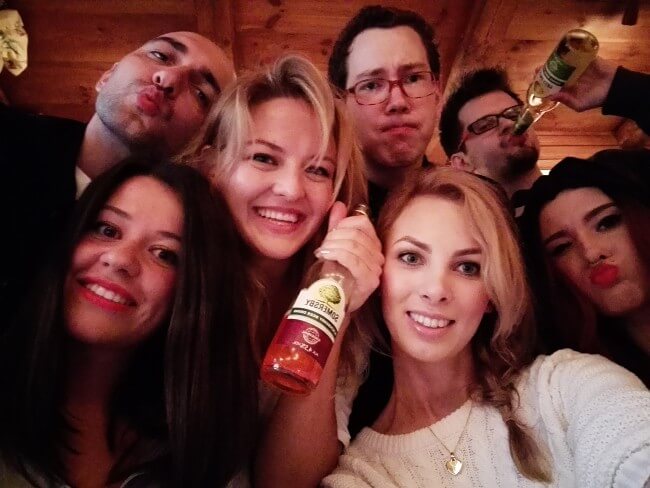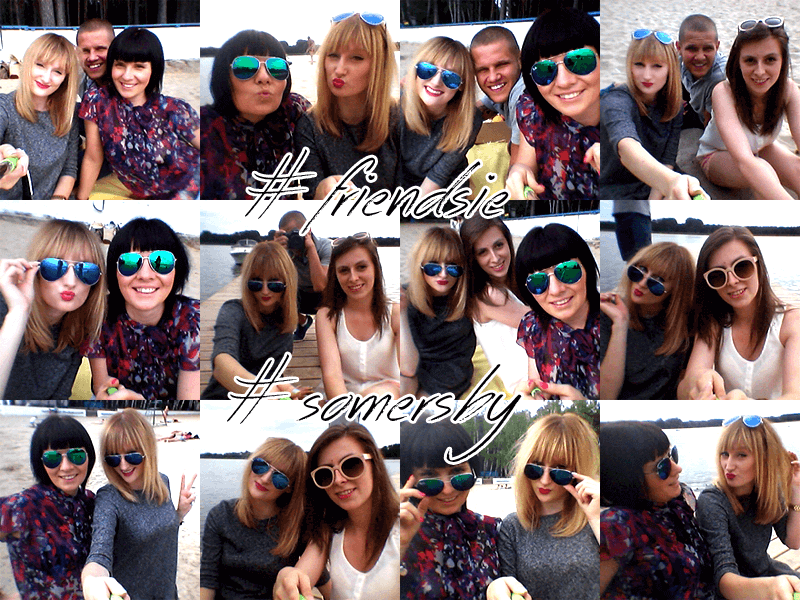 5 Reasons why to cooperate with bloggers
Bloggers have huge reach in social media

The most popular blogs are visited by millions of people monthly, so it is a perfect place to promote you product or service. However, smaller ones are also very useful as their audience might be more homogeneous, thus easier to communicate with.

Bloggers are very influential

Nowadays people very often take knowledge and create their views basing on other Internet users' opinions. Thus any recommendations, or reviews are much more reliable and valuable than expert's advice. People trust their favorite bloggers and frequently follow their advice.

Working with bloggers is fun

Examples presented in this report prove that bloggers are creative people with good sense of humor. Cooperation with them might be a funny experience.

Bloggers are great brand ambassadors

Bloggers willingly share their positive experiences with others. Thus if they like your product or service they can attract a lot of new clients who will become loyal and devoted to a brand.

Bloggers can inspire you

Bloggers are very creative human beings. They often might come up with great ideas that you might have never think of.


Conclusion
Somersby proved that it is worth working with bloggers. The company benefits from this cooperation in many grounds and their results are clearly visible and measurable. To sum up, here are the main bullet points of the outcomes of cooperation with the blogosphere:
Increased number of mentions about your brand
Increased social media reach of contents about your brand
Sales increase
More fans on a fanpage
More interactions with contents (likes, comments, shares)
More positive brand image.