How to Run LinkedIn Monitoring? Tools & Tips [2023]
February 11, 2023 ・ 9 min read
With over 850 million active users, LinkedIn is the world's largest professional networking site. It is a great platform for B2B marketing. LinkedIn monitoring will help you get the most out of it.
LinkedIn has become an increasingly important platform for businesses in recent years. According to official LinkedIn statistics:
There are 850 million LinkedIn users from 200 countries.
191 million users come from the United States.
Over 58 million companies have LinkedIn accounts.
95 job applications are submitted every second.
6 people are hired every minute on LinkedIn.
Keep reading to learn how to start monitoring LinkedIn and benefit from it.
Table of contents:
What is LinkedIn monitoring?
LinkedIn monitoring is the process of tracking, analyzing, and responding to users' activity on the platform – posts, comments, messages, etc.
For businesses, that means keeping tabs on what's being said about your company, your products, and your industry.
By using social listening for LinkedIn, businesses can get real-time insights about their target audience, products, and services. Then they implement conclusions into their marketing strategy.
Start monitoring your LinkedIn mentions. Try Brand24 for free!
How to monitor LinkedIn?
There are two main ways to monitor LinkedIn: manually or using a tool.
01 Tracking LinkedIn mentions manually
Like other social media platforms, LinkedIn sends you notifications about your profile activity. Manual tracking involves regularly checking the LinkedIn platform for mentions of your brand.
However, this approach can be time-consuming and may not provide insights in real time. Also, if you don't log into your account for a few days, you will have a backlog. It might be challenging to find valuable mentions.
02 Using social media monitoring tools
A better way to monitor LinkedIn is to use a social media monitoring tool like Brand24. Such tools crawl the internet, including social media platforms like LinkedIn, for mentions of keywords.
What's important is that monitoring tools can only collect publicly available mentions on the internet. Those tools will not find mentions in posts with access restrictions applied to them. For example, they won't search private LinkedIn groups.
That's because the API of LinkedIn does not allow monitoring tools to monitor this platform in-depth.
Why is it worth using a social media monitoring tool to monitor LinkedIn?
There are many reasons:
Social media monitoring tools compile all mentions in one place so you can easily track them. That's a big advantage – you don't have to log in on each social media platform.
They sort mentions by importance and popularity. So even if you don't check the mentions for a few days, you will quickly find the most valuable ones.
Advanced search functions let you set up automatic alerts, so you're always aware of the latest LinkedIn mentions. You can also track competitor activity, measure campaign performance, and more.
They also serve as LinkedIn analytics tools as they measure many important social media metrics such as reach, the volume of mentions, sentiment, engagement, the share of voice, and more. So you can conduct an in-depth analysis of your social media profiles.
Thanks to a social listening tool, you can conduct the sentiment analysis of each LinkedIn mention. This means that you don't have to evaluate whether the mention is negative, positive, or neutral. The tool will do it for you.
LinkedIn monitoring tools
While doing my research, I discovered that not many social listening tools monitor LinkedIn. That's probably because of LinkedIn's restrictive privacy policy.
Here's a list of tools that monitor LinkedIn:
01 Brand24
Free 14-day trial. Individual plan for $79.
Brand24 is a social media listening tool that monitors many social media platforms, such as Facebook, Twitter, Instagram, YouTube, TikTok, Telegram, Twitch, Reddit, Quora, and LinkedIn of course.
But that's not everything.
Brand24 also lets you keep an eye on online conversations across blogs, news sites, podcasts, newsletters, review sites, and forums. The tool monitors the internet in real-time.
Start monitoring your LinkedIn mentions. Try Brand24 for free!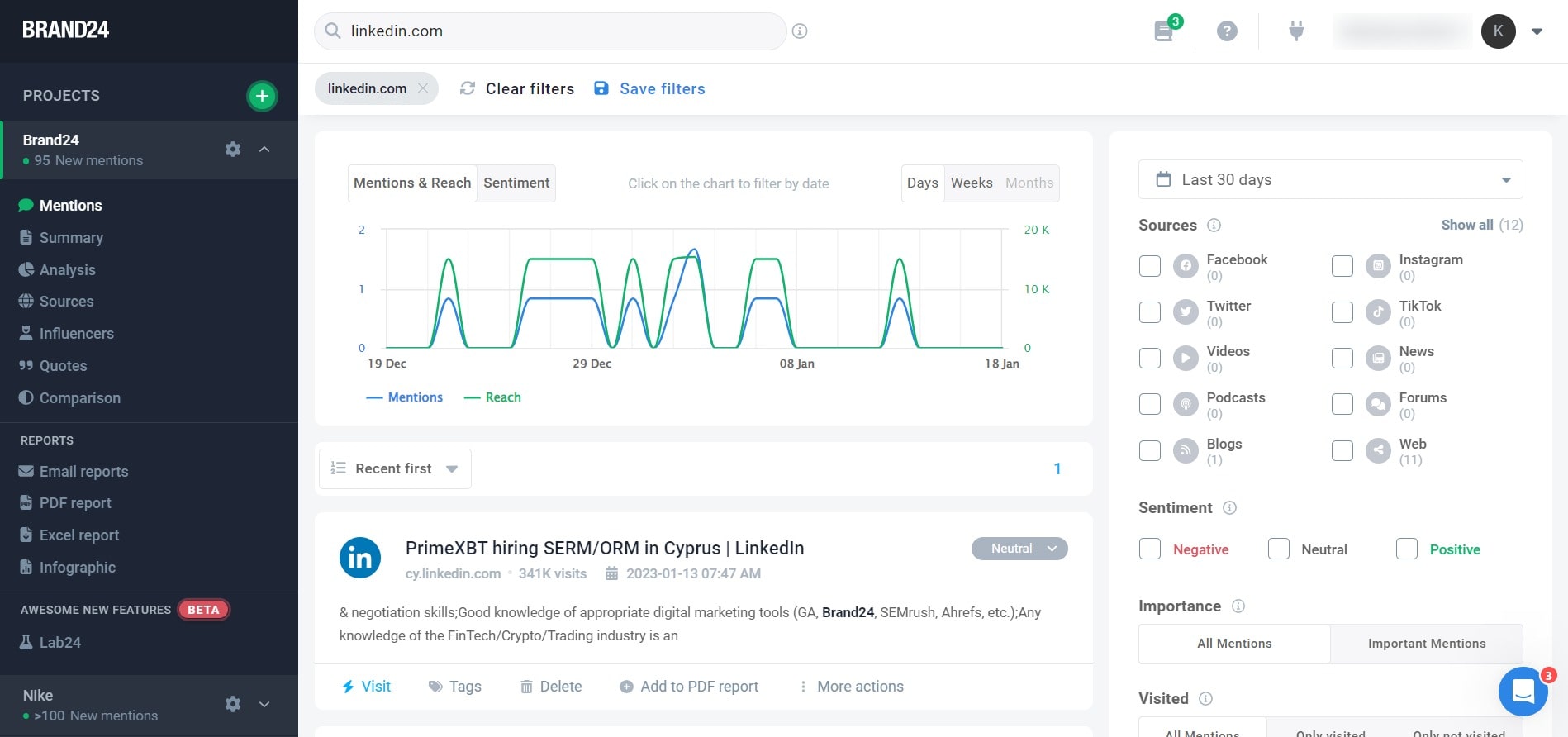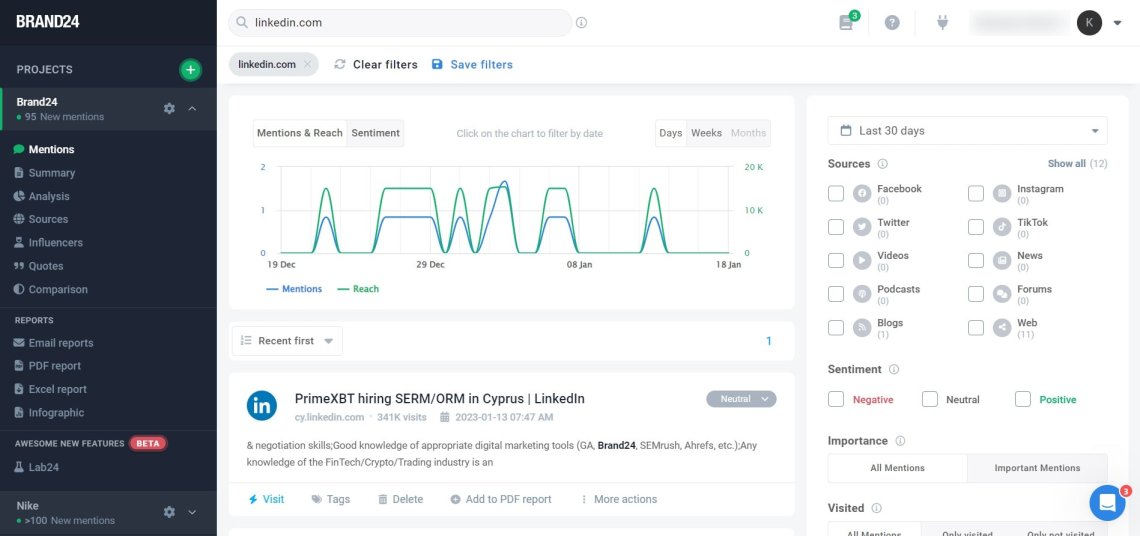 Here's a short guide on how to find LinkedIn mentions using the Brand24 tool:
After setting up a project, you will gain access to mentions across public LinkedIn posts.
To monitor your posts and comments, you need to set up the integration of your LinkedIn page with the Brand24 tool.
Then, in the Mentions tab, you can filter mentions by tapping "linkedin.com" in the search bar.
As I mentioned above, social listening tools such as Brand24 can collect mentions from public sources. Take a look at the example of such mention:
Ruslan mentioned Brand24, but he didn't tag it. His post is public, so everyone can read it, even people that don't have a LinkedIn profile. That's why the tool collected this mention.
Tip: After setting up the integration, you can additionally track social media posts and comments from the LinkedIn page on which you are a super administrator.
Inside the Brand24 tool, you will find many useful features:
Mentions tab with advanced filters
Sentiment analysis
Engagement metrics
Most popular mentions
Trending links and hashtags
Top public profiles that talk about your brand
Most active sites that talk about your brand
Reputation score
Presence score
E-mail alerts
Start monitoring your LinkedIn mentions. Try Brand24 for free!
02 BrandMentions
Free 7-day trial. The growing business plan costs $149/month.
BrandMentions is a social listening tool that monitors the web and social media. LinkedIn is one of the monitored sources.
The tool monitors conversations in real time. It provides insights that will help you improve your LinkedIn strategy and better understand customers.
Using BrandMentions will allow you to join social media conversations, find influencers to cooperate with, track competitors, and conduct sentiment analysis.
Key features:
Brand monitoring
Competitor Spying
Reputation management
03 SentiOne
The team plan costs $300/month.
SentiOne is a social listening tool that monitors LinkedIn and other social media platforms. With SentiOne, you can monitor your LinkedIn profile mentions, reply to them, and engage with your audience.
The tool gives businesses real-time insights into social media conversations, allowing them to respond quickly to any negative mentions.
SeniOne lets you learn how your brand is perceived online, track competitors, identify influencers, discover audience insights, and set up automated reports.
Key features:
Social media monitoring
Online data analytics
Automated reports
Crisis Prevention
LinkedIn monitoring tips
By following a few tips, you'll be sure to get the most out of the monitoring tool:
Monitor the right keywords. First, you need to pick the keywords to monitor that will be related to your business. It can be your brand name, branded hashtag, product name, or your competitor. The monitoring tool will gather mentions that contain those keywords. As a result, you will discover interesting insights about your industry, such as trending hashtags, trending links, and the most active public profiles. Then you can implement those insights into your LinkedIn marketing strategy.
Filter the data. Social media listening tools track millions of sources. After setting up a project, you will likely discover lots of mentions. To find those that matter, I advise you to sort them by popularity or importance. Also, you can use advanced filters to sort the data. The quickest way to find LinkedIn mentions is to type "linkedin.com" into the Boolean Search box.
Set up alerts. It's a good idea to set up alerts to inform you about any changes in the volume of discussion around your brand. This feature allows social media managers to detect mentions with the broadest reach easily. It significantly reduces the time they need to spend on media monitoring.
Observe the sentiment of mentions. Negative mentions can badly impact your brand reputation. To avoid a PR crisis, try to respond to them promptly. If there is any negative mention, it is worth responding to it.
Join relevant conversations. LinkedIn users love to interact and leave comments or reactions. After discovering LinkedIn mentions, it's time to join those industry-related discussions and build relationships with the target audience. It's a great way to improve the Social Selling Index.
Start monitoring your LinkedIn mentions. Try Brand24 for free!
Benefits of LinkedIn monitoring
LinkedIn is a powerful tool for B2B marketing. There are a number of reasons why businesses should monitor LinkedIn:
First and foremost, LinkedIn is a powerful networking tool. It's a great way to connect with potential customers, partners, suppliers, and employees.
You can use LinkedIn to build relationships with influencers in your industry. These relationships can help you get your brand in front of a larger audience and generate more leads.
Monitoring can help businesses increase sales because social listening can help you find leads.
Monitoring LinkedIn mentions will help you understand what content resonates with your target audience.
Conclusion
It's definitely worth monitoring LinkedIn. It is a powerful business networking tool with millions of users worldwide.
By monitoring LinkedIn, businesses can:
Get insights into what people say about their brand,
Identify potential sales leads,
Build relationships with potential customers,
Improve their Social Selling Index,
Find untagged mentions,
Get LinkedIn analytics insights.
If you're not already using LinkedIn monitoring as part of your social media strategy, now is the time to start! Try it for free!
FAQ
Can LinkedIn be monitored?
Yes, LinkedIn can be monitored using social monitoring tools. These tools allow you to track and analyze activities on LinkedIn, such as profile views, post engagements, and connections. Monitoring LinkedIn provides valuable insights into how your brand or industry is performing on the platform. It enables you to identify emerging trends, track competitor activities, and engage with your professional network effectively
Is LinkedIn analytics free?
Yes, LinkedIn provides a basic level of analytics for free to its users, similar to Google Analytics. The platform offers insights into profile views, post impressions, engagement metrics, and other key performance indicators. However, it's important to note that LinkedIn's free analytics may have limitations in terms of the depth of data and access to advanced features.
What are the 3 types of social listening?
Social listening involves monitoring and analyzing online conversations and mentions to gain insights about a brand, industry, or specific topics. The three types of social listening include:
Brand mentions: This type focuses on monitoring and analyzing mentions of your brand across social media platforms. It helps you understand how people are talking about your brand, track sentiment, and address customer feedback.
Industry or topic monitoring: This type involves monitoring conversations and trends related to your industry or specific topics of interest. It helps you stay informed about industry trends, identify opportunities, and understand customer preferences.
Competitive monitoring: This type focuses on tracking the activities and performance of your competitors on social media. It helps you gather insights about their strategies, identify potential gaps or areas for improvement, and stay competitive in the market.