What is Social Selling? Generate Better Leads with Brand24
January 18, 2022 ・ 10 min read
Sell better with the best social selling techniques. Today we will discuss what social selling is and how to use our social listening tool to master the strategy. Whether you are a salesman, owner or a marketer, read this article to discover new sales opportunities.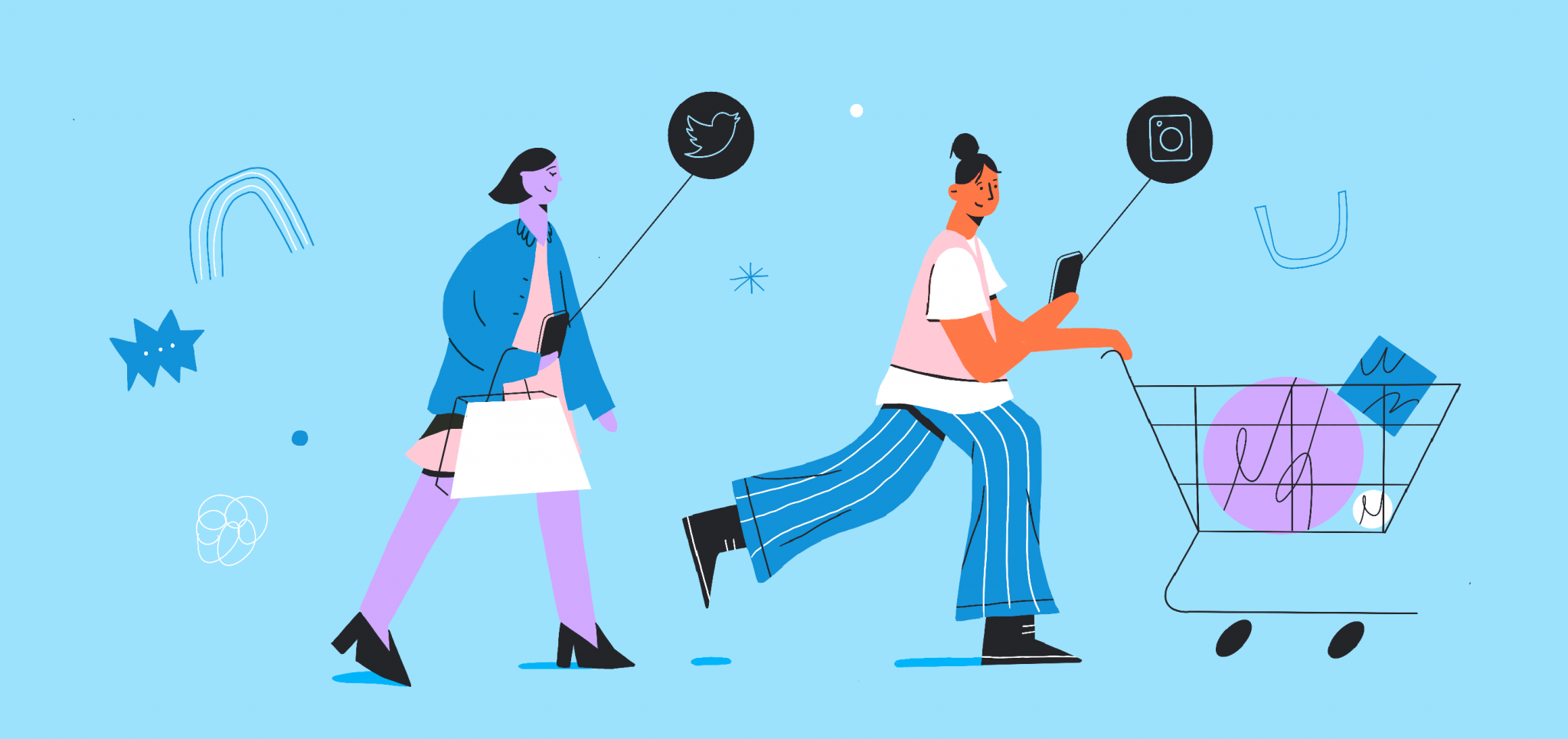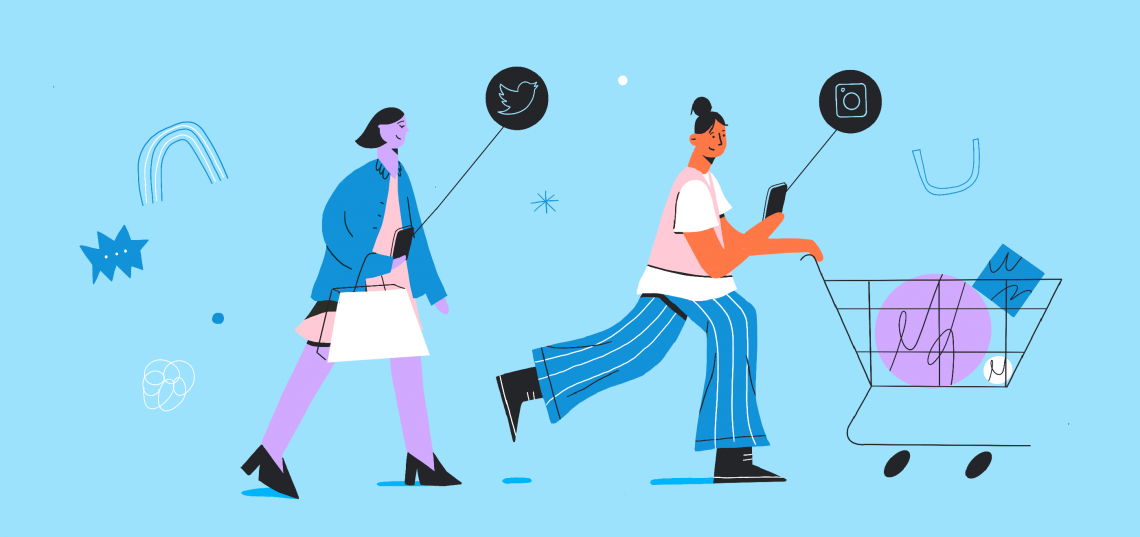 It's no secret that we make more digital purchases than ever before, from 1.3 billion buyers in 2014 to 2.1 in 2021. And that number is constantly rising.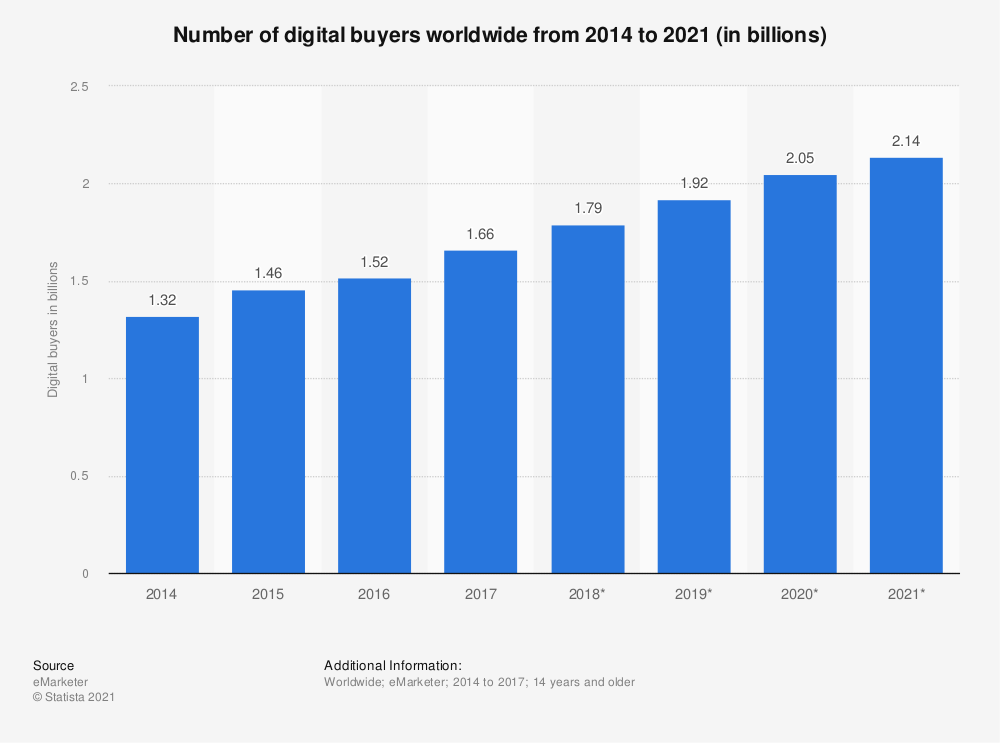 What are the best social selling practices? And what is it exactly? How to use social media platforms to your benefit, what are the top sales reps tips on social selling? That, and more, will be covered in this article.
Read further to master your social selling skills and build a strong professional brand with social media presence.
Table of contents:
Warning: Do not confuse social selling with social marketing.
What is social selling?
Before we dive deeper into various techniques and strategy tips, we should answer the question what is social selling? It's seems to be a very popular phrase among digital marketers and salesmen, but not everyone is using it correctly. If your sales team wants to pursue this strategy, this article is definitely for you!
It's a sales strategy involving social media. Simple as that. But that might be also true for social media marketing. So what are the fundamental differences between those two, and how to identify the key aspects of social selling?
It's no surprise social networks became the most popular places to advertise on the Internet. With the outstanding popularity of Facebook or Instagram it came to a point when it's weird if someone is not on social media.
Linkedin is no different. A lot of professionals that work in e-commerce, digital marketing, or somehow else are present in the Internet want to be visible in this social network. And sales reps quickly discovered the powers of Linkedin marketing and sales techniques.
Social selling is mainly used for B2B, but recently we are observing a rise of B2C social selling techniques.
This sales process requires an active search for potential customers and interacting with them in a meaningful way.
Ok, do you want examples?
For instance, if somebody on Linkedin is asking for a best tool for social listening, sales teams from such tools should quickly reply with their solution. But don't treat it as an advertisement – simply writing "check out XXX" won't work. You need to be more specific, more relatable, and more humane.
Instead of a bland mention of your brand, try to engage in a conversation with the potential client. Ask them what their pain points are, what's the size of their organization, and do they need a dedicated account manager. Then, share some relevant content from your blog or a similar case study.
By the way, would you like to try our social listening tool? The 14-day trial is free and no credit card is required.
The challenges of social selling
Introducing social selling in your sales process is not difficult, but it's challenging to do it right.
Social media is all about fighting for the short attention span of other users, and people tend to be like a goldfish in this case. After many years of being exposed to digital ads, we do not want to read any more sales pitches. Fortunately for you, Linkedin users expect to see a lot of social sellers.
Social selling is sometimes confused with social marketing, but these two should be kept separately. While social media marketing usually aims at a broader group of people, the business challenge of social selling is to cultivate one-on-one relationships. If you don't like talking with other people, you will have a hard time with social sales.
While adopting social selling, many sales reps engage in long term relationships with potential buyers. You really need to sell yourself to engage with a prospective customer and maintain a genuine conversation. You should befriend the prospect first, then proceed to a sales pitch.
Of course, most social media users will detect a fake interest almost right away. That's why I'm putting a strong emphasis on genuineness. Social selling works with meaningful relationships, so don't spam Linkedin with connection requests just to send them all the same few words about how your business will change their lives, because nobody buys that anymore.
How does social selling affect sales?
The main question is does social selling actually work? Well, according to various studies – yes, it does!
By building genuine relationships with potential customers they are more likely to bond with the brand and become recurring buyers. They are also more likely to switch from a competitor to your solution.
Of course, social selling strategy requires a lot of commitment and social skills, but the reward waiting for you is definitely worth the effort.
Decision makers in companies like to feel cared after, and if they are to choose between two solutions with similar offer, they are more likely to switch to one where they were introduced to a key account manager or other team members, who will help them with possible difficulties.
How social selling work across different channels?
The most popular social media platform for a social selling program is Linkedin, but there's no rule against performing the sales tactic on Twitter or Facebook and finding potential buyers via other channels.
Let's break down other popular social platforms and how they take could part in your social selling success.
Facebook
Social selling on Facebook might not be as effective as on Linkedin or Twitter, because most users hide behind personal profiles and interact only with their closest friends. So unless you know someone, you are not able to perform any sales strategy.
That being said, it's good to monitor brands and fanpages in your niche with tools like Brand24 and see if someone is looking for a product you can offer. You can always respond to comments as a brand or a personal profile and start the buying process there.
Twitter
Twitter is easier, because most tweets are public. And much easier with a social listening tool like Brand24.
Simply start a project for your desired keywords, start monitoring Twitter for any mentions that might be relevant to your brand, and start engaging with the users. Sooner or later you will master the strategy and will be able to generate a lot of interesting leads.
Instagram
User generated content posted on Instagram is not the best place to start social selling, but nevertheless you might try this channel too. This social medium puts focus on photos, the comment section is often omitted, but consistent efforts should bring you a starting point for social selling tactics.
Monitor social media with the best media monitoring tool! Check what potential customers think about your brand.
Linkedin
In my opinion, the best place for B2B social selling. Linkedin provides useful tools like Social Selling Index and Social Sales Navigator to monitor your campaigns.
A lot of C-suite executives use Linkedin on a daily basis and they are usually your target for B2B sales. There are a lot of great tutorials on Linkedin marketing out there, which will definitely help your sales, but there are just a few principles you should follow:
Be genuine.
Engage in relevant conversations.
Stay up to date with the latest trends.
Use that to leverage your sales opportunities.
Example: Tomasz Niezgoda from SurferSEO wrote a Linkedin post about a digital course for SEO writing. The post had a quite broad reach and generated more than 40 comments with people asking for an invitation to the course. This is a great way of promoting their brand.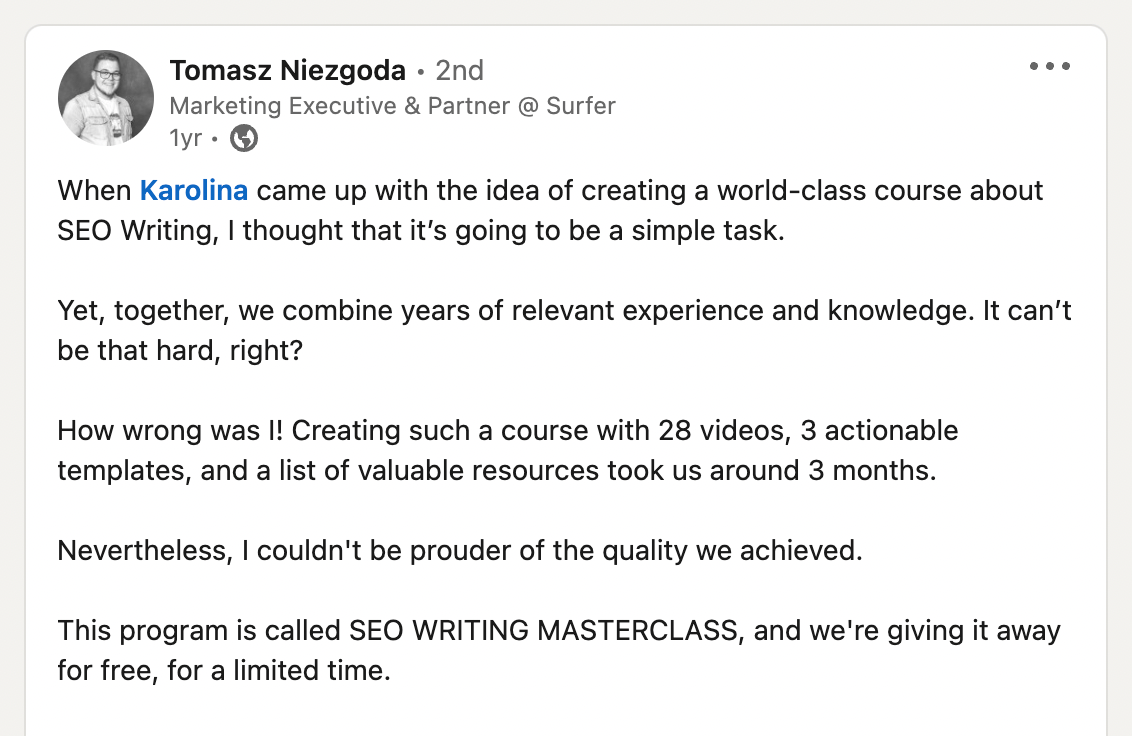 According to Tomasz, more than 20000 people joined SEO Writing Masterclass. Mostly promoted on Linkedin.
Social media networks work differently, so be aware to tailor your social sales strategy to each channel. You cannot use the same practices for Linkedin and Facebook.
How can I start social selling?
The easiest place to start social selling is Linkedin. Most sales reps use this medium anyway so probably you have a profile already.
To become a master in building relationships and generating leads, your Linkedin profile should be spotless. That means you should really put your heart into filling all the necessary fields.
This doesn't mean you have to list all the jobs you had since you started earning money, but rather describe your responsibilities in most recent and relevant companies. Don't oversleep on the intro and about sections. That's a place where you can truly sell yourself.
After you complete your social media profiles, check out one of the recommended social selling tools (more on that below). I highly recommend using a social listening tool like Brand24 to gather all useful mentions and keywords.
One you hook up on a relevant content, start a casual conversation about the potential customer's business challenges and your solutions.
Social selling & Brand24
Brand24 is a social listening and media monitoring tool appreciated by marketers worldwide. We collect live brand mentions and deliver them to you in a neat and organized format.
So how exactly Brand24 is helpful while executing social selling strategy?
Well, first of all you will learn what and how people are talking about your brand and niche. That is a first step to understanding your target audience. Successful lead generation via social media includes using the same language as potential customers.
This is where sales professionals can benefit from Brand24. Set up a project including keywords around your niche or product and see how the target audience communicates. In Brand24 you can additionally analyse the sentiment – filter through positive or negative mentions to discover what people think about your brand.
Moreover, Brand24 has the ability to notify you about the new mentions in real time. So when somebody is talking about your brand (or product) you can quickly react and respond.
You can even use the Telegram monitoring feature to follow public Telegram channels and get notifications about your brand mentions.
Read more: How to social sell with Brand24?
Boost your social selling strategy with Brand24 – media monitoring tool. 14-day free trial and no credit card required.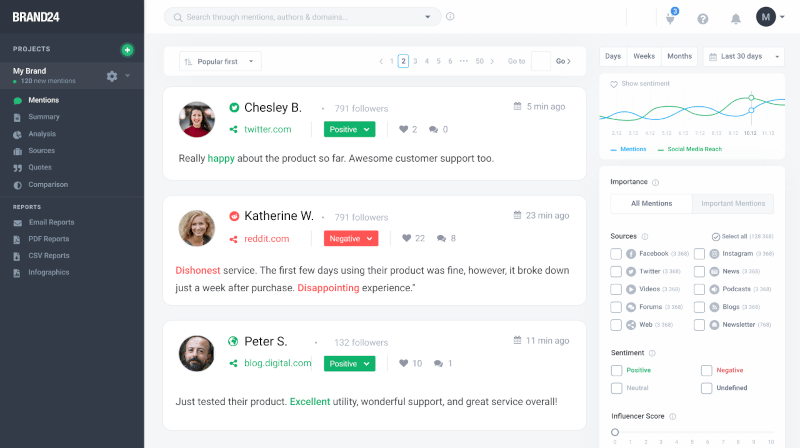 Other social selling tools
Apart from Brand24, there are other helpful tools that will boost your social selling strategy and automate some processes. Here's a list of solutions that will help you build stronger relationships:
1. Linkedin Sales Navigator
If you are a sales rep, the chances are you already use Linkedin heavily, so why not try the native tools the social media channel provides.
Linkedin Sales Navigator is helpful in outreach and lead generation within your target audience and a great tool to build relationships with potential clients.
2. IFTTT
If This, Then That is a nifty little tool that has a countless applications limited by your creativity only. It can quickly move content and data from one tool to another.
For example, you can automatically import social media leads to Google Sheets or share your company posts to your own profile.
3. Hootsuite
Another useful in social selling tool. Hootsuit combines a lot of handy features for both marketing and sales departments.
This tool will be effective for both social selling and traditional methods. Considering its advantages, it is good to have a social media tool like Hootsuite or an alternative in your company if you want to engage in digital marketing.
How to improve Social Selling Index on Linkedin?
Do you know what Social Selling Index is?
It's a special measurement tool by Linkedin to estimate your social selling efforts. You can get your score for free here.
Social Selling Index shows in percentage the completeness of your Linkedin profile needed for successful social selling and compares it to similar people in your industry, so you can learn if you are above average or should you improve.
How to improve the SSI? Well, if you already clicked the link and calculated your score you know exactly what to do.
Establish your professional brand – think like your potential customer. What do they want to see when visiting your Linkedin profile? Tell the visitors who you are, what's your speciality, and why should they trust you.
Find the right people – Linkedin provides suggestions for new connections. Expand your professional network by connecting with industry leaders in your field, former clients and business partners, and use the search field to find existing customers. Your network will grow, and your social presence will too!
Engage with insights – believe it or not, but you are thoroughly profiled on each social media. That means Linkedin will find a great conversations for you to join, if you let it. Follow relevant hashtags, brands and people, and start engaging daily. It's a great way to find new professional relationships.
Built relationships – use Linkedin to talk with your existing customers, but also engage in new conversations with your network. Learn new relationship building techniques and you will become a master in social selling.
Start social selling today!
Stop cold calling. By now you should know enough to successfully build your personal brand and start social selling.
Additionally, you might want to read our top social selling tips to become an even better salesperson.
We hope that this article helped you to understand the issue and our tool will help you to reach sales goals faster with new business leads gained with social selling. Don't forget to start your free Brand24 trial and discover who is talking about your company.
Read next: What is personal selling?