Billboard Music Awards 2017: Analysis of the Buzz & Reactions
May 23, 2017 ・ 4 min read
The ceremony of Billboard Music Awards 2017 is already behind us.
South Korean BTS won Top Social Artist, Drake is the big winner with a record-breaking number of 13 awards and Adele didn't defend her last year's title.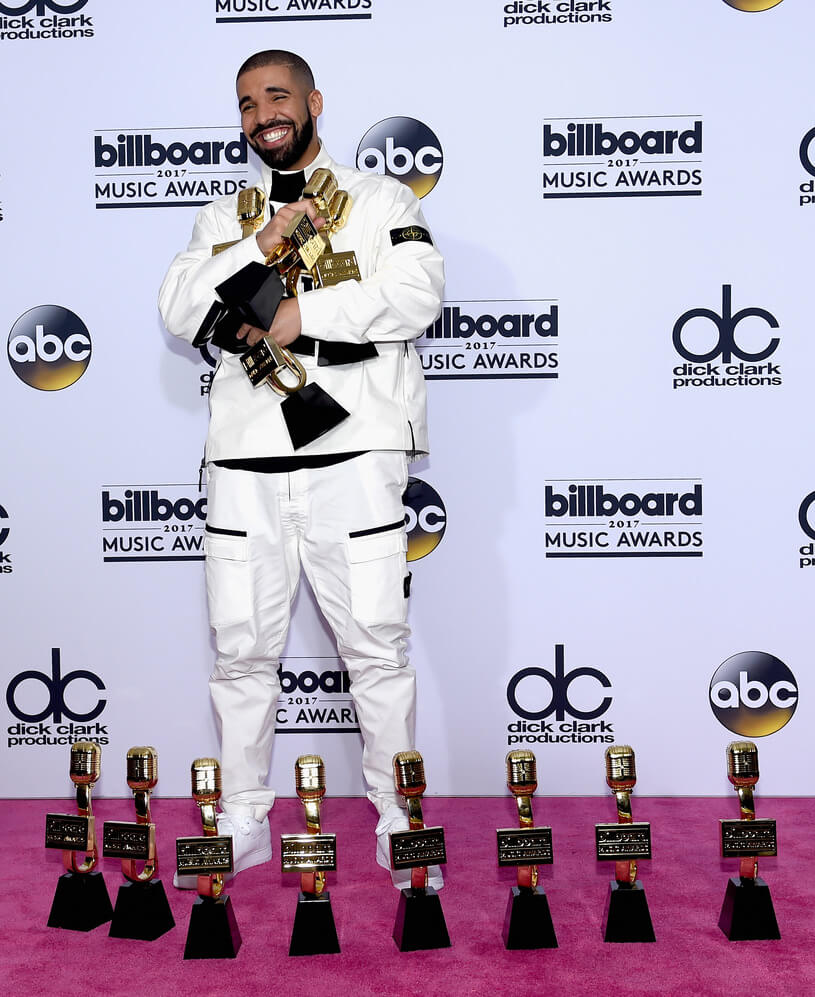 BBMA is certainly a significant event in the music industry but it also has a huge impact on the Internet. Long before the event people were talking about their favorite artists, pretenders and predictions.
Online conversations about the awards generated massive buzz. We observed a big interest in the event a lot of our trial users and customers setting up projects to monitor Billboard Music Awards.
But for all of you who haven't created a social media monitoring project in Brand24, we've prepared an analysis of the buzz connected to the event.
Analysis
It so happens that Billboard Music Awards established a dedicated hashtag, #BBMAS, to gather all conversations about the ceremony. Using social media monitoring, we've set up a project for two keywords: "#BBMAS" and "BBMAS". Social media monitoring tools like Brand24 easily gather and analyze data about hashtags and so we used it this time.
BTW, here's more about how you can use social media monitoring to analyze a hashtag performance on the Web.
And so we set up a project on April 30th.
Volume Of Mentions
You can see that the number of online conversations containing #BBMAS or BBMAS increased on May 15th. Since then, it has been gradually on the rise, even a day after the ceremony.

What's more interesting, the number of conversations about #BBMAS continues to grow even a day after the ceremony. On Tuesday 22nd, there were 40 561 mentions that gave a combined social media reach of 245 010 613 users.
Pretty remarkable, right?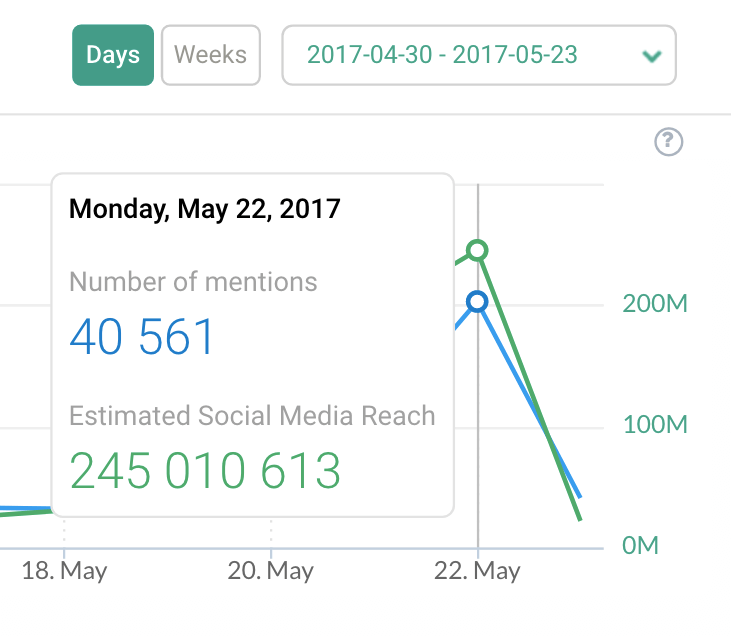 Sources
It's no surprise that the vast majority of mentions come from social media. After all, this is where hashtags are most popularly used.
And so we have:
Photo (Instagram in most cases) with 21 194 mentions.
Twitter with 15 952 mentions.
Facebook with 553 mentions.

Mentions From Most Popular Authors
The list of the most popular authors is based on influence. In Brand24, it's based on Influencer Score. It's an algorithm that's based on the number of followers a social media profile has, or, for a website, on the monthly number of visitors.
And here's what we've got: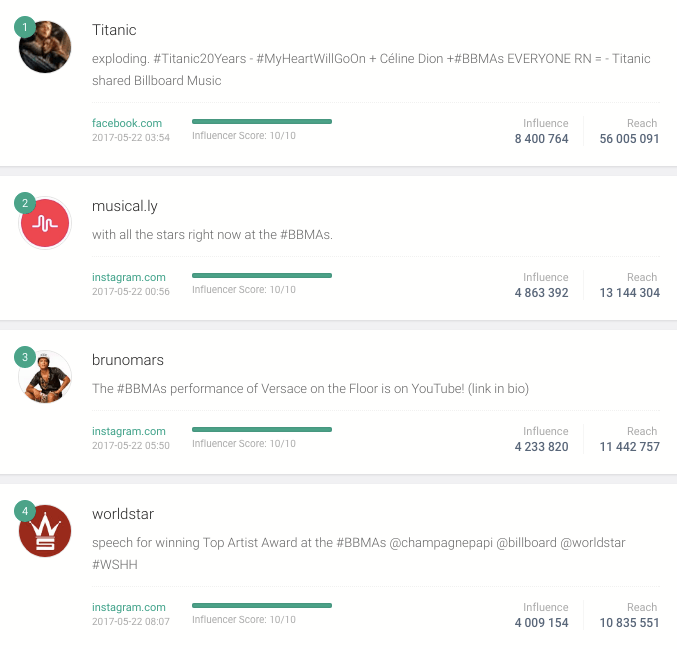 Let's have a look at the first three.
In the first place, we have the fan page of the unforgettable "Titanic" with an astounding number of 55 926 483 fans.
In the second place, there's an Instagram post by musical.ly with a dance video for the Top Covered Award.
In the third place, there's Bruno Mars, posting about his BBMA Versace performance.
Engagement
Brand24 shows also the number of interactions for mentions: likes, comments and shares. They are also represented by the chart with the breakdown of the number of likes, number of shares and number of comments.

Again, as the buzz increases, we can see a similar rise in interactions.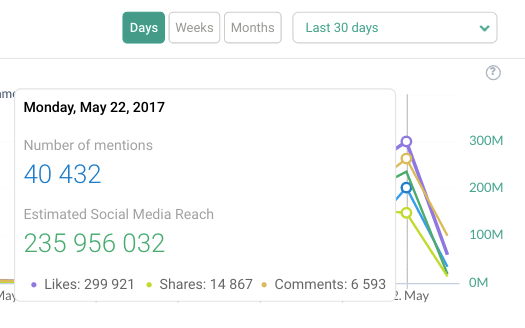 The Most Interactive Mentions
These are the mentions that generated the highest engagement.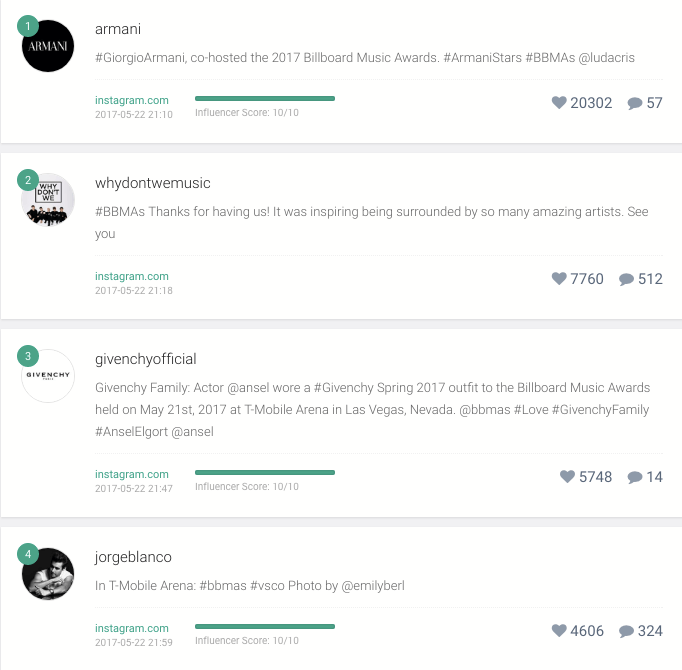 And here they are.
Reactions to Celine Dion Singing "My Heart Will Go On"
Celine Dion performed brought to tears the audience and artists with her performance of the timeless hit "My Heart Will Go On".
Not only the participants were moved, but also people online. Here are some reactions.
BTS Dominates the Buzz
Of all artists, BTS, the Korean boys band, was the most mentioned artists with 21 661 mentions. It's just an evidence that the band has a massive fan base all over the world.
Conclusion
You can also monitor your things using Brand24. Try it out in a free trial. Here's more about how social listening can help your business or learn more about hashtag monitoring.
If you have any questions, don't hesitate to post them in the comments section down below!