Emoji worth a thousand words
May 26, 2014 ・ 6 min read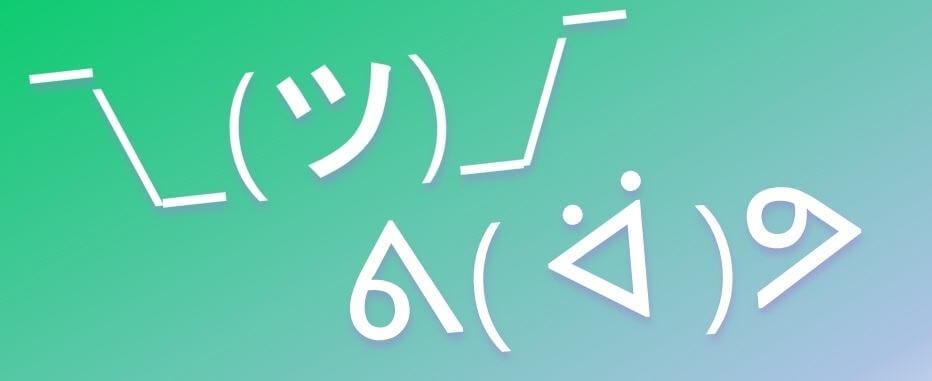 We are excited to present you our next tiny analysis about two emojis, which are slowly taking over the social media. We pulled from the Internet mentions which included ¯_(ツ)_/¯ or ᕕ( ᐛ )ᕗ to see how social media users communicate with each other using these symbols.
Inspiration of this entry was Mashable's article that we've come across recently.  As we mentioned in our previous article about new Snapchat functionality, people in social media decreasingly and less willingly apply written word in their comments. Instead they prefer images or video sharing. Or emojis which sometimes are worth a thousand words and require less effort to read and write it.  Today we examined two different emojis. First one – ¯_(ツ)_/¯  – commonly known as smugshrug or simply shruggie spreads on Facebook and Twitter feeds expressing various emotions but rather with a negative tone. The second is definitely a positive one – ᕕ( ᐛ )ᕗ, which reflects great joy, happiness and excitement. We decided to extract from social media platforms more mentions which include those emojis and analyze them with a little help of our analyzing tool.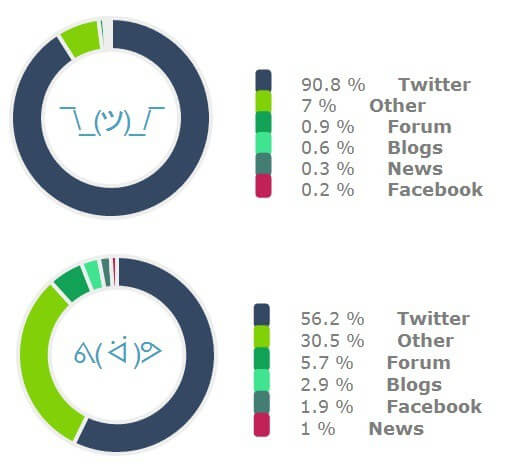 Main sources Most popular source of mentions was Twitter.
Sample mentions ¯_(ツ)_/¯:
On the 22th May we collected all mentions with ¯_(ツ)_/¯ symbol. About 12% of them included opinions about trending emoji and the majority of Internet users consider it cool and useful. However, comments with ¯_(ツ)_/¯ are usually with a negative or indifferent tone. Main meanings of this emoticon are:
I don't care
I don't know
Whatever
Even companies take the trend up. Here is the example of Denny's:
— Denny's (@DennysDiner) maj 21, 2014
Average number of interactions with Denny's Twitter per post within one week: 627
Number of interactions with the Twit depicted above: 4423
Increase: 700%
Carmex:
When someone asks to borrow your #Carmex, how many of you just ¯_(ツ)_/¯ and move on? pic.twitter.com/dqctLY144h — Carmex (@Carmex) May 22, 2014
…and some other sample mentions:
Ok I think i'm going to agree with mainstream here and declare that this emoji is cool! ¯_(ツ)_/¯ — Justin Johns (@Justin_Johns) May 22, 2014
If you've used this emoji in the past week, give us a big #whateva!!¯_(ツ)_/¯ http://t.co/7bhQ3mmbwW — Brandon Snider (@cfmbrandon) May 22, 2014
Just spent 10 minutes adding shruggie to my keyboard shortcuts. Time well spent, my friends. #¯_(ツ)_/¯ — Jess (@jessicaanngilly) May 22, 2014
It's not just about smug shrug ¯_(ツ)_/¯ While that emoji is famous. Don't forget about these emojis, Internet. — Southern Comfort (@southerncomfort) May 22, 2014
My reaction when someone asks me about directions : ¯_(ツ)_/¯ #awesomeEmoji — Navneet Singh (@tweet_navneet) May 22, 2014
Some people have to Google "¯_(ツ)_/¯" to type it out. I just go to @AnniesPerson's feed and scroll back at most three tweets. — Hayes Brown (@HayesBrown) May 22, 2014
Me too @jhermann I guess I just stopped caring about ¯_(ツ)_/¯ when I discovered ᕕ( ᐛ )ᕗ — Cosmina Sipos (@CosminaSipos) May 22, 2014
This is the best lil emoji don't even fuckin try to tell me differently ¯_(ツ)_/¯ — emily (@xemilytuccix) May 22, 2014
I really don't know y I am tweeting this ¯_(ツ)_/¯ , but just because #shruggie is trending ¯_(ツ)_/¯ I have to do this 😀 — Abhishek Sharma (@_abhisharma) May 22, 2014
hehe. I love the ¯_(ツ)_/¯ And no, I've never used it before now. So cute. A little smug. The era of the #smugshrug is upon us. Watch out. — Chandrima Chatterjee (@chandrimatweets) May 22, 2014
Well, here's my first justified use of "¯_(ツ)_/¯" http://t.co/kFLIEhrC5O — Benjamin Freed (@brfreed) May 22, 2014
¯_(ツ)_/¯ is definitely the defining symbol of my life (for now). — Joel Leeman (@jtleeman) May 22, 2014
¯_(ツ)_/¯ hahahahha suckers i just copy pasted the shruggy guy from someone else now i have it forever — brigid j barry (@brigidjb) May 23, 2014
@sindhura_akella haha! I am in love with this ¯_(ツ)_/¯ signifies my life right now! Donno what's happening. But happy! :p — vishaln_n_n (@vishaln_n_n) May 22, 2014
¯_(ツ)_/¯ The normcore of the internet. Or something. http://t.co/hp6VOSoCNm — Paul Papadimitriou (@papadimitriou) May 23, 2014
Things I'm barely tolerating on the Internet today: BuzzFeed quizzes, #tbt, and whatever the hell this is ¯_(ツ)_/¯ — Jim Sabataso (@JimSabataso) May 22, 2014
Fuck all you fuckers using this symbol. It's offensive. I can't move my arms like this ¯_(ツ)_/¯ — A Cat Named Bitches (@BitchestheCat) May 22, 2014
Every time I tell someone I have a standing desk at work and they say, "That sounds terrible!" I'm just like ¯_(ツ)_/¯ — MichaelAlanConnelly (@malanconnelly) May 22, 2014
I don't even have the desire to talk to anyone today ¯_(ツ)_/¯ — corrie✌️ (@letsfrickfrack) May 23, 2014
I really dont care where was she at when I fell ¯_(ツ)_/¯ RT @iamne_ne: @takeonthestorm honestly…. #assholeproblems pic.twitter.com/eLZmGgHxZ3 — The Young God (@takeonthestorm) May 22, 2014
I was like ¯_(ツ)_/¯ … I don't know. But keep your mouth shut. — Corey Cline (@CaptainCorey_) May 22, 2014
My dad just called me out on having a boner in front of my family. Sorry you had a boy mom and dad ¯_(ツ)_/¯ — Ian Lowe (@WiffleLowe) May 22, 2014
OMG how did I just find out that MY MOM IS FOLLOWING ME ON TWITTER Ugh now she knows about my sex life. ¯_(ツ)_/¯ — Nicole (@_nmhr) May 23, 2014
Sample mentions ᕕ( ᐛ )ᕗ:
We found much less mentions with ᕕ( ᐛ )ᕗ (6 times less than with ¯_(ツ)_/¯) on the same date. All comments are definitely with a positive sentiment. Here are some sample mentions:
ᕕ( ᐛ )ᕗ this emoticon made my day a little better tbh — Marijuanallama (@Marijuanallama) May 23, 2014
@desnarose Funny you should post that. I'm going to the dentist tomorrow. I'm so excited! ᕕ( ᐛ )ᕗ — Orochi Oni (@Orochi_Oni) May 22, 2014
its friday today ᕕ( ᐛ )ᕗ — 26 days (@prospitkind) May 23, 2014
My mood today: ᕕ( ᐛ )ᕗ — Dallin Hitchcock (@dallin) May 22, 2014
So today your supose to feel ¯_(ツ)_/¯ … But Im more ᕕ( ᐛ )ᕗ Yaaay! #HappyHappyJoyJoy — Roberto Garcia (@ImRoberto) May 22, 2014
Conclusions:
¯_(ツ)_/¯ is definitely more popular than ᕕ( ᐛ )ᕗ – at average six times more mentions with shruggie,
emoji increases the number of interactions,
social media users enthusiastically perceive entries with emojis.