20+ Absolutely Top Digital Marketing Tools You Need to Try in 2023
December 29, 2021 ・ 19 min read
According to getapp.com, over 5 800 digital marketing tools from 57 categories are available to use right away. While in our daily work we usually need about 10 tools. Of course, we want to use and pay for those ones that work excellently. How to pick them? The choice can be overwhelming. That's why I prepared for you the overview of the 22 best marketing tools to use in 2023.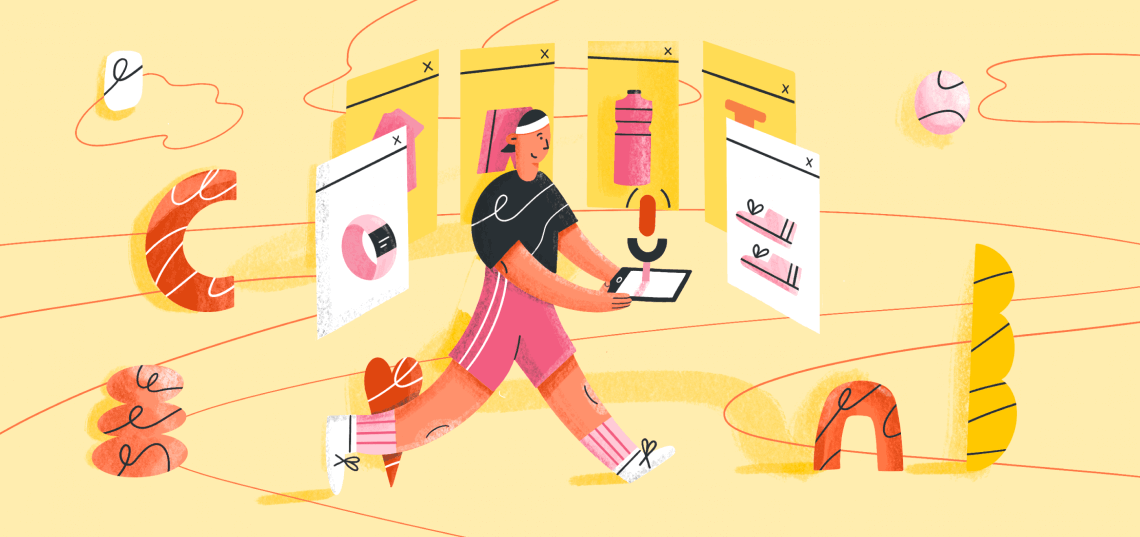 Can you imagine working as a Marketer without digital marketing tools? I'm sure you can't. For me, it would be a nightmare.
No doubt, we need marketing tools in our everyday activities. But which of them are the best of the best?
That's a tricky question. Today I will answer it.
Let's check a detailed list of online tools that will boost your digital marketing strategy.
The list consists of the creme de la creme of digital marketing tools. I tried to cover as many marketing areas as possible. Furthermore, the presented tools will help you excel in every marketing field – starting with SEO, through social media scheduling to ending with building landing pages.
22 best digital marketing tools for 2023
In this article, I will show you the best digital tools from the most important categories:
Search Engine Optimization
Ahrefs
7-day trial for $7. Lite plan for $99.
I am sure you know that keeping an eye on SEO is crucial to rank high in the Google search engine. That's why at Brand24, we use Ahrefs to check our website health, track keywords, analyze traffic, and many more.
Ahrefs is an all-in-one SEO toolkit that will help you optimize the website, search for the right keywords, analyze competitors and track rank progress.
The most exciting features are:
Site Audit
Site Explorer
Keywords Explorer
Content Explorer
Rank Tracker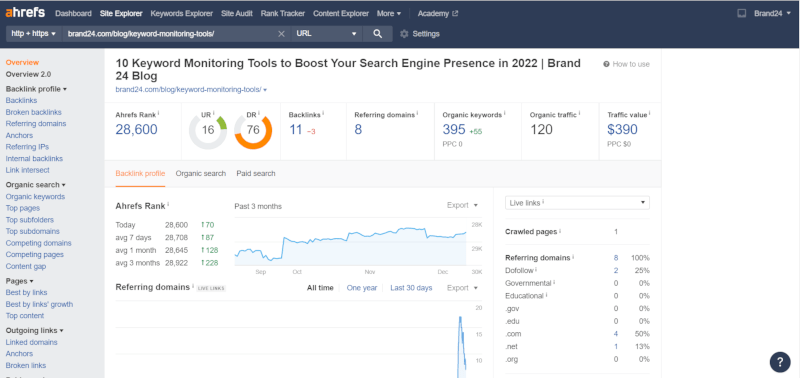 Semrush
Free 7-day trial. Pro plan for $119.95.
Among all digital marketing analytics tools, Semrush is one of my favorites. I am a big fan of the UX design of this tool. Furthermore, lately, they have implemented an Intent feature for keywords. It describes what is the intention of users when they type phrases in Google search. As a Content Manager, I can say it's very helpful.
SEMrush is an excellent all-in-one SEO marketing tool. Our marketing team uses it daily. It has a lot of valuable features such as:
Keyword Research
On-page SEO
Local SEO
Rank Tracking
Link Building
Competitor SEO Analysis
If you are thinking about one multitasking tool that will support you within various marketing areas, Semrush is a good choice. It covers SEO, content creation, market research, advertising, competitor analysis, and social media.
So it will be helpful if you want to:
Discover new organic competitors
Analyze your online competitors' ads and keywords
Conduct a backlink analysis
Analyze product listing ads of your competitors
Check the intent of keywords
Discover keyword gaps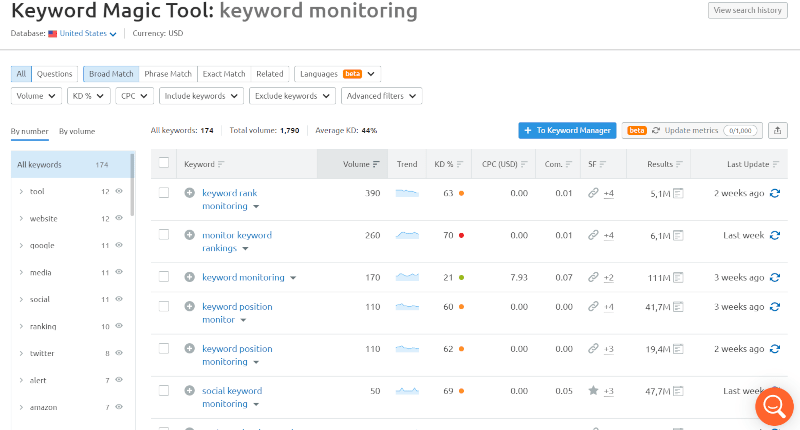 Senuto
Free 14-day trial. Essential plan for $24.
Senuto is a tool dedicated to SEO specialists that want to conduct visibility analysis, explore keywords for SEO campaigns, monitor SEO efforts daily. The company also provides SEO consulting.
The product has 3 core modules:
Visibility analysis – to explore visibility in Google and compare to competitors
Keyword Explorer – to search for proper keywords and generate long-tail keyword ideas
Daily monitoring – to monitor your website's ranking on Google
Obviously, price is the advantage of this technical SEO tool. It's cheapest than Ahrefs or Semrush.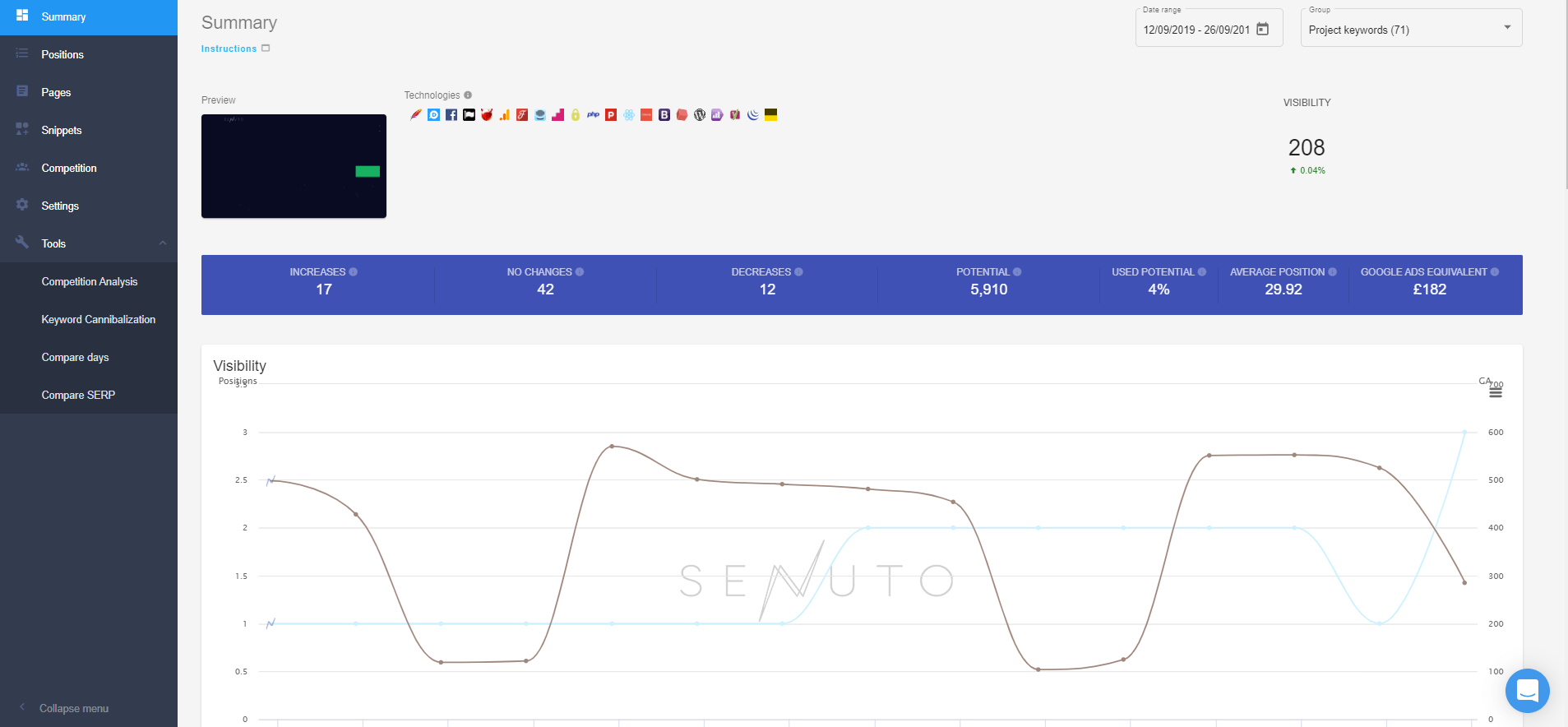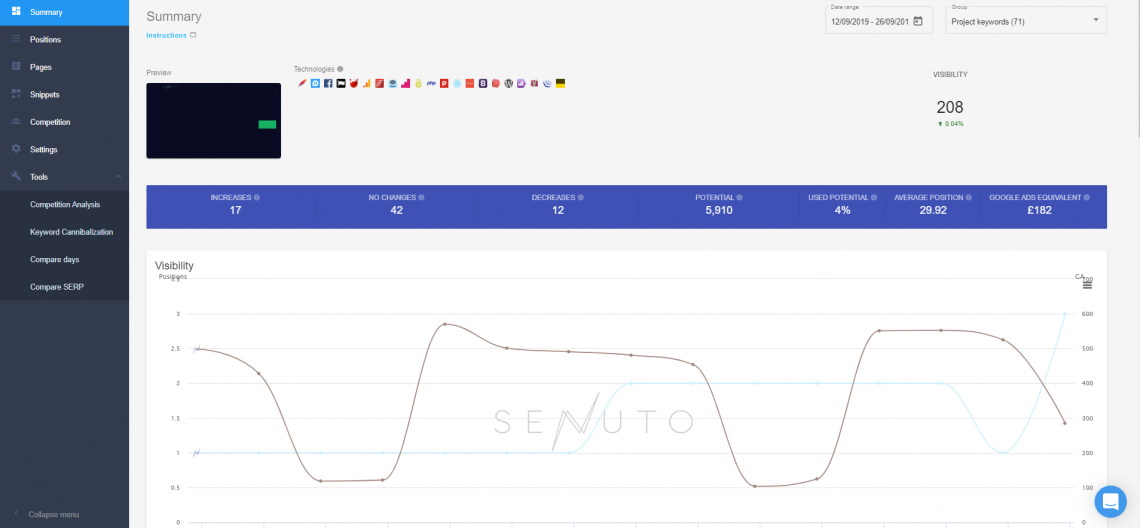 Tip: SEOquake is a browser plugin that conducts a detailed SEO analysis of any website. It presents information about internal and external links, keyword density, headings, titles, meta tags, and other important data related to SEO strategy.
Analytics
Google Analytics
Free marketing tool
No surprise. Google Analytics is a top analytics tool. It gives us a massive amount of data absolutely for free. For most companies, GA is a leading source of data. Furthermore, it's for free.
With Google Analytics we can track:
Users behavior
The number of website visitors
Conversions
Custom goals
Bounce rate
Average time spent on a website
Traffic and many more metrics
My observations tell me that marketers need to know at least the basics of this tool. Otherwise, it will be hard to find a job.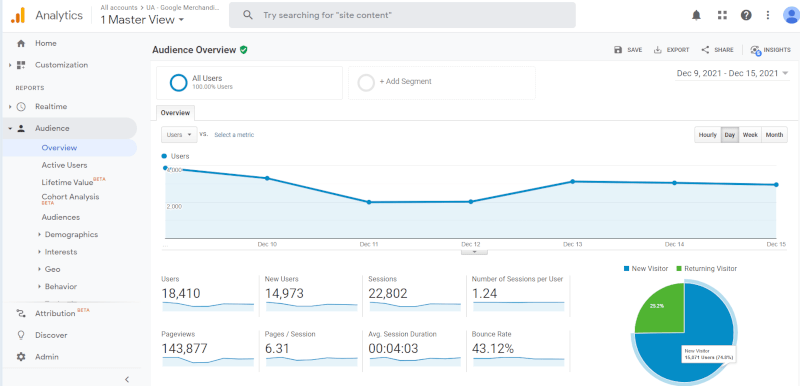 Heap
Free up to 10k sessions/month
Heap is a digital insights platform that shows how people interact with your website or product. It's a beneficial tool if you want to build a better digital experience.
This analytics software will tell you what people are clicking on, which paths are they taking through your website, products, and why. Those data will let you improve your products and build websites users want to come back for more.
Heap conducts 4 main solutions:
Conversion rate optimization – improve funnel performance
User behavior analytics – observe what users do and why
Customer 360 analytics – run a complete 360-degree view of your customers' journeys
Product-led growth – improve and scale your products based on user behavior data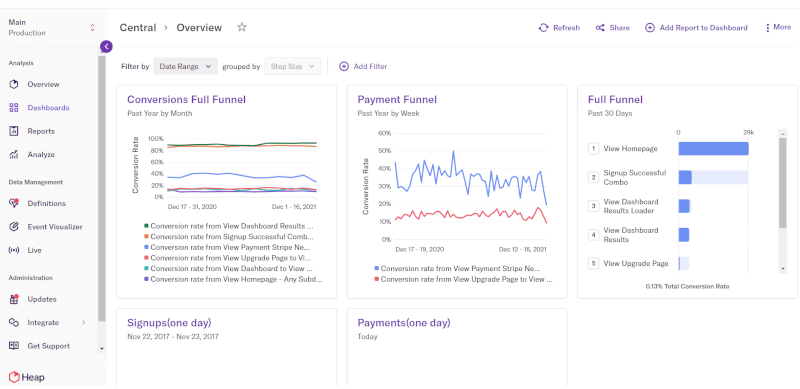 Tip: If you are wondering how your competitors are doing, install free SimilarWeb or Alexa extensions to your browser. It will show you their traffic sources, the number of monthly visits, Bounce Rate, the geography of users, and other interesting metrics.
Social Listening
Brand24
Free 14-day trial. Personal plus plan for $79.
Brand24 is a social listening tool that gathers all the publicly available mentions on the Internet that contain your predefined keyword and analyses them. You can access the mentions in one neat dashboard.
One of the metrics is sentiment analysis. You can examine only negative comments, only positive ones, or all of them together.
In the summary tab, you can compare two predefined periods and see the change in the number of positive and negative posts. That way, you can react right away when you spot the increase of comments with negative sentiment.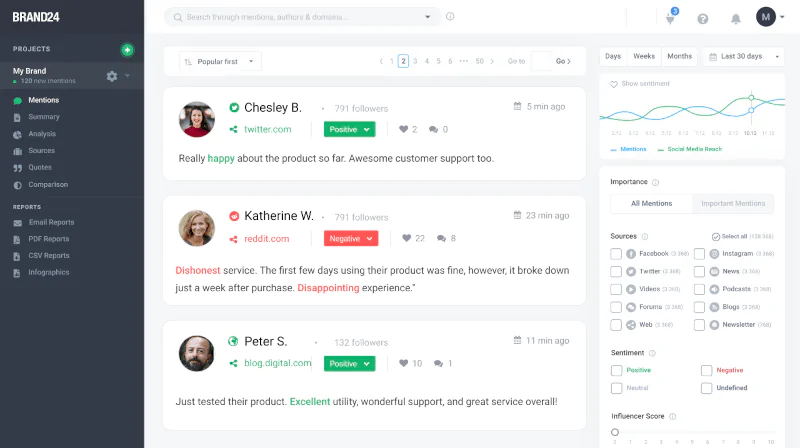 What can Brand24 do for you?
Analyze the results of your hashtag marketing campaign – see how far your hashtagged content spread across social media
Assess the sentiment of online mentions regarding your company and discover how your audience feels about your messaging
Protect your brand reputation by reacting quickly to all negative online comments
Analyze your social media activities – take a look at engagement, number of interactions, sentiment, and more
Find influencers for your influencer marketing campaign.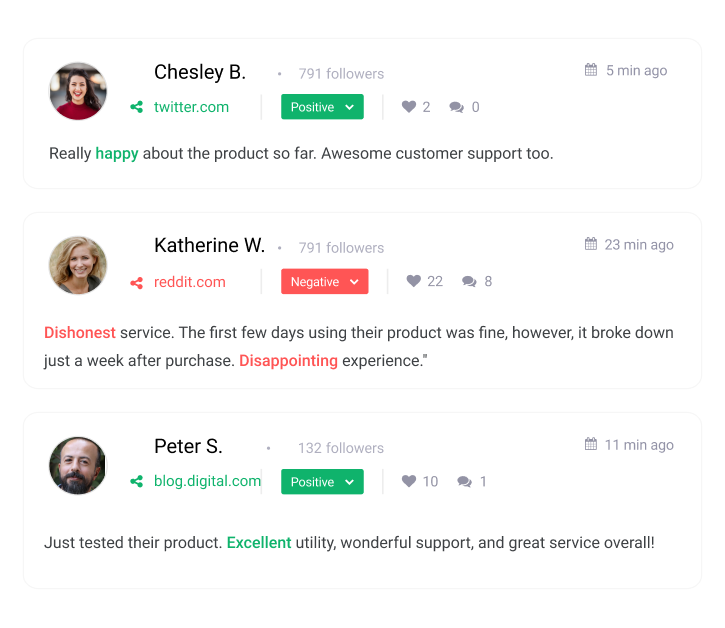 Set up Brand24 and start social listening. Discover what customers say about your products, services, and brand!
Brandwatch
Detailed pricing is available upon request. The Pro version starts at $800 per month.
Brandwatch is another social listening tool that features sentiment analysis. Like Brand24, Brandwatch analyses all publicly available mentions containing your predefined keywords.
The individual mentions can be sorted according to the number of followers, site visitors, forum posts, blog comments, and dates.
You can find an in-depth analysis of sentiment in the summary tab.
Brandwatch has a few interesting features, such as:
Crisis and brand management
Competitor Analysis
Market research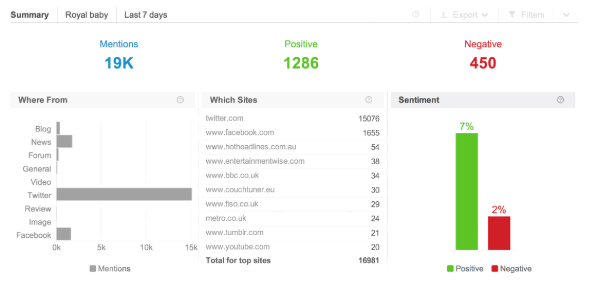 So what is the difference between Brandwatch and Brand24? The price, of course. Brand24 is ten times cheaper. Furthermore, Brandwatch is dedicated to enterprises and big corporations. Except for those two facts, the tools give the same value.
Read more: Brandwatch alternative: Brand24
Social Media Marketing
Buffer
Free digital marketing tool
Among all social media marketing tools, Buffer is worth paying attention to. With this tool, you will reach more people on social platforms.
Buffer is famous for its social media scheduling features. But with this tool, we can also analyze our social media profiles, and engage the target audience.
Most important features:
Publishing – plan and publish social media posts
Analytics – analyze social channels performance and create reports
Engagement – navigate comments and engage the target audience
Start page – build customized landing pages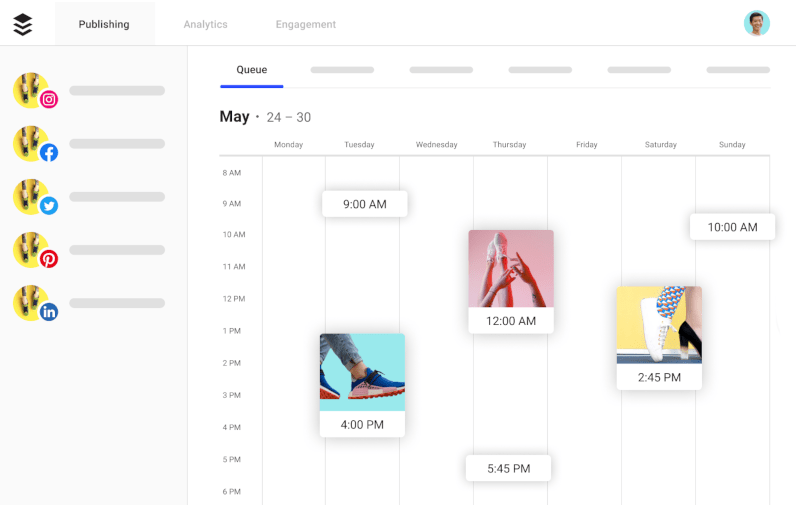 SocialBee
Free 14-day trial. Starter plan for $19.

If you're a solopreneur or small business, this might be the perfect tool for you. Thanks to SocialBee you can share content across multiple platforms, such as Facebook, LinkedIn, Twitter, Instagram, Pinterest, TikOk and, Google My Business.

Using such a tool, you're also able to set a posting schedule, have content shared as planned, and then analyze the performance of your accounts.

Top features:
Recycle evergreen posts or expire time-sensitive content
Canva integration inside SocialBee
Customize the posts for each platform
Real-time preview of your upcoming posts
Set up a posting schedule for all your profiles
Use the URL shorteners to track your links
Analyze the performance of your accounts
Have multiple workspaces and team collaboration features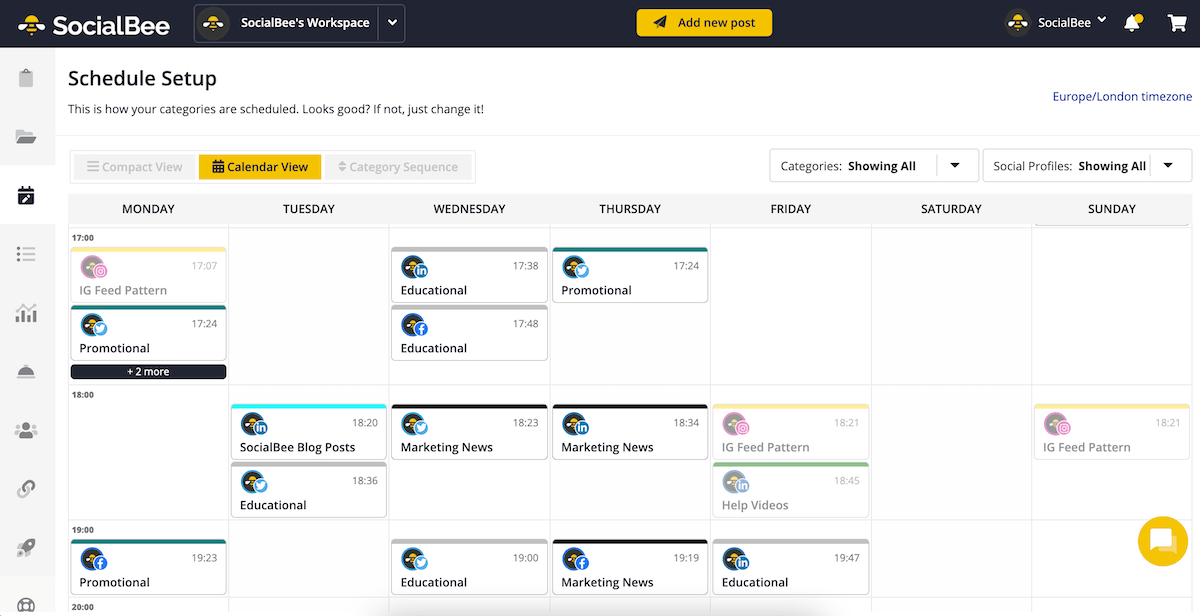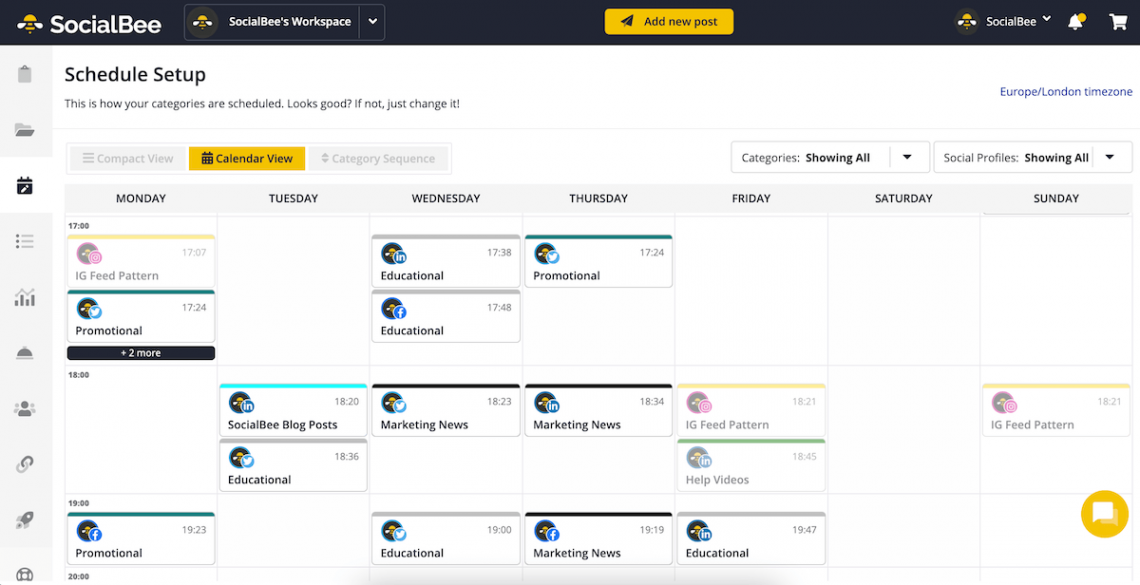 Tweetdeck
Free tool
Do you know that feeling, you log in to your Twitter account to check what's happening, and you see thousands of tweets? Yep, Twitter provides many news every day. With Tweetdeck, you'll be able to follow those tweets that matter.
Tweetdeck is a free tool provided by Twitter. I like to say it is a Twitter management tool that allows scheduling tweets and sending direct messages. It helps us organize tweets by adding columns that show:
Home page
User
Notifications
List
Collection
Likes
Messages
Followers
Mentions and many more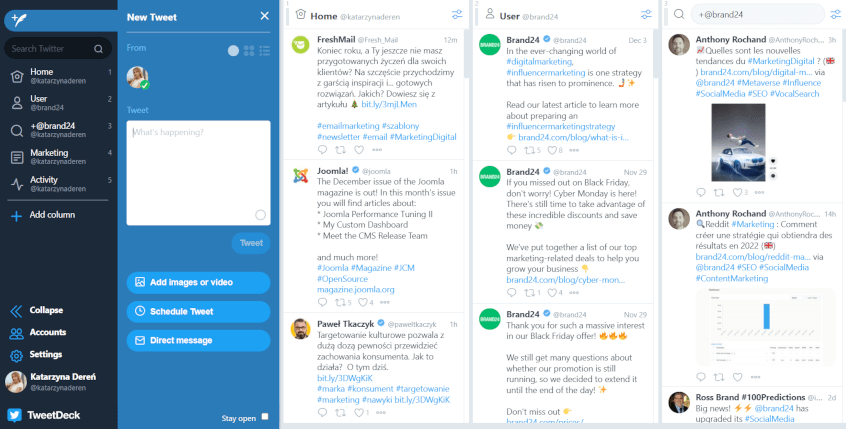 Brand24 is a tool that allows following any hashtag on Twitter in real-time.
Facebook and Instagram publishing tools
Free tool
It's hard to imagine running social media marketing without scheduling options. We had to use tools (for example, Buffer or Later) to schedule posts on Instagram for a very long time.
Those times are over since we can do that through the Facebook Business Suite dashboard. Yes, Meta Platforms allow us to schedule Instagram posts and stories.
The feature is free for all Facebook and Instagram accounts. All you have to do is log in to Business Suite and click Post and Stories.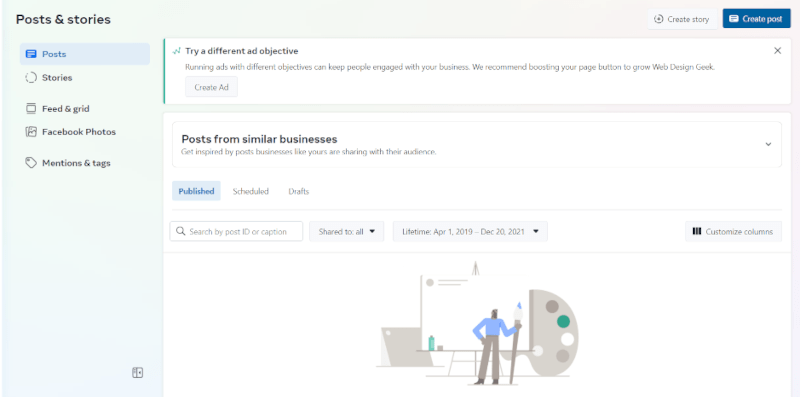 Influencer Marketing
Upfluence
Detailed pricing is available upon request.
There are 70 million influencers available online. Finding the right ones to cooperate with is challenging. I strongly advise analyzing them precisely before collaborating. Fortunately, we can use dedicated solutions to do that.
Upfluence is an influencer marketing platform for brands. With this tool, you'll be able to turn your customers into content creators and drive more sales.
The platform is powerful and helps to:
Find and work with the right influencers
Manage influencers in one place
Streamline your campaigns
Handle influencer payments easily
Track sales & measure ROI
Upfluence developed a free Chrome extension that will help you analyze influencers. So, in case you don't want to pay for a platform, you can search the influencers by yourself.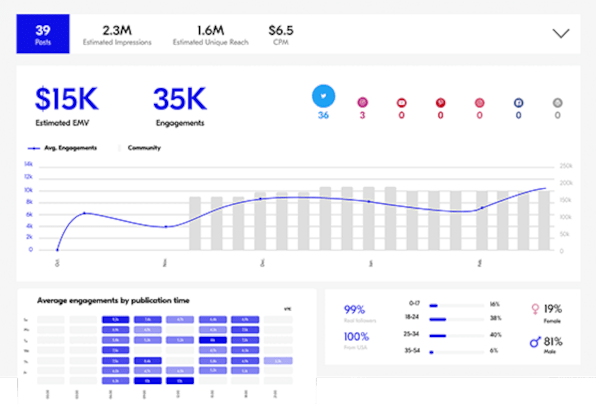 Influencity
Free 7-day trial. Starter plan for $38.
Influencity is an affordable influencer platform for both brands and agencies. The advantage of the platform is advanced analytics that allows analyzing any influencer in the World.
With such a tool, you will no longer need to ask for influencer stats, ranks, tiers, demographics, etc. The tool presents the complete performance of profiles.
Influencity will allow you to:
Find the right influencers
Analyze influencers
Organize influencers
Forecast results
Manage campaigns
Measure your results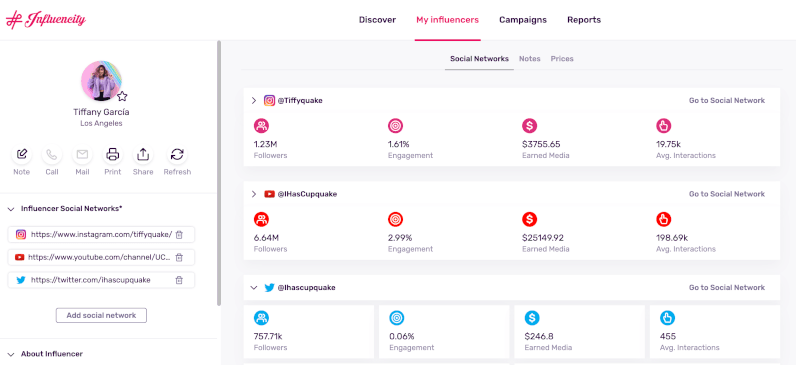 Email Marketing
GetResponse
Free up to 500 contacts/month
Email marketing is still an important part of our marketing strategy. We regularly send emails to our contact database. At Brand24, we use GetResponse to do that. Why? Because it's simple, affordable, and effective.
For a long time, every digital marketer has recognized GetResponse as an email marketing tool. Right now, it's much more than that. We can use it to build landing pages, set up digital ads, and run social media.
When it comes to email features, GetResponse allows us to:
Create emails and autoresponders
Analyze efforts
Manage contacts lists
Create signup forms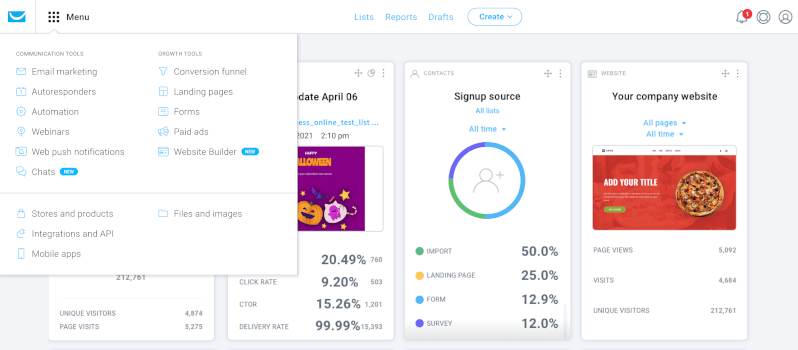 Respona
$99/month
Respona is an all-in-one email outreach platform. This tool has all of the necessary features to set up and launch an email outreach campaign of any kind — be it for link building, marketing, sales, affiliate outreach, or other types of cold email.
It helps automate the most tedious aspects of cold email outreach, saving you tons of time and effectively boosting your performance.
Respona features:
A built-in search engine for prospecting
An integrated email address finder
Automated follow-ups
AI-powered email personalization assistant
Email pitch quality analyzer
Sending schedule
Auto-reply detection
HARO integration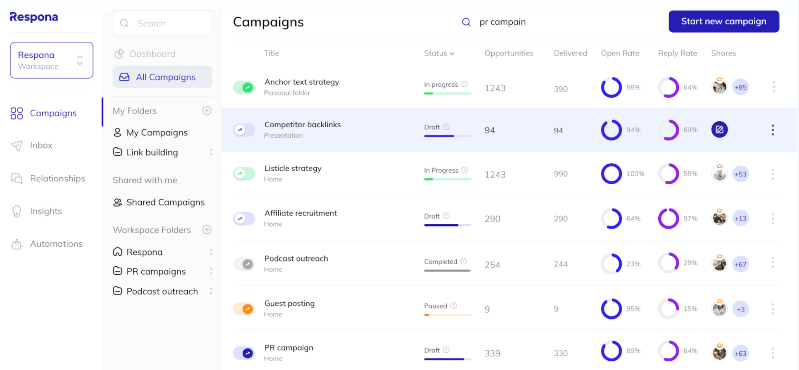 Marketing Automation
User.com
Detailed pricing is available upon request.
User.com is a marketing automation tool to message and maintain relationships with your customers. With User.com, you will create the ultimate customer journey.
The tool makes it easy to create automated paths to pinpoint the moments your leads receive messages. It will save your time and make sure your communication is consistent.
Creating marketing paths will help you determine which one works best for your business.
User.com allows to:
Gather information about your prospects
Communicate with them via live chat
Collect contact information using popups
Send automated emails and SMS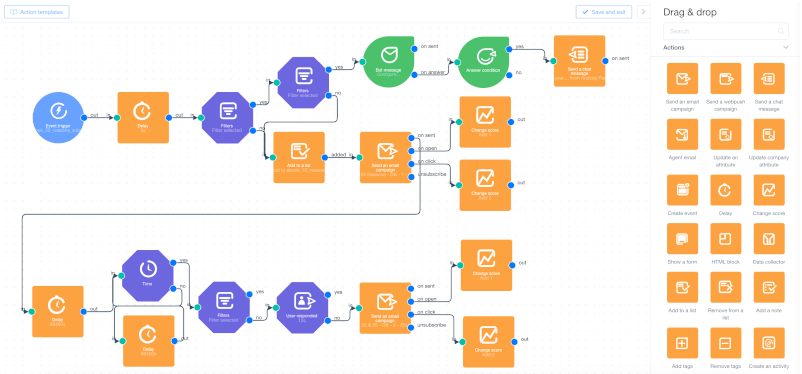 SALESmanago
Free 30-day trial. Detailed pricing is available upon request.
SALESmenago is a digital marketing automation platform that aims to improve conversion across the entire customer journey. With this tool, you can define an unlimited number of scenarios adjusting to customer website behavior.
Digital marketing tools with automation features allow us to engage the right users at the right time. It's a great way to improve your marketing efforts. With SALESmenago, you'll be able to:
Create automation rules
Design automation Workflows
Engage customers
Design lead generation and nurturing programs
Run customer activation campaigns
Automate marketing campaigns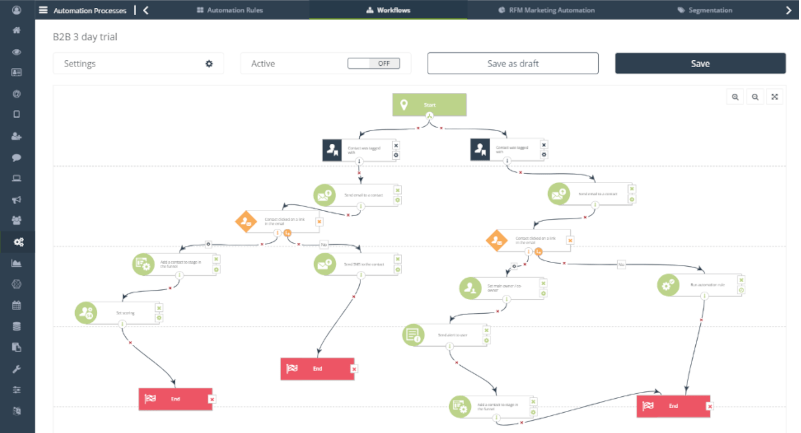 Content Marketing
SurferSEO
Basic plan for $49.
In my opinion, SurferSEO is one of the best content marketing tools available right now. I can't imagine working as a Content Manager without it.
It is a content optimization platform. With SurferSEO, we can write high-quality and SEO-friendly articles to win high positions in Google.
Many digital marketing tools have content features (for example, SEMrush), but none of them compare to SurferSEO. Other digital marketing tools just don't compare.
Key features of SurferSEO:
Content Editor
Audit
Content Planner
SERP Analyzer
Keyword Research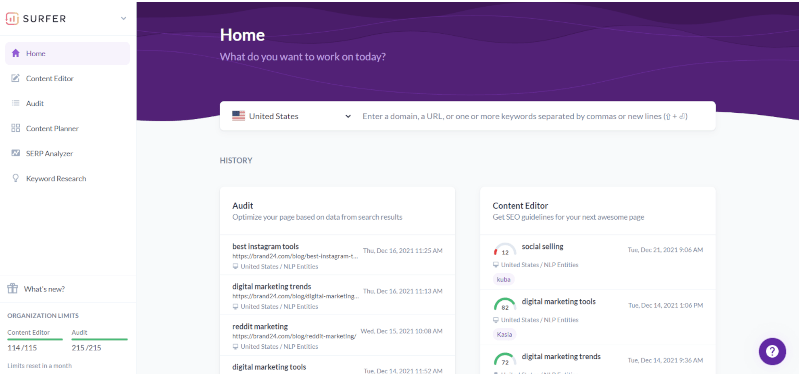 You can try SurferSEO for free. Just install a free Chrome extension and get access to keyword analysis, Articles Outline Generator, and the basic version of Content Editor.
Ubersuggest
Free 7-day trial. Individual plan for $29.
Content marketing starts with keywords. We need to know what keywords are best for our business niche. Ubersuggest is very helpful in this area. This digital marketing software provides advanced keyword analysis.
Despite an advanced keyword overview, the tool generates content ideas and detects backlink opportunities.
Here are the main functionalities of Ubersuggest:
Content ideas generator
Rank Tracking
Keyword Analyzer
Competitive Analysis
SEO Explorer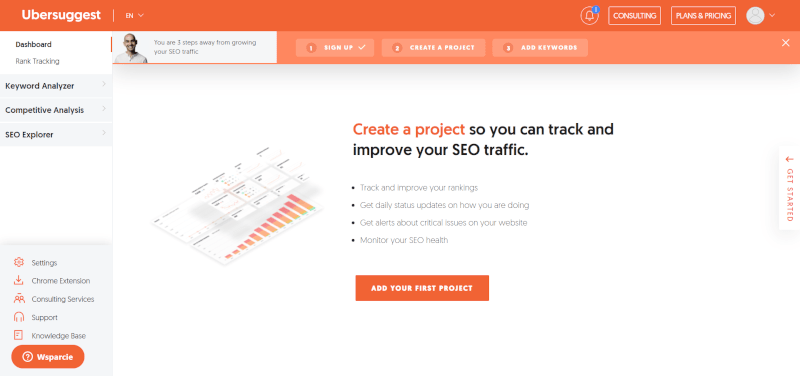 BuzzSumo
Free up to 10 free searches/month
BuzzSumo is a content marketing platform. The tool has many functions, which are useful at each stage of content creation. We can use it to generate ideas, create high-quality content, monitor your performance, and identify influencers.
BuzzSumo checks which topics generate the most responses and are willingly shared across social media. It is a great source of content ideas.
With BuzzSumo you'll can:
Discover content ideas
Discover relevant keywords
Observe trends
Track social engagement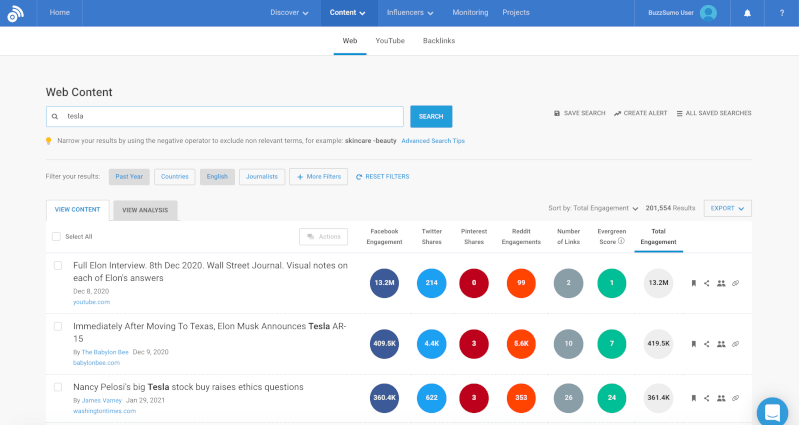 Landing page
Landingi
Free 14-day trial. Core plan for $29.
Landingi.com is a drag and drop editor that will allow you to design landing pages. The tool offers over 200 templates you can use in your digital marketing campaign.
To build landing pages, you can use the image and icon library. Also, you can customize your design across various devices. The tool allows you to encrypt your page and embed your landing page as a tab within your Facebook profile. Integration with Google Analytics and conversion pixels will help you track your landing pages goals.
Features of Landingi.com:
Landing Page Builder
Pop-up builder
Template Gallery
Digital Product Sale
Conversion funnels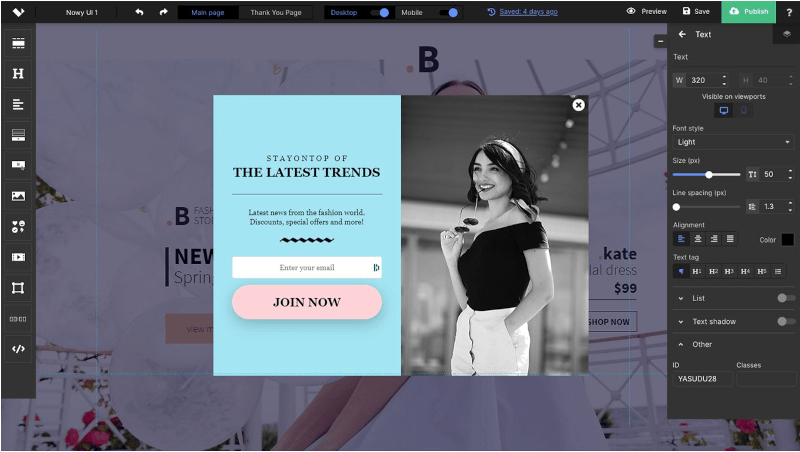 Unbounce
Free 14-day trial. Launch plan for $90.
Unbounce is an AI-powered platform for creating landing pages with a high conversion rate. The tool based on over 1.5 billion conversions suggests which layouts and headlines will work best for your target audience.
Furthermore, the tool is equipped with an instant copy generator that helps write perfect text and call to action.
Unbounce is a great digital marketing tool that helps you build:
Custom landing pages
Pop-ups
Sticky bars
But Unbounce is much more than just a landing pages generator. You could also conduct A/B tests or optimize your Google Ads spending.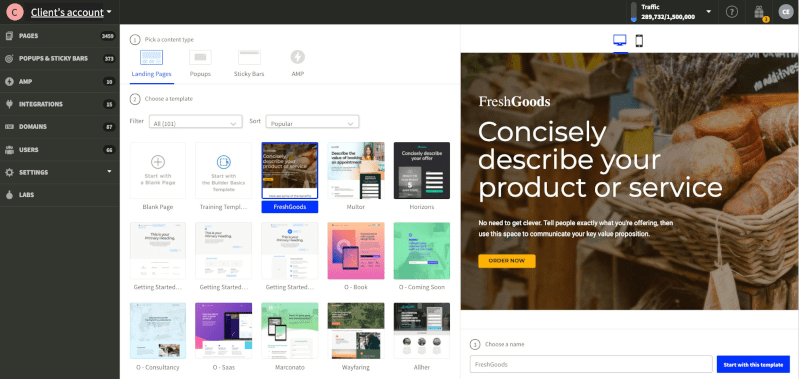 Graphic creation
Canva
Free marketing tool
Canva is the most popular and free graphic creator. I use it almost every day, and it's great. It's one of those free digital marketing tools you definitely need to try.
With Canva, you can create a lot of graphics for many purposes, like social media campaigns and posts, mailings, landing pages, banners, forms, infographics, and much more.
The basic, free plan contains over 20k free templates and about 100 design types. Furthermore, we can use thousands of free photos and icons. A significant advantage of Canva is the possibility to create simple animations, gifs and videos based on ready-made templates.
To use Canva, you don't have to be a graphic designer. All you need is a sense of esthetic and a great template.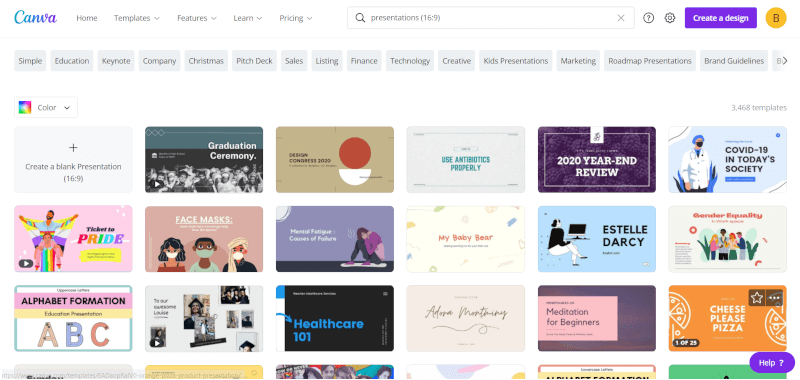 Use ​the Brand24 tool to improve your digital marketing strategy. Discover the power of social listening!
Summary
So, you discovered 22 best digital marketing tools from 10 areas. I wrote this overview based on my experience. That's why you'll also find here my favorite tools that help me boost my marketing efforts.
I also mentioned some free Chrome extensions that give me quick access to data straight from a web browser.
How to check whether the tool will suit your digital marketing strategy? Test it.
I know many Digital Marketers that always are willing to test new tools. Looking for the best marketing solutions is part of our job.
Think about the marketing area that needs improvement in your company. I'm sure there is a tool that can support it. Then try related online marketing tools. The majority of them allow to sign up for a free trial or request a demo presentation.
Tools like Tweetdeck, Canva, Google Search Console, Google Keyword Planner are for free. So if you don't already use it, do not hesitate to try it.
I hope you'll find the right tools. If you're in the market for the best digital marketing resources, don't forget to check out the rest of our blog.
My last piece of advice for you is to be open to new solutions. Did you try social listening? Sign up for free and test it for free!
FAQ
What are digital marketing tools?
A digital marketing tool is a software, platform, or application that helps businesses and marketers plan, execute, analyze, and optimize their digital marketing efforts. These tools streamline processes, automate tasks, and provide valuable insights into the performance of marketing campaigns, allowing marketers to make informed decisions and improve their marketing strategies.
Q: What are the 5 methods of digital marketing strategy?
A: The 5 methods of digital marketing include:
Search Engine Optimization (SEO): Optimizing your website and content to rank higher in search engine results, increasing organic traffic.
Content Marketing: Creating and distributing valuable, relevant, and engaging content to attract and retain a target audience, ultimately driving customer action.
Social Media Marketing (SMM): Leveraging social media platforms to promote your brand, engage with your audience, and drive traffic to your website or products.
Email Marketing: Using targeted and personalized email campaigns to nurture leads, promote products or services, and maintain customer relationships.
Pay-Per-Click (PPC) Advertising: Running paid advertisements on platforms like Google Ads or social media channels, where you pay a fee each time your ad is clicked.
Q: Is digital marketing in demand in 2023?
A: Yes, digital marketing continues to be in high demand in 2023. According to the Bureau of Labor Statistics, the marketing job demand is set to increase by 10% by 2026. With the continuous growth of internet usage and the increasing reliance on digital channels for communication, commerce, and entertainment, businesses require effective digital marketing strategies to reach their target audience, drive sales, and stay competitive in the market.
Q: What digital marketing trend is predicted for 2023?
A: One digital marketing trend predicted for 2023 is the increased focus on personalization and customer experience (CX). Research shows that 89% of marketers see a positive ROI when they use personalization in their campaigns, and 60% of consumers say they'll become repeat customers after a personalized shopping experience. This emphasizes the importance of personalization in driving customer satisfaction and loyalty, leading to higher revenues for businesses that prioritize this approach.
Relevant reads: