#MarketersTalks: How to Evolve and Stay Up to Date with Industry Trends – An Interview with Gini Dietrich
November 16, 2022 ・ 5 min read
In today's #MarketersTalks we interview Gini Dietrich – CEO and founder of Arment Dietrich, a Chicago-based integrated marketing communications firm. We talked about running a business, wage gaps, and cycling.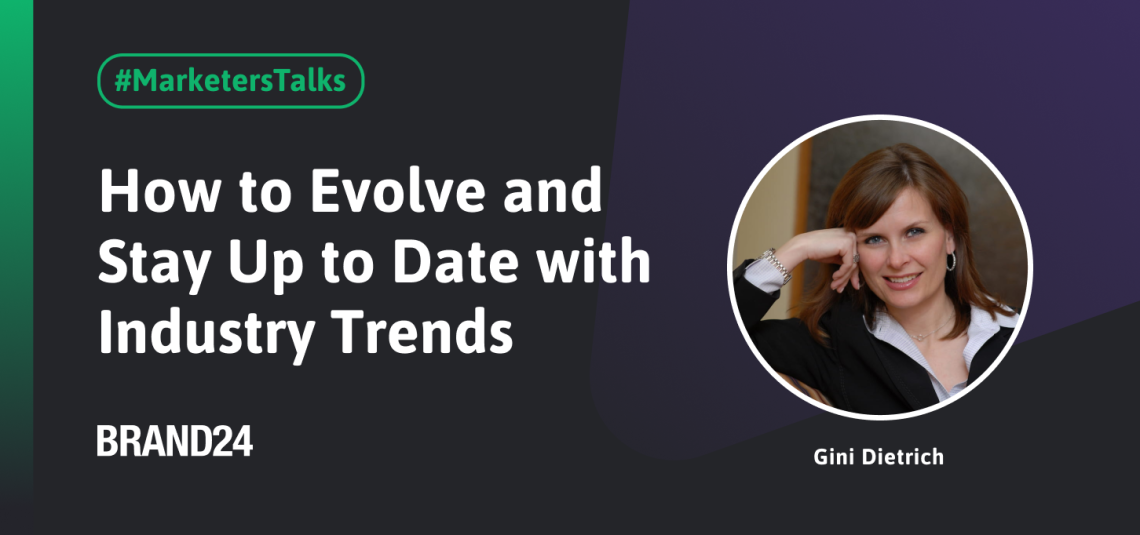 Apart from being the CEO of Arment Dietrich, Gini is also the author of Spin Sucks, a PR and marketing blog where you can learn a lot about the market. She's also a co-author of Marketing In the Round, and is co-host of Inside PR, a weekly podcast about communications and social media.
In this interview, you'll learn the hard truth about starting your own business, how to avoid burnout, how to stay relevant, and many other important things. Stay tuned!
Gini Dietrich is one of the top 100 digital marketing influencers presented in Brand24's report.
1. What's the hardest thing nobody talks about starting your own business?
The hardest thing is probably that you set out to do what you love, but as you grow your business, you stop doing what you love and instead do things like HR, accounting, and contracts. Figure out how to run the business so you can continue doing what you love.
2. What's the one tip you would give aspiring entrepreneurs looking to pursue their dreams?
The hardest part about starting your own business is making the decision to do it. Sure, there will be lots of challenges along the way, but the most challenging decision will be to quit your job and go at it alone. But you can do it! Find a way to replace your income (and benefits) before you do it, but then pull off the bandaid and get it done!
3. What tools do you use on a daily basis?
Oh, good question! Email (Superhuman, FTW!), Slack, and text, of course. Outside of that, I use CoSchedule, Agorapulse, Google Drive, Microsoft To Do, ClickUp, Peloton, Apple Watch, Kindle…and Brand24.
4. What's your favorite thing about Brand24?
I personally love the daily digest I get via email. My team goes into the software every day to do the work they need to, but for me, the daily digest is perfect. I can scan it to see if there is anything I notice that someone else hasn't and it helps me have a bird's eye view on what our clients are doing. Plus, it picks up every time someone mentions me or Spin Sucks online, which makes it really easy for me to go comment or share.
5. How can aspiring entrepreneurs raise funds to develop their business ideas?
I'm the wrong person to ask about this because I've completely bootstrapped my business (which has its own challenges), but I do know you can get all sorts of funding, from asking friends and family and bringing in investors to working with a bank.
6. What book would you recommend for an aspiring entrepreneur?
Can it be only one?!? That's so unfair. Ug! I can't decide. I'm going with more than one: Traction, Built to Sell, Blue Ocean Strategy, and Whale Hunting.
7. How to avoid burnout when your business grows and you get to spend less time on what you like and more on mundane jobs?
A few years ago, I had this very conversation with a friend who had hired a CEO to run his business so he could focus on doing what he loved. I've always loved that approach because so many of us go into business because we love what we do and want to do more of it. Not so we can handle accounting and HR and projections.
My advice is always this: decide if you want to continue to excel at what you do and charge a premium for your brain or if you want to grow and scale a business and learn how to excel at that.
The decision is different for everyone—and you might change your mind a time or two in between, as well. That's totally fine! Do what works for you now and if it starts to get mundane or you're getting burned out, the glory is that you control your own destiny so you can change it for yourself!
8. Would you say writing books helps more to grow your business or build a personal brand?
I always say it's like having a giant business card that people don't throw out. You can sign a copy and leave it for new business prospects or clients and they LOVE to showcase it on their shelves in their offices.
Whether it's better for business or your personal brand really depends on the book and its goals.
9. Do you combine your hobbies (cycling and food, as you wrote on Twitter) with your career? Do you think these activities can be somehow connected or you'd rather keep them apart?
Back in the day, I did a ton of food PR, which is where I gained my love for it and how I began to understand the science behind it. But today, we focus on SaaS businesses so no cycling or food involved there. I really use cycling as a way to keep my sanity and to conform my competitive nature so I don't go to work and try to compete with the people I work with. And food—or cooking, really—is my stress relief. My kitchen is my lab and I love to experiment and test. Plus, my family are great guinea pigs. They think everything I make in the kitchen is a miracle (it's not).
10. You wrote a great piece about inequality between men and women in business on the Spin Sucks blog. What advice do you have for young women who are afraid to start their businesses? What can men do to be more helpful?
First, if you're afraid, don't be! Sure, it's challenging and you'll have up years and down years, but there is not to be afraid of. I always say making the decision to start your own business is the hardest decision you'll make, career-wise. Once you decide to do it, it's freeing because you get to take charge of your own destiny and figure out how to reach your own goals.
For men, encourage the women around you. Not just in starting their own businesses if that's what they want to do, but in making sure they have a voice in the room, that their accomplishments are praised—not just their nurturing qualities, but their real contributions to the team, and that they aren't interrupted or silenced in meetings (this still happens and it's infuriating).
11. How do you manage to stay on track and follow the latest PR and marketing trends?
When I was a young account executive, I would come into the office every morning to find my boss sitting at her desk, reading. I couldn't figure out how she got away with it until I was in a meeting with her and she was talking about trends and how they would affect the client's business.
It was at that moment that I knew I would just have to make time to keep up with the trends if I wanted to excel in my career.
12. What are your favorite cycling routes?
Oh, man! So many of them. I've ridden Blue Ridge Parkway in Asheville and that's phenomenal. I've done a ton of riding in the Rockies in Colorado, which is extremely challenging. My dad lives in Oregon so I've ridden out there with him through the mountains and down to the ocean. But my daily rides are along Lakeshore Drive in Chicago.