In our #MarketersTalks series, we interviewed Ashley Dudarenok – a renowned China digital expert, who runs a digital marketing agency for the Chinese market. We talked about a different point of view on Asian advertising and how to succeed as a western company that wants to expand in this region.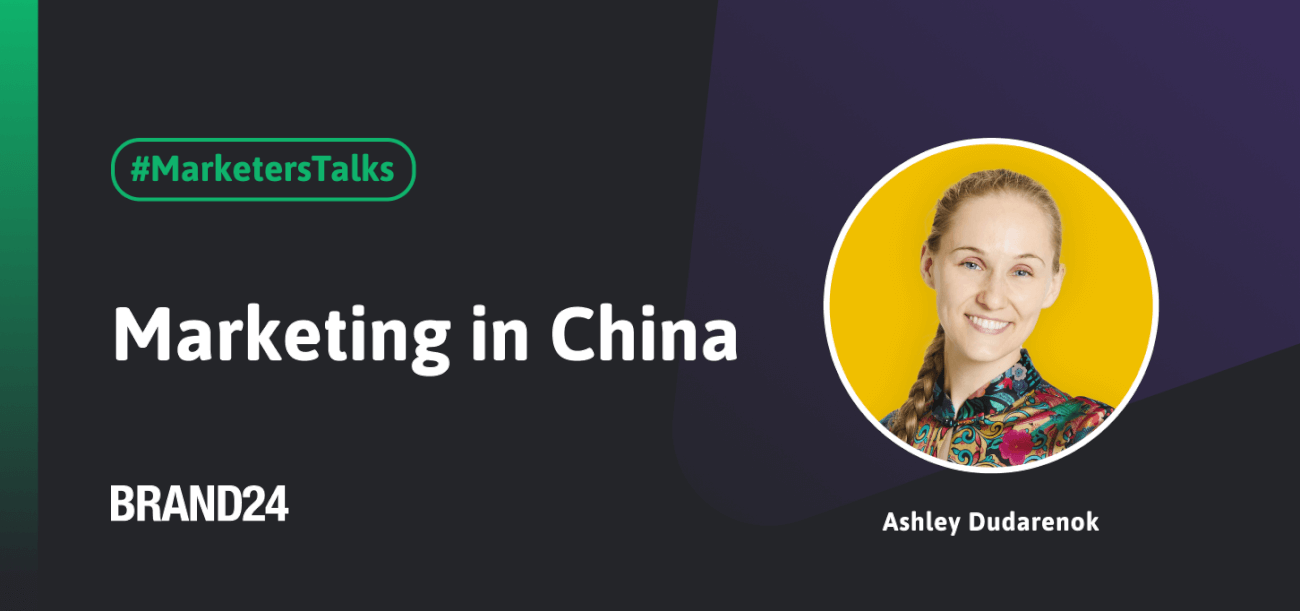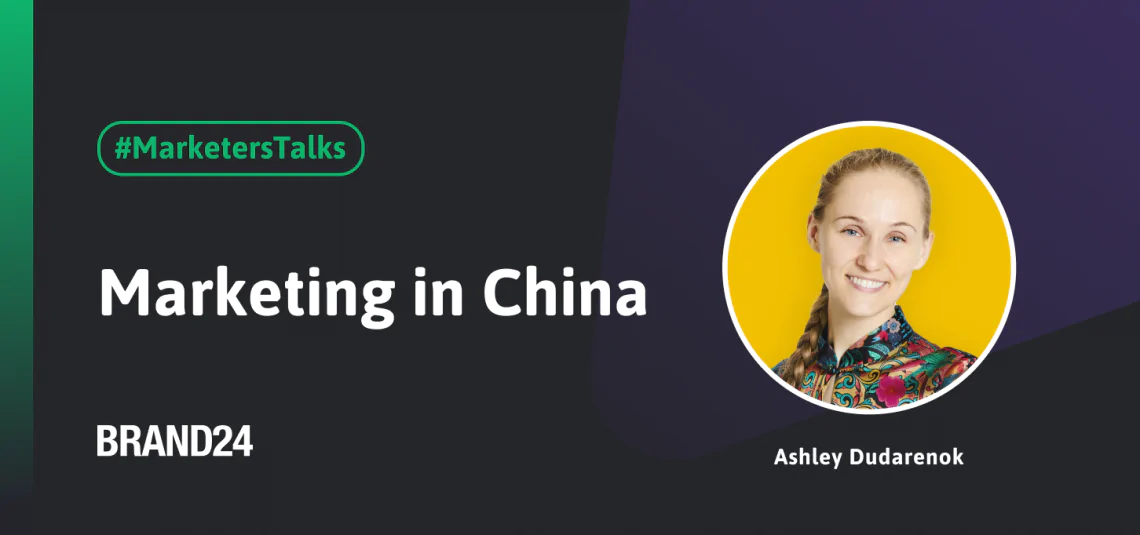 Ashley is a renowned China digital expert, entrepreneur, bestselling author and vlogger. She's a LinkedIn Top Voice in Marketing with 80,000 followers, a Holmes Report Asia's Top 25 Innovator, and made Thinkers50's Radar Class of 2021 as a "China digital marketing and trend guru". In 2021, she received the Women Leadership Award by IPWS and was named the Young Business Leader of the Year. In 2022 she was named one of top 30 global gurus in digital marketing by Global Gurus, and has been awarded a prestigious Outstanding Women Professionals and Entrepreneurs Award in Hong Kong.
Ashley's the founder of a China-focused digital marketing agency Alarice and China digital consultancy ChoZan 超赞. A top marketing influencer, she's amassed 85,000 followers on LinkedIn. Her top-rated YouTube vlog covers China's tech, consumers, new retail ecosystems and digital marketing.
As an author, she's had three international Amazon bestsellers:
Unlocking the World's Largest E-Market,
Digital China: Working with Bloggers, Influencers and KOLs and
New Retail: Born in China Going Global.
Ashley is a regular media contributor and has been featured by the BBC, the SCMP, Forbes, Bloomberg among others.
Ashley Dudarenok is one of the top 100 digital marketing influencers presented in Brand24's report.
1. How did you start your journey with digital marketing?
I moved to China in 2006 and that was the genesis of how everything started to become even more digital and social. Inspired by China's speed, entrepreneurship drive, digital transformation, new consumer scenarios and business models — I started a China focused digital agency called Alarice in 2011.
2. Are there any must-have tools in your marketing toolbox?
Definitely, brand-building as cementing your brand's presence has become more important than ever. Other tools I think are essential are, of course, trend-watching and being constantly on the lookout for the new hot thing. Making sure you're updated on what's most exciting about the recent marketing landscape will always help you in the long run. Marketing today is all about community and two-way conversation, hence consistently showing up, talking to and not at your audience is crucial like never before, and is tougher than ever, too as ether are so many channels to choose from. New tools, apps, content formats, so choosing wisely is the way to go.
3. What is the first thing that comes to your mind when you think about the best digital marketing case study you've seen? Why was it so exceptional and profitable (from all aspects)?
Wow, a tough one, there are so many great cases in different marketing categories. Let me just feature one recent Chinese case I found exciting. Xpeng, a Chinese electric vehicle manufacturer, released a show on Douyin featuring popular virtual idol Liu Yexi. Shots of the car were also featured. The first episode alone reached over 80m views. Xpeng also made sure to do livestream on Douyin where the brand engaged with viewers and had lucky draws. After the livestream, Xpeng released a digital collectible (NFT) where it sold out. This Douyin campaign was so remarkable and produced incredible results because of their smart use of new tech such as virtual idols, digital collectibles, AR, etc.
4. What's one thing brands can do to step up their marketing efforts?
Embrace customer centricity and start co-creating everything from products to campaigns to sales channels and in-store experiences. Create innovative products and scarcity scenarios. Focus on cooperating with major tech ecosystems and building your now private pool, a social CRM and DTC system. Branding is also a must, premiumisation of everything is just beginning, so deliver outstanding products and iconic brands.
5. How to be innovative in digital marketing?
Learn from Chinese domestic brands that taking positions are moving with "China speed", work through DTC social commerce, Innovation is a mindset, your company shall be in the growth mindset and customer centric mindset to succeed. The demand for personalised experiences is still rising, especially in China. Digital marketing with personalisation in mind, accompanied with new tech like virtual idols and digital collectibles should be considered when it comes to innovation in digital marketing.
6. How does marketing in China differ from the US and European markets?
China's market is very segmented, with huge regional differences.

Unlike western markets, which are usually consistent inside one country and the same marketing logic can be quickly replicated, success in one city in China does not mean you can replicate the same marketing tactics elsewhere, meaning it is important to know your target audience.

China has its own unique digital ecosystem.

Unlike the West, which is dominated by Instagram and Facebook, China's mainstream Internet platforms are Chinese companies. Understanding digital consumer behavior in China is crucial, as it is fundamental to understanding the Chinese market. Brands must be constantly aligned with this ecosystem with marketing flexible enough to adapt to it.

Content marketing trends.

Chinese consumers' reading behavior is more selective than in the West, oriented toward personalized content and short content. With the trend of "content first marketing" taking hold, China's major news platforms and social media platforms are giving more priority to precise content creation and delivery. Platforms deliver interest-based content to users, powered by algorithms and machine learning to optimize their reading experience.

Even niche markets are full of potential.

A niche brand positioning in the West may serve only a very small number of customers. But China is a huge market, and even with very niche marketing, brands are talking to at least a few million people.

Relevant market and competitor research in China is important.

Knowing key brand and marketing trends, Chinese consumers are more willing to accept localized products/services. Chinese consumers have power and voice, are rising rapidly in income and education, and are more willing to say what they think about products directly. Don't be afraid to improve your product or adjust your marketing strategy even if you receive some negative reviews.
7. What can Western companies learn from Chinese businesses?
Live streaming.

As of June 2022, the number of live streaming users of e-commerce in China was 469 million, and the transaction growth is still rapid despite increased regulation. Brands can convey product information more comprehensively through live broadcasting, gather popularity to create a group-buying atmosphere and create product application scenarios for users. Live shopping also represents a higher level of user engagement, such as the use of interactive ways to stimulate the potential demand of consumers, and also helps to increase the stickiness of brand fans.

New Retail + Social commerce.

First, can learn to consider retail as entertainment. Shopping is no longer about adding items to shopping carts; instead, it's a social activity and a form of entertainment. Imagine you're watching a fashion show streamed on an e-commerce platform and are interested in the newest clothes on the runway. You shake your phone and 'try on' the outfits in virtual fitting rooms. If it looks good, you pay for it. Buy what you see at any time. These elements are a big part of the sales campaigns for the Double 11 Shopping Festival.

Unified channels are the second largest growing trend. Companies today have both online and offline advertising campaigns and marketing channels. They're starting to merge those channels to increase accessibility to the customer in a seamless manner.

Thirdly, retail gamification. Young people like games and are motivated by discounts and coupons. It helps to enhance the engagement between brands and customers and to gain insights from new and returning customers. One example of successful gamification is Tmall's AR (augmented reality) game that helped push customers from mobile devices to offline stores.

Social media also has more commercial functions in China vs most other countries. Social commerce uses social media platforms to promote and sell products or services. This mode helps brands direct to consumers, and accelerate towards more digital experiences. Live shopping is also a part of social commerce.

KOC marketing.

KOCs (key opinion consumers) benefit brands through not only leaving honest reviews of a product (like we see in the rest of the world), but also becoming brands' R&D, marketing, sales and more departments. To address the rise of the KOCs, brands must integrate them into their marketing plan and ask them to review their products honestly. It will also help if brands improve the quality of their product so that word-of-mouth spreads positively.
8. Why do you believe that customer-centric marketing is something brands should focus on?
With a customer-centric approach to business, the brand will deeply consider the impact of the outcome on its customers. This means putting the customer at the heart of everything the brand does, from marketing to sales to customer engagement in every channel. This fosters a positive customer experience at every stage of the customer journey. It helps build customer loyalty and satisfaction, which leads to more referrals.
In 2022, this is the only way to run a business – with a focus on customers. In fact, learn from Chinese guochao (new domestic brands) or K-pop bands that implement customer centricity and Social + into everything they do.
Better understand customer needs.

When you spend brand time researching what your customers are really looking for, you can begin to better target your sales message and the overall process. Actively collect customer evaluation, and even let customers participate in product design, complete user co-creation.

Better alignment with customer priorities.

Great brands align their strategies, products, offerings and processes with customer priorities. Strong, comprehensive and well-crafted content that meets your client's needs can go a long way toward helping you achieve the same goal.

Stronger competitive advantage.

By building stronger relationships, engaging customer experiences, and addressing customer needs in a language they understand. When products are similar, customer experience can be an invaluable differentiator.

Build stronger relationships and trust with your customers.

By perfecting your customer-centric sales process, you can help develop your customers as brand communicators, which is one of the most effective ways to achieve revenue goals and enhance the customer experience to drive new channel growth.
9. Do you believe that the Chinese point of view in business will have more impact in the future in the Western world?
China will continue having more impact in the future.
Digitalisation and building the future industries is China's strategic priority, and they will execute it.
The Chinese market is leading or/and advanced in many industries and products. China leads the world in five industries: communication equipment, rail transit equipment, power transmission and transformation equipment, and textile and clothing. China has six advanced industries in the world: space equipment, power generation equipment, new-energy vehicles, steel, petrochemicals and building materials.
In terms of China's innovation capabilities in areas such as digital economy, new energy, artificial intelligence or 5G technology, China has formed a strong driving force and ecosystem for innovation.
China's steady external economic growth and economic exchanges with the world and the West have not been greatly affected by the strict epidemic policy. In the first half of 2022, China's import and export value increased by 9.4% year-on-year
China is still the centre of global supply chains for many products, particularly industries that rely on large clusters of supply networks and high-quality human resources.
10. What was the hardest thing for you after moving to Asia?
I moved to mainland China in 2006. I loved how dynamic, big, entrepreneurial everything in China was already back then. Challenges I can attribute to purely my un-fit mindset back then: judging things that are different vs appreciating them, for instance. Shifting the mindset, opening up and learning from this fanatic culture and people — was the way out, and changed my life. Hence the lesson: if something in your life or business isn't working, work on yourself first.